Discover what is Mirror NFT and how creators use it for writing, crowdfunding, launching DAOs, and more.
Hype about on-fungible tokens' (NFT) mostly revolves around memes, digital or hand-made artworks and 3D avatars like apes. However, you can turn almost any type of content into an NFT, including writing. Here, we discuss the potential of Mirror.xyz, the decentralized publishing tool on Web 3.0 and explain how creators and projects are using it.
What Is Mirror NFT?
Mirror NFT is a Web 3.0 publishing tool that enables writers to convert their creative writings into an NFT, launch a crowdfunding project, or start a decentralized autonomous organization (DAO). It's also a communication tool employed by NFT projects.
Mirror.xyz stores your content on Arweave for the long term, while a smart contract on the Optimism L2 blockchain will prove the content's authenticity. Posting content on Mirror.xyz is similar to Medium or free WordPress blog sites. But, here, you've got the chance to fund your writing projects through crowdfunding or NFT selling.
The Mirror NFT: How Is it Different?
Mirro.xyz helps the writers to turn their work into NFTS which follower can support or even buy with cryptocurrency. It's a Web 3.0 publishing platform.
In Web 2.0, online writers and bloggers earn by ranking their content via SEO, social media marketing paid ads. The publication owners monetize using display advertisements, affiliate marketing, and affiliate or brand promotions.
Earning isn't always guaranteed on Web 2.0 since the publishers or website owners depend on third parties, an algorithm or business funding. The publication owners funds freelance writing projects if they see a return on investment.
Enter Mirror.xyz, a decentralized and community-based publishing platform. Here, you are not just a writer. You're a creator, DAO owner, and above all, you have a say on what happens in the Mirror.xyz project now and in the future.
Also, Mirror NFT is the first of its kind to introduce writing NFTs. Instead of a vector art or voxel art, a written text, blog, or article can become an NFT. You've got complete control over your intellectual property and monetization options.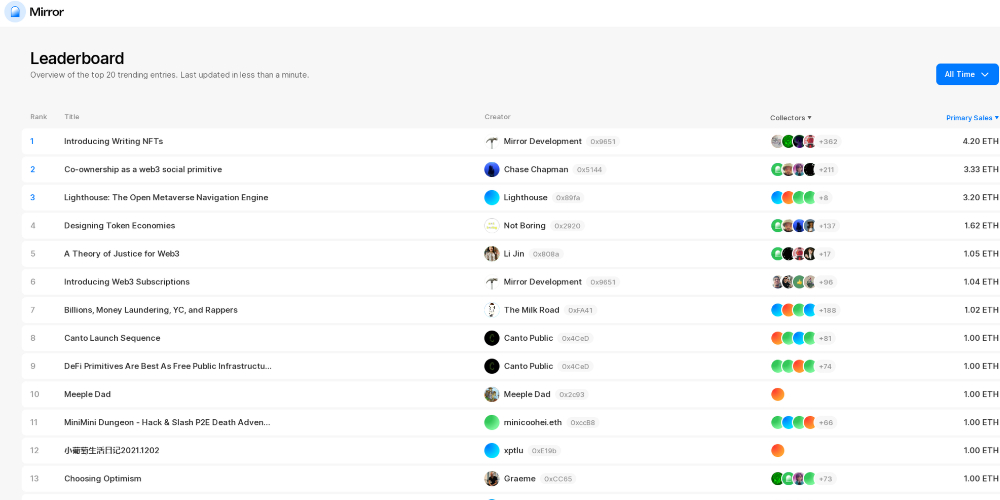 You can mint a single NFT and put it into an auction. You earn in crypto when a collector exchanges the writing NFT for ETH, DAI, etc. Alternatively, you can mint a handful of ERC-20 tokens and distribute them to a community of investors, thus monetizing your creative writing.
Moreover, Web 2.0 content publishing suffers from the problem of plagiarism or idea theft. Also, there are incidents when publishers or website owners simply take down your content. Such things won't happen on Mirror.xyz.
Here, blockchain's immutability feature always protects your right over the content. And, since the content stays on the L2 network or Ethereum blockchain, it's always accessible as long as the Ethereum network is here.
The Mirror NFT: A Suit of Creativity
The following are the Web 3.0 tools you can use on Mirror.xyz without fees. Mirror NFT project will only collect a 2.5% fee when you successfully monetize your content, idea, or DAO.
Editor
The Editor tool lets you submit articles on Mirror.xyz using image blocks, YouTube link blocks, Twitter blocks, etc. Apart from article blocks, you can also add economic blocks like auctions, NFT sales, and crowdfund blocks to monetize your writing project. The Editor tool uses markdown and plain text with some formatting. It's similar to the publication experience writers enjoy on Medium, Substrack or WordPress.
Crowdfunds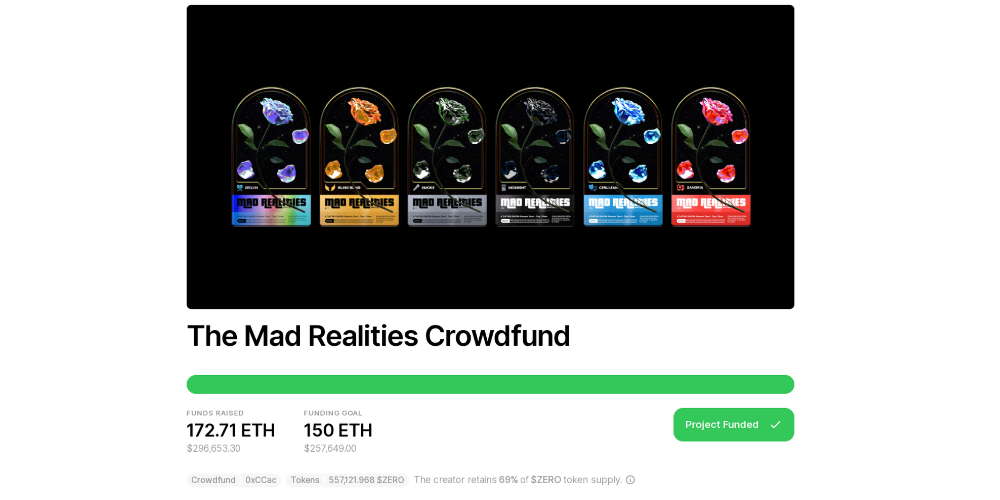 The members of the Mirror NFT project can also raise funds for their projects or DAO in cryptocurrencies. In your writing, simply add the crowdfund block and the Mirror.xyz tool will guide you through visually.
You can add a funding goal or certain ETH and extend that to Stretch Goal if you see an overwhelming response from your patrons and other backers.
The crowdfund block is essentially a smart contract on the Ethereum blockchain. It stores information about the backers and their stake in the project. Each backer earns a token when they contribute and becomes a stakeholder in any potential project success in the future.
Editions
The Editions tool enables creative writers to mint identical NFTs of a fixed price and a limited supply. Mirror.xyz deploys Editions on the mainnet Ethereum instead of the L2 network Optimism.
You can also use Editions to manage several aspects of your DAO. For example, create level-based rewards, produce community memberships, and mint digital collectibles.
Splits
If your writing project includes multiple members, you can use the Splits tool to share the proceeds from NFT sales with the collaborators. A split is also a smart contract that routes cryptocurrencies to multiple Ethereum wallet addresses. Like Editions, Splits are also hosted on the Ethereum blockchain.
Tokens
Deployed on the Ethereum mainnet, the Tokens tool enables DAO owners, communities, and content creators to mint ERC20 tokens. You can mint such tokens against a new project and collect cryptocurrencies by distributing the tokens.
Subscriptions
Using the Subscription feature, you can persuade your readers to subscribe to your content through their wallet addresses. Whenever you post a new article, the subscribers will get an email notification. Think of it as like the Web 3.0 version of newsletters, except people subscribe with their Ethereum wallet.
Writing NFTs
Mirror NFTs are essentially writing NFTs. When you write anything using the Editor from Mirror.xyz's dashboard, you are creating an NFT version of your writing.
When you accept the "Sign and Publish" prompt at the end, your content appears as a non-fungible token on the Optimism network. That said, writers can decide if they simply want to publish or mint an NFT.
These NFTs are also available for collection and trading via Optimism's secondary marketplaces like Quixotic.
Auctions
Facilitating effortless monetization of creativity is the primary goal of Mirror NFT. On that line, Auctions help you to sell 1 of 1 NFTs of high-quality articles to the biggest collectors. They also become the superfans of your writing project.
Creators can auction any 1 of 1 NFTs like funding announcements, research reports, blogs, and NFT music projects. You can easily advertise upcoming auctions on your Mirror NFT articles by adding Auctions blocks.
Notable Mirror NFT Collections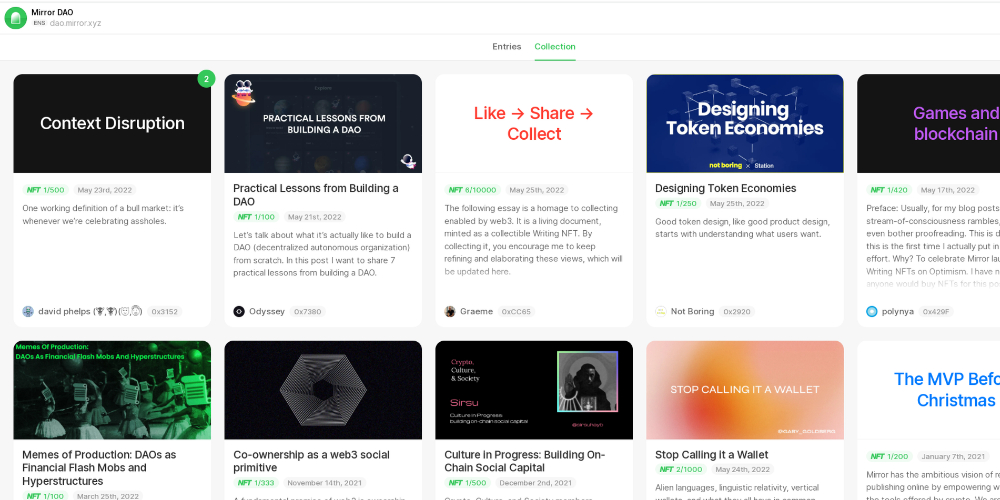 The NFT collectibles on Mirror.xyz are high-quality creative articles, technical blogs, or announcements of new NFT projects and DAOs. Some of the notable NFTs that you can subscribe are:
An introductory article about the Foster add-on for Google Docs. It provides one-click writing support to writers who need to add a professional touch to their articles or blogs.
An informative article on web 3.0-based music labels like Hume Collective, Dreams Never Die, Venice, and more by Coopahtroopa.
It's an NFT project to reward the community support and activities inside the Backed DAO.
If you want to learn tricks and tips for setting up a DAO in Web 3.0, you can subscribe or collect this writing NFT from Odyssey DAO.
Token economics is now in its early stages of development. If you want to know more about this concept, subscribe to this Mirror NFT minted by Not Boring and Station.
FAQs About Mirror NFTs
Is Mirror on Ethereum?
Mirror uses the L2 network of Ethereum for gas fee optimization and affordability. All the digital assets of the Mirror.xyz platform like writing NFTs, DAOs, $Write token, ERC 20 tokens generated by DAO owners, etc., deploy on the Optimism, a low-cost Ethereum L2 blockchain.
Does Mirror XYZ Have a Token?
The Mirror.xyz DAO has launched $WRITE as the native token. Writers who want to publish their content on Mirror.XYZ or want to create writing NFTs, need to obtain $WRITE tokens by participating in the $WRITE race. $WRITE token also makes you a partial owner of the DAO and gives you voting writes.   
What Is Mirror NFT? The Final Word
Mirror NFT is a Web 3.0 publishing tool that focuses on content decentralisation creation and the economy based around it. It's a good choice for writers who want to explore NFTs and Web 3.0 publishing tools. It's also popular with NFT project owners who want to communicate and write about their projects on the blockchain.