Discover the 10k piece Milady Maker PFP NFT collection created by an anonymous artist that has exploded in value following an Elon Musk tweet.
Milady Maker is a 10k collection of generative PFPs on the Ethereum blockchain based on an anime-style fashion subculture known as neochibi. According to the community, this is much more than another PFP project; it's about tapping into fashion trends, subcultures, and underground events.
As of writing in May 2023, the project has seen its trading volume and floor price skyrocket into the top 10 projects on OpenSea after Elon Musk mentioned it on Twitter. Since Musk's tweet, the FOMO has been insane, with two trades over ETH 10 ($18.5k) occurring moments after the tweet was published.
But whether Milady Maker's floor price of around ETH 4 ($7.4k) is justified is up for debate, especially as it was at least three times lower before the Musk tweet. This post will give you a clearer picture of the project by covering its origins, art, mysterious creators, and use cases.
Milady Maker Explained
Milady Maker is a 10k collection of generative art PFPs with anime-style features such as big heads and oversized eyes. According to the official website, the characters are designed to focus on fashion while maintaining a PFP-friendly composition. Members of the community claim that Milady Maker is a "lifestyle," not just an NFT collection.
Every Milady Maker has a variety of randomly assigned traits such as eye color, background, and shirt. However, the Makers have a unique 'drip grade' rarity system that appears to play a significant role in determining their value. NFTs with the best drip grades in the collection have been sold for up to ETH 30 ($54k), and dozens have traded for over ETH 10 ($18k).
If you're looking to do your own research, be warned that the Milady Maker website appears outdated and empty, but once you spend a few minutes dealing with the terrible UI, there's plenty to discover.
You can also follow the project on Twitter, but the page is usually just retweeting Milady Maker memes. Some of the memes are a combination of offensive and nonsensical material.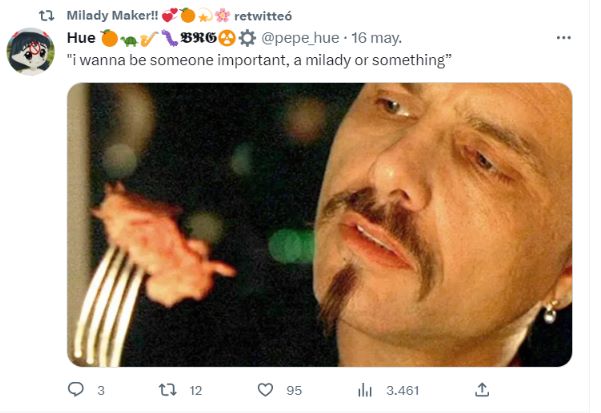 Who Created Milady Maker?
Unfortunately, Milady Maker doesn't have a doxxed team which is always a bit of a red flag, in my opinion. However, the website does give up some details about the team and developers.
The Remilia Collective developed the project. Even though the collective has a website, it doesn't offer any details about the team members. The home page has a slightly bizarre video of two young men rapping, not very well, about Milady Maker.
Beyond that, there isn't much to see. Two members of Remilia have been identified, and both their social media accounts and the Milady Maker website confirm they played central roles in creating the project.

The Milady Sonoro Sprite, @Milady_Sonoro, is the creative director and artist at Milady Maker. Sonoro's website is littered with Milady Maker-themed merchandise that they've designed.
They often tweet about places in China, and their handle includes Chinese characters, which adds to the speculation that Milady Maker has a strong connection to the country.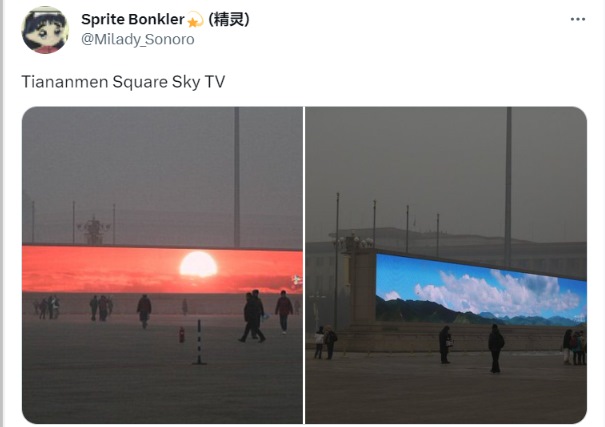 Charlotte Fang, @CharlotteFang77, is the second member of the Milday Maker team identified by the website. Fang is the Milady Maker designer and, according to her Twitter bio, the CEO of Remilia.
Fang's Twitter is a little more coherent than other accounts linked to the project. On May 23rd, she told her followers that Nike had reported Milady Maker for IP infringement. To which Fang replied, "Nike mad, they DMCA'd totally random milady too.
Come at us on Blur." As of writing, it's not clear if this is a legitimate complaint from the global footwear brand.
When Did Milady Maker Launch?
The collection was launched in August 2021 with an underwhelming mint and a minimal marketing push. Until April 2023, it had never seen more than ETH 1,500 in weekly trading volume on OpenSea.
The project has been a low-key PFP collection for 90% of its existence with a passionate but unrecognized community. In late April, for reasons that aren't clear, the weekly trading volume began to grow rapidly, quickly exceeding ETH 4,000.
The positive momentum turned many heads online, and everything changed for the Milady Maker project when Elon Musk tweeted a Milady Maker meme. The May 10th tweet had no caption, but that didn't matter. Suddenly, the world knew about Milady Maker.
Since the tweet, the project's OpenSea trading volume has exceeded ETH 55k ($100 million), the floor price has moved above ETH 4 ($7,200), and the average sales price has increased by over 400%.
What Makes Milady Maker Unique?'
Like all generative art PFP collections Milady Maker NFTs are made unique by their random traits. There are 15 different traits in the collection, including shirts, hats, hair, earrings, and about a dozen more.
Helpfully every Milady Maker is grouped into a 'Drip Grade.' These grades are used to rate the stylishness of every Milady. A drip grade is determined by a variety of factors, including a cosmetic score, slot, theme, and costume badges.
The idea of the drip grade is to bridge standard rarity scores with aesthetic appeal in keeping with the project's focus on a style. The drip grades are as follows:
Normal (30%)
B-Drip (21.6%)
C-Drip (19.5%)
A-Drip (14.4%)
S-Drip (8%)
Ss-Drip (5.3%)
Milady Maker #7489 is the highest-selling token in the collection to date. It was traded for ETH 30 ($55k) on May 10th, just a few hours after Elon Musk's tweet. This Milady has an A-Drip Grade putting it amongst the top 15% in the collection for stylishness, and it has an extremely rare Eth Necklace (0.14%).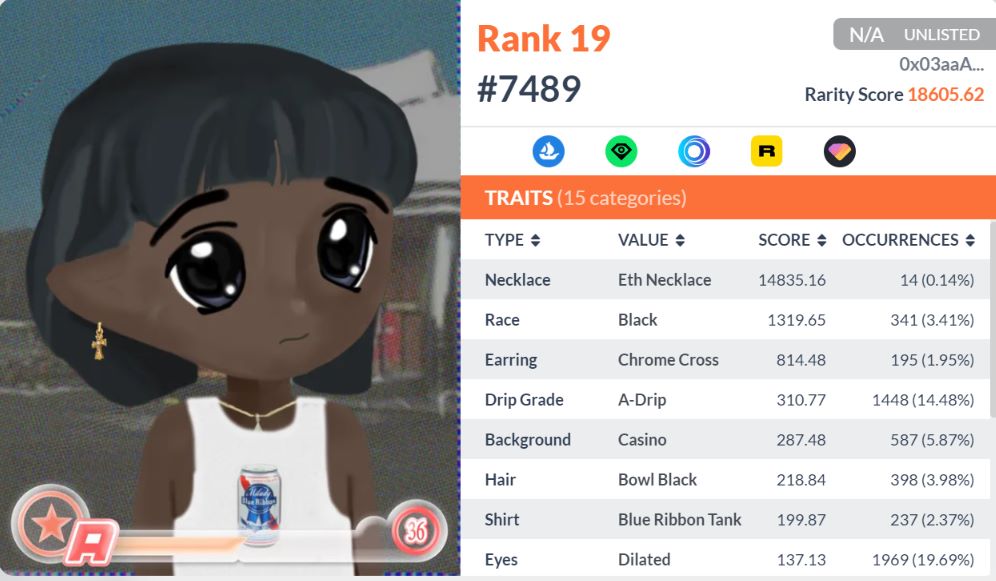 Milady Maker #4808 recorded the second-highest sale in the collection at ETH 19.9 ($36k), around the same time as #7489 was sold following Musk's tweet. Interestingly this Milady isn't even in the top 300 rarest NFTs, according to Rarity Sniper. However, it has an Ss-Drip rating suggesting the market might value stylishness over pure rarity in this collection. 
As of writing in May, the Milady Maker floor price is ETH 4.2 ($7.7k), and as you can see from the graph below, Musk's tweet pushed the average NFTs price up by over 400%. So if you are looking for floor price Milady, consider filtering OpenSea for these traits:
Eye Color Blue (30%)
Drip Grade Normal (30%)
Background Sunrise (14%)
Race Clay (29%)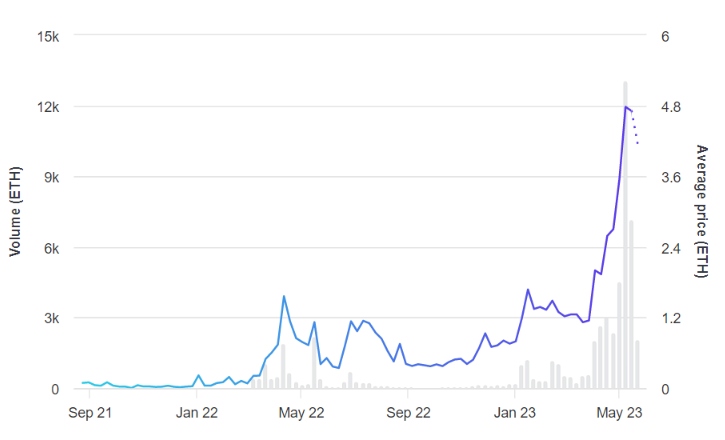 What Does Milady Maker NFT Do?
The Milady Maker community was pretty active even before Elon Musk's tweet. Many of the project's use cases go well beyond standard PFP utility with exclusive real-world events and VR applications.
Milady Village
The Milady Vilage is the NFT holder discord channel where ideas about future project expansions are debated and put into development.
Milady VRtube
The Milday VRtube is a collaboration with Hologram Labs that allows users to bring their Milady characters to life.
Milady Raves
Milady holders are given exclusive access to underground raves that are operated in cooperation with local organizers. The website says they've held events in major cities such as Tokyo, NYC, and London.
Miladycore Bootlegs
The Bootleg merchandise store sells commissioned items that feature Milady Makers. The store is random, with hoodies, tattoo sheets, and toys.
Milady Minecraft Metaverse
The Milady Community has access to the customized Milady-themed Minecraft server. In a metaverse-style play, they use the server to host digital events for NFT holders.
Milady Expansion Pack
Remilia has expanded the collection with a series of drops. Every Milady holder is able to mint a Banners NFT for free. The Redacted Remilio Babies is a companion collection of 10k Milady-style NFTs that appear slightly politically motivated as they warn anyone on the 'woke left' to avoid the collection.
Elon Musk and Milady Maker
Above all else, the project has derived value from Elon Musk's tweet. The project's floor price had stagnated for years until the Tesal CEO mentioned it. This doesn't take away from the project's artistic value or use cases, but it's worth noting it had enjoyed minimal success before the now-famous tweet.
How To Buy An Milady Maker?
The best way to purchase a Milady Maker is on OpenSea by following these steps:
Get a Crypto Wallet: Get an ETH-compatible crypto wallet like MetaMask.
Connect to Marketplace: Visit the Milady Maker OpenSea page and connect your wallet.
Explore: Browse the collection and use the filters to sort them by price.
Buy: Purchase a Milady Maker by pressing the buy now button or submitting a bid.
Before purchasing a Milady Maker NFT, make sure you do you're own research, follow the Milady Maker Twitter, and remember that NFTs are an extremely risky investment that can always go to $0.
The Future of Milady Maker NFT
Like many people, I hadn't taken much notice of Milady Maker until the Musk tweet and proceeding FOMO frenzy. The project's art undoubtedly appeals to a specific niche of anime enthusiasts, and the NFTs offer real-world utility. However, when any asset increases by such a vast amount in a short time for no reason other than social media hype, it's important not to get carried away with hopes for the future.