Learn about the Nakamigos NFT collection that has surpassed blue-chip NFT collections in trading volume on OpenSea despite its low floor price.
When you visit OpenSea and check the top trading collection, you know what to expect. Typically, you'll find BAYC, MAYC, and Azuki, among other usual suspects. However, a new pixelated PFP collection has broken into the top ten. As of writing in May 2023, the Nakamigos pixelated PFP project has exceeded ETH 31K trading volume, is holding a stable floor price, and has seen over 50k trades.
The 24×24 characters have been traded more than the Bored Apes due in part to FOMO and rumors about its connection to the CryptoPunks. This post will help you decide whether Nakamigos is just another low-effort CryptoPunks copy or a project with solid long-term prospects. We'll explore the mysterious origins of the 24×24 characters, their use cases, their rarity, and the biggest sales.
Nakamigos Explained
The Nakamigos is a collection of 20K 24×24 pixelated characters that inhabit the Ethereum blockchain. The project's name is derived from Satoshi Nakamoto, the mysterious creator of Bitcoin, combined with the word for friends in Spanish, 'Amigos,' resulting in something like 'Friends of Satoshi.'
As you'd expect from a PFP collection, the Nakamigos have a random set of traits that determine their rarity and their value. Their outfits vary from office attire all the way to Ninja Outifts and Sparton Armor. The rarest NFTs in the collection have sold for around $40k.
You can learn more about the collection by following the team on Twitter and checking their website occasionally for potential updates. They've specifically stated that they don't have Discord, but I did find a few fake Discord channels, so be careful.
Who Created Nakamigos?
The individual creators behind Nakamigos have yet to be doxxed as of writing in May, and the official website offers no information in this regard. However, the company behind the project, according to the website and numerous sources, is HiFo Labs.
Unlike most Web 3 companies, HiFo Labs doesn't offer the public much information. Their website consists of just a few sentences claiming they have "created NFT & Digital art projects for the past five years." The website doesn't mention what these projects were and gives no details about the people working for the company.
An official Nakamigos post on mirror.xyz published just before the mint states that an "OG" crypto artist is at the core of the project, and they "may choose to reveal their identity at some point." The post goes on to explain that WestCoastNFT was responsible for creating the project's custom smart contract. WestCoastNFT is a respected company that has worked with blue-chip projects such as Doodles.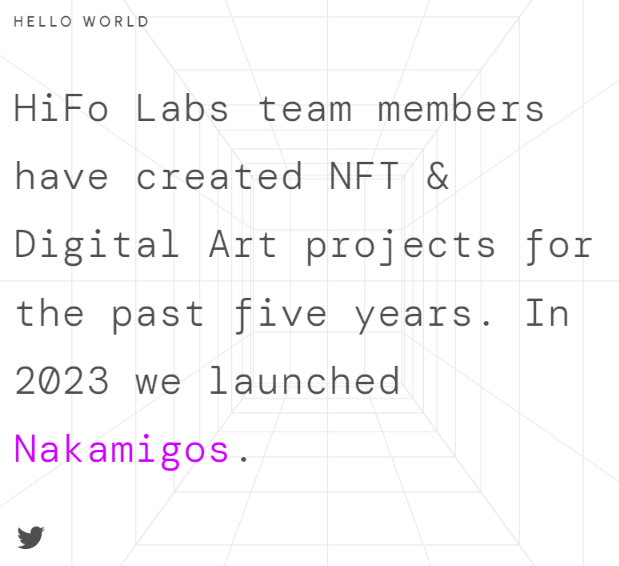 In March 2023, rumors began to spread on Twitter, suggesting that HiFo Labs was actually being run by Larva Labs, the team behind BAYC and CryptoPunks. Speculators stated that the Nakamigos resemble the CryptoPunks, offer similar IP rights, and have a comparable color scheme.
The online speculation spiraled to the point that HiFo Labs felt the need to intervene. On March 28th, they declared, "Not Larva Not Yuga Nakamigos," on Twitter.
When Did Nakamigos Launch?
The Nakamigos went live on March 22nd, 2023. Anyone was eligible to participate in the Dutch auction that started at ETH 1 and dropped every ten minutes. The maximum mints per wallet was 10 Nakamigos. The project sold out in hours, and within four days, the total number of trades had surpassed that of the Bored Ape Yacht Club.
As of May 2023, the project's total trading volume is ETH 31K, the unique ownership is just 30%, the creator fee is 5%, and 10% of the collection is listed for sale. The project's floor price is ETH 0.28, which suggests most people who minted during the Dutch auction have seen solid gains.
On OpenSea's 30-day trading volume chart, Nakamigos is #5 with ETH 21K placing it just behind Azuki and above Otherdeed for Otherside. With 10% of the collection listed on the secondary market as of May 2023, the NFTs are changing hands very often.

What Makes Nakamigos Unique?
As with most PFP NFT projects, every character is made unique by their combination of traits. The Nakamigo have over a dozen traits, such as Hair, Facial Hair, Glasses, and Ties. The collection is divided into the following 12 types in ascending order in terms of rarity:
Human Latte (7,790)
Human Boba (4,250)
Human Pumpkin Spice (2,562)
Human Mocha (1,286)
Human Coffee (1,076)
Frog (868)
Human Invisible (832)
Bot (551)
Crocodile (495)
Snowman (245)
Ballon (36)
Ghost (9)
Every Nakamigo has a type and a series of random traits. Unfortunately, the project isn't fully covered on Rarity Sniper as of writing in May, so the best way to check the rarity of each trait is on the corresponding OpenSea page.
The highest sale in the Nakamigos collection was recorded by #5187. It's one of just nine Ghost-type Nakamigos and has a Spacesuit found on just 2% of the collection. Its two traits make it one of the rarest NFTs in the collection. This ghostly astronaut sold for ETH 20 on March 29th, which was worth around $40k at the time.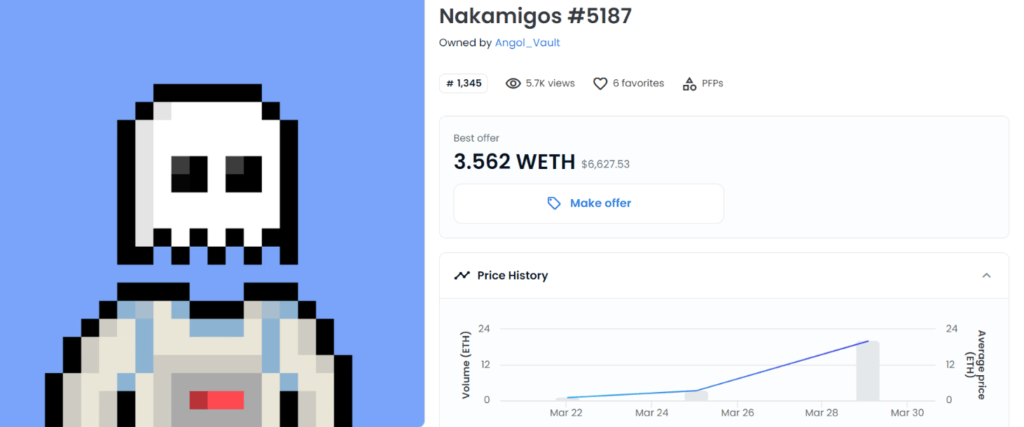 Around half a dozen Nakamigos have sold for over ETH 10 as of May 2023. The second highest sale was clocked by Kakamigos #3648, which has no trait other than Ghost type resulting in an almost empty 24×24 box. It sold for ETH 16 on March 28th and regularly receives offers over a 1000% above the project's floor price.
Nakamigos #4020 is the highest-selling non-Ghost type token in the collection. It sold for just under ETH 15 on April 3rd and derives its value from its extremely rare Crown and Spartan Armor.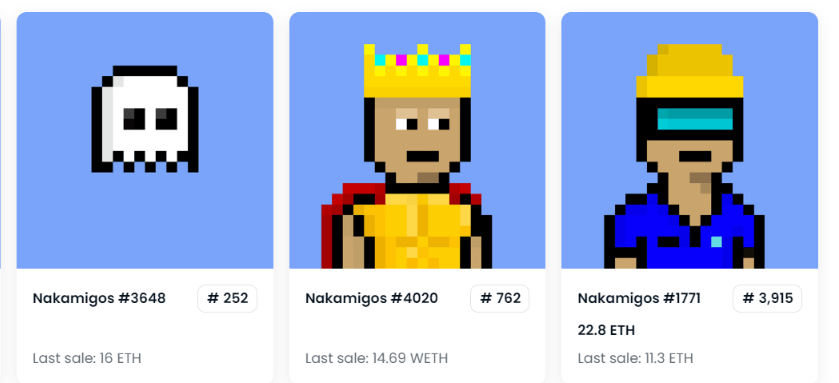 Unlike a lot of blue-chip PFP projects, you can still find Nakamigos for well under ETH 0.5. The cheapest Nakamigos tend to be from the most common Human types with common traits. For example, #4131 trades at the floor price with the Human Boba type (21%) and Flat Mouth (71%).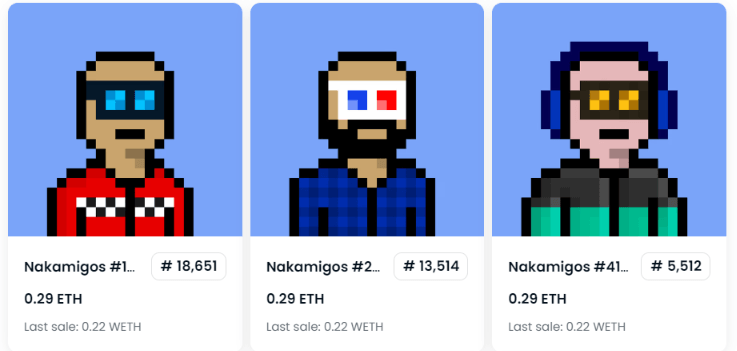 What Does Nakamigos NFT Do?
Despite the lack of a roadmap on the Nakamigos website or much information from the team, it does have a few use cases. However, this is nothing like other Web 3 projects that offer profound utility, such as a metaverse or native token.
PFP Bragging Rights
The Nakamigos has generated a lot of hype on social media among NFT enthusiasts. It's worth noting that much of the hype does appear to be a product of pure speculation about the collection's alleged connection to Larva Labs. Even so, having one of these pixelated characters as your profile picture on Discord or Twitter will certainly earn you respect from the community.
IP Rights
The main use case of the project is generous IP rights. The website states that "Nakamigos holders are granted the same commercial rights as Yuga Labs provided for CryptoPunks." The licensing terms explain that Nakamigos holders are granted the license to use Nakamigos Art by HiF Labs. There are some rights limitations detailed in the licensing terms document.
Honorary Nakamigos
The Honorary Nakamigos is a separate 24-piece collection of Nakamigos. Some depict well-known names in the industry, while others were created for NFT whales. For example, Honorary Nakamigo #11 is a reference to the NFT artist XCOPY, while #16 depicts Betty, the founder of the DeadFellaz project.
These Nakamigos were airdropped directly to wallets, and only a few have been traded since. However, four notable sales have been recorded as of May. According to its title on OpenSea, #4 was sent to Cozomo de Medici, better known as the rap legend Snoop Dogg, and was traded for ETH 10 on April 3rd.
The collection was launched alongside the OG Nakamigos and, as of May, has a trading volume of ETH 41, a floor price of ETH 9.9, 91% unique owners, 0% creator earnings, and 26% are listed.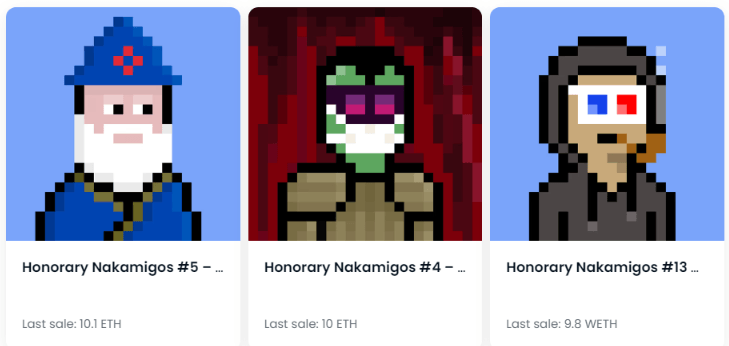 How To Buy An Nakamigos?

The best way to purchase a Nakamigos is on OpenSea by following these steps:
Get a Crypto Wallet: Get an ETH-compatible crypto wallet like MetaMask.
Connect to Marketplace: Visit the Nakamigos OpenSea page and connect your wallet.
Explore: Browse the collection and use the filters to sort them by price.
Buy: Purchase a Nakamigos by pressing the buy now button or submitting a bid.
Before purchasing a Nakamigos NFT, make sure you do you're own research, follow the Nakamigos Twitter, and remember that NFTs are an extremely risky investment that can always go to zero.
The Future of Nakamigos NFT
The Nakamigos project is a weird one. In the first few months of its launch, it has clocked an immense amount of trading volume that might make some blue-chip projects nervous. However, unlike most top NFT projects, Nakamigos is shrouded in mystery, with very little information about the team and no solid road map.
For now, the Nakamigos are 24×24 pixelated PFPs that offer their owners extensive licensing rights. The future of Nakamigos is unclear, but it will certainly be interesting to watch it unfold.