Discover what is the Bored Ape Yacht Club NFT and why it's changing the face of Web 3.0.
Bored Ape Yacht Club is a non-fungible token (NFT) collection designed by Yuga Labs. It features 10,000 randomly generated avatars, all of which have unique properties and rarity. It's gained viral popularity on Twitter, and mainstream media due to celebrity adoption, community impact, and the astonishing floor price.
The BAYC NFTs were first issued in April of 2021, when the BAYC mint price was set at approximately 0.08 ETH. Today, BAYC NFTs regularly sell for over 100 Eth, which equates to multiple six-figures in USD.
You can buy Bored Ape Yacht Club NFTs on OpenSea other NFT marketplaces
Like many bluechip NFTS, the BAYC project is minted using the Ethereum blockchain network, while the images are delivered via IPFS.
Read our guide: What is IPFS?
An NFT is essentially this proof of ownership. In the case of BAYC, it indicates who owns the image and all the associated use cases that go along with it.
In the case of BAYC, buyers own the illustration of an ape, which has randomly-generated traits and accessories associated with it, where no two images are alike in any way, shape, or form. While Yuga Labs owns the overall Apes brand, BAYC holders can use the IP of their NFT any way they wish.
What Is the Purpose of Bored Ape Yacht Club?
The BAYC project essentially serves as a meme, access to a premium Discord community, and a way of virtue-signaling on Twitter. It's also a bluechip NFT project that buyers hope will appreciate over time. And it's a part of pop culture. 
Owning a BAYC NFT also gives you access to additional NFT collectibles, which can be re-sold for considerable amounts of Ethereum. For example, Yuga Labs released a free NFT set known as the Bored Ape Kennel Club dog NFT set, and then, later on, we saw the release of the "mutant serum," which generated a Mutant Ape Yacht Club image. Both projects are worth five figures today.
Numerous celebrities own a BAYC NFT, including Justin Bieber, Jimmy Fallon, Post Malone, Neymar Jr, Kevin Hart, Paris Hilton, Snoop Dogg, and others.
Ape hodlers typically band together across social media channels such as Twitter, using their apes as pictures for profiles. For example, they made@MoonOverlord an Honorary Member of the Bored Ape Yacht Club.
What Is Ape Coin?
On March 18, 2022, holders of BAYC, the Mutant Ape Yacht Club, and Bored Ape Kennel Club received an airdrop of $APE coin. This coin serves as the governance token for the BAYC project. 
The project describes it as a token for culture, gaming, and commerce, which is used to empower a decentralized community building towards Web3. It gives hodlers voting rights inside of the BAYC Decentralized Autonomous Organization (DAO).
The DAO is supported by the Ape Foundation, which was created to specifically be the legal steward of ApeCoin and administer the decisions made by the DAO community. $Ape hodlers can also buy project merch
All BAYC NFT holders were able to claim free $APE tokens. The token increased in value by tenfold. As a result, the airdrop translated into a six-figure amount for some long-term BAYC hodlers. Speculators can buy $APE on most crypto exchanges.
Bored Ape Yacht Club NFT Price Evolution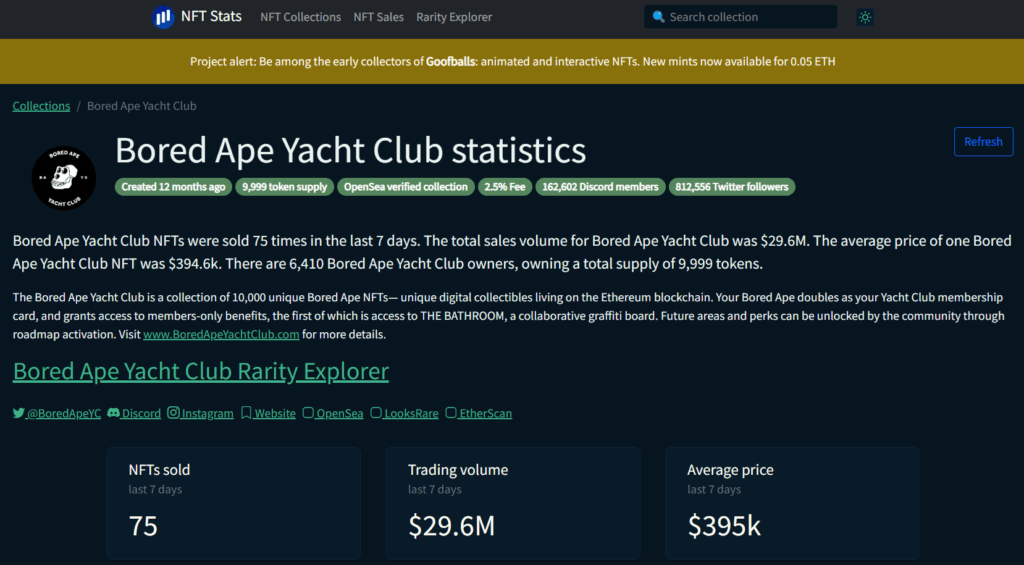 The BAYC NFTs were minted throughout April of 2021, where the BAYC mint price was set at approximately 0.08 ETH. However, since the inception of the BAYC, the value has increased tremendously. 
Remember, they were minted at a cost of only 0.08 ETH, and have since then, sold for six and seven figures, depending on the rarity of a specific NFT from the collection.
According to data gathered by CoinGecko, the collection's rolling average floor price, which is the cheapest token on the market, reached 99.5 ETH per BAYC NFT or $299,790.59 by March 2022.
Despite this stable floor price, some of the rarest BAYC NFTs in the collection have sold for much more. According to NFT-Stats.com, some of the top-selling BAYC NFTs are as follows:
Bored Ape Yacht Club #4580 sold for $1.74 million.
Bored Ape Yacht Club #1837 sold for $1.5 million.
Bored Ape Yacht Club #7076 sold for $788 thousand.
The Bored Ape Yacht Club (BAYC) Metaverse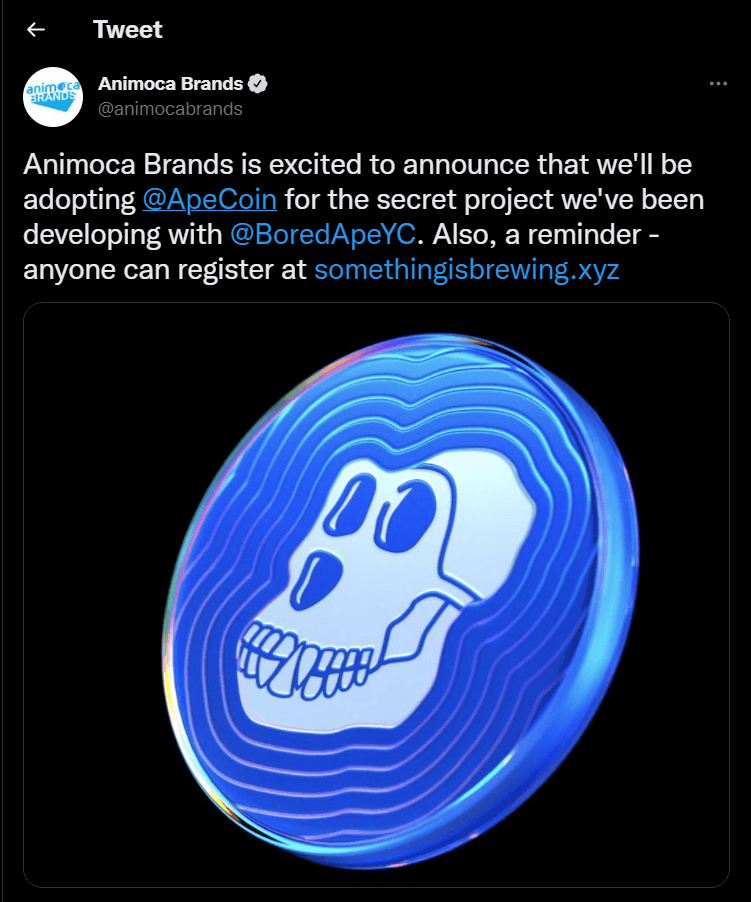 Yuga Labs teased its new Bored Ape Yacht Club (BAYC) metaverse. In fact, on March 19, 2022, it released a trailer that references other NFT collections.
The blockchain metaverse developer Animoca, who gained fame for The Sandbox project, tweeted that it was also entering the BAYC universe on March 17, 2022.
The BAYC metaverse is called Otherside and will be released in April of 2022.
How To Buy Bored Ape Yacht Club NFT
It's not possible to buy a BAYC today, except on the secondary market. That's because all 10,000 BAYC NFTs have already been minted. Instead, look to NFT marketplaces such as OpenSea and Looksrare.
Before you buy the Bored Ape Yacht Club NFT, join the official Discord channel to learn more about the community. Then, assuming you can afford one, follow our step-by-step guide if you want to buy a BAYC NFT on OpenSea.
Connect to OpenSea – Navigate to OpenSea and press the "Connect Wallet" button in order to begin this process.
Browsing for the perfect BAYC NFT – You will now need to go over to the Bored Ape Yacht Club (BAYC) collection and make your selection. Good luck finding one that's affordable!
Buying the BAYC NFT – Either buy the NFT outright or place a WETH bid on one.
For most people, a BAYC is out of reach thanks to the eye-watering floor prices. That makes Bored Ape Kennel Club a more affordable entry point into the Apes projects. Alternatively, interested investors could buy $APE.