Discover who is Takashi Murakami and the projects that have made Takashi Murakami one of the most-well contemporary artists of his generation.
Takashi Murakami is a revered contemporary artist from Japan, Tokyo, who merges anime-style with traditional Japanese painting and Japanese culture while shunning most Western techniques resulting in his unique style known as Superflat.
Superflat art uses flattened compositions encompassing multiple perspectives of historic post-war Japanese art movements and combines them with popular culture. Within the Superflat style is the theme of 'otaku' Japanese subculture that mixes innocence, infancy, and violence.
Takashi's art has become as popular at art fairs as it is among businesses looking to market their handbags and T-shirts. Due to the sheer range of Takashi's work, you are just as likely to see his pop art on a Louis Vuitton handbag as you are to come across his high art in a museum of contemporary art.
Takashi MuMurakami's business-like approach to art earned him the title of 'Japan's Andy Warhol. In this article, we'll take a look at Takashi's top ten projects.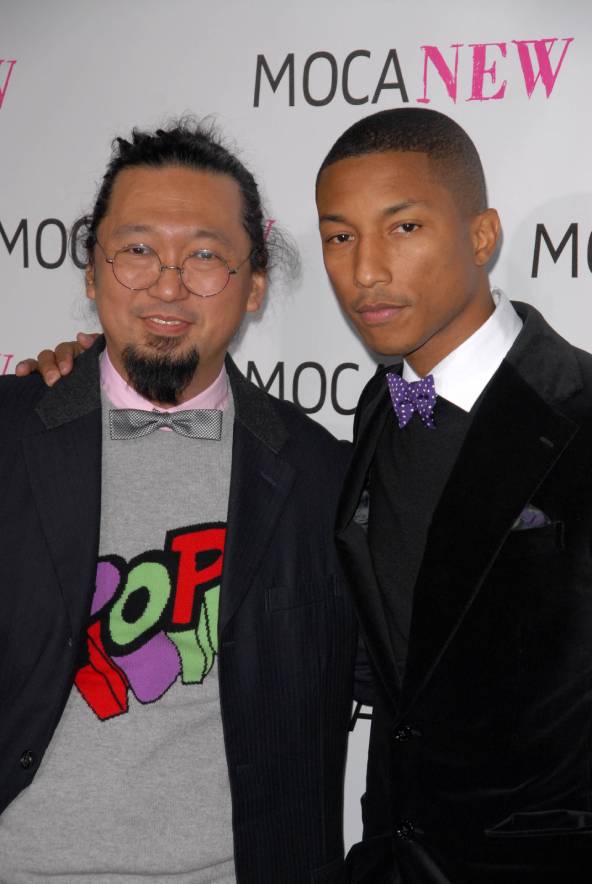 1. Louis Vuitton's Takashi Murakami Handbags
Louis Vuitton (LV), the world-famous multi-billion-dollar luxury fashion brand, collaborated with Takashi Murakami for over a decade to add a superflat artistic twist to their luxury handbags.
The collaboration began in 2001, but the first collection didn't hit the shelves until 2003 with the launch of a Monogram Multicolor collection of bags and wallets.
The Monogram Collection was a huge commercial success, and its pop art and manga style design got the attention of several high-profile celebrities such as Kendall Jenner and Kim Kardashian.
Louis Vuitton saw the power of Murakami's work in 2003 and moved to develop a long-term relationship with the famed Japanese artist.
LV and Takashi launched half a dozen projects together following Monogram, including Cherry Blossom, Panda, Cerises, MOCA Hands (with the Museum of Contemporary Art Los Angeles exhibition), Monogramouflage, and Cosmic Blossom.
Over a decade after Monogram LV and Takashi's business partnership ended in 2015. However, celebrities have continued to proudly show off their original Takashi-inspired LV handbags.
2. Takashi and Supreme
In early 2020, amid the darkest days of the COVID-19 Pandemic, the US clothing giant Supreme teamed up with the artist Takashi Murakami in a fundraising effort to support families that had recently become homeless through the NGO Help USA.
A rainbow-colored psychedelic pattern combined with the typically understated Supreme T-shirt design. The T-shirts when then put up for auction for $60, with the proceeds going straight to those in need.
The project was a huge success. These t-shirts raised over $1 million for Help USA.
"This incredible gift comes in a time of our clients' greatest need and supports our work nationally to provide the most vulnerable with a safe place to call home, food, and essential services during this crisis and beyond," said Help USA after receiving the donation from Supreme.
Following the project's conclusion, many people re-sold the t-shirts online, and some were sold for over $1,000.
3. Clone X
Clone X is an NFT collection of advanced avatars designed for the metaverse by the blockchain technology company RTFKT and its owner Nike.
Takashi Murakami collaborated with the Clone X team and brought his unique anime-style art to some of the 20,000 avatars in the collection.
The avatars are divided into seven categories humans, robots, demons and angels, reptiles, aliens, and Murakamis.
The cheapest avatars in the collection sell for around $30,000, and Clone X has quickly become one of the most valuable NFT projects on the market.
Takashi Murakami's artistic influence can be seen in every single avatar; they're marked with bright colors and anime characteristics.
Takashi's influence is most evident in the 'Murakamis,' which are the second rarest avatars in the collection and directly resemble the famed Japanese artist.
The 'Murakamis' have become a favorite among collectors, and the most expensive Clone X sold to date is a Murakamis #4594 for over $1 million.
4. Murakami Flowers
The Collins Dictionary word of the year in 2021 was NFT (Non-Fungible-Token). NFTs, a blockchain technology that creates an immutable proof of ownership over an asset, took the art world by storm.
Pieces of digital art were selling for millions of dollars every week, with one piece by the digital artist Beeple selling for a record-breaking $69 million.
As an astute businessman and artist, NFTs caught Takashi's eye, and he decided to release his own collection.
The Murakami Flowers collection consists of 108 pixelated superflat style rainbow-colored smiling flowers with 12 round petals.
The NFT collection was slated for launch last year,2021, but Takashi paused the project on the basis that he needed to become more familiar with NFT technology before proceeding.
This year, Takashi returned to the project, and the smiling flowers were minted into NFTs. Some hodlers of the Clone X NFT project receive whitelist access.
5. Kids See Ghosts
Kanye West and Kid Cudi reached out to Takashi Murakami in 2018 to design the artwork for their collaborative sound journey album titled 'Kids See Ghosts.'
The album's cover features a ghostly cloud-like figure being ridden by two figures on a colorful manga-style background.
The album was just the start of Kanye West and Kid Cudi's collaboration with the Japanese contemporary artist, and in 2020 they released a trailer for the series Kids See Ghosts'.
The short two-minute animated video directed by Takashi shows Kanye Bear (also designed by Takashi) and a Kid Cudi-shaped fox embarking on a psychedelic adventure.
Since the trailer's release, fans have been waiting to hear when the series will be launched. The trio haven't updated fans for over a year, suggesting the project may be canceled.
6. Billie Eilish x Uniqlo T-Shirts
The Japanese fashion brand Uniqlo collaborated with Billie Eilish, the Californian singer-songwriter, and Takashi on their Billie Eilish x Takashi Murakami UT collection.
The UT t-shirt line was designed with unique motifs from both artists last year. The t-shirts came in a variety of designs, including one that had 'Billie Eilish' written in bold letters filled with hundreds of Murakami smiling flowers.
Other designs included an image of Billie surrounded by Takashi's smiling flowers and various pop art style characters.
Reflecting on the project, John C Jay, President of Global Creative for UNIQLO, said: "Two of the most influential global creators come together as a new expression of art for all."
The UT T-shirts were sold for between $14,99-9,99 and sold out instantly.
The success of UT solidified the relationship between Eilish and Murakamiwho had previously collaborated on an award-winning music video for the song 'You Should See Me in a Crown.'
7. Kaikai Kiki co. Collective
The Kaikai Kiki co collective was founded in 2001 in Tokyo and is run by Takashi Murakami himself.
Kaikai kiki roughly translates to "powerful and sensitive," which relates to Murukami's superflat style that brings together opposing forces.
The collective is made up of ground-breaking contemporary artists from Japan. The most well-known group members are Aya Takano, Seonaa Hong, and Mahomi Kunikata, who have all been recognized by the international art world.
The collective is relatively free-flowing, and while some members, such as Takano and Hong, take after Takashi's manga-style superflat style, others employ vastly different techniques.
The group is based on Andy Warhol's Pop Art Factory, which experimented with the idea of art being created in a commercial factory process through teamwork instead of a lonely artist working alone in a studio.
Kaikai Kiki co has been very successful, and this is reflected in its expansion; they now have studios in New York, Los Angeles, and the original one in Tokyo.
8. Gagosian Exhibition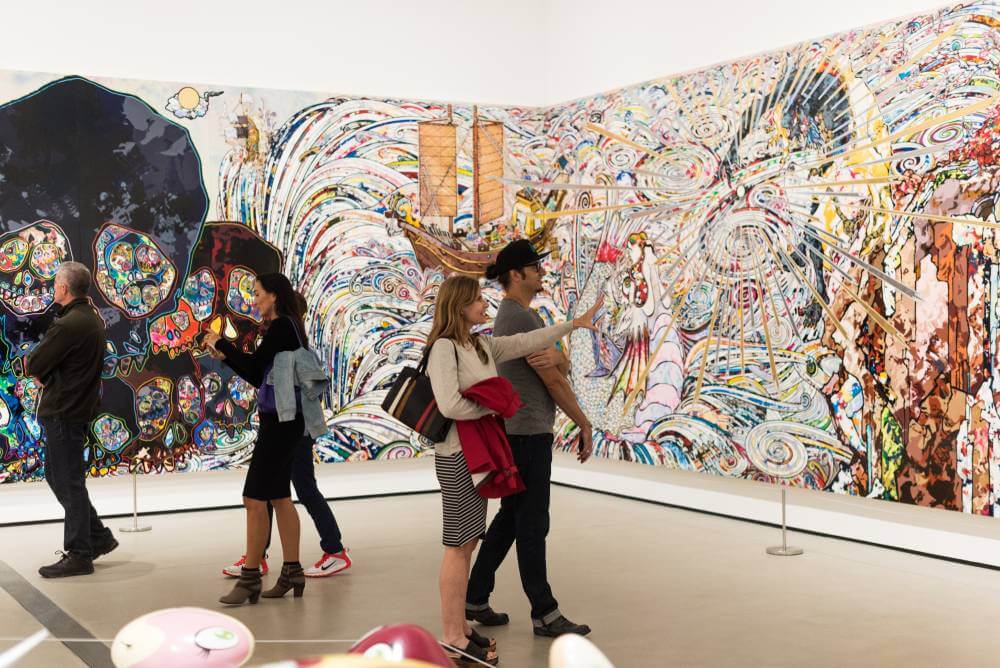 Murakami's art has regularly been displayed in Gagosian contemporary art galleries.
The Gagosian has featured Murakami's work in Hong Kong, Paris, New York, and Los Angeles (pictured).
One of Takashi's most successful exhibitions was the GYATEI² in Beverly Hills, Los Angeles, in 2019.
The exhibition's title came from the Buddhist Hannya Shingyo (Heart Sutra) and showcased several Takashi paintings that combined pop culture with Japanese anime and sci-fi themes.
The GYATEI² featured Takashi's 'Field of Flowers,' a colorful acrylic piece from the Murakami Flowers collection, and the Mr. Dob fiberglass model.
One of the stand out pieces displayed in the Gagosian's Los Angeles gallery was the 'Vira: Lamentable Addiction' piece which has the word 'Viral' in large bold letters graffitied over a field of Takashi's trademark smiling flowers.
Last year Takashi's 'Quiet and deep Ultramarine' painting was displayed by the Gagosian in Hong Kong alongside other world-renowned artists, including Zeng Fanzhi and Damien Hirst.
Takashi's work is expected to return to the Gagosian in New York later this May in the 'An arrow through History.'
9. The Palace of Versailles Exhibition
Takashi Murakami filled 15 rooms in the historic Palace of Versailles, located a few miles from the French capital Paris.
Versailles Palace is regularly visited by tourists who flock to the breathtaking building where the treaty that ended World War I was signed in 1919.
However, in 2010 Taakhi's exhibition gave people a new reason to flock to the Palace.
The Palace's most famous room, known as the 'Hall of Mirrors,' was filled with Takashi's smiling flowers, while other rooms housed sculptures including 'Kaikai' and 'Jellyfish Eyes.'
The exhibition drew widespread criticism from people who claimed that Otaku-style art had no place in the historic building.
Others argued that there are countless contemporary art galleries in Paris, so there's no need to use the Palace of Versailles for these exhibitions.
Takashi responded to the criticism by saying:
"When I hear such things, I say to myself that when a (sports) team scores a goal, there are always people who aren't happy about it and who express that."
10. Tan Tan Bo
Takashi's Tan Tan Bo paintings are among his most successful pieces.
The paintings blur the line between fine art and Neo-Pop Art to create a mesmerizingly colorful canvas.
Central to Tan Tan Bo pieces is the face of a Mikey Mouse-like character with bulging eyes and boldly colored circles for ears.
Michael Darling, Chief Curator of the Museum of Contemporary Art Chicago, described the Tan Tan Bo as Takashi's greatest work.
Christie's Auction house auctioned a Tan Tan Bo for over $5 million in 2018.
The Final Word on Takashi Murakami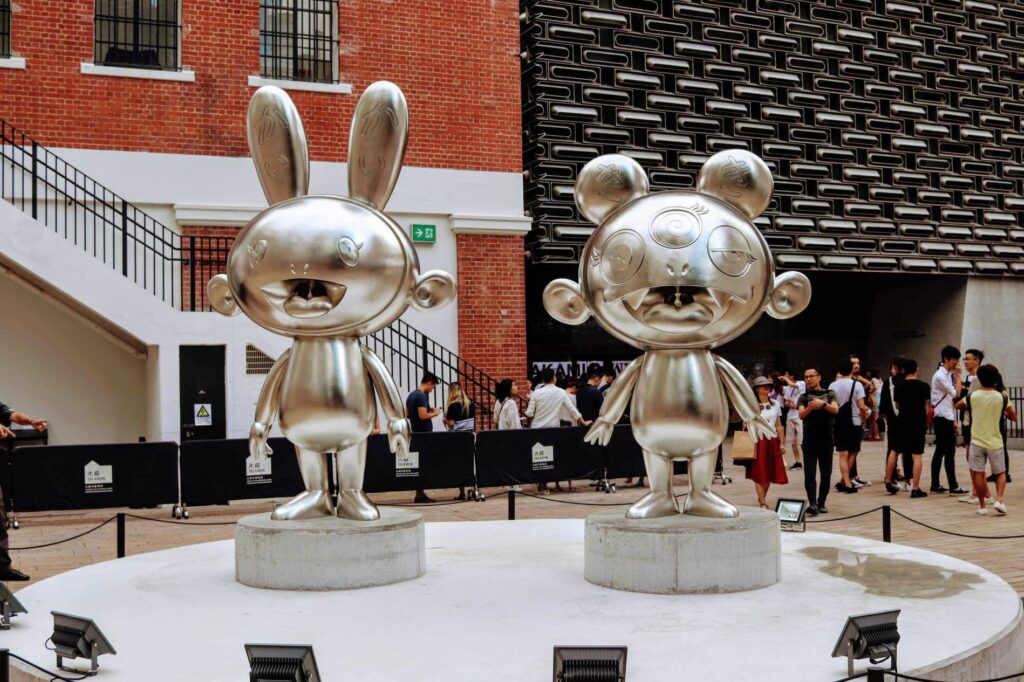 Murakami's art has elevated him into the highest echelons of the contemporary art world and earned him recognition all across the international art scene and a place in art history.
His work seemingly knows no limits; he's collaborated with A-list celebrities, NFT projects, the biggest fashion brands in the world, and filled galleries with contemporary art enthusiasts from Tokyo to Paris.
FAQs About Takashi Murakami
Who is Takashi Murakami?
Takashi Murakami is a Japanese contemporary artist who blends traditional Japanese art with a technique known as superflat to create manga-style contemporary art pieces. Murakami's art ranges from fine art to commercial art produced for fashion brands such as Supreme and Marc Jacobs.
What is Takashi Murakami known for?
Takashi Murakami is known in the international art world for his super flat art style that incorporates post-war Japanese painting, anime, and manga. He is also well known for dozens of successful projects ranging from music videos, and collaborations with Kanye West and Pharrell Williams to luxury handbags.