Learn about $PEPE coin, the most recent Pepe the Frog crypto frenzy that saw the token hit $1.5 billion market capitalization within a month of launch.
Following the savage 2022 crypto bear market, there was a feeling that the time of meme coins like $DODGE and $SHIB had ended. Industry leaders celebrated as crypto matured and focused on projects with real-life utility. Pepe the Frog and the crypto degens have not taken note of crypto's newfound maturity.
$PEPE is the latest meme-coin to take the crypto space by storm. The token was launched by an anonymous person or persons with no clear roadmap or utility. It was easy to dismiss the project as another generic sh*t coin. How wrong many of us, including myself, were.
Within four weeks of launching, the token reached a market capitalization of $1.5 billion. It broke into the #50 cryptos and made several people absurdly rich overnight. All this happened so fast that many people are just starting to ask what happened.
This post will tell you everything there is to know about $PEPE, including its origins, tokenomics, and community.
$PEPE Explained
$PEPE is an ERC-20 meme-coin minted on the Ethereum network with a maximum supply of 420.69 trillion. As of writing in May 2023, $PEPE trades on various decentralized exchanges and Binance. However, the majority of popular exchanges have not listed the token.
The $PEPE community is rallying behind the idea that it's time for a new meme-coin kingpin beyond the dog-themed tokens such as $DODGE and $SHIB. "The dogs have had their day, it's time for Pepe to take reign," reads the $PEPE website landing page.
The project is a tokenized homage to the Pepe the Frog meme. If you haven't heard of Pepe, he's a green comic book character who was created by the artist Matt Furie in 2005. Pepe became a popular figure online through memes and, in 2015, reached a global audience when alt-right groups began using the somewhat menacing-looking Frog for their propaganda.
The #SavePepe movement led by Furie eventually recovered Pepe from the alt-right. Since leaving behind the extremists, Pepe has found a massive community in the crypto space where numerous Pepe-themed projects have appeared, including the Rare Pepe NFTs.
If you want to learn more about $PEPE, you can visit the website and follow the $PEPE Twitter. It's also worth searching the #PEPE on Twitter to get a feel for how things are going with the token and the community.
Who Created $PEPE?
In somewhat typical meme-coin fashion, $PEPE doesn't have a creator. The token was launched anonymously, and as of writing in May, no one credible has come forward to take responsibility for $PEPE.
Interestingly the project's Twitter account has over 250K followers but only follows @Matt_Furie. However, the website states that Furie has nothing to do with the project: "$pepe coin has no association with Matt Furie or his creation Pepe the Frog. This token is simply paying homage to a meme we all love and recognize."
When Did $PEPE Launch?
$PEPE launched on April 17th, 2023. 93% of the tokens were sent to the liquidity pool, and initially, they were only tradable for $ETH on UniSwap.
Does $PEPE have tokenomics?
$PEPE tokenomics are straightforward. The token has a maximum supply of 420.69 trillion. 93.1% of the tokens were sent to a liquidity pool at launch, leaving 6.9% for the CEX listings. The tokens reserved for CEX listings are held in a multi-sig wallet, although it's not clear who has the keys to the wallet.
What is the $PEPE Road Map?
Despite the lack of a team or creator, $PEPE has a vague roadmap broken down into three phases. The road map is at the bottom of the $PEPE website.
The first phase involves launching the token, CoinGecko listing, gaining 1000+ holders, and developing a social media presence. The first phase has been successfully completed, as the token's social media presence exploded in the three weeks following the launch, and the 1000+ holder target looks like a meme in and of itself at this point.
The second phase is expected to see the creation of community partnerships, the creation of a $PEPE Discord, and centralized exchange (CEX) listings. Binance, the world's biggest CEX, announced it would list the token in early May.
The third phase plans to launch a $PEPE merchandise line, an academy, various Web 3 tools, and expand CEX listings. It's not clear how this will be done without a clear management structure.
The first two phases of the road map have been completed. However, some of it has been by pure chance, not through effective management. We should always be cautious when it comes to crypto road maps, especially when there's no team to hold accountable if milestones aren't completed.
What Makes $PEPE Unique?
In some respects, $PEPE isn't unique. The crypto and NFT market has had its fair share of meme projects, and many of them have used Pepe the Frog in some way or another. However, $PEPE's financial success is unique. The token hit a $1.5 billion valuation within three weeks of launch. The token's spectacular rise was achieved without any apparent use cases in the middle of an extremely tough market.
During the first week, the token's price remained relatively stable, but behind the scenes, social media hype was already spreading. On April 28th, Pepe's Twitter posted an image of Pepe projected on Time Square. Following the Tweet, $PEPE's price went parabolic. The market cap increased from around $100 million to $500 in four days.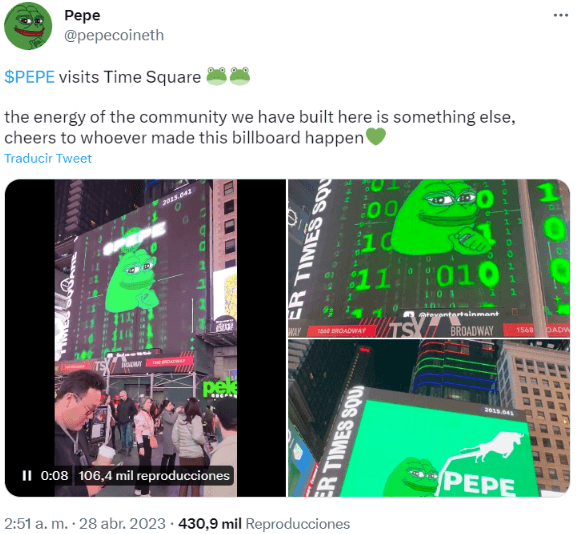 The rally paused for around 48 hours on May 3rd when Binance announced that it would list $PEPE on May 6th. The decision by the world's biggest exchange resulted in an unprecedented rally, and by May 6th, $PEPE's market cap had hit $1.5 billion.
Dozens of crypto wallets that invested less than $500 dollars when $PEPE ended up holding $PEPE worth over $1 million. CoinMarketCap reported that one investor turned $27 into $1 million. We haven't seen this sort of surge in a meme-coin's value since the $DODGE frenzy before the 2022 bear market.
What Does $PEPE Do?
If you're looking for use cases, then it's best you avoid meme coins like $PEPE. The project's website states that $PEPE is "Fueled by pure memetic power, let $PEPE show you the way," and that pretty much sums it up. Beyond the speculative value of $PEPE created by social media hype, it has no use cases.
How has $PEPE performed compared to popular NFTs?
Despite the lack of use cases or leadership, we can't overlook the impact that $PEPE has had on the crypto market. It completely outperformed some of the most popular blue-chip NFTs in the weeks following its launch.
Let's look at how blue-chip NFTs performed between the $PEPE launch on April 17th and May 10th.
$PEPE vs. BAYC
The Bored Ape Yacht Club (BAYC) has been a dominant player in the NFT space since it launched in 2021. Serious investors in the Web 3 space often pick up Apes, believing it's one of the most secure NFT investments.
According to CoinGecko, BAYC's floor price slipped from ETH 55 to ETH 44 in the given time period, representing a 20% drop. On the other hand, during the same period, the value of $PEPE went from $0.000000055142 to $0.00000193, representing a 3400.7% increase.
If someone invested $1000 in BAYC on April 17th, they would have seen its value drop to $800 by May 10th. The same $1000 investment in $PEPE would have been worth $35,007 on May 10th.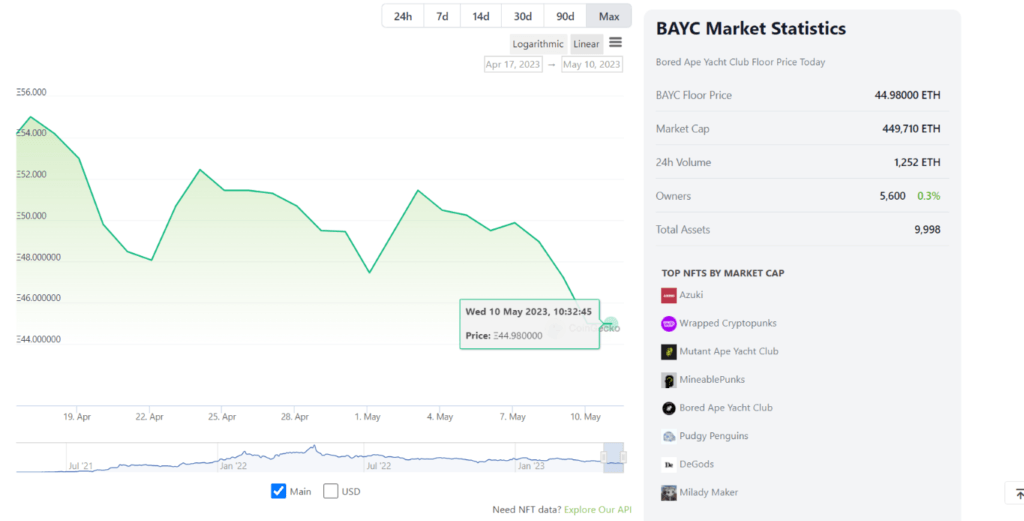 $PEPE vs. Azuki
Azuki is a top blue-chip NFT project that rarely drops out of the #10 on OpenSea. According to CoinGecko, Azuki's floor price dropped by 7.7% from ETH 15.5 to ETH 14.3 between April 17th and May 10th.
A $1000 investment in Azuki within this time frame would have resulted in a loss of $77.42 if we assume ETH/USD remained stable. Although Azuki's price was more stable than BAYC, holding $PEPE would have been immeasurably more profitable.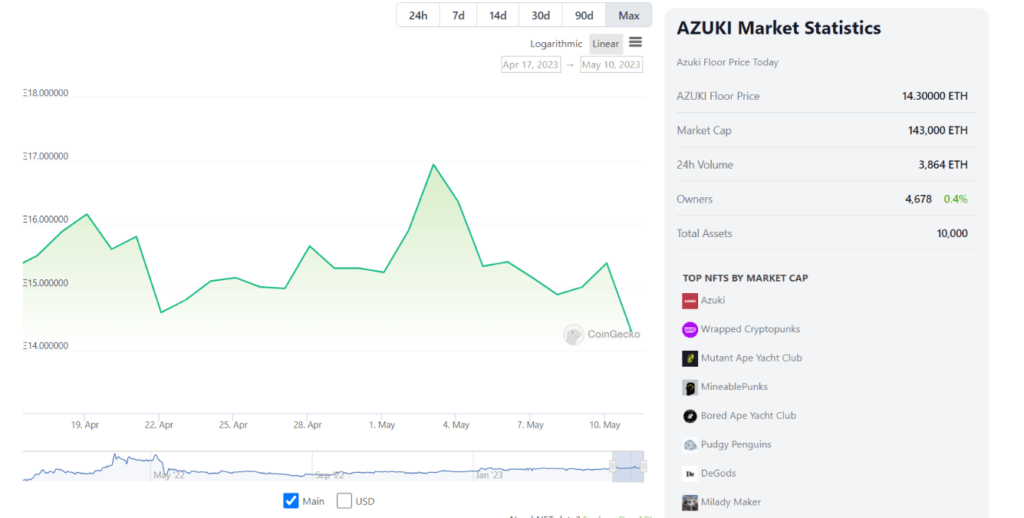 $PEPE vs. DeGods
DeGods was the leading Solana NFT project until it migrated over to Ethereum after Solana suffered a series of outages and was caught out during the FTX collapse. Since migrating to Ethereum DeGods has become one of the network's top projects.
According to CoinGecko, DeGods' floor price rose by 12.5% from ETH 8 to ETH 9 between April 17th and May 10th. A $1000 investment in DeGods, with ETH/USD stable, would have earned $125 in returns. A solid return, no doubt, but still a drop in the ocean compared to the monumental profits some $PEPE holders racked up in the same time frame.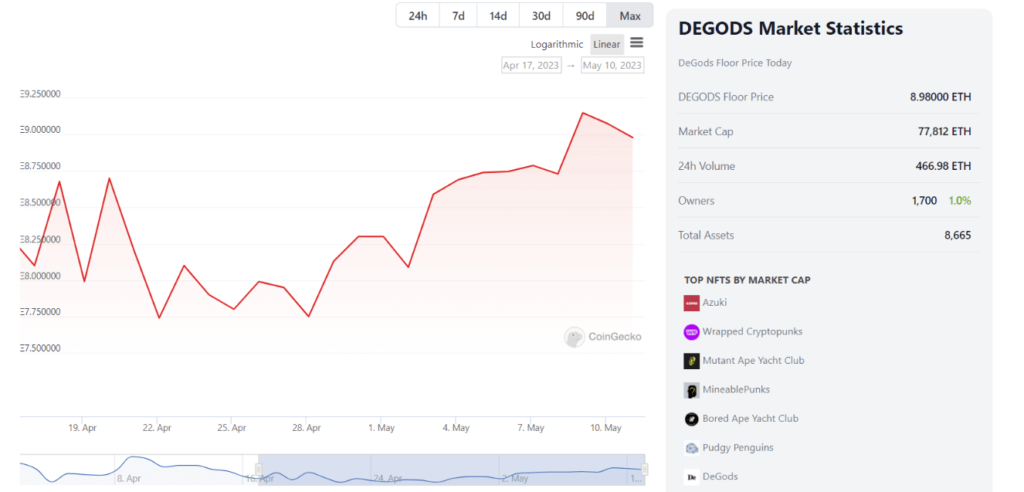 How To Buy $PEPE?
The easiest way to trade $PEPE is either through UniSwap or Binance. Using Binance is more straightforward as it's a CEX, and most people in the crypto space use it regularly. To trade $PEPE on Binance, follow these steps, and if you want to stick to UniSwap, you'll find instructions on the $PEPE website.
Create a Binance account if you don't already have one.
Search for $PEPE on the marketplace.
Select a trading pair, for example, ETH/PEPE.
Top up your ETH wallet with the desired amount.
Press 'Buy' to complete the trade.
$PEPE is a highly-volatile asset with no apparent utility. None of the above is investment advice, and remember that cryptocurrencies, especially meme coins, can and often do go to $0.
The Future of $PEPE
$PEPE's rise has been meteoric even by meme-coin standards. Twitter was flooded with activity from the Pepe community following the token's launch, and the hype soon resulted in FOMO that drove the token's value to the moon. Speculating about the future of a meme-coin is pointless, but if history tells us anything, the steady demise of $PEPE is more than likely. Regardless of $ PEPE's future, it's almost certain that we'll see many more Pepe the Frog-inspired crypto projects.
$PEPE Twitter Thread
$PEPE the latest meme-coin frenzy, reaching a $1.5 billion market cap within a month of launch with a huge spike occurring due to Binance's decision to list the token.
$PEPE, a homage to Pepe the Frog meme, has captivated the crypto community with its skyrocketing success. With no clear use cases, $PEPE's value is driven by social media hype and FOMO.
Like all Pepe the Frog crypto/NFT projects, it has no direct connection to the artist Matt Furie who created Pepe the Frog for his comic book in 2005.
The meme-token outperformed blue-chip NFTs like Bored Ape Yacht Club (BAYC), delivering a 3400.7% from its launch on April 17th to May 10th.
Some traders who sold at the token's peak price point saw insane returns, with one person allegedly turning $27 into $1 million.
Despite its lack of utility, $ PEPE's financial success has surpassed expectations, reminiscent of the $DODGE frenzy. However, as of writing, the token has seen its market cap slashed by 50% from its all-time high.