Learn everything about Bitcoin Ordinals, the new NFT craze taking over the Bitcoin blockchain with fully on-chain NFTs. 
Since the CryptoPunks exploded in value and NFTs started to trade for millions of dollars, we have come to associate pixelated PFPs, and metaverse plays with smart-contract compatible blockchains such as Ethereum, Tezos, and Cardano. However, in early 2023 the world of NFTs was turned upside down by Bitcoin Ordinals.
In the past, protocols such as Counterparty were used to mint basic NFTs like Rare Pepes, so I was surprised to see the amount of hype Ordinals were generating on Twitter. It turns out that the protocol behind Ordinals has added a level of on-chain purity to NFTs not seen on other networks by inscribing data directly onto satoshis.
This post will explain how Bitcoin Ordinals function, what makes them different from other NFTs, who created them, and explore the top Ordinal NFTs.
Bitcoin Ordinals Explained
The best way to think about Bitcoin Ordinals is as if they were digital artifacts inscribed onto the Bitcoin blockchain. Every $BTC can be broken down into 100,000,000 smaller units known as satoshis. Via the Ordinals protocol, users can add data to individual satoshis in a process known as 'inscription.'
The data added to the satoshis can represent anything from a string of text to a video, and all of the data is held on-chain. As of writing in April 2023, over 1 million Ordinals have been inscribed onto satoshis, and just under $5 million has been spent on Ordinal transaction fees.
You can find some of the most popular Bitcoin Ordinals on the dedicated Magic Eden marketplace by searching #Ordinals on Twitter, and you can track the latest inscriptions on ordinals.com.
Who Created Bitcoin Ordinals?
The Ordinals Protocol was created by Casey Rodarmor, known on Twitter as @rodarmor."I thought I was building something good, and I thought I was meeting an unmet market demand that NFT collectors had expressed a desire for," Rodarmor told TechCrunch.
According to Rodarmor's LinkedIn, he has a degree in computer science from the University of California, Berkeley. He has worked as a Software Engineer for several years, including a stint at Google and Chiancode Labs. According to a GitHub post, he created the Agora file server, which accepts Bitcoin Lightning Network payments for downloads.
Rodarmor Tweets daily and almost exclusively posts about Bitcoin-related topics. On April 11th, he Tweeted about an Oridnal Theory and Inscriptions conference where several well-known Bitcoin programmers are lecturing. Since launching the protocol, individuals and developers have created over a million Ordinals, and the number is rising steadily.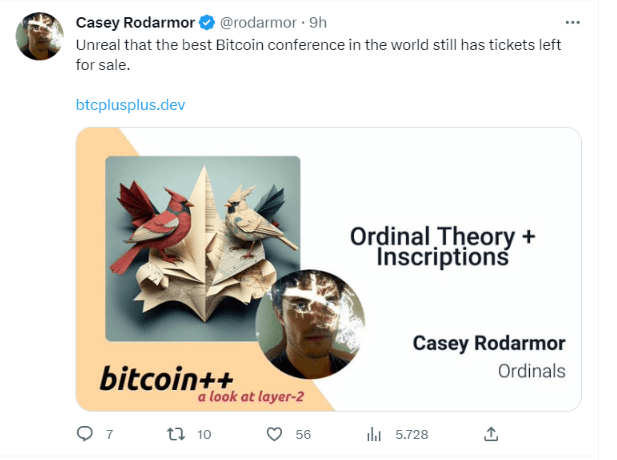 When Did Bitcoin Ordinals Launch?
The Bitcoin Ordinals protocol was launched in January 2023 by Casey Rodarmor. Following the protocol's successful launch, Rodarmor posted a lengthy Twitter thread explaining why he believed this was a massive moment for Bitcoin.
"I think that being able to not just do NFTs on Bitcoin, but to make them far-and-away better, for both technical and social reasons, is great for Bitcoin, and will be great for adoption and goodwill, and get people into Bitcoin who like fun. We don't have enough fun," Tweeted Roadrmor In January.

What Makes Bitcoin Ordinals Unique?
Ordinals have a unique rarity scheme ingrained in them through the satoshi numbering scheme, which Rodarmor explained in his Ordinal Theory Handbook.
Ordering Ordinals
Ordinals are essentially a numbering scheme that orders satoshis and the date inscribed on them. Satoshis receive a number based on when they are mined, and as collectors, we value numbers connected to perceived 'important' moments in the blockchain's history.
According to the Ordinal Theory handbook, ordinals are ordered based on the following five variables:
Integer notation: Assigned based on the order of mining.
Decimal notation: The block height at which the satoshi was mined.
Degree notation: This represents different events that occurred at the mining time on the blockchain.
Percentile notation: The satoshis position in the overall supply of $BTC.
Name: Encoding of the ordinal using written characters.
Every ordinal is unique in its position on the blockchain, so the data inscribed on the satoshi is immutable.
Ordinal Rarity
The combination of notations means that ordinals are unique, immutable, and, therefore, collectible. Although there isn't an official 'rarity' system for ordinals, we've already seen the market focus on specific factors when evaluating the rarity and value of an ordinal.
The following periodic events linked to an ordinal determine its rarity:
Blocks: These are mined approximately every 10 minutes.
Difficulty: Every 2016 block, the Bitcoin network alters the difficulty target for blocks.
Halvings: Every 210k blocks, the number of sats created per block is halved.
Cycles: Every six halvings, around once every 24 years, the halving process and the difficulty adjustment coincide.
Based on the order and periodic events, an ordinal's rarity falls into one of the following six categories:
Common: A satoshi that is not the first of the block.
Uncommon: The first satoshi of a block.
Rare: The first satoshi of a difficulty adjustment event.
Epic: The first satoshi of a halving epoch.
Legendary: The first satoshi of a new cycle.
Mythic: The first satoshi of a genesis block.
As the supply of Bitcoin is limited to 21 million, the number of satoshi ordinals is also limited as follows:
Maximum Potential Supply:
Common: 2.1 quadrillion
Uncommon: 6,929,999
Rare: 3,437
Epic: 32
Legendary: 5
Mythic: 1
Supply as of April 2023:
Common: 1.9 quadrillion
Uncommon: 745,855
Rare: 369
Epic: 3
Legendary: 0
Mythic: 1
So, Ordinals derive a rarity level from a combination of mathematics and periodic events. In addition to the on-chain rarity, several notable ordinal collections have been launched by developers of blue-chip Ethereum projects that derive rarity from their connection to the original NFTs.
Notable Ordinal Collections
Although the Ordinal Protocol has only been online for three months as of April 2023, several notable and extremely valuable NFT collections have already been launched.
Twelvefold
When it comes to NFTs, Yuga Labs, the team that created CryptoPunks, is never far behind the curve. In early March, less than a month after Oridnals went live, Yuga Labs launched the Twelvefold collection.
Twelvefold is a collection of 300 generative art pieces inscribed onto the Bitcoin blockchain. The team has been very clear about the fact that this is a pure art-play and will have no additional use cases in the future.
As of writing, the collection has a total trading volume of ETH 692.9, a floor price of ETH 27.1, and the highest bid to date is BTC 7.1.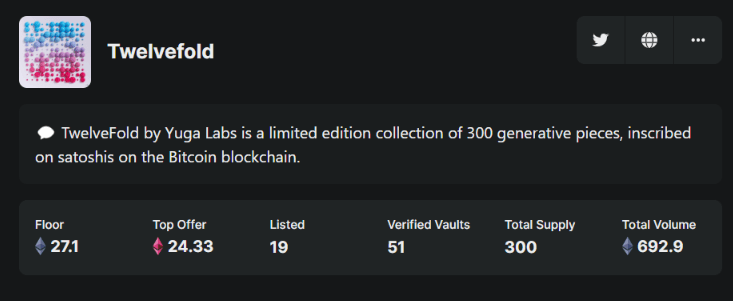 Ordinal Punks
Ordinal Punks is a collection of 100 CryptoPunk-style PFP NFTs that were minted within the first 650 Ordinal inscriptions. Information about the Ordinal Punks is very limited, and its sales are tracked by a Sales Bot that goes by @OrdinalPunkSale on Twitter.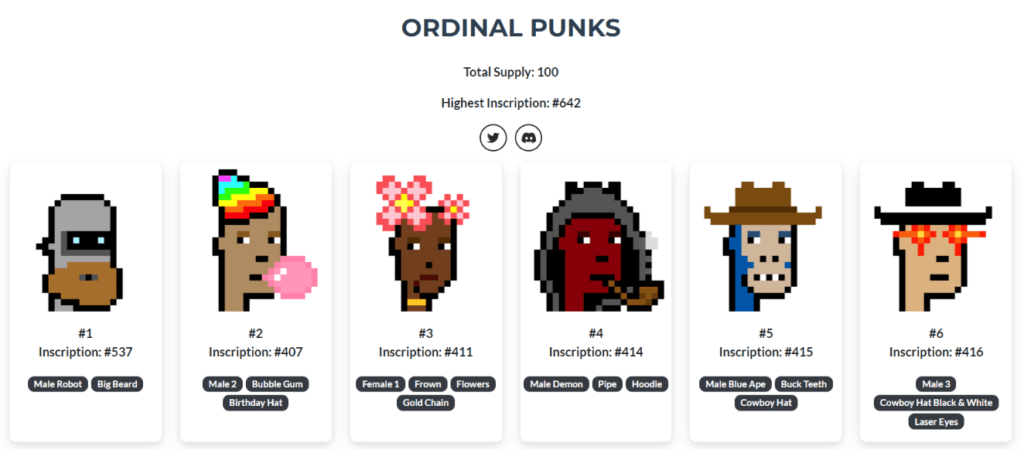 The anonymous creators behind the project are known as FlowStay, and they track Ordinal Punk sales using an Excel spreadsheet. According to the spreadsheet and the sales bot, dozens of Ordinal Punks have traded for around and above 100K.
On February 9th, the Sales Bot Tweeted that Punk #94, with the inscription number 620, was traded for BTC 9.5. The fact that a sales bot and an Excel spreadsheet are the primary sources of information about Ordinal Punk sales shows that the infrastructure around Ordinal NFTs is still primitive.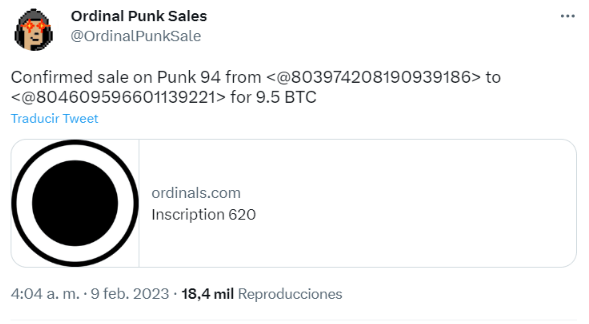 Checking Ordinal Rarity
Checking the rarity of an Ethereum NFT is straightforward these days, thanks to tools like Rarity Sniper and Trai Sniper. Currently, the best way to check the rarity of an Ordinal is through ordinals.com.
For example, if you wanted to check the rarity of Twelvefold #444387, follow these steps:
Find the ordinal on ordinals.market using the search bar.
Scroll down and press Info.
Copy the Inscription ID number.
Paste the Inscription ID number into the ordinals.com search bar.
Click the sat number.
After pressing the 'sat' number, the website will tell you the rarity of the ordinal and all of the on-chain data associated with the satoshi. In the case of this Twelvefold, it has a common rarity.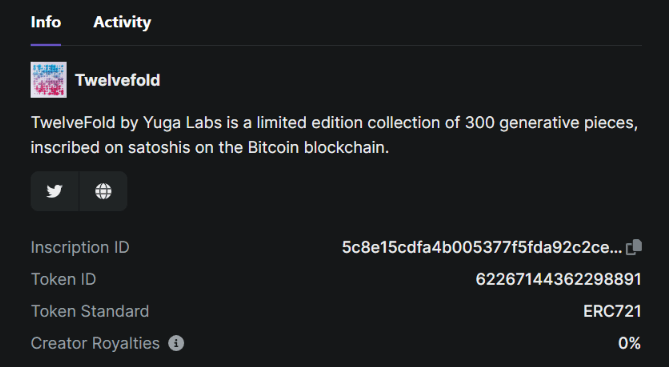 What Do Bitcoin Ordinals Do?
It's still very early on in the development of Bitcoin Ordinals. For now, they provide an alternative to Ethereum and other layer-2-based NFTs and offer a new form of NFT PFP.
Ordinals Vs. NFTs
Popular smart contract-based NFTs such as Ethereum ERC-721 and ETC-155 standard tokens generally hold metadata that directs you towards a decentralized storage service where the information about your NFT is contained. However, these NFTs are off-chain, as not all of their data is held on a blockchain.
Bitcoin Ordinals are completely on-chain. All the data is inscribed on the corresponding satoshi. As these NFTs are fully on-chain, they are considered more immutable than those held off-chain, as the data will always be secure on the blockchain without reliance on third-party storage.
While traditional NFTs are tokens, an Ordinal is a piece of a Bitcoin, a satoshi, with the information that generates an NFT, such as an Ordinal Punk inscribed within the currency.
Alternative PFPs
Arguably Bitcoin Ordinals are the most authentic PFP NFTs as they offer on-chain data and a rarity system based purely on the Bitcoin blockchain's history.
How To Buy An Bitcoin Ordinals?
Buying a Bitcoin Oridnal is less straightforward than your typical OpenSea NFT transaction. There are several ways to buy a Bitcoin Ordinal, but we're going to focus on what many believe is the simplest and most secure process.
Create an Ordinals Wallet by following the steps on Ordinalswallet.com.
Note down the wallet recovery phrase generated for the wallet.
Set up a password for accessing your wallet.
Top up your wallet with $BTC.
Browse collections.
Press buy now.
Remember that NFTs are extremely volatile, and you should always do your own research before buying a Bitcoin Ordinal or any digital asset.
The Future of Bitcoin Ordinals
The era of Bitcoin Ordinals has only just begun. In the first three months of their existence, they've caused massive controversy in the NFT space and certainly appear to be a disruptive on-chain alternative to the smart contract-based NFTs we've become accustomed to. It's going to be fascinating to see how ordinals that are minted during critical moments in Bitcoin's future perform in terms of trading volume and price.
Bitcoin Ordinals Twitter Thread
The NFT space has been turned upside down by the Bitcoin Ordinals, which were launched in January 2023.
Since Casey Rodarmor, known on Twitter as @rodarmor, launched the Oridnals Protocol, over one million ordinals have been inscribed onto the Bitcoin blockchain.
Bitcoin Ordinals are fully on-chain, which has led to some people claiming they are more secure than NFTs on Ethereum that use off-chain file storage.
Ordinals are created by inscribing information onto the tiniest fractions of a Bitcoin, called satoshis or sats.
The rarity and value of Ordinal are determined by their satoshis position on the Bitcoin blockchain.
YugaLabs, the team behind CryptoPunks, launched the Twelvefold collection of 300 generative art pieces using the Ordinal Protocol. The collection's trading volume is near ETH 700 as of writing.