Learn what is an NFT rarity score, how it's measured, and how you can find the rarity score of an NFT.
The bear market is an opportunity to pick up some seriously rare NFTs at rock-bottom prices. To help me pinpoint the rarest NFTs, I've been using a few rarity score tools; however, it recently dawned on me that I've no clue how these tools work.
An NFT rarity score is a number given to an individual token within a generative art NFT collection that defines its level of rarity and, therefore, often its value. This post explains what an NFT rarity score is, how it's measured, and the best tools for finding an NFT's rarity score.
Generative Art and Rarity Scores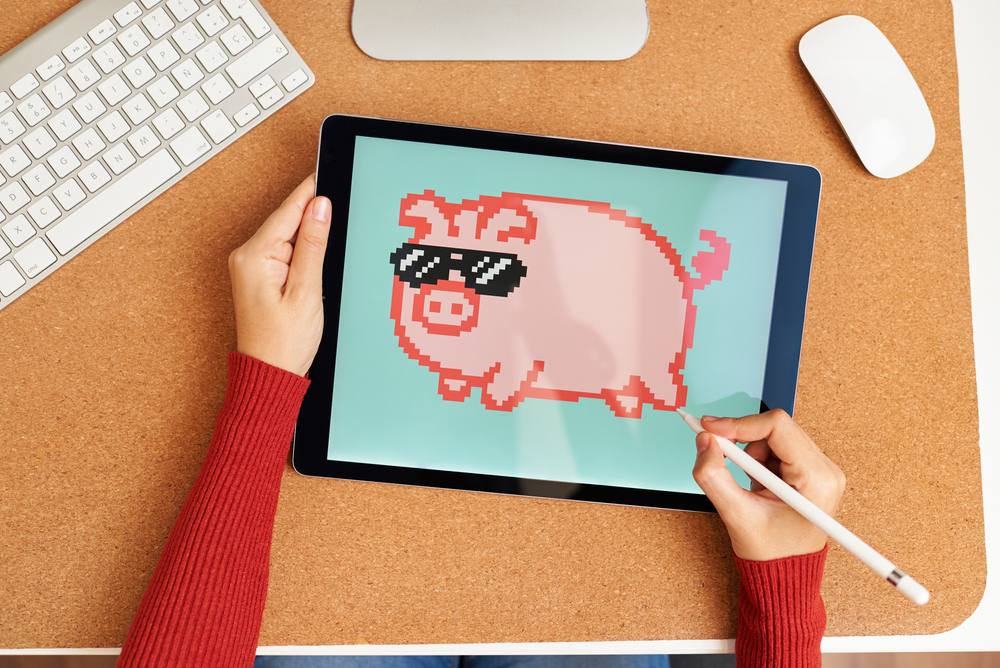 To understand NFT Rarity Scores, you first need to get familiar with the concept of generative art NFT collections. When a project is created using generative art software, traits are assigned to every item randomly as dictated by an algorithm. If you want a deeper understanding of generative art, read our 'What is Generative Art?' post.
Some of the most notable and valuable NFT projects include The Bored Ape Yacht Club (BAYC), The CryptoPunkz, and Pudgy Penguins. The fewer times a trait appears in the collection, the higher its rarity score, and the more rare traits a character has, the higher the token's overall rarity score.
Generally, a rarity score in the top 10% of the collection will indicate a higher-value character, but this rule does have some exceptions.
Trait Rarity (RT)
Trait Rarity (RT) is the frequency that a trait appears in a collection, and this is usually graded as a percentage. For example, bored Ape #6162 is a fairly average ape, even if it is worth over $80K. Its Brown Fur has an RT of 14%, meaning it appears on 14% of the 10K Apes, while its Bored Mouth has an RT of 23%.
Asset Rarity (AR)
Asset Rarity (AR) is the overall rarity score of an asset based on the overall rarity of its RTs. Although AR doesn't directly dictate the value of an NFT, it is often an essential factor, as collectors are keen to add the rarest tokens to their portfolios.
The RT scores of every asset are then compared and ranked within the collection to create an overall rarity score.
You can use various rarity tools to find a specific NFTs rarity; we'll list the best options in the next section. For example, according to Rarity Sniper, Ape #6162 has a rarity score of 1204.35 based on eight RT scores, giving it a 5534/10000 ranking in the BAYC.
Bored Ape #6162 is a mid-range Bored Ape in terms of AR, according to Rarity Sniper. Source: OpenSea
Checking an NFTs RT and AR
You can easily check an NFT's RTs and AR without doing your math using the websites in the list below. All the websites in this list offer an easy-to-use search feature where you can enter your NFT's ID and find its RTs and AR.
1. Rarity Sniper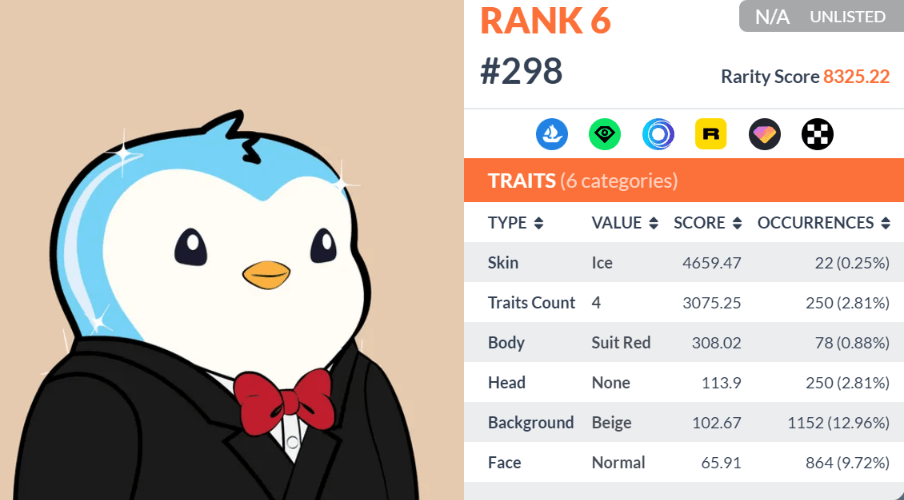 Rarity Sniper offers advanced filters spanning over a dozen blockchains, including Ethereum, Polygon, BNB Chain, and Cronos, making this my go-to tool for researching NFTs.
It lets you scan most NFT networks, offers a helpful calendar tool to follow upcoming drops, and the news section is also convenient. In addition, the site is partnered with some big names in crypto, such as Rarible and LooksRare, which helps it gather the most up-to-date on-chain data about NFTs.
Rarity Sniper splits Traits into four categories, Type, Value, Score, and Occurrences. I like the layout as it gives you all the information you need in a concise table. The 'occurrences' section is particularly useful as it tells you exactly how many other NFTs in the collection have a specific trait.
Pudgy Penguins is one of the most successful NFT collections ever; with the bear market in full swing, it's an exciting time to keep an eye on potential bargains among the rarest Penguins in the collection.
Rarity Sniper tells us that Pudgy Penguin #298 has extremely rare Body and Skin traits, both found on under 1% of the collection, and a very high Rarity Score of 8325.22, the #6 highest AR in the collection.
Additionally, to provide you with TR and AR, you'll find helpful links to the marketplaces where the NFT has traded and a live update on its price if it's currently listed for sale.
2. Rarity Tools

Rarity Tools is one of the most popular NFT rarity score-checking websites and offers insights into both blue chip projects like BAYC and less well-known collections. Every trait in a collection is given a value (RT), and then the overall sum of the RTs generates the NFTs AR score.
For example, Rarity Tools ranks Ape #7495 as the rarest Ape with a Rarity Score of 333.86. The Ape's Cross Earring is found in 1% of Bored Apes and is worth 119.85 RT points. Other valuable traits of this ape include the Bored Dagger mouth and Cyborg Eyes.
The system for ranking NFTs is generally the same for all projects. However, according to an official Rarity Tools medium post, they sometimes customize the 'importance' of certain traits based on community values. For example, the CryptoPunks holds an attribute count highly, which is why the rarest Punkz, according to Rarity Tools, are those with the maximum seven traits.
3. Rarity Sniffer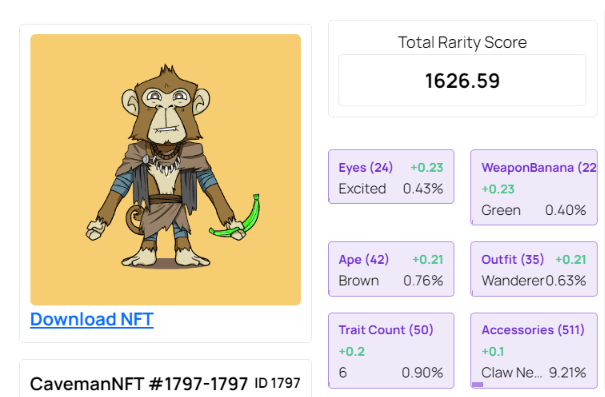 Rarity Sniffer is the ideal tool for finding the rarest NFTs in less-known collections. If you're browsing a collection on OpenSea with a low trading volume and can't find it on Rarity Tools or Rarity Sniper, this website could be your savior.
Similarly to other sites, you get a neat breakdown of the NFT's RT scores. For example, CavemanNFT #1797 has Excited Eyes, which you'll only find on 0.43% of the collection giving it +23 points. As we've come to expect, the overall AR is displayed under the total rarity score.
When I searched for Caveman NFT on Rarity Tools and Rarity Sniper, I got no results. This reflects Rarity Sniffer's success in creating a site or researching projects that aren't trending or without high trading volumes on OpenSea.
4. Trait Sniper

Trait Sniper is the ideal tool for getting information about the latest NFT drops and upcoming mints. The site uses bots to monitor the market and compile real-time data. As a result, you'll find helpful information that other tools don't offer, such as the percentage of a collection that's been minted, recent sales, and listing information.
If you want access to real-time updates, you'll need to pay the monthly membership fee of ETH 0.08, so this tool is aimed at experienced NFT traders and investors.
The site offers standard AR and TR scores. For example, Trait Sniper ranks Moonbirds #4089 among the rarest tokens in the collection with an AR score of 410.04 and several TRs under 0.5% representation in the 10K collection.
5. DappRadar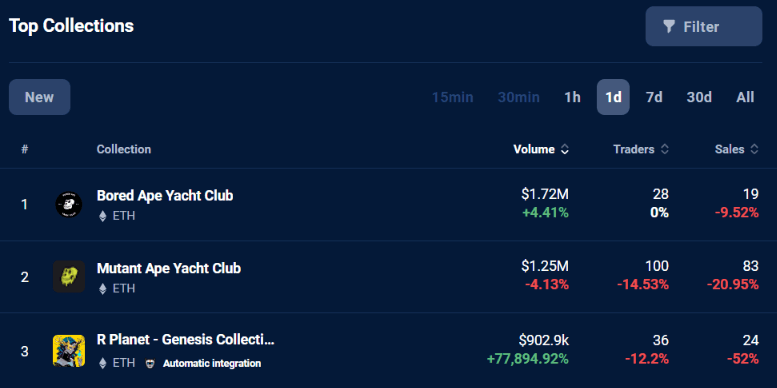 DappRadar was initially the tool I used while researching DeFi protocols, but I've recently started using it to keep track of my Ethereum NFTs.The great thing about DappRadar is that many of us are already familiar with using the site for DeFi data, so it won't take long to get used to it.
The Ethereum portfolio tracker is great; it keeps track of your Ethereum wallet with live updates. So, if you're tired of manually tracking your NFT portfolio, then DappRadar is a good solution. However, you won't find TR or AR scores on DappRadar, just a simple list of traits.