Discover the Opepen Edition NFT collection created by legendary digital artist Jack Butcher which has generated over ETH 60k in trading volume in less than six months.
The Opepen Edition is one of 2023's NFT success stories. The Pepe the Frog-themed art collection from Jack Butcher is unlike most NFT collections that generate value through limited supply. Open Edition (OE) projects such as Opepen allow unlimited NFTs to be minted during a specified time period.
16k Opepen Edition NFTs were minted for free, and it has become one of the most popular collections on OpenSea. These NFTs are always open to future alteration as Jack makes changes to their metadata. Holders can opt-in for these changes by subscribing to new 'sets.' Only a limited number of Genesis holders are selected for a new set creating rarity within the collection.
Four new sets have been successfully launched, and everyone has seen some impressive sales clocking well over $10k in ETH. Opepen Edition has generated over ETH 62k ($114 million) in trading volume as of writing and has a floor price of just under ETH 1 ($1.8k). This post will tell you everything you need to know about Opepen, how OE sets work, the project's future, and Jack Butcher.
Opepen Edition Explained
Opepen Edition is a collection of 16k ERC-721 NFTs on the Ethereum network that are comprised of changing geometric shapes. When the OE collection launched, anyone could mint an Opepen for free, plus the gas fee.
While typical NFT projects like BAYC or CryptoPunkz draw their value from predetermined rarity traits, with Open Editions, the artist can keep giving value to the community through changes to the art. As the project is always evolving, the best way to keep up-to-date with the latest developments is to follow Jack Butcher and Opepen Edition on Twitter.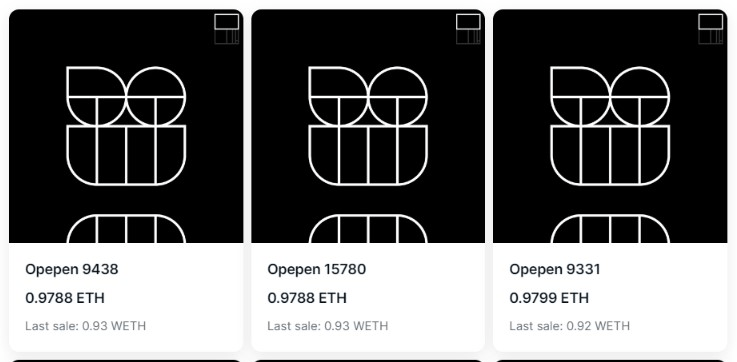 Who Created Opepen Edition?
Opepen Edition was designed by Jack Butcher, a digital artist and the founder of Visualize Value. Jack has created several successful Open Edition NFT collections, including Checks and VV Rare. Jack is currently focused on the Opepen Edition, and he regularly posts Tweets updating the community about his ideas for the project's next step.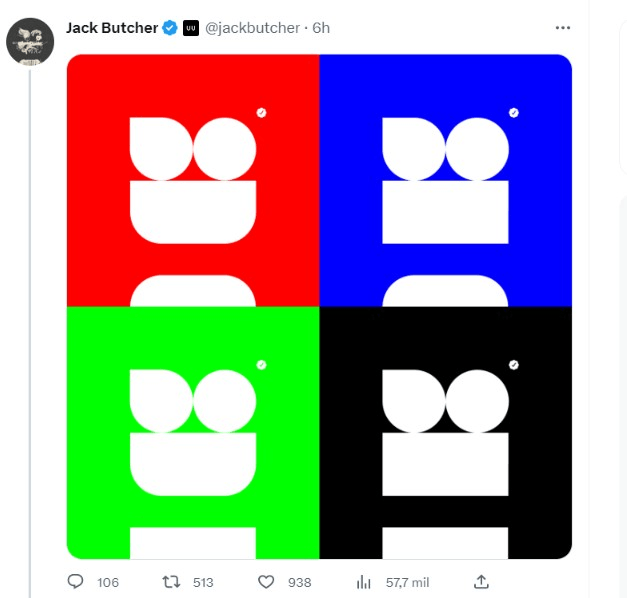 When Did Opepen Edition Launch?
The Opepen Edition mint began on January 8th, 2023. Users were able to mint the NFTs for free, along with the Ether gas, which worked out at around $5-10. By the time the OE had concluded, 16k Opepens had been created, and that supply has been capped since.
Anyone who minted one of the Opepens at launch has seen the value of their NFT over 100x. As of writing in June, the project's total trading volume is ETH 62k ($114 million), and the floor price is around ETH 0.9 ($1.6k). Just 2% of the NFTs are listed; there's a 2.5% creator fee and 25% unique ownership.
In terms of volume, the Opepen Edition has spent several weeks in the OpenSea top #10 and consistently records more sales than the leading blue-chip Ethereum projects.

What Makes Opepen Edition Unique?
The collection is broken down into sets that are released periodically depending partly on Jack Butcher and demand from the holders. Since the genesis launch, the Opepens have undergone four rounds of metadata changes.
These new Opepens are categorized into sets, and holders are randomly selected to receive the updated NFTs. The four sets as of June 2023 are as follows:
001: 8×8 (May 3rd, 2023)
002: Brought To Light (May 3rd, 2023)
003: Full Circle (May 30th,2023)
004:Consensus (May 30th, 2023)
The sets hold 80 updated Opepens, which are broken down into the following editions:
One
Four
Five
Ten
Twenty
Forty
A new set is only released when demand exceeds 200% of the total supply, and as you can see, demand for the most recent set was over 10,000% for every edition.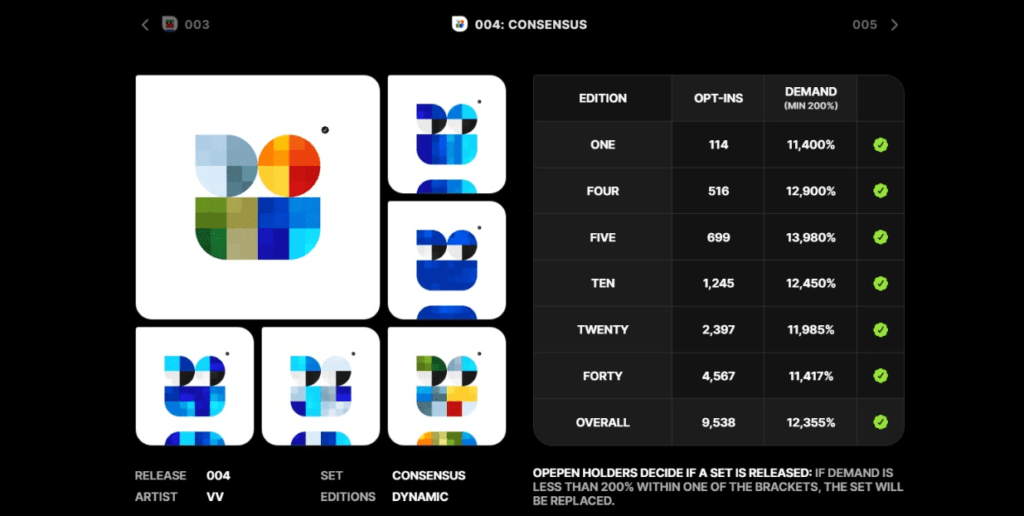 While the standard Genesis NFTs that have not seen their metadata change have a floor price of around ETH 1 ($1.85k) as of June 2023, the Opepens from new sets have seen their valuation skyrocket.
001: 8×8
Set 001: 8×8 was revealed on May 3rd after overall demand exceeded 10,000%. The set has since seen over a dozen double-digit ETH sales. Jack Butcher is the artist behind this set.
Opepen #10992 is the highest-selling NFT in this set. It features a clean blue and black color scheme and was traded for ETH 25 ($46k) on May 24th by a well-known NFT collector who goes by @BoredElonMusk on Twitter. 
As of writing, it has an offer of 5.6 WETH ($10k), which is nearly 500% above the project's floor price, and the lowest price listing is just above ETH 30 ($55k).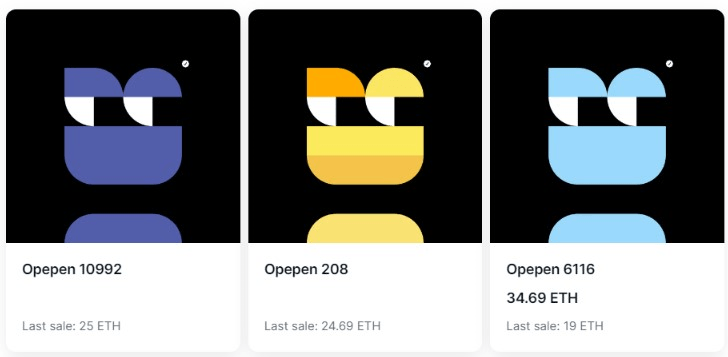 002: Brought To Light
002: Brought To Light was also revealed on May 3rd after overall demand exceeded 3,000%. The set features a variety of 3D takes on the original Opepen and some 2D renditions that appear to be drawn on paper by the artists known as SD 2.1.
Sales in this set have not been nearly as high as the others, but they've nonetheless either held the floor price or exceeded it. The most expensive 002 is Opepen #100; it has a chrome design with hypnotic liquid patterns melting from a hand-like feature.
The artist behind the design is SD 2.1 (0.5%), and it's part of the first edition (1%). It sold for ETH 5 ( $9.2k) in May, and as of writing, it has the best offer of WETH 8.3 (15.3k), which is 760% above the floor price.

003: Full Circle
003: Full Circle was revealed on May 30th after overall demand exceeded 13,500%. The set comprises red, blue, green, white, and black tiles meshed together in random shapes, with some of them directly resembling Pepe the Frog. The artist behind this set is Batz.
Dozens of these NFTs have been traded for over ETH 5 ($9.2k), and several have hit double figures in ETH. Opepen #108 is the most expensive trade in set 003 as of writing. It is in the fourth edition (5%) of the set, and the artist behind this design is Batz (0.5%). On May 31st, it traded for ETH 14 ($26k). So far, two other set 003 Opepens have traded for over ETH 10 ($18.5k).

004: Consensus
004: Consensus was also revealed on May 30th as demand had exceeded 12,000% of supply. The artist is VV, and the designs resemble Pepe through colorful squares and circles on a white background.
Opepen #15180 is part of the first edition (1%) in this set and features a dynamic design with subtly changing colorful squares. It traded for WETH 30 ($54k), making it the most expensive Opepen as of writing in June. It has received several offers on OpenSea that are 500% above the project's floor price.
Other notable 004 NFTs have sold for over $15k, and the lowest-priced Opepens in this set are listed for over ETH 5 ($9.25k).

What Does Opepen Edition Do?
Opepen is a new form of digital art. Jack Butcher is constantly experimenting with how NFT technology can be used to change how we collect digital art. Holding an Opepen is like having a ticket to an art project that's constantly in development.
With every new set that's released, some Genesis holders take ownership of the next generation of Opepen. There's no metaverse, utility token, or DeFi here, just art and community.
Although officially, it's unclear how many sets are still to come, the official website has dozens of empty pages for new sets, and the community is constantly badgering Butcher on Twitter for information about the next drop.  
How To Buy An Opepen Edition?
The best way to purchase an Opepen Edition of any set is on OpenSea. You can follow these steps to pick up an Opepen but remember to do your own research and that NFTs are an extremely risky asset that often ends up going to $0.
Get a Crypto Wallet: Get an ETH-compatible crypto wallet like MetaMask.
Connect to Marketplace: Visit the Opepen Edition OpenSea page and connect your wallet.
Explore: Browse the collection and use the filters to sort them by price and set. The Genesis NFTs trade at the floor price, while those in the new sets are more expensive.
Buy: Purchase an Opepen Edition by pressing the buy now button or submitting a bid.
The Future of Opepen Edition NFT
Opepen Edition has seriously bucked the NFT bear market trend since launching in early 2023. In less than six months, it has clocked over ETH 62k in trading volume, and all four of the new sets have generated impressive sales. Considering the original mint cost less than $10, the fact that dozens of sales over $10k have been recorded is impressive.
Beyond the money, the project is breaking new ground in the digital art space as Jack aims to build a constantly evolving project using NFT metadata. Whether Opepens will succeed or fade away is anyone's guess, but it would be hard to argue that it hasn't enjoyed plenty of success in its first six months.
Twitter Thread
Opepen Edition NFT is a digital art collection by legendary artist Jack Butcher that has generated over $100 million in trading volume and offers Genesis holders the opportunity to benefit from the project's constant development.
As an Open Edition (OE) NFT collection, there was no predetermined maximum supply. Instead, users were able to mint as many of the NFTs as they wanted within a set time period.
16k Opepen Genesis NFTs were minted on January 8th, 2023, for free, with transaction fees around $5-10.
Sets of updated Opepens are released periodically, with demand and Jack Butcher determining the release of new sets.
Genesis holders are able to opt-in for new sets, and 80 Genesis NFTs are altered during new set releases by making changes to their metadata.
Four sets have been released so far, and they've all enjoyed plenty of success as opt-in demand has generally exceeded 10,000%, and NFTs from the new sets have recorded sales well above $10k.
The most recent set, 004: Consensus, recorded the project's highest sale when Opepen #15180 with dynamic colorful squares traded for WETH 30 ($54k).