Learn about the best Bitcoin Ordinal NFTs that have played a role in making Bitcoin the second most popular blockchain for NFTs, just behind Ethereum.
Bitcoin Ordinals are 2023's most significant cryptocurrency development. Through Ordinal Theory, a numbering system that orders Satoshis within every block in the Bitcoin network, NFTs can be directly inscribed onto Bitcoin.
Ordinals have generated massive amounts of hype on social media. In May, Bitcoin surpassed all blockchains apart from Ethereum to become the second-largest NFT network in trading volume.
As of writing in June, the number of Bitcoin NFTs exceeds 10 million, and as the market grows more crowded, it gets that much harder to pinpoint the best projects. As it's still a new market, a lot of projects are extremely low-effort such as the Bitcoin Rocks, while established projects like DeGods have taken advantage of Ordinals to grow their ecosystems.
This post will take a look at the best Bitcoin Ordinal NFTs based on their trading volume, art, rarity, and creators.
Best Bitcoin Ordinal NFTs Ranked
1. Twelvefold
Twelvefold is a collection of 300 generative art NFTs on the Bitcoin blockchains. Yuga Labs, the team behind BAYC and CryptoPunks, created these ordinals.
The collection was launched in March 2023, just a month after the Ordinals protocol went live. It showed the community that one of the biggest developers in the NFT space was taking Ordinals seriously.
The project is purely an artistic endeavor and derives its value partly from its historical importance as Yuga Labs' first NFT collection on Bitcoin and the scarcity of the tokens. Every Twelvefold is composed of randomly distributed colorful bubbles on a plain background.
As of writing, they have a floor price of BTC 2.5 ($70k) and a total trading volume of BTC 75 ($2.1 million). This collection can be traded on Ordinals.Market using an Xverse or UniSat Bitcoin wallet.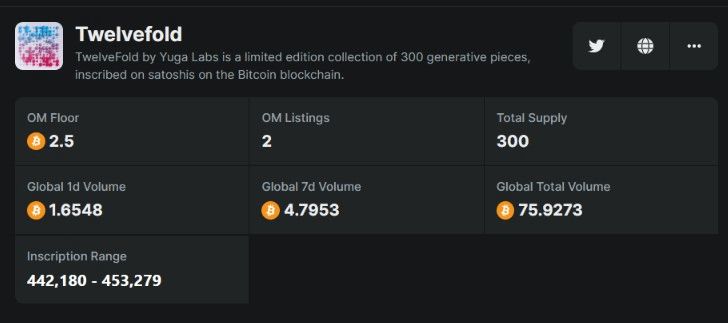 2. Bitcoin Frogs
The Bitcoin Frogs are a collection of 10k PFPs with one of the highest trading volumes on the Ordinals market. The pixelated frogs offer no utility beyond bragging rights and scarcity. The traits of every Bitcoin Frog are the same, meaning their rarity is derived purely from their satoshi-based ranking.
All 10,000 Frogs were minted within the first few hours of the launch, and the momentum continued resulting in over $2 million in just 24 hours. As of writing, the Bitcoin Frogs have a floor price of BTC 0.12 ($3.3k) and a total trading volume of BTC 423 ($11.8 million).
This collection can be traded on Ordinals.Market using an Xverse of UniSat Bitcoin wallet.
3. Ordinal Punks
Ordinals Punks is a collection of just 100 CryptoPunk-style NFTs on the Bitcoin blockchain. These Punks were minted among the first 650 ordinal satoshis making them one of the earliest NFTs to appear on Bitcoin.
Although the Ordinal Punks can be traded on Magic Eden, their sales are generally managed using a primitive Excel spreadsheet system via a Discord channel overseen by the project's anonymous creator known as FlowStay.
You can keep track of Ordinal Punk trades by following @OrdinalPunkSale on Twitter. I've been following the sales bot for some time, and I'm yet to see a Punk trade for under $20k. In February, Punk #94 was traded for BTC 9.5 ($220k). 
The Magic Eden marketplace doesn't appear to collate information about Ordinal Punk transfers through the Excel system, which would explain its total trading volume reading of just BTC 14.2 ($400k). You can trade the Punks on Magic Eden using a compatible wallet or join FlowStay's Discord.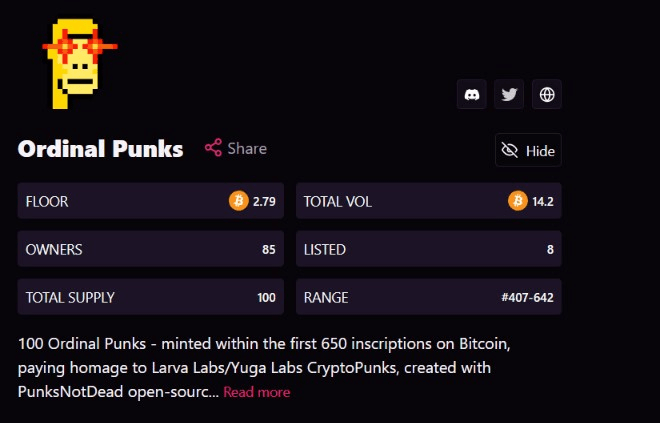 4. OnChainMonkey Ordinals
OnchainMonkey (OCM) is a collection of 9.5k PFPs that were initially minted as fully on-chain Ethereum NFTs. The collection offers a deep ecosystem with various use cases ranging from missions where holders can earn rewards, a DAO, a native token, and a secondary collection.
In February 2023, the OCM team announced that they were bringing the OCM onto the Bitcoin blockchain. In a single, every OCM monkey was inscribed onto Bitcoin at Ordinal #2021. The holders of Genesis OCMs received their Ordinal via airdrop.
The Ethereum OCMs are linked to the Ordinals. So if someone purchases an Ethereum OCM, they also take custody of the Ordinal version. As the Ethereum and Bitcoin sides of the project can't be separated, we don't know how much trading volume is equated to the Ordinals.
As of writing, OCM has a total trading volume of over ETH 19k ($34 million) in trading volume and a floor price of ETH 1.8 ($3.2k). The Genesis NFTs are traded on OpenSea.

5. DeGods Ordinals
The DeGods are not strangers to inhabiting various blockchains. They went from the Solana networks' leading collection to a welcome newcomer on Ethereum. The 10k PFP collection has drawn attention with its art, native $DUST token, and secondary DeadGods collection.
Since launching in 2022, and after the launch, 535 DeGods were burnt to reduce overall supply. However, in February, the project's Twitter announced that the burned Gods are now back after being inscribed onto the Bitcoin network in February 2023.
The Ordinals DeGods can be traded on Magic Eden, where as of writing, they have a floor price of BTC 1.05 ($28.5k) and a total trading volume of BTC 107 ($2.9 million).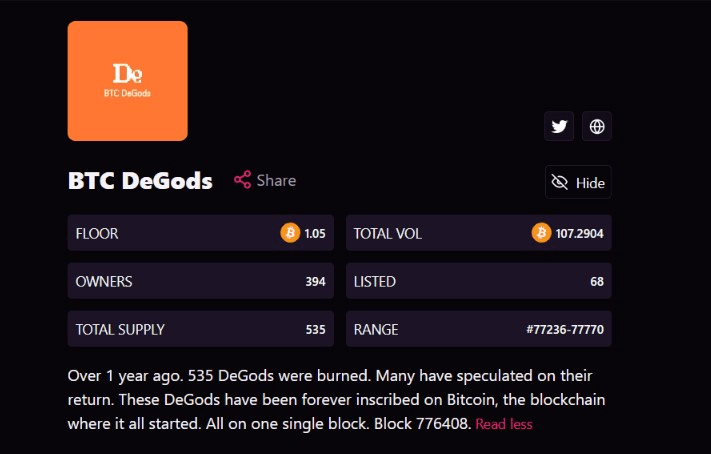 6. Taproot Wizards
The Taproot Wizards is a collection of 2101 hand-drawn wizards created by Udi Wertheimer and Luxor Mining which is one of the leading Bitcoin mining pools. The Wizards were inscribed in February in what Udi claims was the biggest transaction and biggest block in Bitcoin mining history.
Weirdly the Taproot Wizards aren't traded on any marketplace. To become a holder, you need to join the community by completing various steps within the Taproot Wizard School.
The project's claim to being the biggest transaction ever processed on Bitcoin and the involvement of Luxur has created a lot of hype, and many NFT degens are hoping they'll be selected to become Taproot Wizard holders.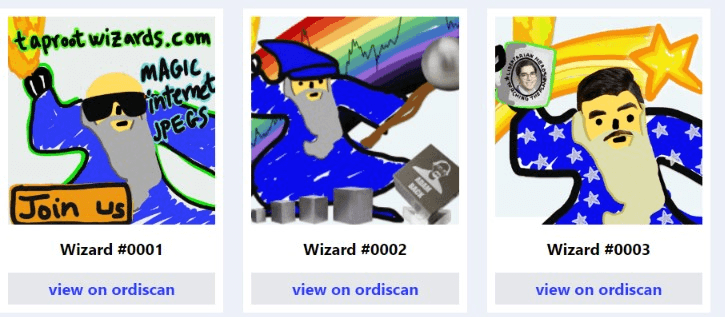 7. Ordinal Loops
The Ordinals Loops NFT collection is a project that focuses on the philosophy behind Bitcoin and truly on-chain NFTs. The project is broken up into differing series. The first series is called 'Do Not Fiat' while the second is 'Roots of Immutability.'
Every NFT in a series refers to a Bitcoin value represented through a moving image composed of various BTC-associated symbols. The Loops are one of the earliest Ordinals with inscription 452. The community trades Loops in the Discord channel, and the official Twitter is relatively active.
The project's website claims that it's linked to a blockchain-based non-profit that aims to have an impact on the blockchain space through education, experimentation, and art.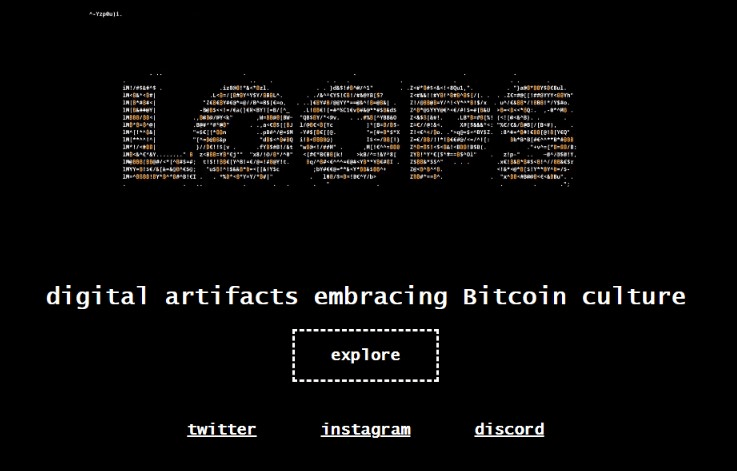 8. Bitcoin Rocks
The EtherRock collection became one of the most covered NFTs in the mainstream media in 2021 when one of the tokens sold for $1.3 million in August. The bull market was a weird time for everyone, and although the floor price of EtherRocks has plummeted, @ordrocks felt that Bitcoin Ordinals deserves its own collection of on-chain rocks.
The collection comprises 100 Bitcoin Rocks created by @rocktoshi21 in February. Although there hasn't been a million-dollar Bitcoin Rock sale, the NFTs have caught the communities attention due to their direct resemblance to EtherRocks. 
These NFT rocks don't trade on marketplaces, but the Discord channel acts as a make-shift trading hub. All sales are tracked using an Excel document that, as of writing in June, claims the highest sale was just below BTC 10 ($280k), and the median bid is around BTC 3 ($84k).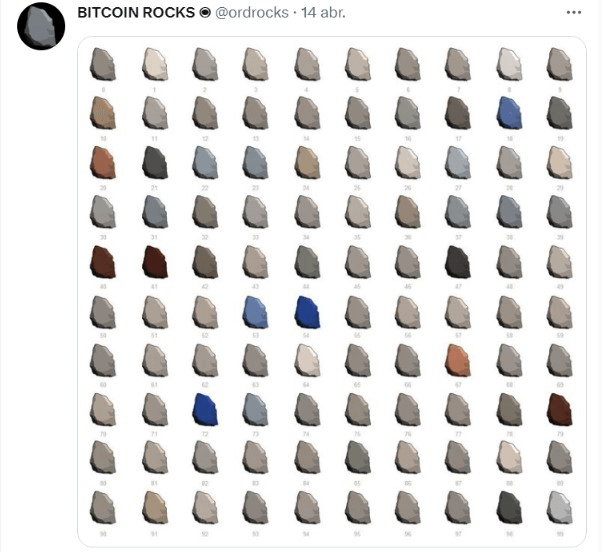 9. Rare Pepes
The Rare Pepe NFT collection is slightly different from other ordinals. They were launched in 2016, well before the original protocol, and broke ground, becoming the first notable Bitcoin NFT collection. The trading card-style Pepes were created using the Counterparty protocol that operates on top of the Bitcoin blockchain.
Rare Peps are divided into series, with the earliest mints often attracting the highest valuation. One of the most notable Rare Pepe cards is the Nakamoto Card which has a supply of 228 and sold for ETH 147 ($471k) in September 2021.
According to XChain, the Nakomoto Card has a floor price of BTC 13 ($350k). However, these Bitcoin NFTs trade at unpredictable prices due to low liquidity.
Despite being a Bitcoin project, the easiest way to trade Rare Pepe NFTs is through the Ethereum Vault on OpenSea. It's important to cross-check the originality of a Rare Pepe using the Rare Pepe Directory, as the market is littered with fakes, and to learn how the Ethereum vault operates.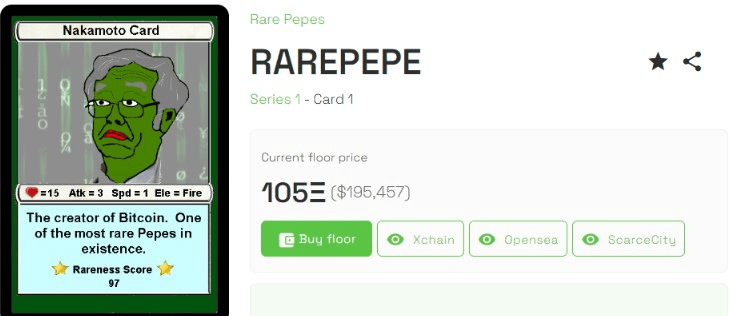 Remember that NFTs are extremely risky assets that can always go to $0. Always do your own research.