Learn about the Checks NFT collection by the legendary digital artist Jack Butcher that racked up 18k ETH trading volume in its first month.
The Checks NFT collection launched by the artist Jack Butcher has taken the NFT market by storm. The Ethereum-based NFTs are composed of 80 'checks' that are similar in appearance to Twitter's Blue Tick and are expected to grow increasingly rare due to a unique burn mechanism. This post will explain how Checks work, the burn mechanism pushing the project forward, and profile Jack Butcher.
Checks Explained
Checks is a collection of 16,031 NFTs based on the Twitter verification logo. The story behind the collection is a commentary on the concept of online authenticity with a specific focus on how Twitter's blue tick became available to anyone for $8/month following Elon Musk's acquisition.
The project's website states, "The intent of this piece is to capture a moment in time – the shifting context in which the process of verification takes place, in a society dominated by electronic culture and communication.
"Checks is an infinite canvas for expression that is designed to challenge the concept of ownership and authorship in the age of the internet."
You can learn more about Checks by visiting the official website and following the official Twitter.
Who Created Checks?
Checks was created by Jack Butcher, an art director and graphic designer who according to LinkedIn, is the founder of Visualize Value, which is the company behind Checks. Before founding Visualize Value (VV) and Checks, he worked as a creative and senior art director in New York-based companies.
Among Butcher's clients are some of the biggest Fortune 100 companies and global brands, including Amazon and Ferrari. He first made waves in the NFT space in 2021 with his 1:1 'NFTs explained' that sold for a whopping 74 ETH ($125k) in March 2021.
Other notable collections from VV and Jack Butcher include
CHRCTRS: A collection of 26 unique character NFTs
Binary Value: A collection of eight black-and-white numerical designs.
VV Rare: A collection of 34 2D shape and short-text NFTs.
When Did Checks Launch?
Checks launched on January 3rd, 2023, with a symbolic mint price of $8, equivalent to the Twitter Blue Tick subscription cost. The $8 mint price didn't hold for long, and the floor price quickly pushed into three then four figures. As of writing, the floor price is around ETH 2 ($3,300), and it's been rising steadily since its launch.
What Makes Checks Unique?
The Checks NFT collection isn't like other PFP projects where characters featuring unique features assigned by generative art systems offer holders a cool image and use cases. Instead, every Checks has the same 80 multi-colored ticks. Initially, the lack of uniqueness made the art a powerful social commentary on online exclusivity and identity.
For example, look at Checks #11634 and #8409, and you'll find that they are identical, with 80 ticks in the same color and position on the grey background.
Even though all the Checks are the same, some have been sold for well above the floor price. It appears that the Checks with lower numbers are the most valuable. For example, Checks #2 sold for 52 ETH ($84k) in February, and Checks #6 went for 13.5 ETH ($22k) in January.
It's also worth noting that the website repeatedly states, "This artwork may or may not be notable," which we can interpret as mocking at online notability and blue-tick hype.
Checks might never have gone beyond Jack's way of commenting on ideas of 'status' and 'notability' online, but he decided to take the project further by introducing a burn mechanism as the trading volume on OpenSea began to swell.
What Does Checks Do?
Like any digital art project, part of this collection's value is derived from its artistic face value. Collectors may want to add Checks to their portfolio as the tokens represent a bigger idea, such as online identity and a moment when Twitter's structure changed forever.
In addition to the art, the collection draws value from Jack Butcher. Collectors covet his work as a highly-regarded digital artist and designer.
The Burn Mechanism
On January 8th, a few days after launch, Jack Tweeted, "To extend the premise of the original piece — the question we are trying to answer is: are checks more desirable if they are harder to get?" and then added, "We can find out by incentivizing a reduction in supply."
Jack developed an idea loosely based on Damien Hirst's 'The Currency' that allowed users to get their hands on physical art by burning NFTs.
The Checks team has developed a mechanism whereby NFT holders can burn a set of Checks to get a new NFT with fewer 'ticks.' The process is illustrated on the website and involves halving the number of ticks with every burn.
For example, if you own two original Checks with 80 ticks, you'll be able to burn them to get one Check with 40 ticks. Then if you burn two 40s, you'll end up with one 20. Following this process, eventually, you end up with just one tick.
Jack explained in a Tweet, "What this does: rewards every collector, creates new, original, on-chain work, and every interaction either maintains or reduces supply."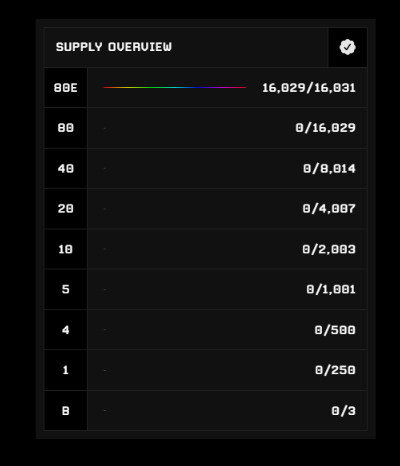 Due to the limited supply of 80 tick Checks, the supply of each subsequent category is also limited, with rarity increasing as you move towards the final 'Black Check (B)'' NFT. The distribution is expected to be as follows:
80 = 16,029
40 = 8,014
20 = 2,003
10 = 1,001
4 = 500
1 = 250
B = 3
Theoretically, with every burn, the supply is reduced, and arguably the value of the NFTs will increase. It's also possible that users will pay high prices to purchase extra NFTs that they need to carry out the following burn.
Some evidence already suggests that whales are stacking Checks 80 tokens in anticipation of the burn mechanisms launch. According to the project's official statistics, the top collector already holds over 500 Checks, and the percentage of unique owners is just 27%.
A crypto analyst from the PROOF collective who goes by NFTstatistics.eth on Twitter posted an estimate that suggests a Black Check (B) could be worth over $8.8 million.
There isn't an official date for the burn mechanisms launch, but a cryptic Tweet from Jack from the 9th of February suggests it could begin on February 10th.
COO Derivatives
Anyone that buys a check is granted generous copyrights over the art. As a result, derivatives of the project created by the community have been popping up all over social media.
Even Jack has messed around with the project's design creating an alternative Pepe-themed version of the collection.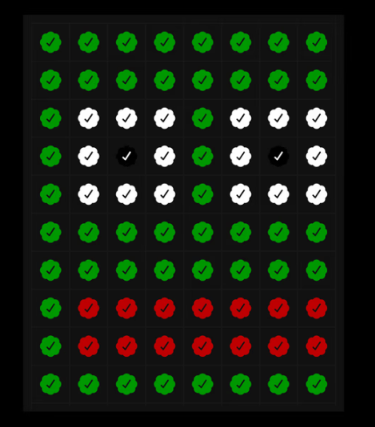 Some of the coolest community-led Checks derivates include:
Humanity Check
Following the devastating earthquake that affected vast swathes of Turkey and Syria, Jack Butcher announced the launch of the Humanity Check collection.
This charitable collection is being used to raise money for Doctors Without Borders, who are supporting people in the two countries where the death toll has exceeded 10,000 just days after the quake.
The NFTs resemble the genesis Checks but instead have a red cross design and a mint price of ETH 0.0066.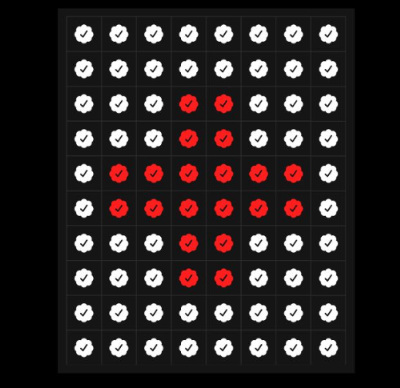 How To Buy Checks?
The best way to purchase Checks is on OpenSea by following these simple steps:
Get a Crypto Wallet: Get an ETH-compatible crypto wallet like MetaMask.
Connect to Marketplace: Visit the Checks OpenSea page and connect your wallet.
Explore: Browse the collection and use the filters to sort them by price.
Buy: Purchase a Checks by pressing the buy now button.
Before purchasing a Checks NFT, make sure you do you're own research and follow the project on Twitter.
The Future Of Checks
Checks is undoubtedly one of the most interesting projects I've come across recently. What started out as a form of artistic commentary on the changes being made to Twitter and the general concept of online authenticity has snowballed into a multi-million dollar project. The next big step to keep an eye out for will be the launch of the burn mechanics, which will add another element of scarcity to the NFTs.