Discover the best Tezos XTZ NFTs, where you can trade NFTs with low fees, rapid transactions, and high security.
If you've read our 8 Best Tezos NFT Marketplaces article and are now looking to expand your NFT collection from the standard Ethereum tokens, you're in the right place.
The Tezos blockchain offers us a faster and cheaper alternative to Ethereum, and even though it's not the most well-known NFT chain, many of the projects built on it are rapidly gaining traction.
With the crypto market still in the grips of a bear market that has left some great projects with low floor prices, this is a great time to explore what Tezos has to offer.
This article will tell you everything you need to know about the top seven NFT projects by trading volume on the leading Tezos NFT marketplace Objkt.com.
1. DOGAMI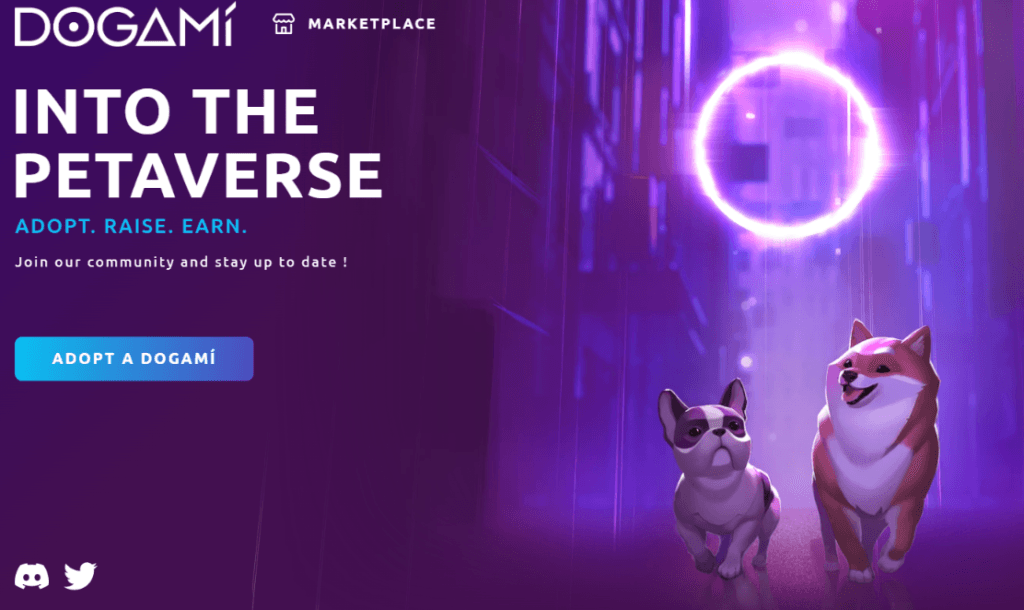 The DOGAMI NFT collection on Tezos is a metaverse-based project where users adopt, train, raise and breed origami-style doggos in a game that might remind you of the Nintendo DS game 'Nintendogs.'
The project was founded by two French web 3.0 enthusiasts, Max Stoeckl and Adrien Magdelaine. They launched DOGAMI in the first quarter of 2022 with an initial mint of 8,000 tokens, all of which have since been sold.
Players can access their DOGAMIS through a mobile application on both Android and IOS, where they can earn and spend the project's native $DOGA token.
$DOGA is used for breeding DOGAMIs, trading, and purchasing various in-game wearables and consumables for your beloved blockchain pet.
DOGAMI promises to grow into a fully-fledged metaverse built on the Tezos blockchain. According to the road map, in the last quarter of 2022, players will be thrust into a virtual world that's interoperable with The Sandbox.
The whitepaper refers to the project's metaverse as the 'Petaverse' and explains that $DOGA will be required to access and participate in events in the Petaverse.
Players will be able to earn $DOGA by competing in various mini-games, trading their dogs, and staking rewards.
In a recent Tweet, the developers gave more details on the staking system. They wrote that yearly rewards would be set at 33% if you lock up your %DOGA for three months and at 8% without a lock-up period.
A second mint is expected, although a firm date is yet to be announced. For now, if you're interested in buying a DOGAMI, you'll need to hit the secondary market on Objkt, where the project has a trading volume of just over 2 million XTZ as of September 2022.
2. Tezzards
Tezzards is a collection of 4,200 Tezzos inhabiting lizards with 97-hand drawn traits assigned randomly to the reptiles through a generative art system that launched in August 2021. Of the 4,200 Tezzards, there are six that are entirely hand-drawn and considered super-rare.
The Tezzard traits are broken down into the following ten categories background, skin color, skin textures, sweaters, outdoor clothes, hats, spikes, jewelry, eyewear, and tongue.
The Tezzards are standard FA2 tokens, and according to the project's website, they are the first provably limited profile picture (PFP) drop on the Tezos chain. If you want to learn more about PFP NFTs, read our post titled 'What Are PFP NFTs? A Beginner's Guide'.
The project was created by a digital artist who goes by OMGiDRAWEDit on Twitter, where they have over 13K followers.
In their most recent Tweet, OMGiDRAWEDit responded to various people asking what's next for the project by stating that the Tezzards are not like other PFP projects such as CryptoPunks or BAYC; they were created purely for artistic purposes and nothing else.
If you appreciate the artistic nature of Tezzards or think that their value could be set to increase, there are plenty of them up for grabs on Objkt, where it has notched up a trading volume of just under two million XTZ.
3. Ottez

Ottez, much like Tezzards, is a generative collection of 4,007 unique PFP characters with various unique traits such as hats, glasses, and sometimes even a mouthful of fish.
The project was founded by an artist who goes by Wwwombats. According to the Ottez site, Wwwombats has over 15 years of experience in graphic design and a background in Fine Art.
Ottez launched on Tezos in January 2022 and immediately caught the attention of the Tezos NFT community, who snapped up all the tokens in next to no time.
Ottez is primary an art project, and for now, at least, there don't appear to be any plans to turn it into a metaverse to expand the utility of the tokens. However, there are a few reasons to own an Ottez beyond making them your profile picture on discord, including:
Ottez owners are granted commercial rights, which potentially gives you a lot of freedom in terms of what you can do with your Ottez. To learn more about you can read our guide to NFT copyrights.
The Ottez social media community, like many other NFT projects, offers an online space for people to discuss the project.
As an Ottesz owner, you could receive art pieces and collectibles in airdrops.
Being part of the Ottez community can get you access to whitelists of other NFT projects.
So far, the most valuable airdrop that Ottez holders have been able to participate in is the Ottez Evolution drop. In September 2022, community members received at least one 'Evolved Ottez' for each normal Ottez in their collection.
Wwwombats showed the community some of the coolest and rarest Evolved Ottez in a Tweet posted just a few days before the airdrop.
If you're looking for a new profile picture and access to an exciting NFT community, you can trade Ottez on the official Objkt page, where the project has a trading volume of around 400K XTZ.
4. The Lushtemples

The Lushtemples digital art collection was created by an oil painter from France known as Zancan, and currently, just over 450 pieces of stunning nature-inspired pieces are listed on Objkt.
The stunning drawings are created using generative art techniques, which results in an extraordinarily detailed and multi-layered design.
Zancan often mints the NFTs on a 1:1 basis, with a physical version of his work being displayed in European galleries.
Lushtemples goes one step further than simply being a collection of epic digital art; Zancan has used some of the sales to raise money for various charities. For example, Zancan Tweeted that 40% of Zancan's earnings totaling over 14K XTZ from Ignis Et Sanguis, was donated to the Tezos4Africa project.
How many Lushtemples drawings will be minted in the future is unclear. However, Zancan is very active on Twitter, so we can assume there's more to come.
If you're a digital art collector interested in Tezos and generative art, this is a project worth checking out. The Lushtemples has a trading volume of 340K XTZ on Objkt, and there are around 100 pieces currently trading on the secondary market.
5. NEONZ

NEONZ is a collection of 10,000 unique avatars that combine retro characteristics with a futuristic design in a project heavily centered around web 3.0 and the metaverse.
The NEONZ were created by Stuart Campbell (better known online as Sutu), an award-winning Australian digital artist specializing in futuristic VR art.
Beyond making solid PFPs, the avatars are also your ticket into the virtual web 3.0 playground designed by Sutu called the 'Sutuverse.'
The Sutuverse has various features, including:
AR: Every NEONZ comes with a QR code-activated augmented reality 3D face filter that you can access using your smartphone.
Game: Owning a NEONS will allow you to participate in the Circuit Breaker NEONS online game, where you race against players to win prizes. NEONZ announced on Twitter that the first tournament would kick off in October.
SIGNZ: Every NEON comes with an AR sign featuring your NFT that can be displayed as part of social media posts.
The NEONZ collection has been a hit thanks to its colorful characters and attempts to create its own metaverse. The NFTs have a trading volume of just over 300K on objkt, and over 1,000 tokens are up for grabs on the secondary market.
6. ZIGGURATS

ZIGGURATS is a fascinating generative art project that combines visual and auditory features that launched in December 2021. The collection of 5,000 NFTs is based on art and music from Mike Shinoda, the co-founder of the US band Linkin Park
The generative art is based on a Ziggurat which is a tall and powerful mythical being said to have existed in ancient Mesopotamia. Essentially, with this project, you're paying for a great piece of generative art that can serve as a PFP, and you're getting a piece of music from one of the most popular US bands from the early 2000s.
Mike Shinoda has used his following on Twitter to drive the project forward. In September, he Tweeted images of upcoming ZIGGURAT T-shirts.
Despite the recent move into merchandise, the project doesn't have a long-term road map. However, this doesn't mean that we shouldn't expect it to develop, as the official site encourages people to stay tuned for upcoming developments.
ZIGGURATS has a total volume of 245K on objkt, and while some tokens have sold for several hundred XTZ, there are some bargains to be found for under 50 XTZ.
7. PRJKTNEON

PRJKTNEON is a collection of 666 dystopian-style avatars that were assigned a combination of 137 unique features through generative art techniques.
The avatars were designed by a multidisciplinary artist known online as Flygohr, and they were first minted in 2021.
Beyond offering fans of movies like Mad-Max and Bladerunner a cool PFP, the project's road map has some exciting plans for the future. Users will be able to access exclusive airdrops, gain access to a Discord channel, participate in various quests using their avatar and benefit from staking rewards.
In addition, the developers have floated the idea of adding a crafting element to the game where players can craft new NFTs from resources handed out through airdrops, but not many details about this are available, so how it would actually function is yet to be seen.
As you can see, PRJKTNEON has a lot of grand ideas for the future, and its total reading volume of 220K reflects the hype around the Avatars. However, for now, it's more of a PFP project than anything else, so keep that in mind while browsing the collection.
Final Thought The Best Tezos XTZ NFTs
The Tezos blockchain may not be as well known as Ethereum or even Solana for NFTs. Still, its level of security, fast transactions, and low fees make it a worthy alternative. In this post, we've highlighted seven brilliant NFTs being built on Tezos, DOGAMI, and NEONZ are tapping into the power of blockchain gaming, while collections like The Lushtemples show the artistic potential of NFT art on Tezos.