Answer the question, does owning an NFT mean you own the copyright after minting or purchasing in our guide.
The idea of genuinely owning an NFT artwork from artists like Beeple or an NBA Top Shot moment entices everyone with a passion for digital collectibles.
However, it turns out that not all NFTs are equal concerning copyrights and intellectual property (IP), and you might not even own the copyright of the digital asset that's sitting in your wallet. When I first heard this, I got concerned and began to wonder where I legally stand as an NFT owner.
As it turns out, there's no yes or no answer to this question; in reality, the copyright ownership of an NFT varies depending on the project, the developers behind it and the NFT license in use.
The world of copyright and NFTs is pretty complex, with different projects offering different rights to buyers, so in this post, we'll dive into this aspect of NFT ownership.
Ownership And NFTs
We need to understand what owning an NFT means, as the answer isn't as straightforward as we probably thought the first time we saw a million-dollar Bored Ape. Unless specified otherwise by the project, there are some rights you can assume you have and others that you probably don't.
What Are Your NFT Rights?
When you purchase an NFT such as an NBA Top Shot Moment, you're paying for a token representing a highlight clip from a legendary moment in the NBA; as the sole owner of the Top Shot NFT, you have the right to sell, trade, swap or even give away the token as you see fit. If you want more information on the NBA Top Shot Moments collection, check out our guide.
Can You Make An NFT Of Somone Else's Art?
Generating or monetizing an NFT based on someone's art could be copyright infringement and subject to a DMCA takedown request or legal action, even if they own the NFT.
Another example is Beeple's famous $69 million digital artwork, 'Everyday's – The First 5000 Days'. Its owner, despite spending so much money, doesn't own the copyright to the digital art, and they can't necessarily commercialize it for their gain.
Music NFTs have a complicated relationship with copyright, with most artists wanting to keep hold of the rights to their music. So when the Kings Of Leon released a music NFT collection, they firmly reminded buyers that they were not offering any copyright and the tokens were intended for personal use.
Owning an NFT doesn't protect you entirely from others misusing it. Consider Top Shots. Although you may be the sole owner of the underlying token, that doesn't prevent other people from accessing the highlight that the NFT represents. They could reproduce these clips on the net, on popular platforms such as YouTube meaning you or NBA Top Shots must issue a DMCA takedown request.
In summary, your rights vary from project to project; generally, when you purchase an NFT on Ethereum, you gain ownership over the token but not the IP.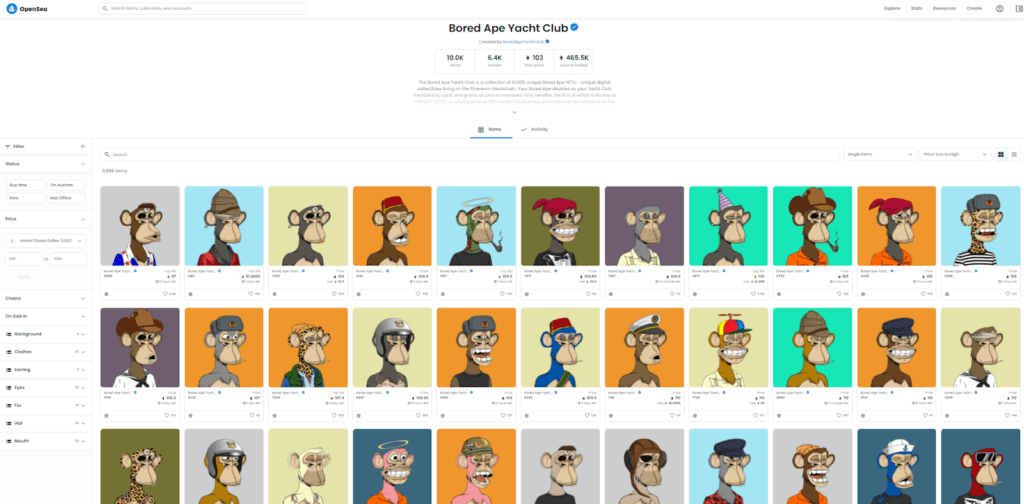 The Bored Apes have become the poster children for successful NFTs, with some of these depressed Apes selling for millions of dollars. According to the terms and conditions issued by Yuga Labs, the team behind the Apes, when you purchase a Bored Ape, you are granted a "royalty-free license to use copy, and display the purchased art along with any extension that you chose to create or use."
The open license means you own the copyright and can do almost anything with your Ape, including printing it on T-shirts or leveraging it for commercial use.
2. CryptoKitties: Offers Limited Copyrights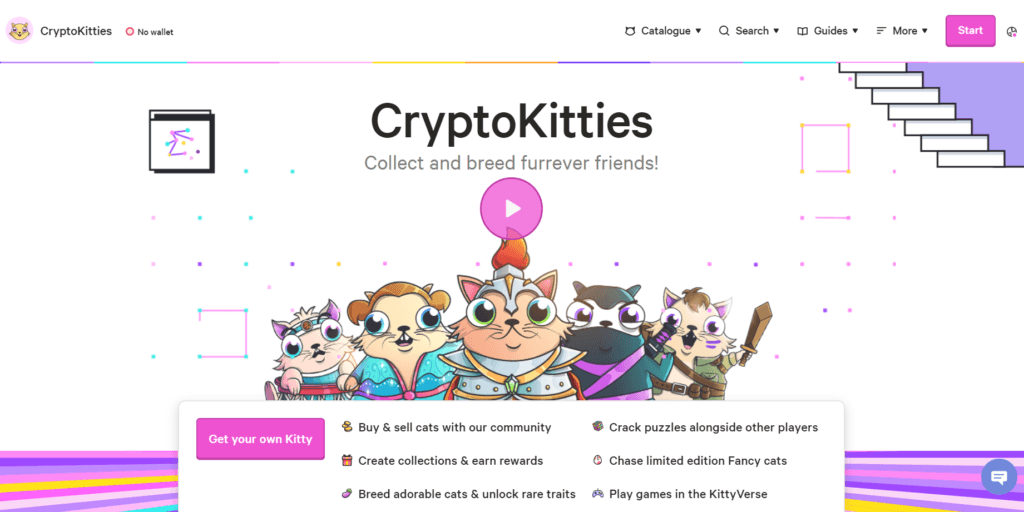 CryptoKitties is one of the leading PFP NFT projects compromised of 50,000 animated cats that inhabit the Ethereum blockchain.
NFT company Dapper Labs created the CryptoKitties, although they don't grant owners IP rights as extensively as BAYC. Instead, holders have the right to commercialize CryptoKitties for revenues of up to $100,000 per year and offer extensive use-cases through third parties as long as ownership of the underlying NFT is fully verified.
CryptoKitties is an example of an NFT project using the popular NFT license, which was created in 2018 for project owners by Dapper Labs. It's used by similar NFT projects like CryptoPunks and Meebits.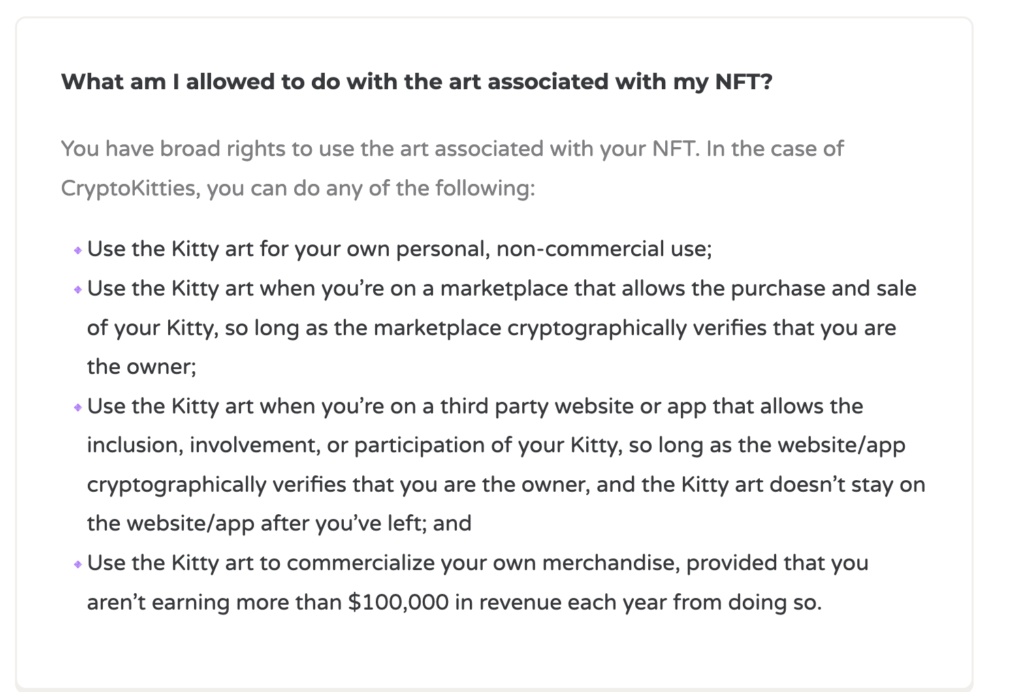 3. CryptoPunks: Revered Developers Hold Onto Copyright


The 10,000 pixelated Ethereum-based CryptoPunks are arguably the most recognizable NFT projects on the market, and holders of these PFP tokens have more bragging rights than just about anyone within the crypto-community.
The project was launched by LarvaLabs in 2017 and acquired by Yuga Labs in 2022; the terms and conditions on the official website read, "We or our licensors, or the third parties who otherwise own the intellectual property rights, retain all rights to that content."
Following the LarvaLab takeover, the community hoped that the copyright rules would be modified, especially after LarvaLabs announced that they planned to hand IP to the community.
The promises made by LarvaLabs are yet to come to fruition, and the ongoing refusal to grant copyright control to token owners has resulted in growing backlash from community members who feel the concept goes against the decentralized ideology that drives the crypto sphere.
4. Clone X: Copyright Withheld

The Clone X NFT collection of 20,000 3D avatars designed by famous Japanese artist Takashi Murakami in collaboration with RTFKT, now owned by Nike. They inhabit a complex metaverse that will grow into a flushing ecosystem.
The Clone X project sold out within hours of its launch in 2021. Nike since acquired this NFT project, and it has completed several successful airdrops. However, Nike is usually protective about its brand and commercial assets.
Dive into the Clone X Terms and Conditions and you'll find it states, "…no license rights are granted under any patent, trademark, trade secret or other intellectual property or proprietary right other than any copyright owned or controlled by RTFKT."
As you can see, RTFKT is clear about owners not maintaining the commercial copyright to an avatar.
5. CC0s: Leading The Way In Offering Full Copyright Ownership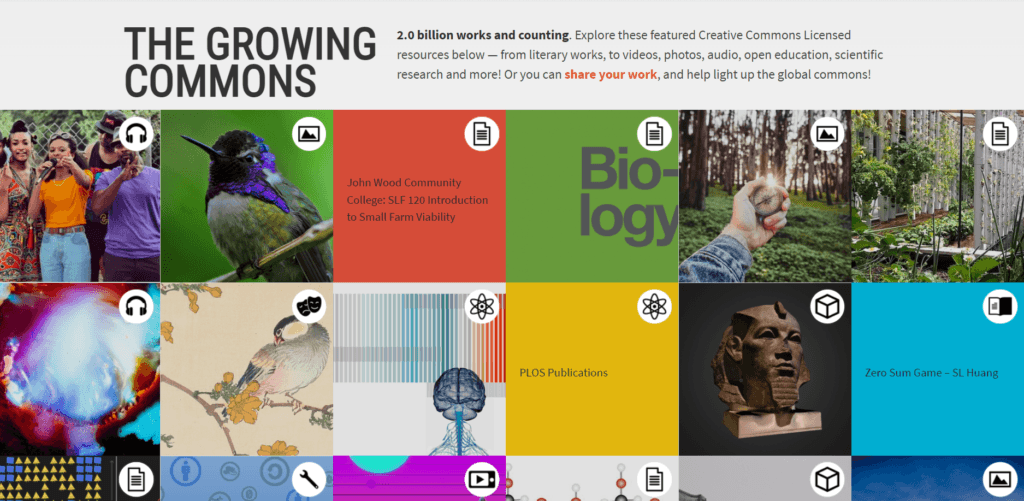 Although some of the biggest NFT projects are reluctant to hand over copyright control to the community, Creative Commons Zeros (CC0s) offers complete copyright control to token holders.
CC0, also known as CC-Zero, are NFTs with open IP rights, meaning their holders can do whatever they want with the NFT. These projects attract people seeking to use NFTs for commercial purposes such as merchandising or creating content using the underlying digital art. They are NFTs in the purest sense.
If you want to learn more, read our guide to CCO NFTs.
NFT Copyright Infringment Court Cases
Copyright is a serious issue. NFT owners could potentially be taken to court if they misuse certain NFTs, although this space is still young and precents remind to be set.
To date, there have been dozens of lawsuits revolving around NFT copyrights; let's take a look at two high-profile examples.
Magic: The Gathering (MTG) is a top-rated trading card game where players battle each other with various mystical creatures and magical powers. A group of developers known as mtgDAO decided to ming their Magic cards as NFTs and sell them.
The idea of Magic cards on a blockchain appeared to be a great idea; these collectible trading cards would indeed work just as well in a digital format. However, the developers failed to consider the copyright implications of their actions.
When Wizards of the Coast (WotC), MTG's parent company, discovered the project, they used mtgDAO, pointing out that just because they own a physical trading card and mint it as an NFT, they aren't in control of the copyright.
The project failed as a result of WotC's claim, and the last Tweet from the mtgDAO official Twitter reads, " I don't know s**t about copyright law, so I'm trying not to discuss it much, but I'll tell you that mtgDAO NFTs being IP infringement is not intuitive to me."
Quentin Tarantino launched an NFT collection of archived and never before seen footage from his classic film ''Pulp Fiction' on OpenSea in 2021. Tarantino, who directed Pulp Fiction, saw NFTs as an opportunity to connect directly with his fans, like many musicians and artists.
However, following the auction launch, Miramax LLC, the entertainment company, claimed to own Pulp Fiction's copyright. It filed a lawsuit stating the NFTs breached the law and Tarantino had profited from them illegally.
Anyone who purchased one of the Pulp Fiction NFTs must now feel pretty hard done by as it turns out they might not have any rights to the underlying asset.
Final Thoughts On NFT Copyright
When researching an NFT, thoroughly research its approach to licensing and copyright, as there's no blanket answer to the copyright question.
While some of the most notable projects, such as CryptoPunks and CryptoKitties, offer limited copyrights to owners, the BAYC and CC0 projects go further by giving token holders full ownership rights.
So, check the official terms and conditions so you are clear on the copyright ownership position. We also recommend reading up on the NFT license and its FAQ. Many projects adopt this license on mint. If you don't see any terms and conditions or information about licensing or copyright on an NFT website or project page, that's a red flag for a low-effort project.