Find out some of the best Cardano NFTs developed on the Cardano blockchain, the best low-cost yet faster NFT minting platform.
Ethereum NFTs are expensive. Gas fees are volatile and increase the barrier to entry for a project when that blockchain is congested, thanks to big NFT mints, DeFi transactions, and more.
Hence, Ethereum co-founder Charles Hoskinson developed a proof-of-stake blockchain, popularly known as Cardano. It's attempting to resolve various Ethereum blockchain issues and paves the way for broader blockchain adoption in finance and other sectors. It's a sustainable, energy-efficient, scalable, and regulations-compliant blockchain.
If you're interested in exploring Cardano NFTs. Before we profile some projects, doing your own research is important. For that, enter OpenCNFT.
What Is OpenCNFT?
OpenCNFT is an NFT data aggregator developed on the Cardano blockchain exclusively for Cardano NFT projects. It fetches real-time NFT data like price trends, floor prices, the volume traded figure, etc., from 15+ Cardano NFT marketplaces.
More than 90% of the NFT data comes from the jpg.store NFT marketplace. Other prominent marketplaces that OpenCNFT closely follows are Spacebudz.io, epoch.art, PXLZ.org, Artano.io, etc.
I've mentioned data from OpenCNFT for all the best Cardano NFTs listed here. It's the same NFT trends data tool that the ace Cardano NFT investors follow to make their investment decisions.
1. The Ape Society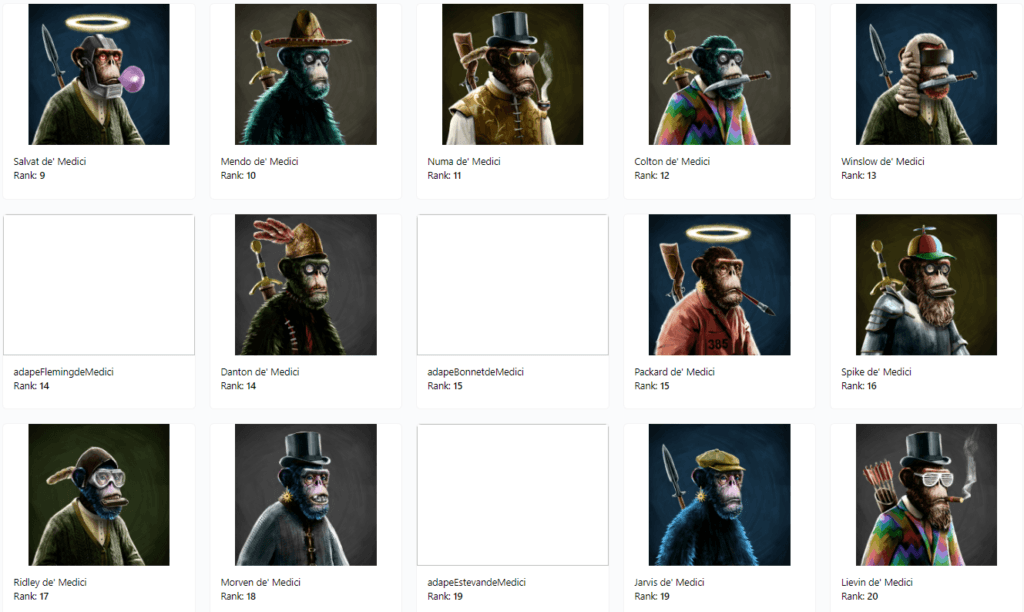 The Ape Society is one of the best Cardano NFTs with a detailed roadmap, engaged community, and lots of real-life project utilities.
Since the main characters of this digital artwork collection are the various types of apes, you might find it related to the Bored Ape Yacht Club collection. However, the artwork, theme, and rarity are significantly different than BAYC.
If you couldn't get a hold of a BAYC due to its outrageous price, you can try the Ape Society instead. Some quick data about this Cardano NFT project are:
NFT type: Picture-for-profile or PFP NFTs
Mint date: April 26, to April 28, 2021
Collection volume: 7,000
Project developer: Planet Ape
As of early October 2022, The Ape Society has recorded the volume traded figure of ADA 16 M with a floor price of ₳3,050, a run up of over 100% in a few weeks. Currently, 2,200 collectors own most of the NFTs of this project.
The apes of this collection come in 8 different classes with variable perks. For example, Craftsmen, Artists, Explorers, Merchants, Military Officers, Royal Advisors, Nobles, and Kings are the types of apes you can collect. You also get a virtual 3D room or Cabin Plot with each ape.
You can connect with the community through its Twitter account The Ape Society. Recently they've posted about an upcoming NFT event, the Apetoberfest on their Twitter handle.
2. Clay Nation by Clay Mates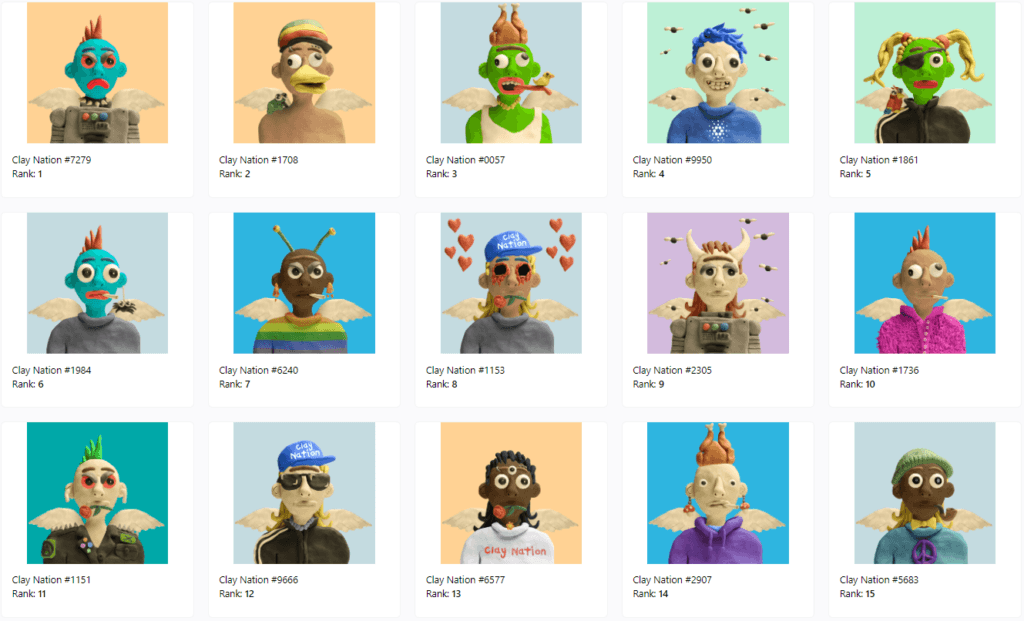 With Clay Nation NFTs, you can add your clay-based avatar as your profile picture on various online platforms. It'll not only make you different from the rest but also represent your clay-loving nature to the world.
Every NFT or character of this collection has been algorithmically assembled that contains the traits of handcrafted clay dolls. A splendid combination of rarity items such as background color, body, mouth, eyes, hair, clothes, accessories, hat, and wings makes each NFT one-of-a-kind.
Some vital data on this NFT are:
NFT type: Profile picture or PFP NFTs
Mint date: October 31, 2021
Collection volume: 10,000
Project developer: Clay Mates team
Clay Nation is available on Twitter on their official handle. In a recent tweet, it announced the revision of pool margin from 2% to 5%.
3. Genius NFTs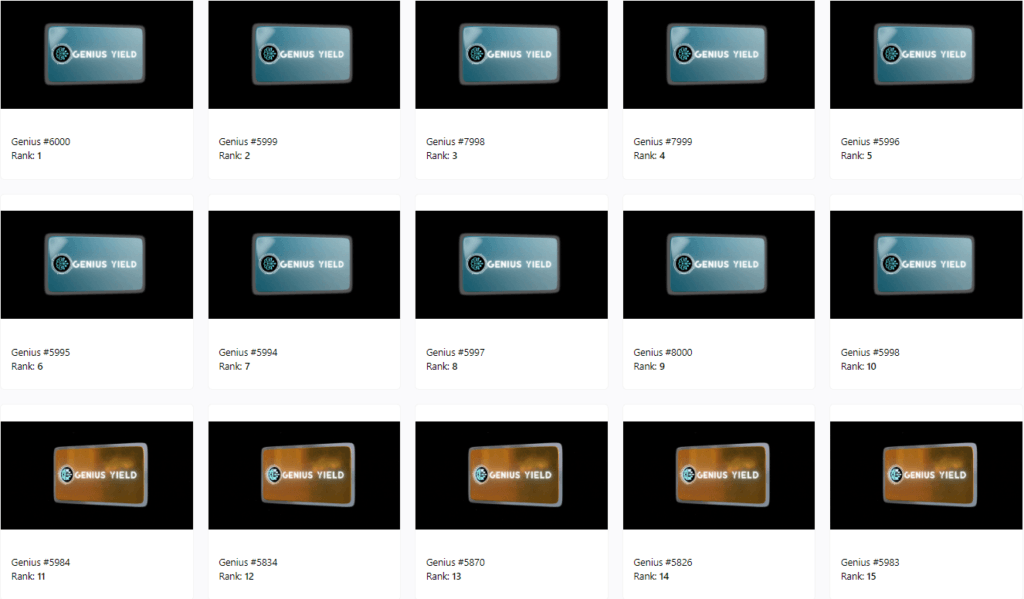 Genius NFT collection is an NFT project from the Genius Yield decentralized finance (DeFi) platform with a decentralized liquidity exchange (DEX) for automatic yield optimization.
You can collect multiple Genius NFTs to increase the yearly return on staking the $GENS coin. Find below some useful information on one of the best Cardano NFTs:
NFT type: Identity card-type NFTs
Mint date: September 19th to September 21st, 2022 @2PM UTC
Collection volume: 8,000
Project developer: Laurent Bellandi and Dr. Sothy Kolmen
The NFT project consists of three collections, namely Mascot Contest, ISPO NFTs, and Genius NFTs. Though the mint event for the Mascot Contest and Genius NFT are over, you can still participate in the ISPO NFT project minting.
You can know more about the project on Genius Yield official Twitter handle. Its recent tweet announces the publication of an eBook on the Initial Stake Pool Offering of Cardano blockchain.
4. Mysterious Moai Association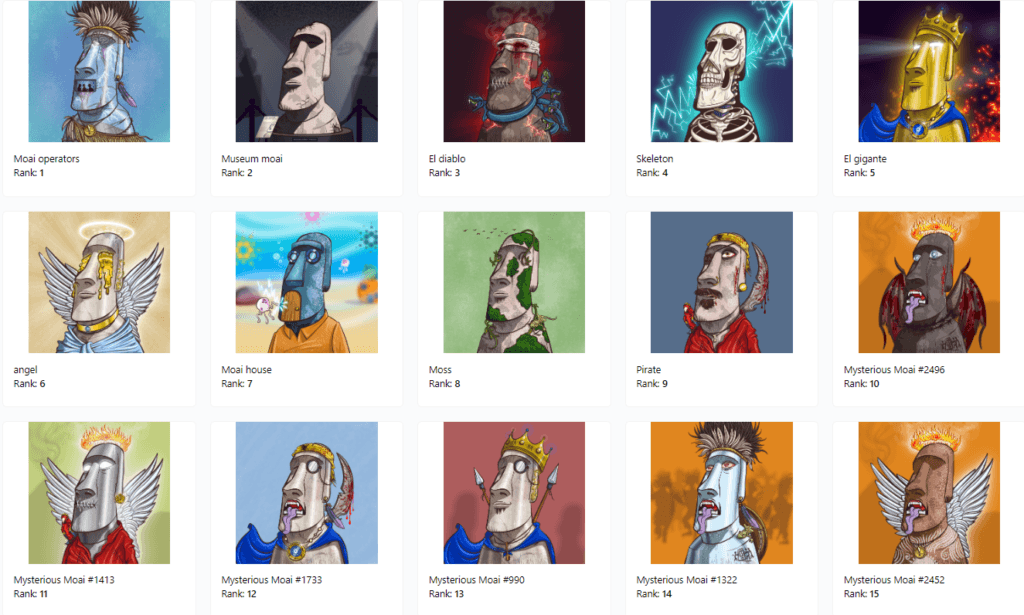 Mysterious Moai Association consists of beautiful and close-to-nature digital artwork that portrays stone giants. These NFTs are available on the Cardano blockchain.
These artworks are highly similar to the mysterious sculptures found in the Rapa Nui aka Easter Island, Chile.
Find below some vital data about this NFT collection:
NFT type: Monolithic human figures
Mint date: September 21, 2022
Collection volume: 3,333
Project developer: Buurtvader, Tommyswaglord420, and Murls
The Moai characters belong to any of the five tribes that exist on the Moai island or around the world. However, it's not clear yet which Moai belongs to which tribe. The developers of the project will run a Tribe Hunt to decide that.
Other roadmap objectives are Limited edition Moai NFTs for the First Class Boat Ticket Holders, 3000 ADA donation to the Easter Island Foundation, etc.
You can reach the NFT project by tweeting your queries @MysteriousMoai. Its official Twitter handle recently announced a treasure hunt linked to the Moai #225.
5. Boss Cat Alien Club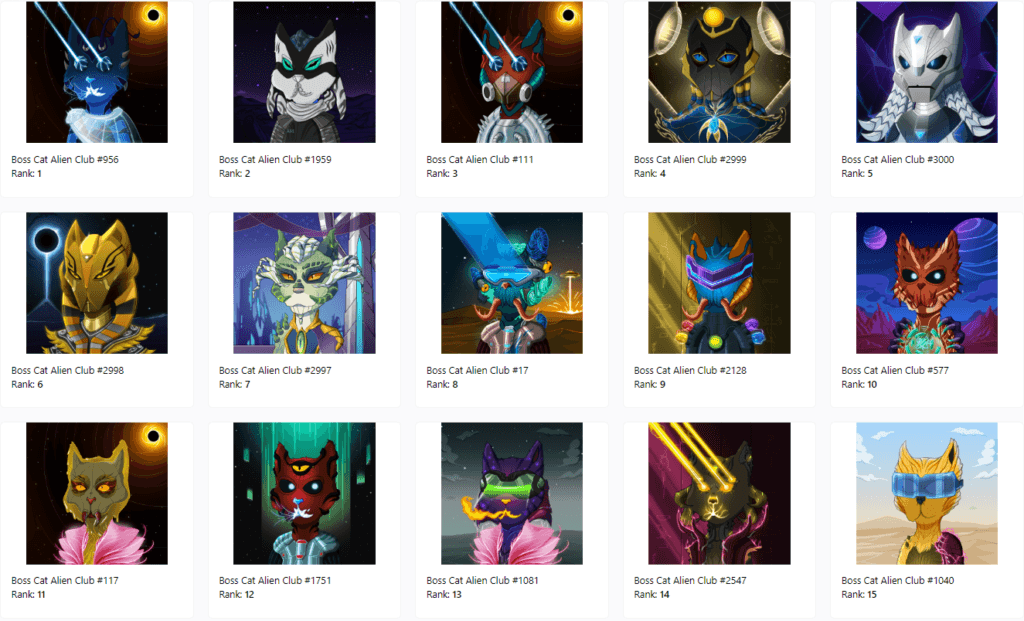 The Boss Cat Alien Club comes with a limited collection of 3,000 NFTs. Though algorithmically generated, these contain numerous unique hand-drawn attributes.
In this collection, you'll find themes of Advanced Alien Tech and Supernatural Powers. The never-seen-before details of these NFTs make them unique and rare.
Its rarity features include body, background, mouth, eyes, and clothing. What's more, if you own any of the 1K Ranked Boss Cat and Full Rocket, you can claim Boss Cat Aliens for free on a 1:1 basis.
NFT type: Alien NFTs, play to earn game
Mint date: April 26th, 2022
Collection volume: 3,000
Project developer: Blue Magic
To get all the updates on this NFT collection, you can follow Boss Cat Alien Club on Twitter. In a recent tweet, the project developers reminded the public to claim their Boss Cat Alien Club NFTs.
6. SpaceBudz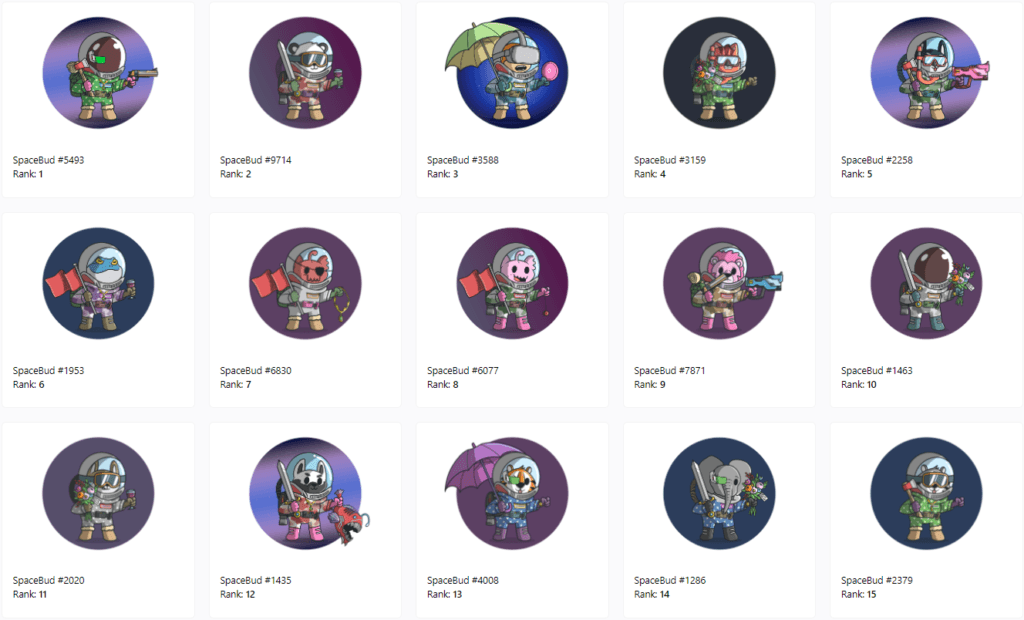 SpaceBudz is the NFT collection that boasts 10,000 collectibles. Each NFT of this collection is a cute animal dressed up like an astronaut with different backgrounds, colors, gadgets, and other traits. Apart from the NFT collection, the SpaceBudz project also includes an NFT marketplace and a wide range of creative tools for its community.
When it comes to NFT sales volume of all time, currently, it holds the number one spot. Both common and rare NFTs are part of it. A rare Dino astronaut NFT of SpaceBudz was sold for 510,000 ADA in October 2021 which is the most expensive NFT of Cardano blockchain to date.
Here are some data on this NFT you should know:
NFT type: PFP NFT
Mint date: March 2021
Collection volume: 10,000
Project developer: Alessandro Konrad and Zieg
SpaceBudz can be found on Twitter, and you can follow it to know the latest updates. It announced the news of becoming the sponsor of NFTcon in a recent tweet.
7. Chilled Kongs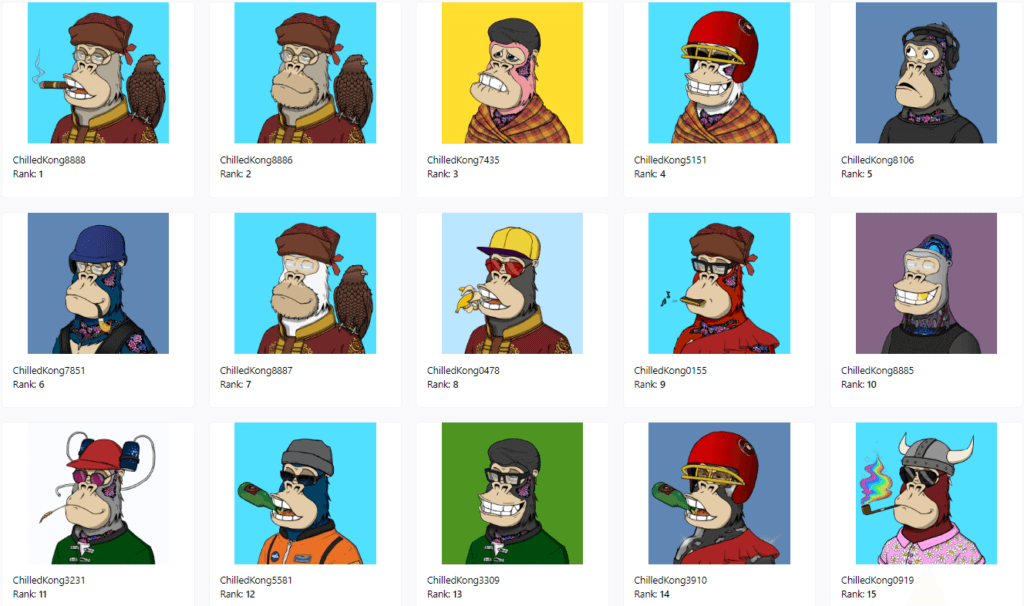 Chilled Kongs are a collection of unique NFTs that hold a popular position among Cardano NFTs. All these represent the enjoyment of good things in life — popularly known as chilling. If you love to chill as well, it's the perfect choice to showcase your characteristics through NFTs.
It got inspiration from the fictional giant ape or gorilla named King Kong. So, don't be surprised if you find its resemblance with BAYC NFTs. It has a total of 8,888 NFTs to date and contains 9 rarity traits. Find below some quick info in this NFT collection:
NFT type: PFP NFT
Mint date:
Collection volume: 8,000
Project developer: André Monfort
You can stay in touch with Chilled Kongs developers through their Twitter handle. In a recent tweet, they've asked the followers to post their first Chilled Kongs NFTs.
Best Cardano NFTs: The Final Word
Cardano is one of the best alternatives to the Ethereum blockchain for NFT minting, collecting, and trading. It also facilitates low-cost play to earn gaming projects with NFT assets at the center.
So far, you've discovered only seven of best Cardano NFTs that are promising in this blockchain network and competing with NFTs of the Ethereum, Solana, and Tezos blockchain network.
Whenever investing in NFTs, perform your due diligence, and go through project roadmaps carefully. Consider if you like the art work too. Remember, NFTs are risky, even if on Cardano.