Learn about the best on-chain NFTS today and what makes them so unique.
On-chain NFTs, and their imagery or artwork, exist entirely on the blockchain. They're usually pixel art and or low-fidelity images due to the constraints of the blockchain. However, they can't disappear, and they are not dependent on a server or third parties.
They're also a type of NFT that's proven particularly resilient during the NFT bear market. Many veteran NFT collectors prefer collecting these types of NFTs over a standard JPG.
What Does On-chain Mean in NFTs?
Basically, an on-chain NFT describes when the token's metadata and the image are stored entirely on a blockchain like Ethereum rather than on a traditional server. The image and contract behind will never disappear, and anyone can inspect who minted, bought, sold, traded, or interacted with it in some way using a blockchain explorer like Etherscan.
1. CryptoPunks


CryptoPunks is the most notable example of an on-chain NFT. In 2017, a two-person team, Larva Labs, 2017 created these 24×24 pixel images. 10,000 of these collectible PFPs exist. Today, they're one of the most famous and valuable NFTs projects in the space after Bored Ape Yacht Club.
The CryptoPunks weren't on-chain when they were created. They were, however, the inspiration for the ERC-721 standard, which is the standard for most NFTs on the Ethereum blockchain today.
Larva Labs migrated the CryptoPunks on-chain in 2021. In a blog post about that migration, the Larva Labs team explain how anyone can use the contract on Etherscan to see the code or SVG file behind a CryptoPunk. They can also view an on-chain demo of a CryptoPunk for themselves. Yuga Labs, the company behind Bored Ape Yacht Club, has since purchased the CryptoPunks and Larva Lab's other project, Meebits.
2. Nouns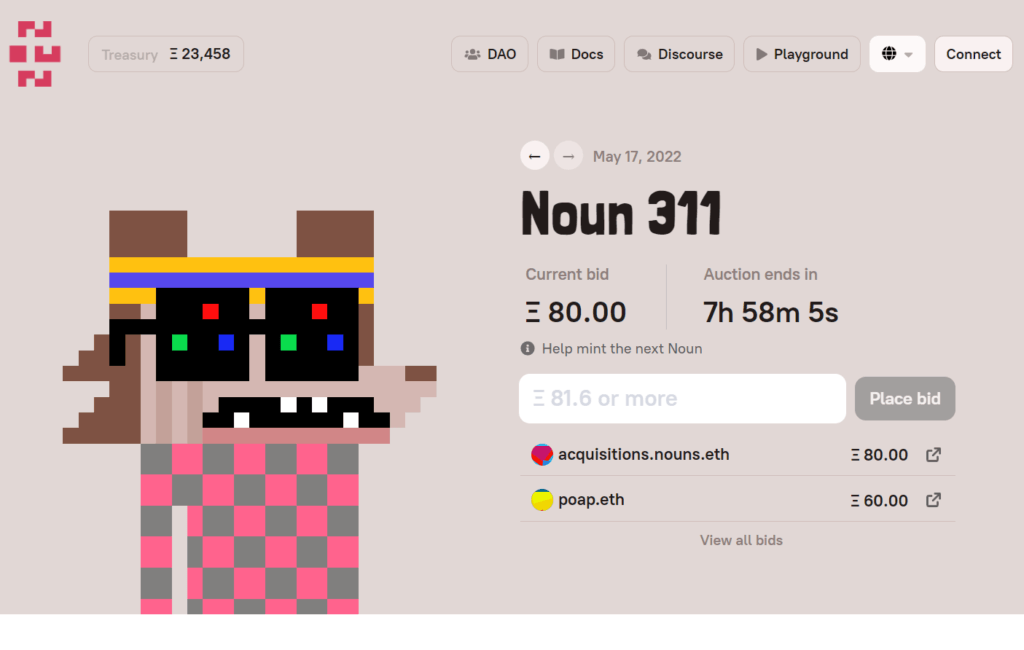 Nouns DAO was a pioneer of on-chain NFTs. It's why many projects moved on-chain or have started to launch entirely on-chain, including CryptoPunks. In the below video, I profile the Nouns DAO project. To learn more, you can also read our guide what is Nouns DAO?
One Nouns NFT is minted every day forever. Anybody can go in and bid on one. Unlike other NFT projects, you don't need an allowlist or to win some raffle. The catch? The price for winning a Noun sauction is around 30-35 Eth.
If you can't afford 30 plus ETH to mint a Nouns NFT–let's face it, not many of us can't–you can mint a Lil Nouns. That on-chain NFT project works similarly to Nouns. It's entirely on-chain too. Lil Nouns are minted every 15 minutes forever and have a much more affordable floor or mint price. As of November 2022, currently around 0.15 Eth.
Noun and Lil Nouns, like many on-chain NFTs, are entirely in the public domain. The proceeds are sent back to a Treasury or a DAO. And if you own a Nouns or Lil Nouns, you get a vote in the direction of the respective project. Some of the creators of the Nouns NFT project are involved in other on-chain NFTs, including Gremplin, the creator of CrypToadz.
3. CrypToadz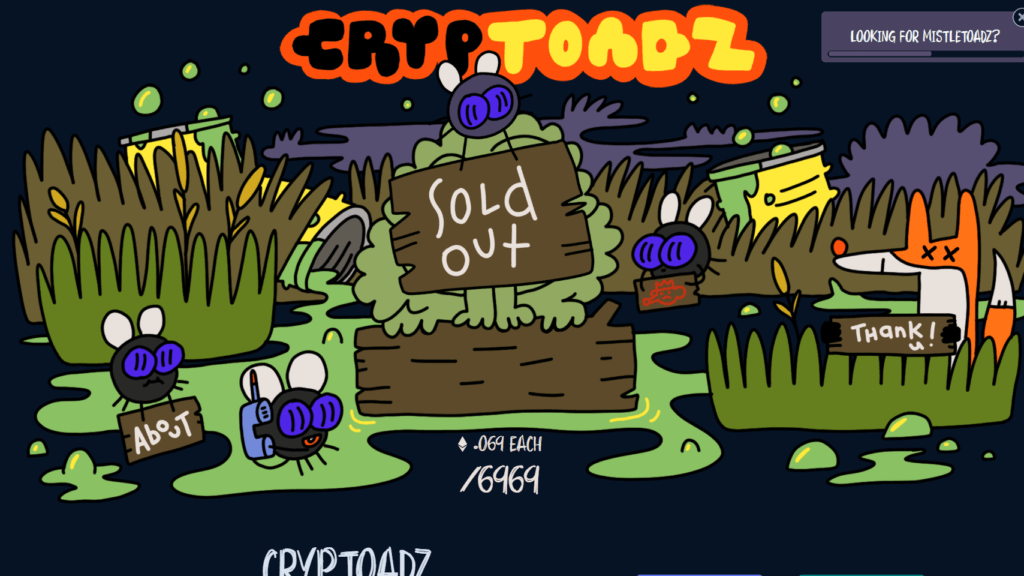 CrypToadz is an example of an on-chain NFT inspired by CryptoPunks and Nouns. CrypToadz was created in September 2021. There are 6969 NFTs in this on-chain collection. It was created by Gremplin, one of the team members behind the Nouns DAO.
They are Creative Commons Zero or Creative Commons No Rights Reserved (CC0). Anybody can do what they want with these on-chain NFTs, including using them for commercial use. An entire community of projects has grown up around a CrypToadz NFT project.
Using this site, you can play around with the CrypToadz builder. It generates an image based on the various CrypToadz traits. These are size, background, body, mouth, head, eyes, clothes, accessory and accessory. Then, you can use this image (not an NFT) any way you wish, including for creating a new project or Web 3 venture. Learn more about what is CrypToadz.
4. Anonymice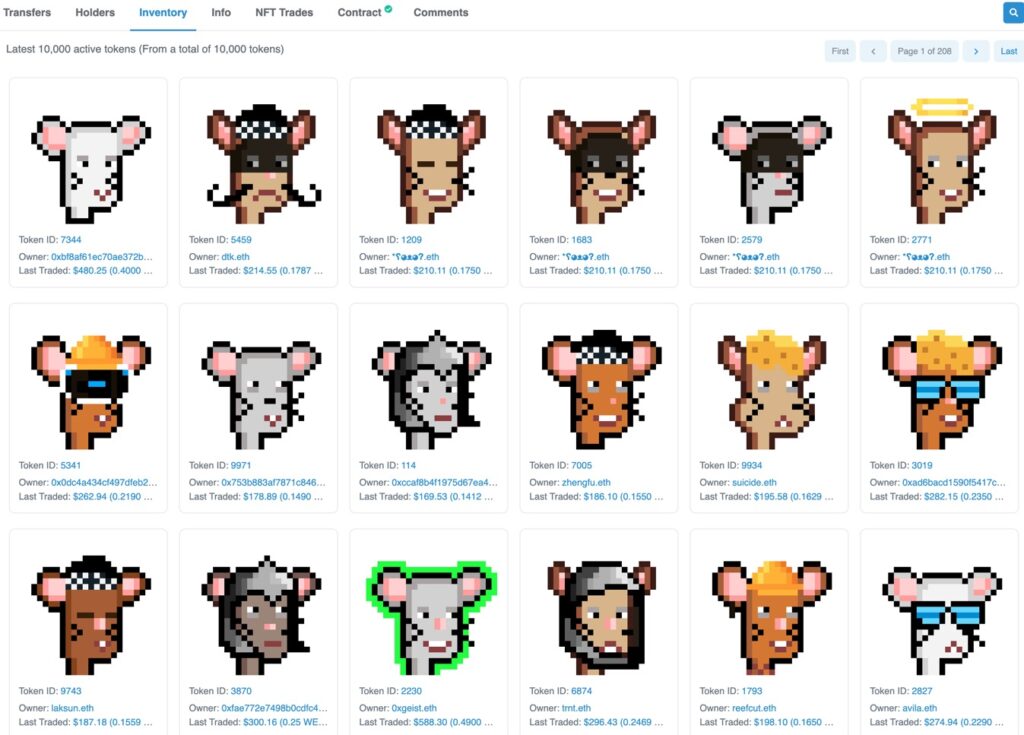 Following the success of Nouns, the Anonymice NFT project was created and launched on-chain in September 2021. Like many on-chain NFTs, it's CC0. The floor price hasn't held up as well as other on-chain NFTs during the bear market. During the bull run of late 2021, the floor price exceeded 10 Eth but at the time of writing, it's around 0.2 Eth.
Genesis Anonymice holders were able to breed the Genesis Anonymice to create on-chain Baby Anonymice. In 2021, the team renounced the contract for Anonymice, meaning nothing can happen to the contract. Many NFT project creators are in the Anonymice DAO because that team has a lot of technical skills. These days, you can use Anonymice to earn $cheeth and win whitelists. Holders can also mint related soul-bound NFTs. That's basically a free, unique, non-transferrable NFT representing your affiliation with the Anonymice DAO.
You can use Etherscan to inspect Anonymice NFTs on-chain. Using the Inventory section, you can inspect any of these on-chain NFTs, see trades and transfers, and see what happened with them. It's all visible and verifiable on the blockchain.
Unfortunately, not every on-chain NFT contract is as easy or intuitive to interact with as Anonymice, but with a little bit of technical know-how, you should be able to find an on-chain NFT using Etherscan and inspect what's happening to it. Verify, don't trust!
5. ENS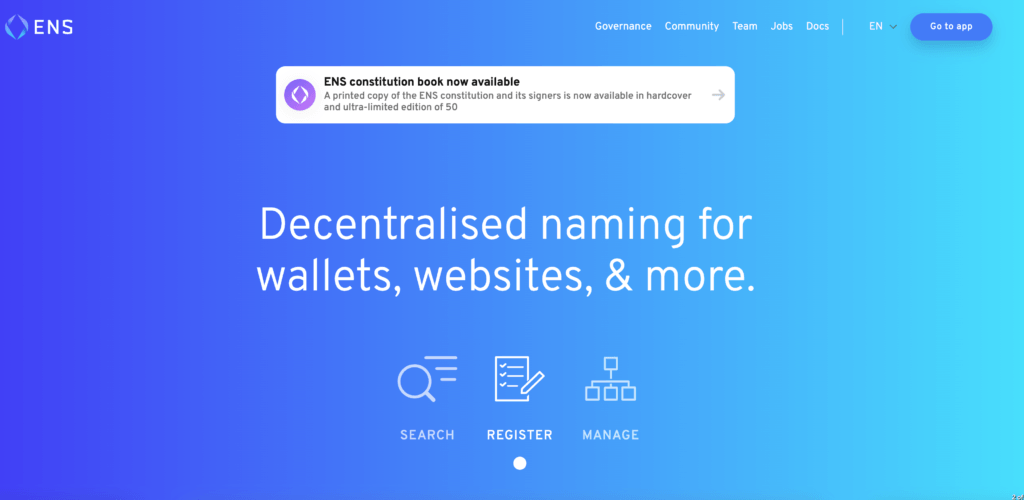 The Ethereum Name Service or ENS isn't your typical JPEG. These decentralized domain names can be used for crypto and NFT wallets, Web3 websites, apps and identities. I cover lots more use cases in the below video.
Visit ensdomains.com and search for your name, website, or domain you want to mint. It'll cost some Gwei or ETH to do so. ENS NFTs experienced a mini-bull run in May and June 2022 despite the NFT bear market.
Using ens.vsion, you can see many popular Ethereum Name Service domains. The 999 Club and the 10K Club are considered ENS blue chips. The 999 Club comprises three-digit dot ETH domains, while the 10K club comprises four-digit.ETH domains.
There's also a market for Web3 domain flippers who like to buy and sell top profiles or top ENS domains, like porno.eth, which sold for 184 Eth in June 2022.
6. OnChainMonkey

OnChainMonkey is another example of an on-chain NFT that has proved resilient despite the NFT bear market. 10,000 exist. They're an excellent example of a successful monkey-themed NFT project which isn't connected to Yugalabs! Unlike BAYC, it's entirely on-chain too.
OnChainMonkey minted around September 2021, during the end of the NFT bull run, following the success of Nouns. Seeing that the floor price has held up since then at 0.778 ETH and only 2% are listed (as of November 2022) is compelling.
Unlike CryptoPunks and CrypToadz, it's vector and not pixel art. Some on-chain NFTs I've shown you don't have a roadmap or future use cases.
OnChainMonkey has a vibrant and active Discord community with a clear roadmap and growth plans.
As part of the Monkeyverse ecosystem, two related NFT projects exist: OCM Dessert and Karma Monkey. You can purchase some Desserts, combine them with your OnChainMonkey and then mint an OnChainMonkey Karma NFT.
7. Art Blocks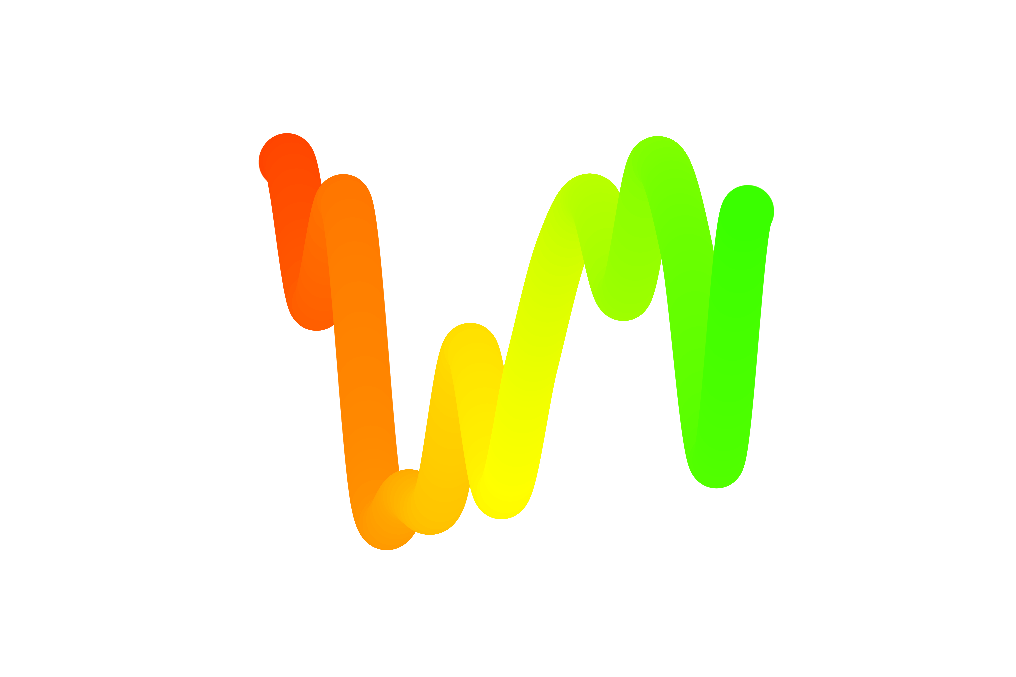 Art Blocks is the space's most successful notable example of a platform bringing artists and project creators together. They're using code to create generative art.
The code or image isn't hosted on the blockchain. It exists on-chain or on the Ethereum blockchain. When you purchase an Art Blocks NFT or interact with one, you're interacting with the code on the blockchain. The output of that code is represented on-screen as an image, video, animation, piece of music, or some other form of digital artwork.
To try this for yourself, visit a project on the Art Blocks website and click the live generator button beneath the image of the NFT. Expect the subsequent output to heat your laptop or computer as the code is intensive!
8. Loot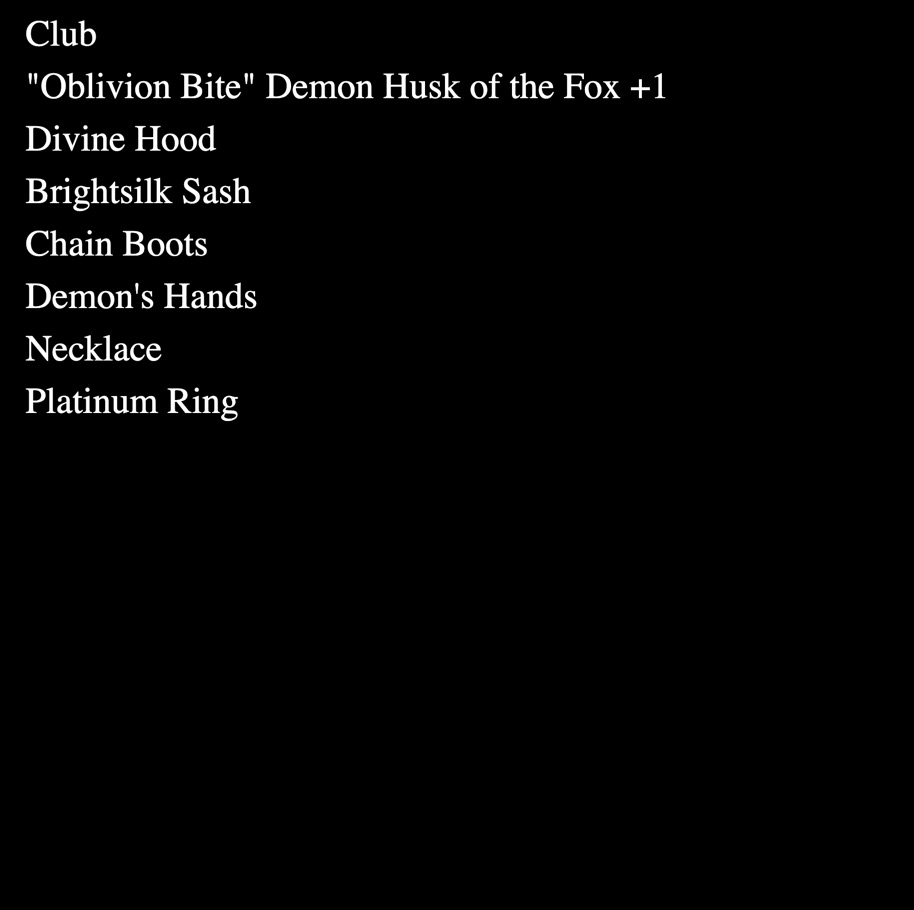 Only some on-chain NFTs are pixelated art or picture-for-profile images. Enter Loot, which was minted or created in August of 2021.
7,779 NFTs are in this project. It's randomized adventure gear in the form of stats, images and text generated and stored on-chain. Holders can use this text any way they wish, for example, for storytelling, games and other projects. DHof or Dom Hof, the creator of the short-form social media platform Vine, created Loot. Remember that?! It closed down in 2017.
Loot made headlines during the crypto bull market when people spent tens of thousands of dollars to buy Loot. So Loot has proved somewhat resilient since we entered the NFT bear market. The floor price is currently at 0.55 Eth, so it has come down quite a lot. At the time, it spawned some derivative projects which have yet to hold up, including Bloot (not for Weaks), which had more colorful text also generated on-chain. That derivate (like most derivates) did not hold up.
9. Chain Runners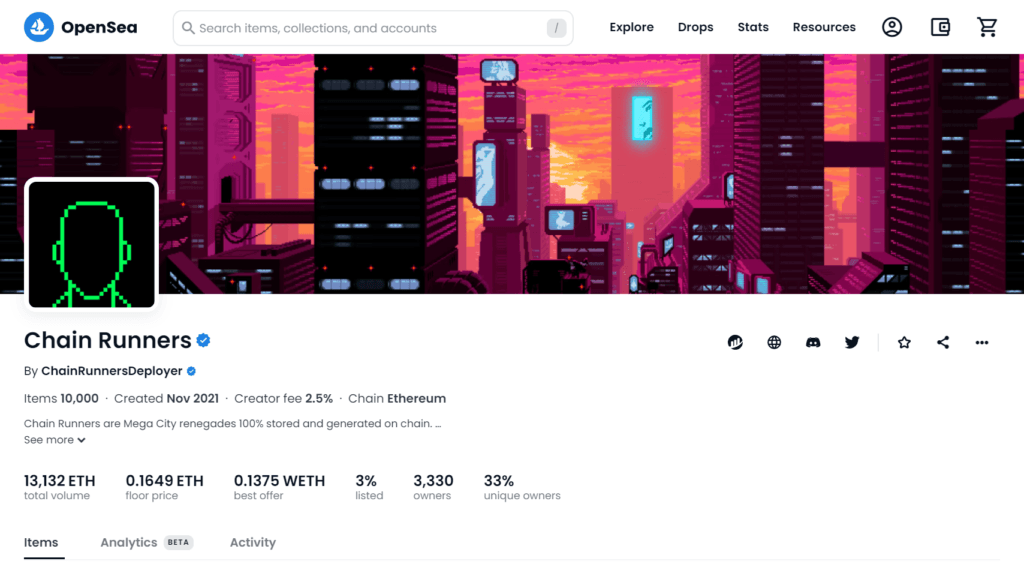 Chain Runners comprises 10,000-pixel art NFTs. It's a lore-driven NFT project with a cyberpunk theme. You use these as a picture-for-profile too. They minted in November of 2021. 10,000 NFTs exist in the collection. Creator fees are pretty low at 2.5%, and these are generated entirely on-chain.
10. EtherOrcs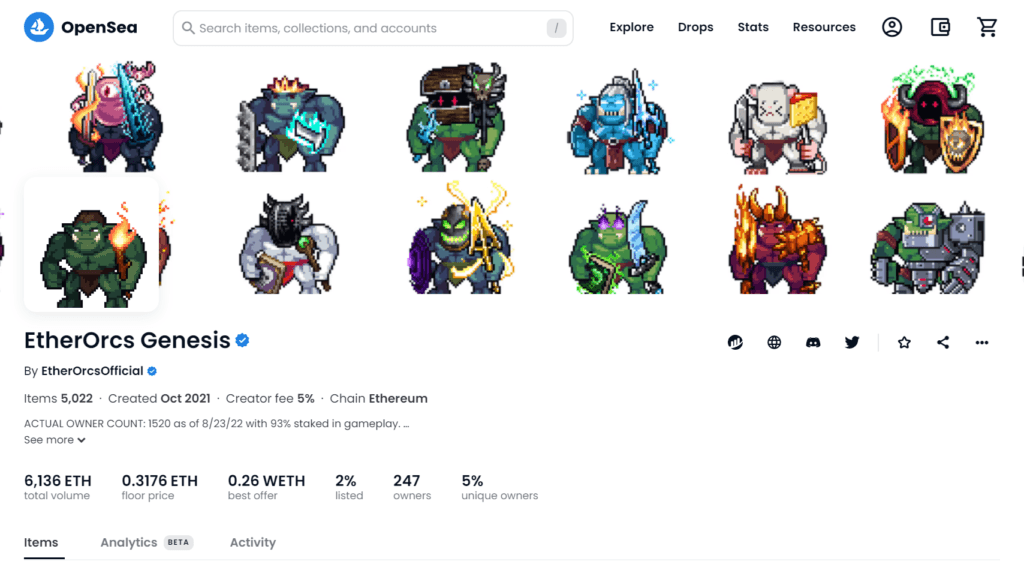 The EtherOrcs blockchain game was created in October of 2021, towards the end of the NFT bull run. The project was inspired by Anonymice. It's the first 100% on-chain game.
5,050 Genesis EtherOrc NFTs exist in the primary collection, with 3% listed. EtherOrcs has some related on-chain collections (on Polygon, not Ethereum), including EtherOrc Allies, EtherOrc Loot and EtherOrc Items If you play the game, you can take part in journeys and quests to win NFTs like these.
Finding More On-Chain NFTs
That's a selection of some of the best on-chain NFTs. Many more exist, although some are lesser know. If you want to find them, visit 0xchain.art. There, you can search for various on-chain NFT collections. It'll give you links to multiple marketplaces. The website is clunky but an excellent place to find on-chain NFT art if you want to look outside Art Blocks.