Discover what is the Azuki NFT project in our guide for NFT collectors and fans.
"…Breaking down barriers. Building open communities…"
These and more are promised by the Azuki Brand taking the NFT world by storm.
Azuki is a collection of 10,000 avatars that give you membership access to The Garden. An Azuki is your identity in this part of the Metaverse. The Garden is "a corner of the internet where art, community, and culture fuse together." Azuki has quickly become one of the most popular, fast-selling NFT collections following the footsteps of Bored Ape Yacht Club.
Wednesday Morning. January 12, 2022. 10:00 am. Los Angeles. The Metaverse was about to be rocked by a group of four men and their team. They called themselves Chiru Labs.
Their names are not known as they have chosen to be addressed by pseudonyms:
ZAGABOND – HUMAN BEAN, Reformed DeFi builder. Ex-big tech. Collector of sweat shorts.
2 pm.flow – ENGINEER, Amateur rapper, ex-Google/Y-Combinator. Down 80% on Top Shot moments but up 100% on good vibes.
Location tba – ENGINEER, Ex-Facebook software engineer. Now racing Zuck to the metaverse.
The team members include:
HoshiBoy – DESIGN, Did Y-Combinator twice. Watches anime dubbed. Ngmi.
STEAMBOY – ARTIST, Former Overwatch Character Art director. Pushing jpegs since the late 90's. Never actually watched all of Steamboy.
NJOO – ARTIST, Artist on Street Fighter Comic. Way too cool for a bio.
DAPH – COMMUNITY, From esports to e-money, now on Discord banning dummies.
DEMNA – PRODUCT, Formerly a PM at Google, whatever that means. Strong opinions, loosely held. Hates hiking.
This is commonplace in the crypto world where everyone loves privacy. But there is a fifth Azuki founder who is known in the gaming industry and doesn't hide his identity. He's going public with his identity to build trust. His name is Arnold Tsang and he is a conceptual artist.
The 39-year-old once worked with Overwatch, the shooter game which is powered by Activision Blizzard and has over 60 million gamers registered on the platform. He will be joining Azuki full-time to help move the brand forward.
"The dream is for Azuki to have such big IP that there's an animated series, maybe even games and all kinds of merch,'' Tsang said.
So on this fateful Wednesday, these four above-mentioned men released exactly 8700 NFTs, each priced at $3400. It was an immediate hit, sold out within three minutes and raking in over $29 million. They further sold another $2 million worth in a private showing. As of February 11, Azuki made over $300 million, selling their NFTs at major marketplaces like OpenSea.
January 12. They went for $3900. Fast forward to Valentine's day, and they had Skyrocketed to about $36,000, which is almost ten times their original amount. Right now, the floor price for an Azuki NFT is 20ETH.
The highest sale recorded for an Azuki was over 1.4 million dollars, purchased with 420.7 ETH on OpenSea. It was the second rarest member of the collection, bought by user "jdizzles" and sold by "trevault".
As of April 2022, Azuki surpassed the $500 million sales volume on OpenSea. At the time of this writing, Azuki is now among the top ten highest-selling NFT brands.
What Is Azuki?
Azuki is an anime-styled profile picture project hosted on Ethereum and developed by Chiru Labs, comprising 10,000 different avatars with uniquem customizable features like hair, face, neck, eyes, ears, mouth, headgear, special, clothing, and background.
What Azuki Does
Owners of the NFTs can use it as a ticket to enter The Garden, a part of the Metaverse, and receive exclusive merchandise, NFT drops, access to live events, and so much more. Why is it so popular and gaining traction so fast? There are many reasons.
One of the major reasons was their sales project and how they marketed their brand before and after the launch. They completed it in three stages;
A Dutch auction
A mintlist
A public sale
The Dutch auction is a price reduction model where the price of every NFT in the collection is lowered after a set time passes.
The next stage is the mintlist. Azuki was unique in this aspect. Other previous NFT projects randomly selected people from Social Media to finish minting the NFTs in under 48 hours, but Azuki only selected those that were very active on social media platforms. After this, the public sales commenced on January 15, in which the remaining NFTs were sold for the lowest price during the Dutch auction.
How To Buy An Azuki NFT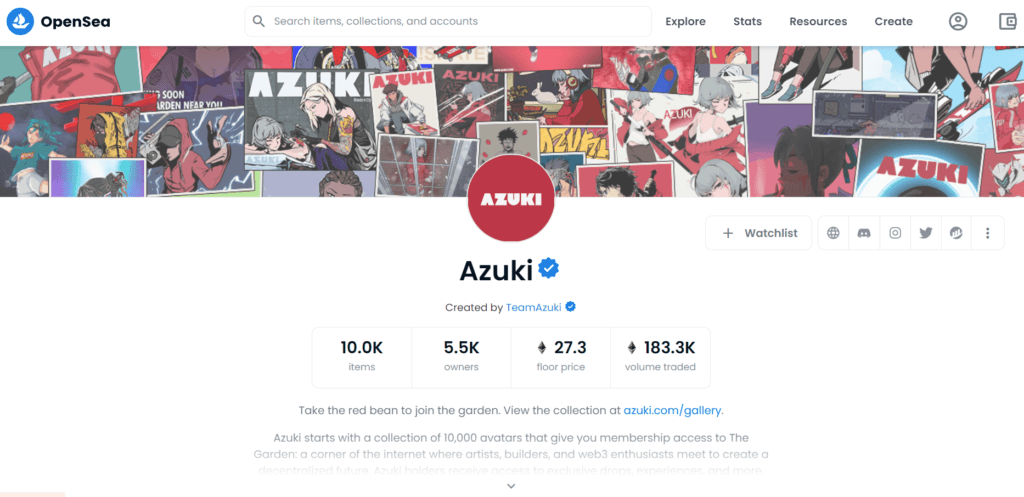 You can purchase Azuki NFTs on the OpenSea Marketplace with Ethereum tokens. These tokens have to be transferred to an online wallet that is compatible with the marketplace. Ethereum tokens can be purchased from any crypto exchange platform like Kraken or Coinbase. When you've got Ethereum in your wallet, you can then navigate OpenSea and place a bid on an NFT.
Currently more than 5,500 holders of this asset with some holders owning more than one. For more information on how to purchase, check out Azuki's platform on Discord.
You can also check its website directly.
The Future Of Azuki NFT Project
The floor price of the NFT jumped from under 10 ETH in the middle of March to 20ETH at the moment. Also, an airdrop was announced by the Azuki team on March 30th at an NFT party in Los Angeles. All NFT owners were given two mystery NFTs for free as a total of 20,000 NFTs were part of the giveaway.
Azuki NFTs are now the fifth most valuable NFTs in the world when rated according to their floor price to market price in cryptocurrency. Azuki #9605, which was sold for $1.4 million, is one of the largest NFT purchases in history. Azuki's trading volume in one month, $85 million, has exceeded that of the CryptoPunks collection and is closing the gap on the Mutant Ape Yacht Club.