Discover the nine best NFT courses for beginners to learn everything there is to know about NFTs. 
Nun-Fungible-Tokens (NFTs) have gone from a niche technology used by digital artists and computer geeks to a multi-billion dollar industry in just a few years. Many of us don't have the time to spend days researching NFTs, but we also don't want to be left in the dark about this constantly growing technology.
With the most expensive NFTs, such as the CryptoPunks, Chromie Squiggles, and The Bored Ape Yacht Club selling for millions of dollars, learning about this new digital frontier is well worth the time. The courses in this post will help you understand NFTs and how they work while minimizing time spent reading and researching. 
Here Are The Top NFT Courses for Beginners
1. NFT Fundamentals (Buy, Create, and Sell NFTs)
Pricing: $99.99
The NFT Fundamentals Udemy course is a great place to start for someone new to the space and looking to get a structured overview of NFTs. Like all Udemy courses, the course is broken down into chapters and short lectures that take just under three hours to complete.
The first chapter gives you a basic grounding in NFTs and then explains how you can buy and sell NFTs on OpenSea, which is the most popular marketplace.
During the course, you'll learn all the jargon words used in the NFT space, and by guiding you through the process of trading NFTs, it helps you avoid the danger of wasting crypto on trial-and-error attempts at trading.
The course has proven popular, with over 35,000 students enrolled since its launch and over 7,000 reviews with an average rating of 4.7/5.
2. Introduction to NFTs: Non-fungible Tokens
Pricing: $24.99

Introduction to NFTs: Non-fungible Tokens is a short LinkedIn course designed to give you basic information about NFTs, how they work, and their use cases. The course is broken down into three chapters beginning with basic information, then a brief guide to trading NFTs, and finally, some information on their current use cases and where the technology will lead in the future.
The course can be completed in under an hour, covering the most important NFT jargon and concepts. However, due to the limited time scale, you won't find detailed guides to using NFT marketplaces like in some of the longer courses.
Overall, this is a great place to start for beginners, but you'll probably need to combine it with a more lengthy course if you're looking to gain a complete understanding of NFTs.
3. 101 Blockchain's NFT Fundamentals Course
Pricing: $25/Month

101 Blockchain's NFT Fundamentals Course is a three-hour course explicitly targeted at beginners looking to develop a solid understanding of the NFT space. The course is broken down into eight sections beginning with a historical background on NFTs and ending with a neat summary of the future of the technology.
The course does a solid job of breaking down the fundamentals of NFTs and the Ethereum blockchain. And importantly, it discusses several different types of NFTs, such as digital art, collectibles, gaming, and fashion.
Although the course is only three hours long, it manages to cram in a fairly detailed guide to trading NFTs using browser extension crypto wallets on major NFT marketplaces.
4. The Complete NFT Course – Learn Everything About NFTs
Pricing: $24.99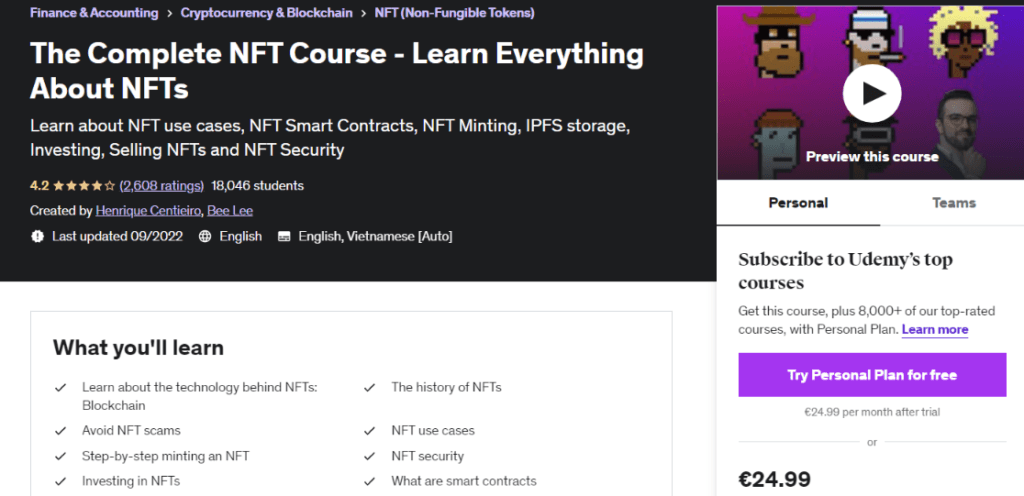 The Complete NFT Course – Learn Everything About NFTs is a five-hour long Udemy course that offers an in-depth explanation of NFTs. Unfortunately, the course isn't broken down into clear chapters like other Udemy courses.
The first few modules will tell you about the history of NFTs, explain why blockchain technology is important, and even look at some specific NFT projects that have had a big impact on the market.
If you want to learn specifically about the smart contracts on Ethereum that are used to mint NFTs, then this course is a great choice as it dedicated several modules to this topic. In addition, the course will introduce you to several marketplaces and explain how to trade NFTs.
5. The Blockchain Council's Certified NFT Expert 
Pricing: $179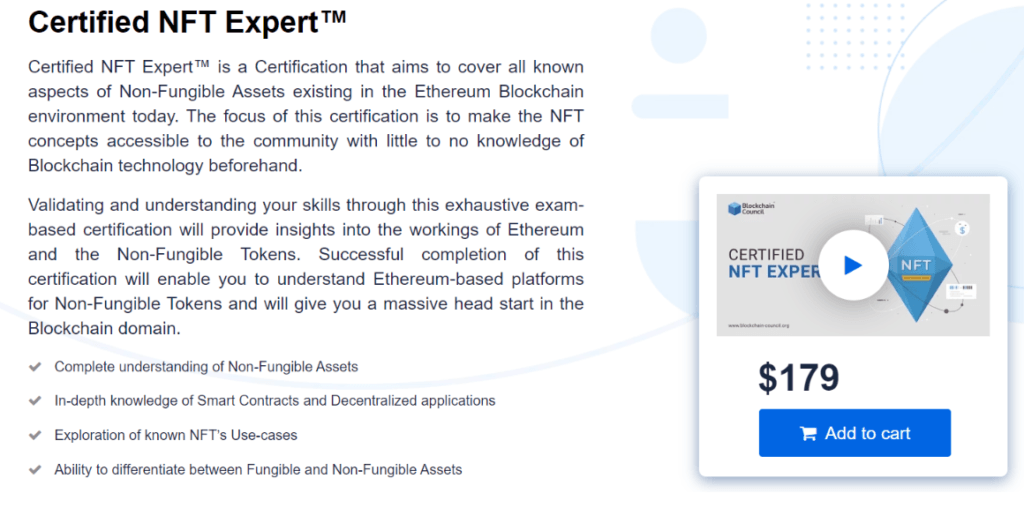 The Blockchain Council's Certified NFT Expert is a premium online course that justifies its price tag through the content's quality and the prestige of displaying the certificate on your CV or LinkedIn page.
The five-hour course is a deep dive into blockchain technology, specifically focusing on NFTs. So, if you are unfamiliar with basic blockchain concepts, this course is a great option. The course covers all the basics and gets into more detail with regard to smart contracts and decentralized applications, also known as dApps.
The course focuses on giving you knowledge that can be applied, so you can expect to massively improve your understanding of NFT use cases and how they can affect the real world if you take this course.
6. NFT Artist Masterclass: Join The New World Of Digital Art 
Pricing: $94.99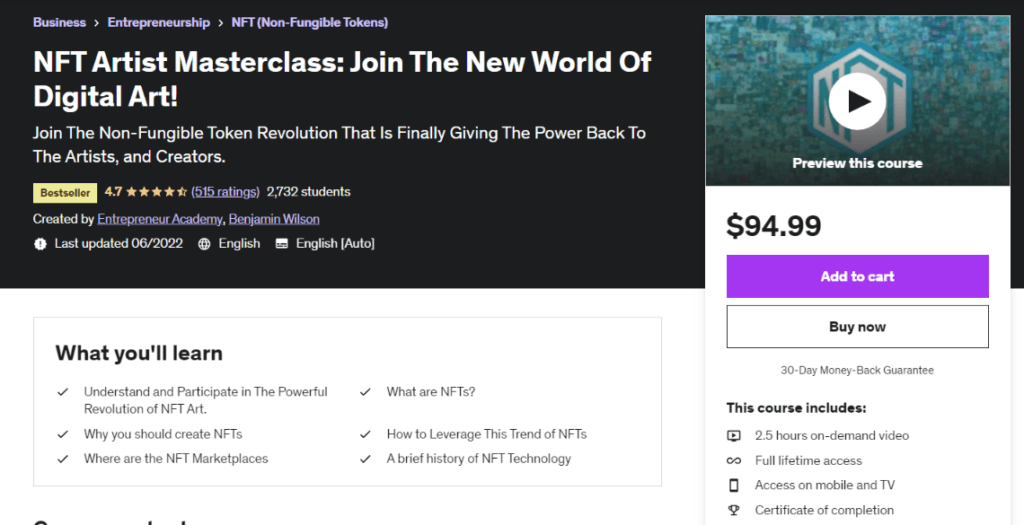 The NFT Artist Mastercall: Join The New World Of Digital Art is a two-hour-long Udemy course directed at a digital artist who wants to get to grips with NFTs. The course offers a basic explanation of NFTs and their history.
As you'd expect, the course focuses on the role of NFTs in digital art and uses several case studies, such as the Bored Ape Yacht Club, to explain how artists can benefit from adopting this technology.
This course probably won't interest someone who isn't a digital artist or considering producing digital art. However, if you are an artist, taking this course will help you understand NFTs and how artists use them to make money.
7. NFT Masterclass – The Ultimate Fast-Track Guide To NFTs
Pricing: $49.99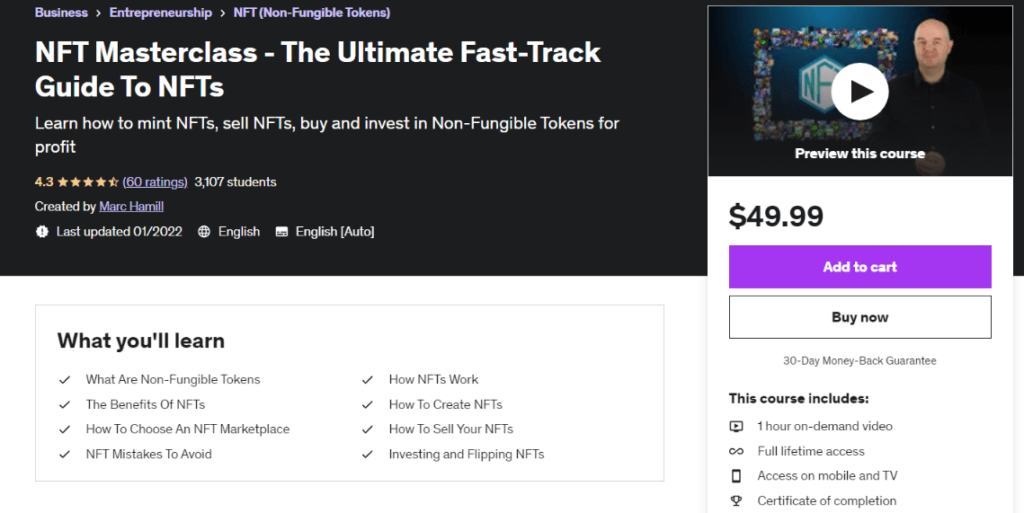 The NFT Masterclass – The Ultimate Fast-Track Guide To NFTs is a short one-hour Udemy course that covers the most important elements of NFTs for beginners. Even though the course is short, it does cover a lot of ground. This could be a good option if you're looking for a quick introduction to NFTs.
The course brakes down into ten sections, all with one lecture. The course covers how NFTs work and what they're used for and introduce marketplaces where they can be traded. Furthermore, the course has a short video on some of the typical mistakes beginners make when getting into NFTs which is an excellent addition.
8. NFT 101: Introduction to NFTs
Pricing: $39/Monthly, $279/Annulay or $999/Lifetime

The NFT 101: Introduction to NFTs is an online course for beginners that takes you from zero knowledge to using OpenSea to trade NFTs through two hours of videos and over a dozen bonus resources.
This course explains what NFTs are and the smart contracts and blockchain behind the tokens. You'll find that all of the modules focus on Ethereum-based NFTs with a specific focus on ERC-721 and ERC-1155 tokens.
The value of this course is the breadth of knowledge that it offers. Not only will it familiarize you with NFTs and Ethereum, but it also provides a guide to creating a crypto wallet and using it on OpenSea.
Furthermore, it includes a whole module on digital art, so if you are an artist and feel that The NFT Artist Mastercall: Join The New World Of Digital Art lacks depth, this could be the better choice.
9. Master NFTs in 7 Days
Pricing: $69/Month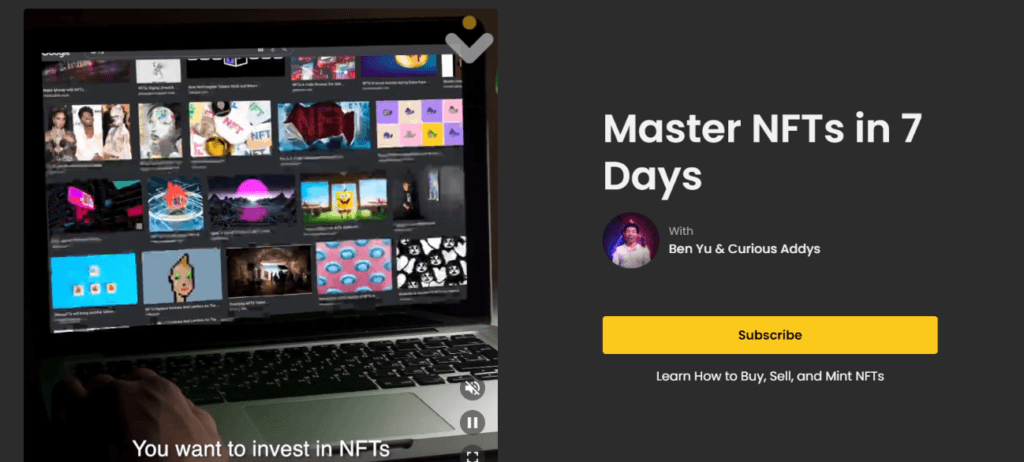 Master NFTs in 7 Days is a seven-day course led by Web 3.0 guru Ben Yu targeted at absolute beginners who are looking to get up to speed with NFTs quickly. The course starts by detailing why NFTs are so valuable and then goes into a detailed guide about the technology. 
Across the six modules, you'll learn about basic NFT jargon, security, marketplaces, and the different types of NFTs. When you sign up for the course, you gain access to over 50 hours worth of NFT-related content, and you join a community where guest speakers hold events for subscribers. If you want to learn how to buy and sell NFTs while avoiding scams and making mistakes, this course will help you as it has an entire module dedicated to NFT trading.
Selection Criteria
The courses were selected on the basis that a beginner needs to get to grips with the core ideas behind NFTs before delving deeper into the technology. The courses in the list are all curated to make understanding NFTs as easy as possible and then build on the foundational knowledge by introducing more complex and nuanced concepts.
Why You Can Trust Me
Since 2020 I've been fascinated with all things crypto. I left behind a career in journalism and started writing about NFTs, crypto, and various web 3.0 ventures. I know what it's like to feel out of your depth with technology, and when a friend first mentioned NFTs to me, I had no idea what he was talking about, so I took online courses like the ones mentioned in this guide and got up to speed.