Discover the best music NFTs, who created them, and what they represent in our guide.
The NFT space is best known for cartoonish and sometimes overpriced JPEGS of apes, cats, penguins, and other cute animals. But NFTs are so much more than imagery and even artwork. Some mainstream and now Web 3.0 musicians are finding success creating music NFTS. Web 2.0 platforms are taking note too. Meanwhile Spotify is testing a NFT-enabled playlist with users in the United States, the United Kingdom, Germany, and Australia.
These types of NFTs offer fans a way of collecting and own music in ways that's altogether different to streaming. And the best music NFTs are often cheaper than traditional NFTS. You can find many of these projects on the best NFT music marketplaces like Sound.xyz. In this article we cover some of the best. And check out our video below.
Here Are The Best Music NFTs
1. Ziggurats by Mike Shinoda

Mike Shinoda is the co-founder of American rock band LinkedIn Park. He released Ziggurats as a generative NFT mixtape on the Bezos blockchain. The project takes its name from places of worship dedicated to the Sumerian moon god Nana in ancient Mesopotamia.
Each of the 5,000 NFTs comprises artwork PFPS by Shinoda and accompanying music track or sample. As of March 2023, the project has a total trading volume of over 266.75 Tezos and a floor price of 23 Tezos (about the cost of an album).
2. Kingship by 1022pm

Kingship was created by perhaps the first NFT supergroup who own three Bored Apes and one Mutant Ape. It represents a joint venture between the ape award-winning holders and Universal Music Group.
The identical keycards provide holders musical content and gated experiences by the 1022pm collective. Their genesis collection comprises 5000 NFTs and was released in May 2022. At the time of writing, it has a floor price of 0.11 Eth and a total trading volume of 1839 Eth. The combination of artwork and storytelling reminded me a little of the Gorillaz band.
3. Pixelated by Sammy Arriaga

Pixelated comprises 4000 NFTS released in June 2022 by web 3 singer-songwriter Sammy Arriaga. Chloe Zorn designed the pixel art from the collection.
The project comprises 12 versions of the song Pixelated with differing traits, unique PFP artwork, and two one-of-one versions of the same song. At the time of writing, it has a floor price of 0.08 Eth and a total trading volume in excess of 154 Eth. Arriage has released several follow-on NFT music projects.
4. Hume Genesis by Humie-Devs

Hume Genesis by Humie-Devs is a music and story-driven NFT project by a "metastars" collective. That collective or web three label includes a team of designers, creatives, NFT collectors, and an NFT pseudonym: angelbaby. The lore of the project is set in 3045. This sci-fi-themed project comprises 1035 NFTS with differing rarity scores. At the time of writing, it has a floor price of 0.16 Eth and a total trading volume of 276 Eth.
5. Moonshot by Violetta Zironi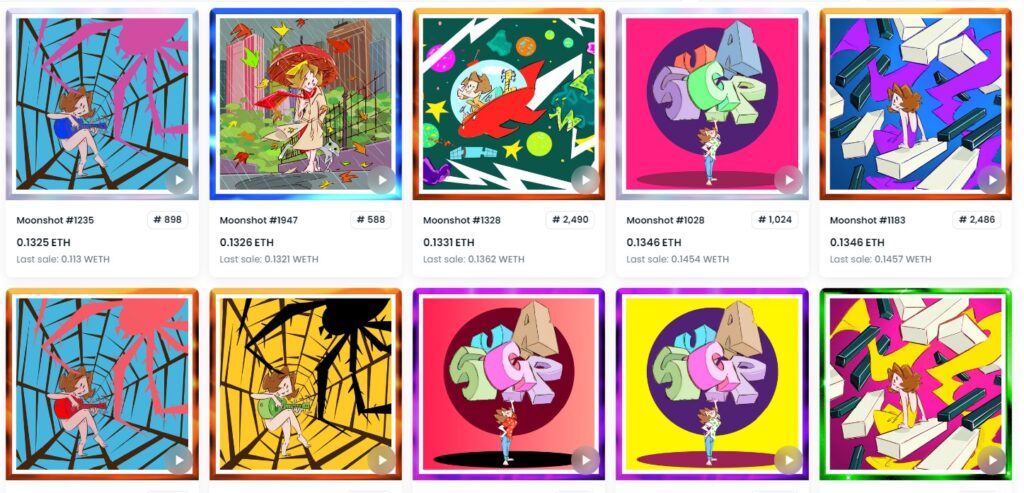 Moonshot comprises 2500 NFTs based on five songs written by indie artist Zironi and 2,500 hand-drawn artworks by her dad and former Disney illustrator Giuseppe Zironi. Interestingly, the NFTS also grants holders access to Zironi's concerts, free signed posts, other mints, and access to real-life events.
The project dropped in 2022. At the time of writing, it has a floor price of 0.181 Eth and a total trading volume over 256b Eth. In 2023, She released a follow-on NFT album: Another Life: From Tape to Blockchain,
6. The Orbs by BT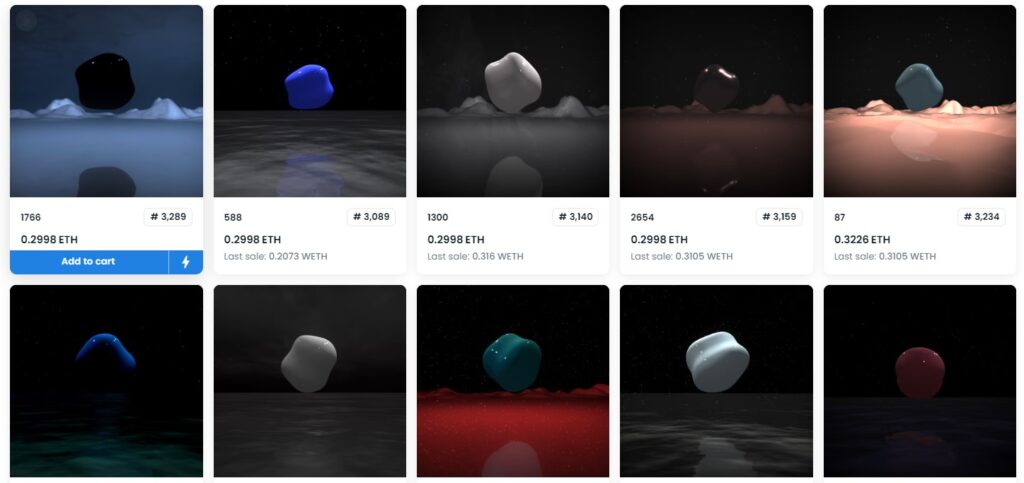 Gala Music manages many the drops of many popular NFT music projects, including those by Snoop and, in this case, The Orbs by electronic DJ BT. The looping electronic music NFTs represent animated, three-dimensional objects, terrains, skies, and stars. This project comprises 3333 NFTS with a floor price of 0.39Eth and a trading volume of 2690 Eth at the time of writing.
7. Death Row Mix Volume 1 By Snoop Dogg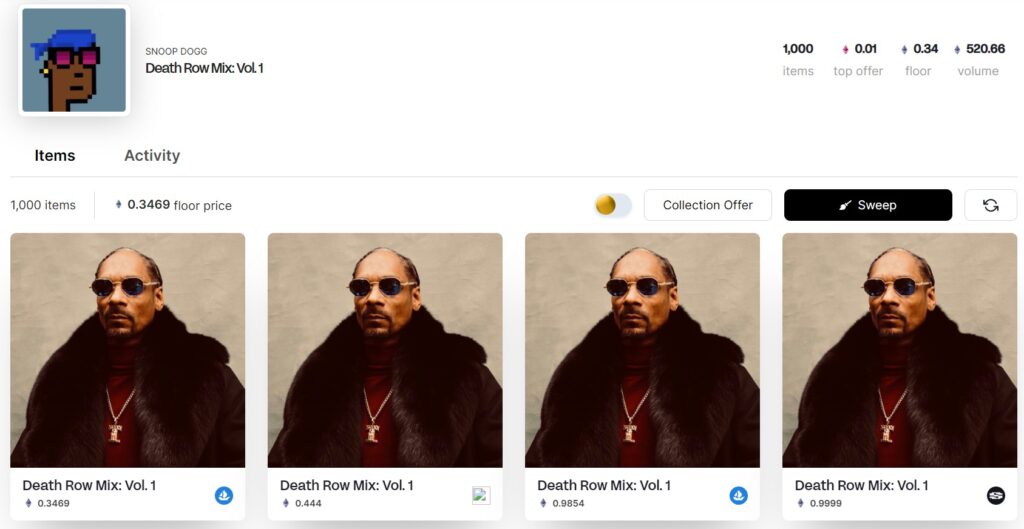 Snoop Dog is an avid NFT collector under the pseudonym Cozomo De' Medici. He's also web 3.0's best-known traditional musician. Snoop Dog released several NFT mix tapes, including Death Row Mix volume 1 and Death Row Sessions volume 2.
The former comprises 1,000 NFTs. Each one features an image of Snoop and a 27-minute, 30-second track that fans can remix. They're worth 0.11 Eth, approximately $160. The latter comprises 1000 music NFTs featuring the works of noted web3 music artists Snoop collaborates with. They're trade for 0.04 Eth, a little over $60. Snoop is heavily invested in the NFT space. He also released an NFT project based on his 2022 album B.O.D.R.
8. Riot by Pussy Riot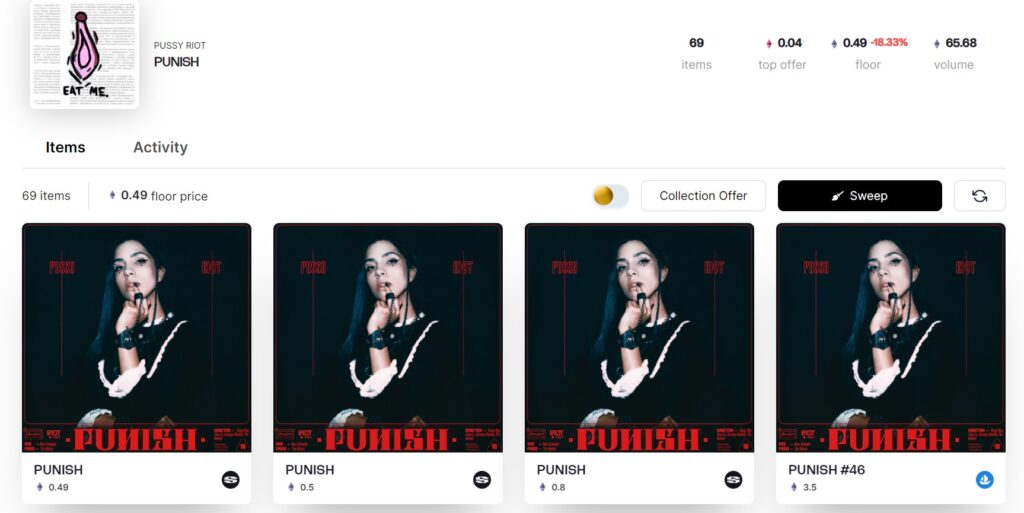 Riot is an audio-visual NFT project by the Russian rock band Pussy Riot. According to the band, the project "introduces a super(s)hero character who owns magic superwoman-like qualities & uses these powers to fight sexism." 69 NFTs exist in the collection. At the time of writing, the floor price is 0.49 Eth with a trading volume of 66 Eth.
9. Overstimulated by Daniel Allan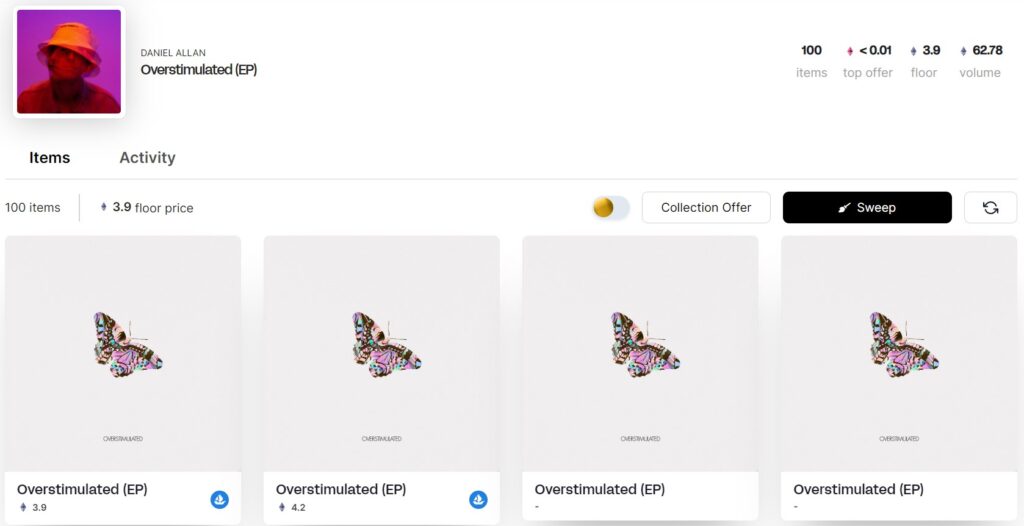 Billboard magazine described US musician Daniel Allan as the NFT space's breakout act. He's released several projects, including Glass House, which sold out in 24 hours, and some one-of-one projects on Catalog.
His biggest project Overstimulated comprises 100 NFTs and sold out in 24 hours following a 2022 Summer long marketing campaign that took place mostly in Discord and Twitter. The floor price for these starts at 3.9 Eth. "A lot of people look at me as the kid who raised 50 ETH in 24 hours, but what most people didn't see is what I did that entire summer," he told Billboard.
10. Polychrome Music By Legowelt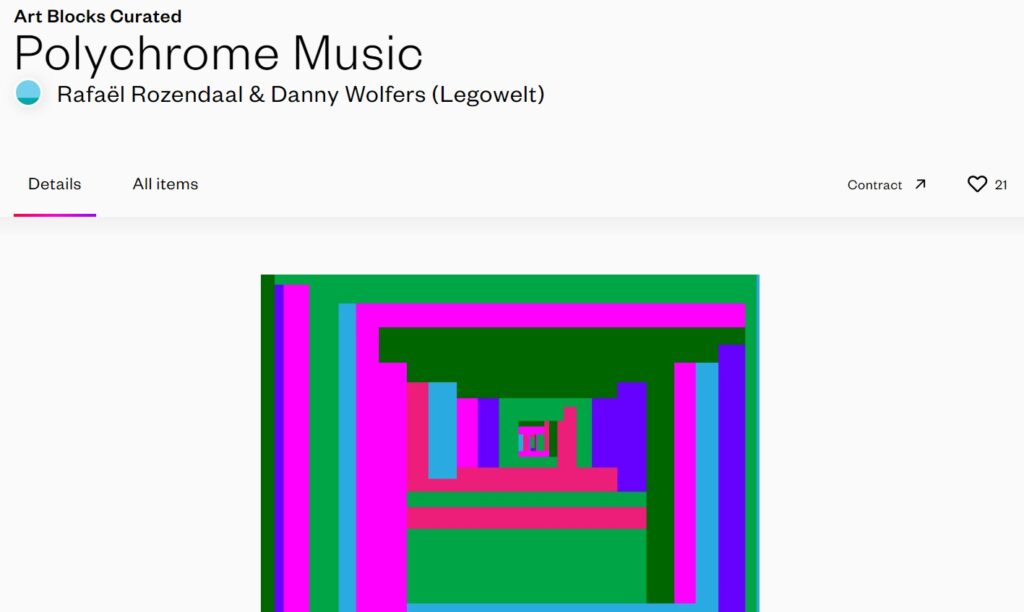 Polychrome Music is a generative music NFT by Rafaël Rozendaal & Danny Wolfers (Legowelt). It's an ArtBlock curated project and comprises 400 NFTs, each of which look and sound like graphics and music from an 1980s 8-bit video game. The creators said they designed "a generative music system that plays an infinite composition on 3 different audio channels, each with their own synthesizer." To learn more, read our guide to Art Blocks.
11. Bitch Better Have My Money By Rihanna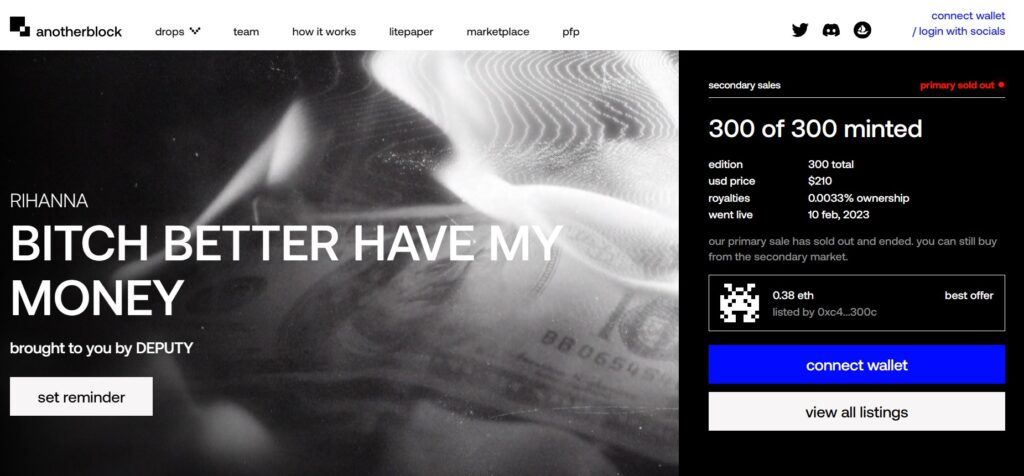 Rihanna dipped her toes into the NFT space with a fractionalized NFT song following her hit 20233 Super Bowl appearance. The project comprises 300 NFTs with a floor price of 0.49 Eth.
Owners can earn a percentage of future royalties from the track and invite-only access to future drops from Rihanna.
Whether it succeeds is questionable. OpenSea subsequently delisted the project as it doesn't tolerate fractionalized ownership NFTS on its platform.