Find out the best music NFT marketplaces to trade music in Web 3.0.
When people think of NFTs, they usually point to overpriced cartoon animal JPGs and memes. But more NFT use cases cover so many more areas, including music.
Maybe you're a music lover and NFT enthusiast and want to get your hands on popular music NFTs as soon as they appear in the secondary NFT marketplaces.
Or you could be a musician who wants to earn more than $0.003 and $0.005 per stream. If so, NFTS may be worth exploring as the music collectible market is worth over five billion dollars, including NFTs. This article will help you find the right music NFT marketplaces.
What To Look For In Best Music NFT Marketplaces
Music NFT marketplaces operate like OpenSea. But here, you find more NFTs related to background scores, songs, audio, etc.
The portals let you connect crypto wallets to pay for music NFT and add it to your NFT collection. The marketplaces also host all the tools and instructions that a music artist might need to mint their first NFT in Web 3.0.
How To Pick The Best Music NFT Marketplaces
It offers convenient music NFT minting and selling without too much intervention by the artist.
It comes with the latest NFT security and transparency measures so that, as a buyer, you can trust its digital asset listings.
Transparent music NFT listing criteria
It has a good brand reputation on social media.
The marketplace has self-regulatory measures to shield artists, traders, and collectors from scams.
Now, look at the music NFT marketplaces that pass my stringent probes on interface, guidelines, and cost:
1. Rarible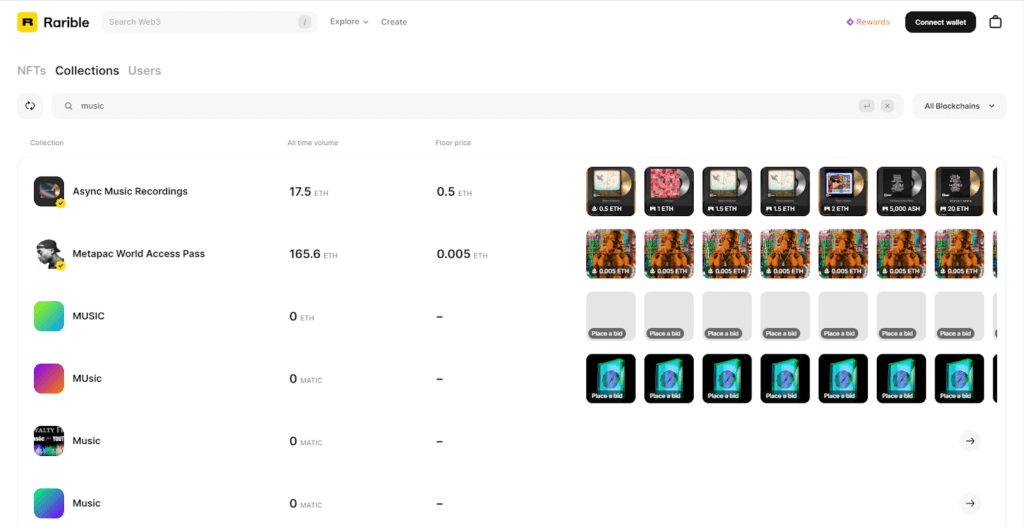 Rarible is a California-based NFT marketplace with a net worth of $57 to $85 million as of 2021. NFT traders and collectors consider this NFT marketplace as one of the leading ones since most new NFT projects partner up with Rarible as the secondary marketplace.
2. TokenTraxx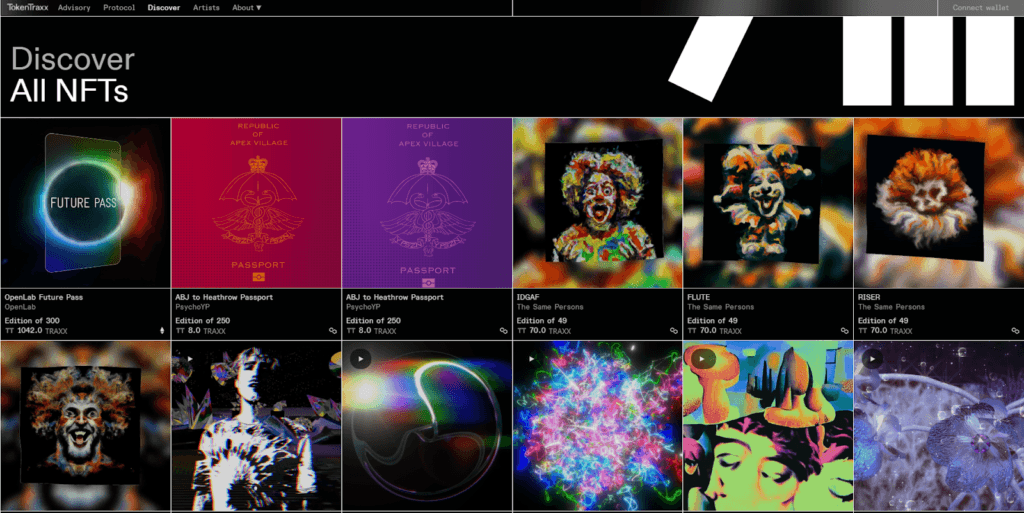 TokenTraxx NFT marketplace only lists music NFTs. Hence, you can scroll through many popular digital assets related to music without creating a different search as you need to do on OpenSea or Rarible.
3. Triptcip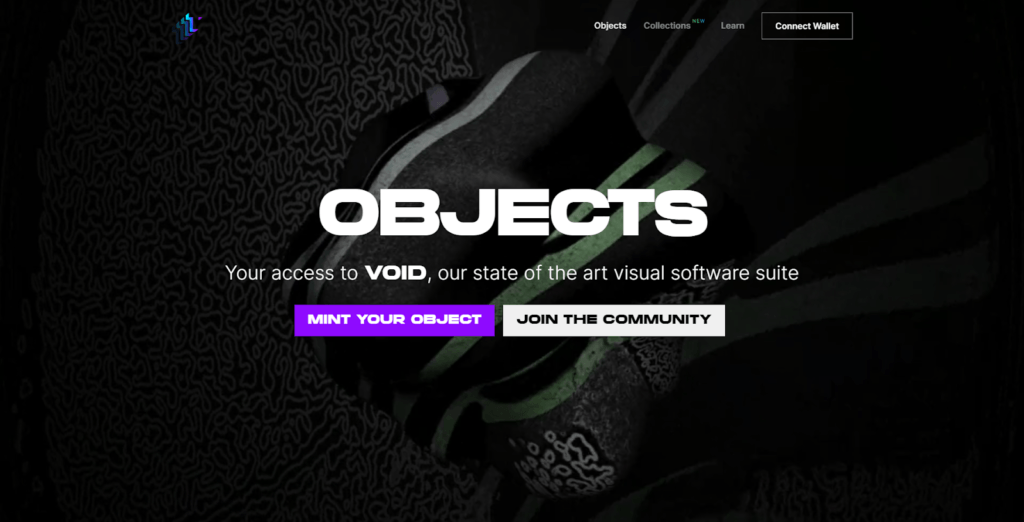 Triptcip is a go-to music NFT platform for content creators for its robust tools and technologies. It combines generative art with a soundtrack, enabling the music and visual artists to create multimedia NFTs.
4. NOIZD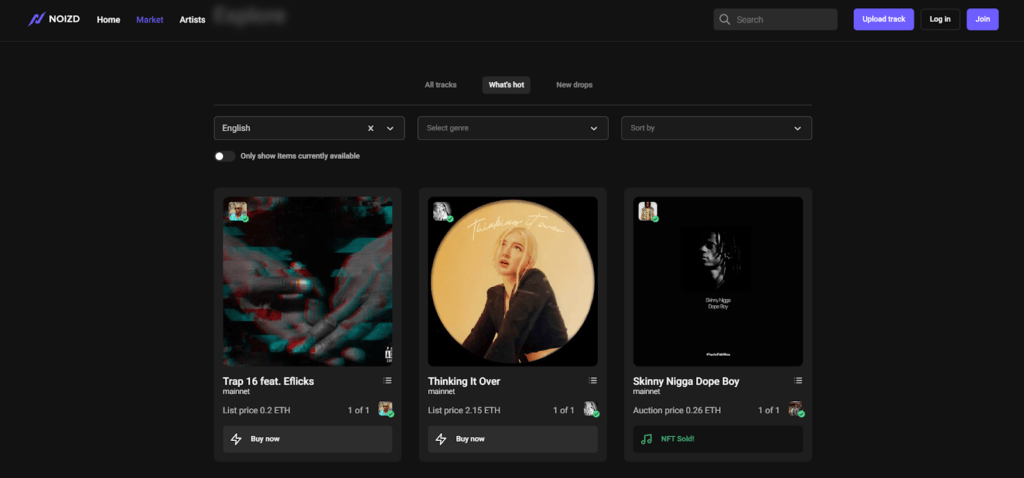 NOIZD lets you buy collectible-grade music NFTs. Its specialty is unreleased music. Also, you can download your NFT on your computer and mobile phone to listen to the music NFT offline.
Its music NFT listings include songs, music, full audio tracks, remixes, stems, and more. All the music NFTs on this platform comes with unique cover artwork.
5. Sound.xyz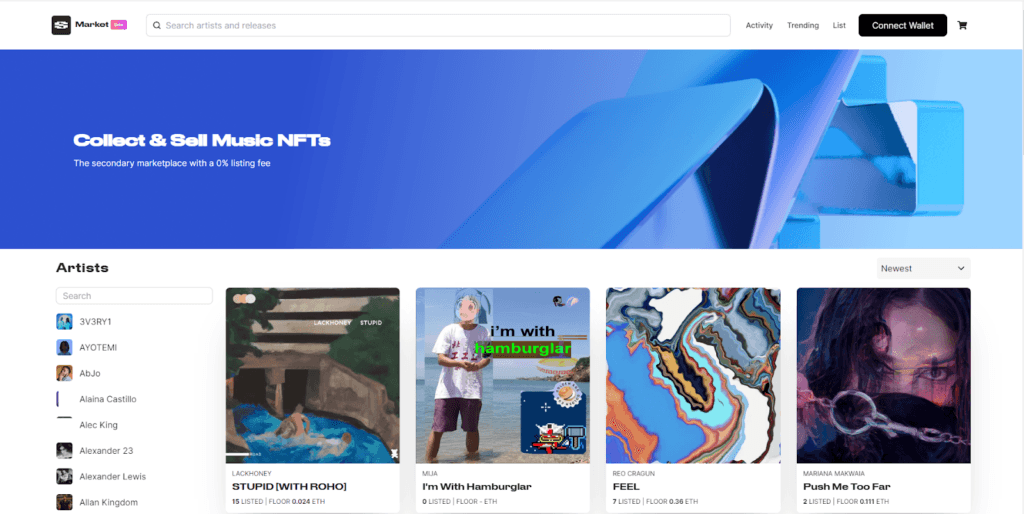 Sound.xyz is a Web 3.0 marketplace where music lovers can directly support thousands of artists bypassing the intermediaries in the music industry.
The platform helps artists to launch new albums, promote music in its community groups, and sell music tracks as NFTs.
6. Catalog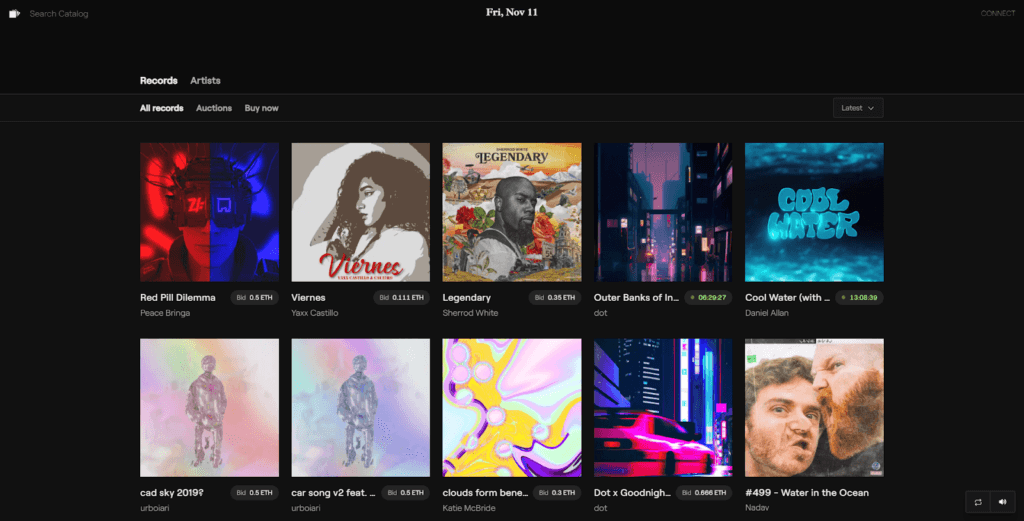 Catalog is essentially an online music marketplace that only deals with one-of-one music NFTs. Here, artists can mint an NFT and put the digital asset for auction. Also, for instant sales, they can post the NFT in Buy Now section.
7. Origin Story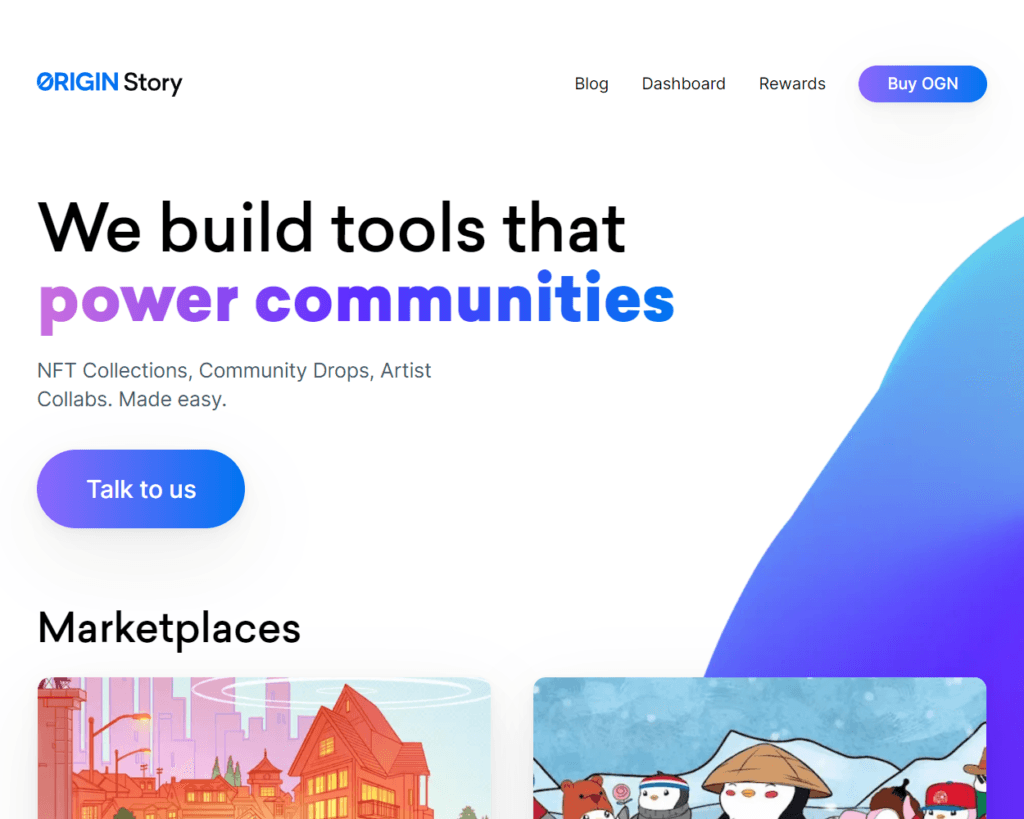 Origin Story works with artists to launch NFTs, and it powers Exceed's NFT marketplace for artists, starting with the launch of Lil Durk's NFTs. Origin Story also launched 3LAU's $11.7 million NFT auction, which was the highest NFT sale to-date.
Testing Criteria for the Best Music NFT Marketplaces
I surveyed many music NFT marketplaces according to the following checklist and found the above marketplaces highly promising:
NFT marketplace brand reputation and popularity
The go-to name for music NFTs in the NFT community
Platform security and self-regulation policies
Not engaged in any NFT scams
Does not promote music NFTs for money
Accepts most cryptocurrencies
If you are a musician but new to NFTs, you can go for TokenTraxx, Triptcip, and NOIZD, as these NFT marketplaces provide easy-to-use tools for music NFT minting.