Discover what you must know about what is Memeland NFT collection in our project profile.
Memeland has captured the attention of the NFT market since early 2022. Despite the brutal NFT bear market, the Memeland team has excelled at generating hype and buzz for its series of NFT collections.
For months, they teased and promoted their project to holders and NFT fans. The result was a surprise high-priced mint for degens, a subsequent free mint for the broader market, and finally the first big mint of 2023. But what should you know about Memeland ecosystem, and why are its projects so popular?
Who Created Memeland and Why?
Hong Kong businessman Ray Chan is the founder and CEO of Memeland. Outside of the NFT space, Chan is better known as the founder of 9GAG.
Founded in 2008, it's a Hong Kong-based social media platform for sharing viral memes, GIFs, videos, and user-generated content. It's popular with the meme community. Considering memes are a bedrock of NFTs, Chan's transition to Web 3 isn't surprising. The team itself is relatively small and appears to comprise less than a dozen people based on insights from its Discord and Twitter.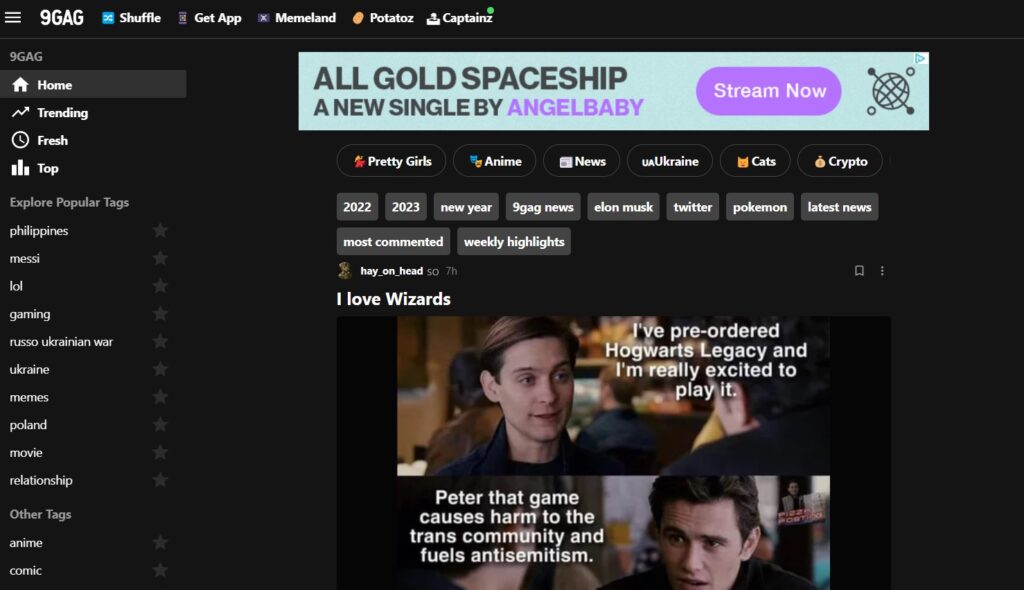 Early in 2022, Memeland published details about having the support of high-profile web 3 advisors and investors. These included Animoca Brand's research group Animoca Digital Research, Moonbirds' Kevin Rose, and VeeFriends' Gary Vee, as well as Y Combinator and First Round Capital. However, Memeland has since removed details of its investors and advisors from the site, so any current involvement is unclear. The tech lead is Keungz, who is an avid ape collector and a creator of a similar NFT project.
What is Memeland?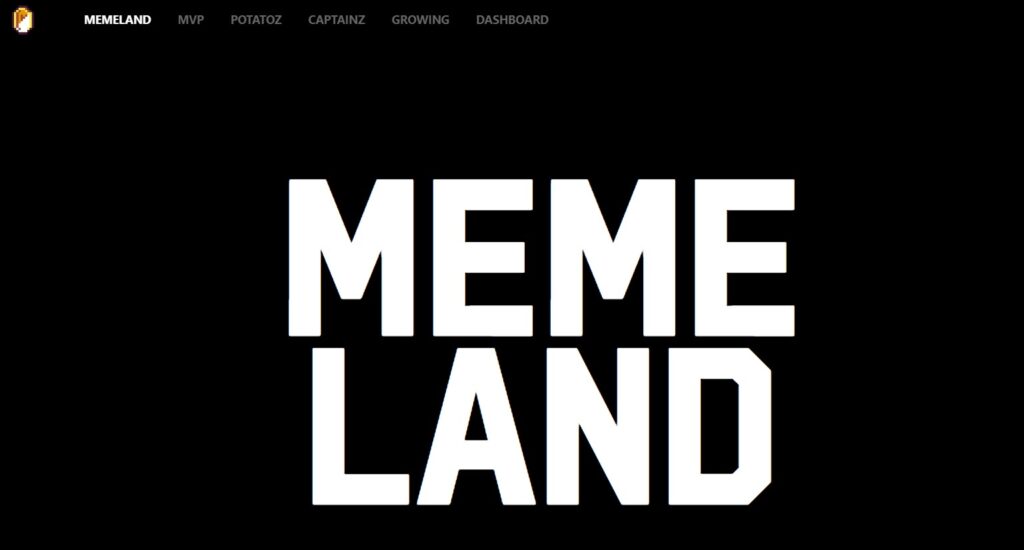 The Memeland ecosystem currently comprises 3 NFT collections. Founder Ray Chan says the goal of the Memeland ecosystem is to support creators rather than generate financial incentives.
Memeland released the You The Real MVP, or most valuable player, NFT collection at the start of the bear market in June 2022. They asked degens to send 5Eth to an address to receive their MVP NFT (usually a bad idea). Holders were given two free Captainz NFTS and other prizes. It ran up to 44 Eth before the Captainz mint. 420 of these NFT trophies exist.
MVP holders get access to future Memeland collections, a private Discord, invitations to real-world vents and early opportunities to participate in the Memeland initiatives like staking.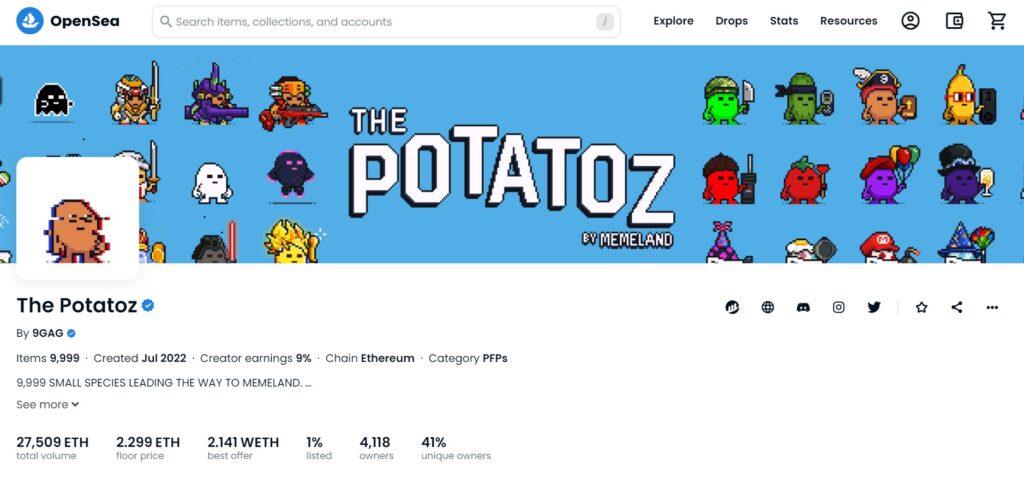 The Potatoz is the entry-level NFT within this ecosystem. The team released these partly to generate hype and buzz about the Memeland ecosystem before its primary mint. They were released in July 2022 as a free mint and slowly trended past 3 Eth. 10,000 NFTs exist in this PFP collection.
Potatoz holders can stake their NFTs and receive tickets for weekly competitions. The prizes include other NFTS, whitelists, and real-world items like an iPhone. The value of these prizes is more than one million dollars before factoring in the cost of the Captainz, which some Potatoz won.
The Captainz NFT is the flagship NFT from Memeland and the collection it spent months hyping. The team teased these in March 2022 and began forming partnerships with other bluechip NFT projects like Cyberkongz. In part thanks to the NFT bear, The Captainz had an exceptionally long run-up before the mint on January 7th 2023. The artwork has yet to be revealed, and the team plans on announcing more utility for these NFTs. 10,000 exist in this collection. The holders of these NFTs govern the Memeland DAO.
What Do These NFTS Look Like?
The Memeland NFTs look like pixel art. The Potatoz, for example. are basically JPEGS of Potatoz that at one point had flowers growing from their butts. The Potatoz went through a four-step reveal process over the course of several months. The Captainz will also follow this process. These are:
Unrevealed Chest: The current stage of Captainz. No rarity or uniqueness is present.
Revealed Chest: 1-2 weeks from mint launch (mid/late January). Questing will be launched and this stage will introduce rarity.
Jolly Roger: 4-6 weeks from the launch of questing, this stage will introduce uniqueness/
Captainz: It's unclear when this stage will occur and what the final NFTs will look like.
Regarding that final stage, the Memeland team has said the work comes from a "lead artist of a global manga, anime and game franchise."
What About Price and Royalties?
The Potatoz were free to mint and touched 3 Eth. The MVP collection cost approximately 5 Eth and reached over 44 Eth. Whitelisted NFT collectors minted The Captainz via a reservation or deposit system. The price was 1.069 Eth. They trended past 8 Eth before settling closer to 5 Eth, as of January 2023.
The team set creator royalties at 9%, which is higher than other PFP NFTs. Bored Ape Yacht Club, for example, set its royalties at 2.5%. So flippers need to factor in that additional cost before selling.
The Future of Memeland
The Memeland team did a great job teasing NFT collectors and sustaining hype via competitions and a drip feed of information on Twitter and in its Discord. The project is well-funded after raising over $13 million in primary sales from the Captainz mint,
The MVP and The Potatoz were both surprising successes, and The Captainz was the first big mint of 2023. The artwork and use cases for The Captainz has yet to be revealed, although the project has held a consistent floor price. In the week since minting, Captainz have taken over the NFT market with some impressive stats:
7039+ in ETH volume (1st on 7Day chart)
A 5.18Eth plus floor price (4.9x mint price)
59% unique ownership ratio
The team has multiple initiatives in the pipeline. First, up is questing. This initiative enables holders to form a pirate crew with a maximum of three Potatoz and earn Treasure Mapz. The Memeland team is working on Treasure Islandz too. In true Memeland fashion, details are sparse, but it looks like a Web 3 game for Captainz and Mapz owners .
The team is also developing $Meme, which may be a token for the Memeland ecosystem earned through holding and staking Memeland NFTs. The team regularly incentivises those who hold rather than flip.
Outside of these NFT collections and the Memeland roadmap, 9GAG is building several Web 3 properties. The team purchased the domain hodlers.com and plans on using the site as an explainer for Web 3. Other web initiatives include Stakeland and Petsland. Again, details are sparse.
If you're looking for a similar project, the tech lead behind Memeland, Keugnz, has also created a similar project called Kubz. Holders of a to-be-determined amount of Kubz get on the whitest for the hyped Yogapetz NFT project. Keungs even created a project similar to the MVP, Keungz Genesis.