Discover what is Doodles NFT project which has grown from a 10k PFP collection to a media brand supported by top celebrities and companies.
No one can compete with the Doodles NFT project when it comes to expensive Doodle art. The 10k piece collection of colorful doodle characters is one of the most successful blue-chip NFT projects that has seen some of the biggest sales in the NFT space.
The project has grown from a PFP collection into a multi-utility ecosystem. A Doodles co-founder even went as far as to say that Doodles is "no longer an NFT project" due to the changes it has undergone since its launch.
As the co-founder's statement suggests, Doodles is tough to keep up with as the team and community constantly grow the project's use cases and the brand by leveraging NFT copyrights. In this post, you'll find the latest information about the Doodles ecosystem, learn about the team that created the colorful characters and discover the rarest Doodles.

Doodles Explained
The Doodles collection compromises 10K hand-drawn super colorful characters that inhabit the Ethereum blockchain. The characters vary in type, including humans, apes, skeletons, and mascots. Anyone who purchases a Doodles NFT becomes a community member and is invited to vote on how the Doodles Community Treasury spends its funds.
The original Doodles 10k collection has since been expanded through several secondary NFT mints. The Space Doodles is a secondary collection of Doodle-style spaceships accompanying OG doodles. The Genesis Box is a collection of 24k supply crates that contain apparel that will be used to customize Doodles 2 NFTs.
We'll further explore the OG collection and secondary collections in more detail in this post. If you want to get familiar with the project, follow Doodles on Twitter.
Who Created Doodles?
The team behind Doodles had a solid reputation in the NFT community before they launched Doodles. Since the project has become one of the top blue-chip collections, the team has become one of the most respected in the space, and several members have been doxxed.
Scott Martin: Known online as @burntoast, Martin is a world-renowned Canadian digital artist responsible for the hand-drawn features found on the Doodles characters, and you can find more of his work on his website. His Twitter is active as he often retweets official updates from the Doodles Twitter account.
Evan Keast: Is a Doodles co-founder that goes by @evankeast on Twitter. Keast worked as the marketing lead for CryptoKitties and Dapper Labs before co-founding Doodles, according to his LinkedIn. Keast doesn't Tweet too much but shares the occasional official Doodles post.
Jordan Castro: Known on Twitter as @poopie, is a Doodles co-founder who, like Keast, has previously worked at Dapper Labs and CryptoKitties. @poopie is the most active member of the team on Twitter and recently caused a bit of drama when he Tweeted, "doodles isn't an NFT project" on 16th March 2023.
Julian Holguin: Became the CEO of Doodles in May 2022. According to his LinkedIn, he has previously worked as a Digital Account Executive at the BBC, and he was the President of Billboard, a New York-based publishing company. You'll find him on Twitter @jholguin, where he often retweets Burnt Toast and the official Doodles page.
Pharrell Williams: The 13-time Grammy-winning musician joined the Doodles team as Chief Brand Officer in June 2022. The partnership has been used to build the Doodles brand's reach and develop a musical element within the Doodles ecosystem.
There are several other Doodles team members that you can find on the project's official LinkedIn.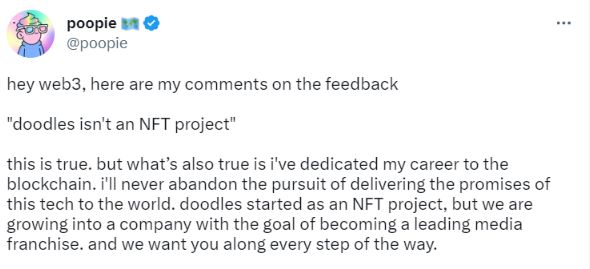 Jordan Castro, aka @poopie, caused a stir when he stated, "doodles isn't an NFT project." Source: Twitter
When Did Doodles Launch?
The OG Doodles collection was launched on October 17, 2021, with a mint price of ETH 0.123 ($300 at the time). There were several complaints at the time that the mint price was too high, but the team stuck with it as they wanted to fill the project's treasury. And in hindsight, $300 was a bargain considering some Doodles have since traded for over $1 million.
As of March 2023, Doodles has a total trading volume of ETH 250k, a floor price of ETH 3.8, creator fees of 5%, and a unique ownership ratio of 55%. In terms of total trading volume, it is ranked among the top 10 in OpenSea, sitting just below Moonbirds. Read our Moonbirds profile.
The OG Doodles were followed by the Space Doodles collection, which launched on February 28, 2022. Every OG holder can claim a Space Doodle and, in the process, convert their character into a space-bound Doodle. As of March 2023, Space Doodles have a total trading volume of ETH 2k, a floor price of ETH 5.5, creator fees of 5%, and 10% unique ownership.
The 24k piece Genesis Box collection was launched in June 2022 and is a precursor to the upcoming Doodles 2 project. As of March 2023, The Genesis Boxes have a total trading volume of ETH 6k, a floor price of ETH 0.1, creator fees of 5%, and 23% unique ownership.
What Makes Doodles Unique?
Every Doodle is made unique by the randomly assigned hand-drawn traits created by Burnt Toast. There are 272 different Doodles traits across the following seven categories:
Piercing
Background
Head
Body
Face
Hair
Trait Count
As expected with a PFP collection, we find that the most valuable NFTs are those with the rarest traits.
According to Rarity Sniper, Doodle #2912 is the rarest NFT in the collection. This Golden Doodle has five 1:1 traits, including a Gold Alien Body, Gold Alien head, and Gold Space Background. In October 2021, this extremely rare Doodle was traded for ETH 50 ($187k).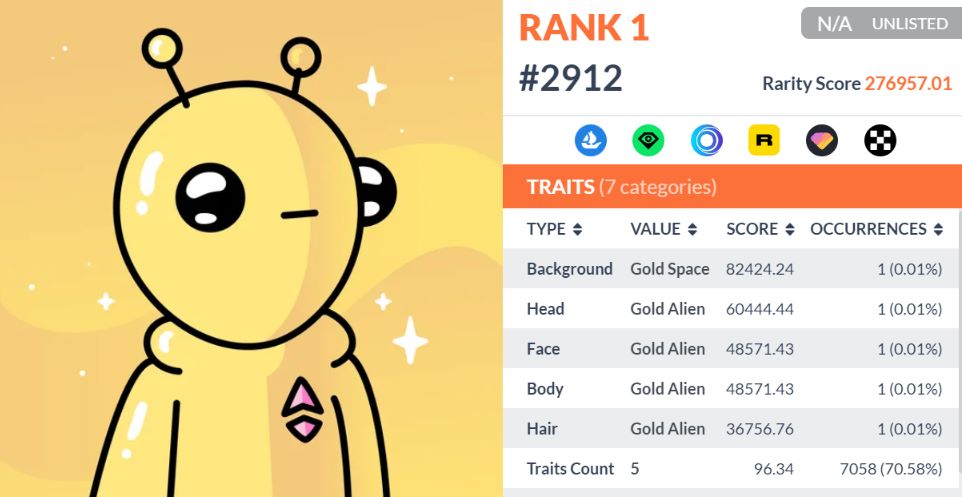 Doodle #2912 is the rarest token in the collection thanks to its five 1:1 traits. Source: Rarity Sniper
Doodle #6914 holds the record for the most expensive Doodles NFT ever traded. The golden Doodle was sold to the anonymous NFT collector Pranksy for ETH 296 ($1 million) in January 2022. This Doodle has three 1:1 Gold traits and an extremely rare Crown found on just 44 Doodles.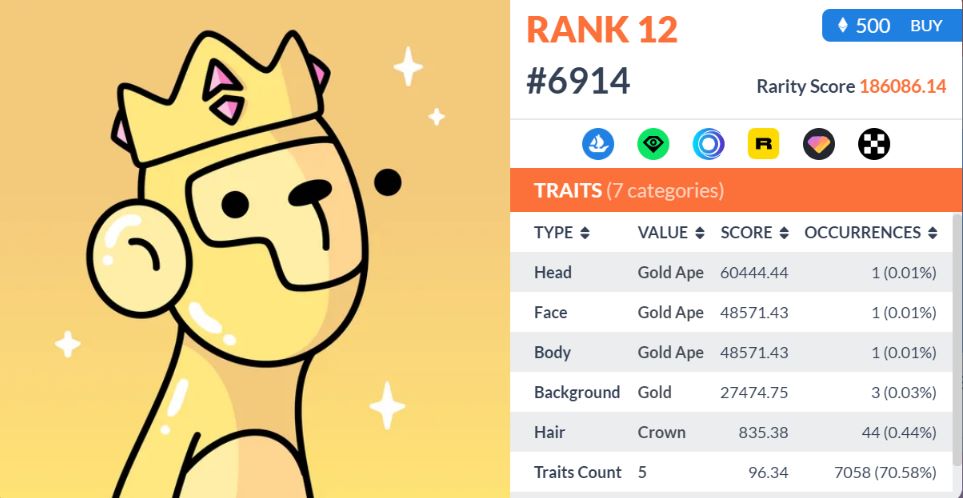 Doodle #6914 was traded for over $1 million in January 2022. Source: Rarity Sniper
If you're looking for floor price Doodles, keep an eye out for these common traits:
Piercing None (73%)
Blue Head (10%)
Traits Count 5 (73%)
Head Pale (9%)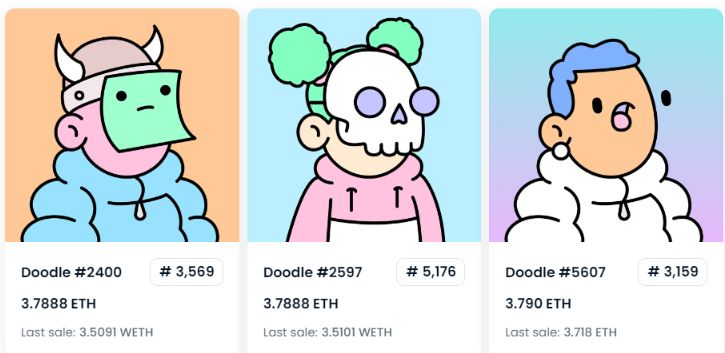 Doodles that trade around the project's floor price tend to have common features such as Pink Head and Piercing None. Source: OpenSea
Every Space Doodle is also unique and has up to one of each of these four traits:
Nearest Planet Type
Sector
Spaceship
Thruster
The rarest Space Doodle is #2257 with its Skelly Sector and Boomerang Spaceship, which are both 1:1 traits. Since being minted in March 2022, this Space Doodle has never changed hands.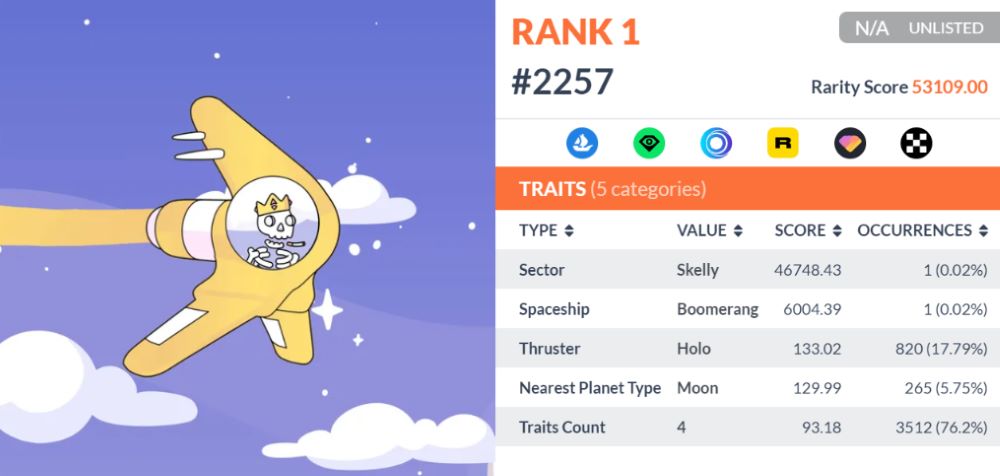 Space Doodle #2257 has two 1:1 traits making it the rarest token in the collection. Source: Rarity Sniper
The most expensive Space Doodle goes to #5826. It has a Squid Wagon Mk3 Spaceship, which is found on just 41 of the characters. It was traded for ETH 36.9 ($100k) in March 2022.
The other high-selling Space Doodles include #5089, #8027, and #9632, which all sold for over ETH 20, worth around $80k at the time. 

Several Space Doodles have traded for well over ETH 20. Source: OpenSea
What Does Doodles Do?
In March 2023, the Doodles co-founder, @poopie, claimed that Doodles was no longer an NFT project. "We are growing into a company with the goal of becoming a leading media franchise. and we want you along every step of the way," he clarified on Twitter.
As per the co-founder's Tweet, it's clear that although the Doodles NFT project began as a colorful PFP collection and has since grown into a Web 3.0 brand with multiple use cases.
PFP
Regardless of the clever ways that the developers and community grow the Doodles project at its core, it will also be a PFP project. Anyone with a verified Doodle NFT as their profile picture on Discord or Twitter is guaranteed to receive respect from the community, which is something many people are willing to pay vast sums of money for.
IP Rights
According to the official Terms of Service, anyone who holds Doodle is free to use it as they wish and earn up to $100k through merchandising or art. Any earnings above $100K need to be discussed with the project's founders, who may grant a license for increased earnings.
Community Voting Rights
Every Doodles NFT is a vote that the holder can exercise in regard to how the project is run. By using a DAO, every member of the community is able to make their voice heard on how the funds in the treasury, better known as the DoodleBank, are spent.
Space Doodles
The Doodle's ecosystem has been expanded through secondary drops. OG Doodles holders are generally eligible for free mints and early access to new collections.
Every OG Doodles holder is eligible to claim a Space Doodle. The Space Doodles are minted using a 'wrapping' technique, meaning that Doodle holders can choose between holding their OG Doodle or the Space Doodle but never both simultaneously.
Ownership of the underlying OG Doodle is also traded if you sell a Space Doodle. This mechanic is supposed to prevent the dilution of the collection.
Doodles 2
In June 2022, the Doodles team announced via Twitter that Doodles 2 was in development. "A Doodle for Everyone" is how the Tweet described the project. Doodles 2 is an attempt to bring the ecosystem to the mass market, as anyone will be able to mint a Doodles 2.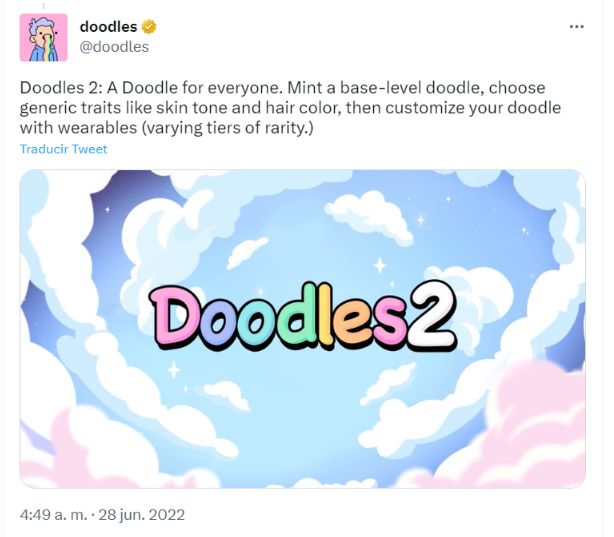 Doodles 2 was announced via Twitter in June 2022. Source: Twitter
Once someone mints a Doodles 2, they can customize it with NFT traits that can be obtained from the 24k Genesis Box NFTs.These supply crate-style NFTs were sold via a Bucket Auction in June 2022, but they can be purchased on the secondary market on OpenSea.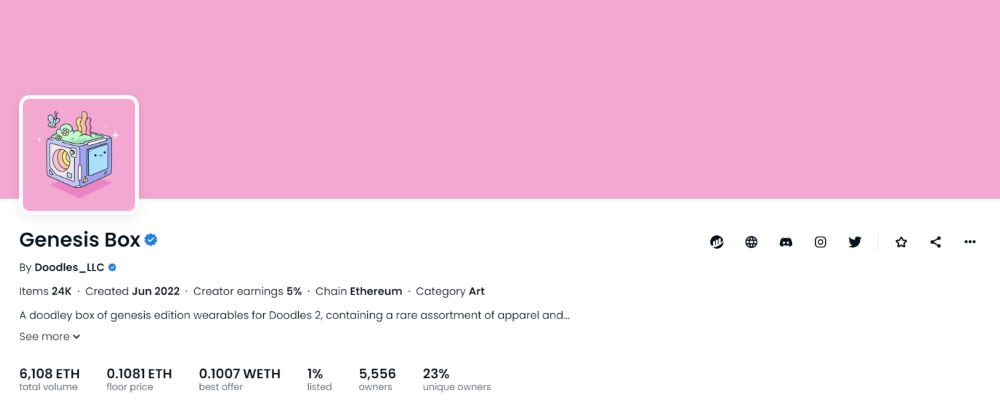 Genesis Boxes contain traits that users will be able to use for Doodles 2 customization. Source: OpenSea
OG Doodle holders will be able to customize their Doodles 2 with some added benefits. According to the website, 'Dooplicator' NFTs will be used to copy the traits of an OG Doodle onto a Doodle 2. OG traits will be the rarest and most valuable, which gives holders an incentive to use a Dooplicator and create a Doodle 2.
The Dooplicators are divided into three rarities, with the 'Rare' Dooplicators generating the rarest traits. Anyone who uses a Dooplicator will receive nine different wearables and a Beta Pass that grants early access to Doodles 2.
As of March 2023, Dooplicators have a total trading volume of ETH 18.5K, a floor price of ETH 0.13, creator fees of 5%, and unique ownership of 55%.
An official release date for Doodles 2 has not yet been confirmed, but in January 2023, the team confirmed that it would be hosted on the Flow blockchain. For updates, join the Doodles Discord.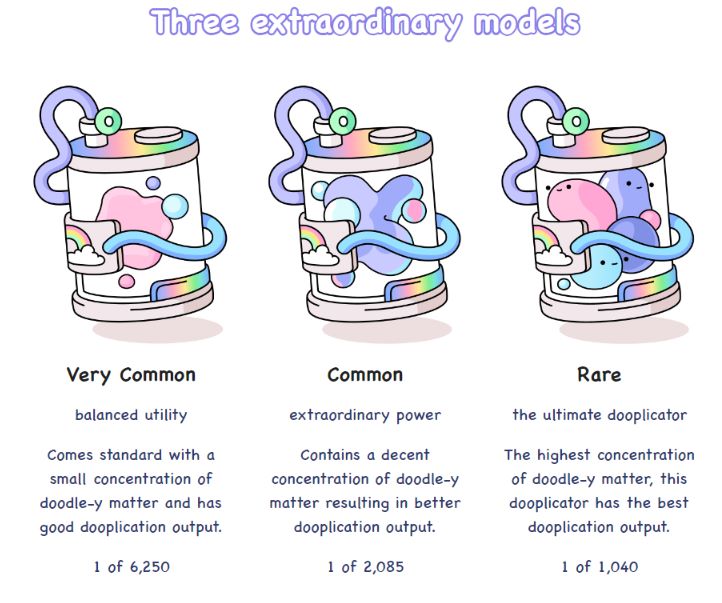 The Duplicators will be used to copy traits from OG Doodles onto Doodles 2. Source: Doodles
Entertainment Platform
As @poopie stated, Doodles aims to create a fully-fledged entertainment platform. So far, they've organized several real-world events using the Doodles brand. In November 2021, Doodles collaborated with the NFT Hear Project to organize concerts, art shows, and exclusive merchandising as part of the Art Basel Miami convention.
In June 2022, Doodles revealed Doodle Records: Volume 1. The record features original music produced in collaboration with Columbia Records and Pharrell Williams as the executive producer. In a follow-up Tweet, the team added that in the future, it would be possible to layer Doodles Records onto Doodles 2s.
In January 2023, Doodles announced that it had agreed to purchase the Golden Wolf animation studio. According to Doodles, the award-winning studio has worked on globally recognized projects like Rick & Morty and will allow the project to build a story-telling feature for the collection.
How To Buy Doodles
The best way to purchase Doodles NFT, or any of the secondary collections, is on OpenSea. Follow these steps to purchase Doodles:
Get a Crypto Wallet: Get an ETH-compatible crypto wallet like MetaMask.
Connect to Marketplace: Visit the Doodles OpenSea page and connect your wallet.
Explore: Browse the collection and use the filters to sort them by price.
Buy: Purchase a Doodle by pressing the buy now button or submitting a bid.
Before purchasing a Doodles or any NFT, make sure you do your own research.
The Future of Doodles NFT
Doodles has grown from a colorful PFP project on the Ethereum blockchain to a multi-utility ecosystem with several secondary collections and high-profile partnerships. The next big milestone to keep an eye on is Doodles 2, as, according to the team, its launch has the potential to grow the Doodles community beyond the OG holders without diluting the value of the original NFTs.