Discover what is BrainDrops and why it's the home of bluechip generative art NFTs in our guide.
AI NFT artwork is proving a big NFT meta trend for 2023. The trading volume and floor prices of various AI NFT projects have skyrocketed since the start of the year. That's partly thanks to the success of BrainDrops, a platform for AI NFTs that's been quietly building and minting potential blue chips since 2021.
The weekly trading volume for that platform's projects hit nearly 2,000 ETH in February 2023.
What Is BrainDrops?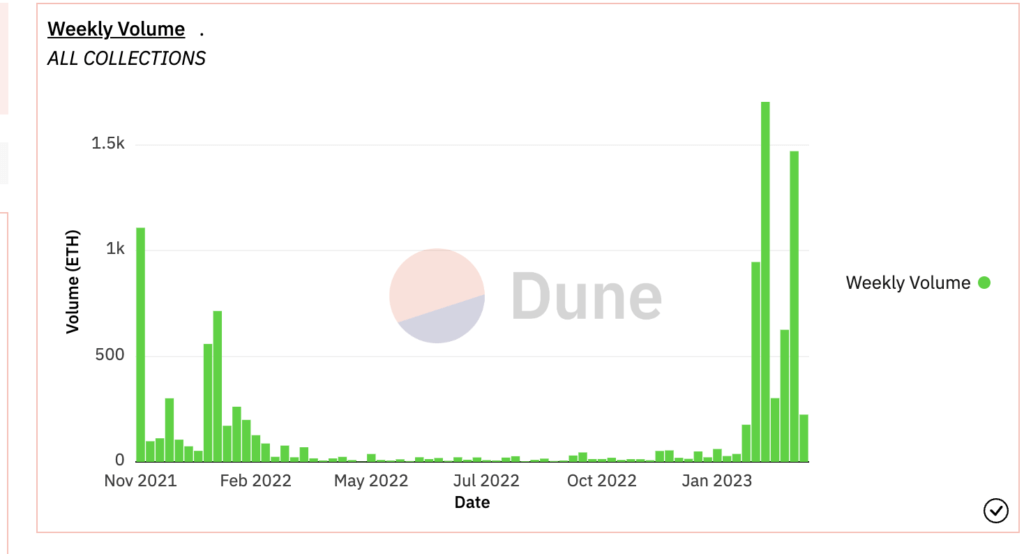 BrainDrops is a platform for AI-generated art that launched in November 2021. Its founders include Justin Trimble, Punk 2513, and Gene Kogan. The platform goals goal is to highlight the creations of noted AI artists. The team also wants to encourage and teach other creatives how to make AI art.
BrainDrops has been around for some time, at least in the context of NFTs. The Genesis drop occurred in November 2021, before the 2022 NFT bull run. The project's genesis and perhaps best-known artists are Clare Silver, Pindar VanArman, and Gene Kogan. Owning a full set of genesis NFTs, also known as a Day one set, from these artists grants holders an early minting window for future BrainDrops collections.
The BrainDrops NFTs are stored immutably on-chain. The images are hosted via IPFS and Arweave (a decentralized storage network) and self-hosted separately for a faster user experience. The license type varies by project.
The platform is comparable to ArtBlocks. However, it focuses on AI NFT art projects rather than generative art. The collection size and the number of collaborating artists are also much smaller. Read our guide to ArtBlocks.
The collection sizes of BrainDrops projects range between 500-1000 NFTs, and they usually mint for 0.1 Eth. They also usually mint out instantly. So either pick one up on secondary or invest near 28-30 Eth in acquiring a Genesis set of NFTs to access an early minting window.
The BrainDrops website is relatively sparse in information about each project beyond providing a brief description and links to the artists' websites. The easiest way to track the state of various BrainDrops projects is via a BrainDrops Dune Analytics dashboard. You can also check out the listings on artwork marketplaces like Sansa.xyz.
At the start of January 2023, trading volume ranged 21.6 Eth. Since February, Trading volume for AI NFTs has rocketed, touching on 1705 Eth. The floor price of a full set of BrainDrops NFTs shot up from 2.22 Eth to nearly 30 Eth.
How Can You Mint on BrainDrops?
The collection size ranges between 500-1000 NFTs per collection. The mint price is usually 0.1 Eth. Each collection has an individual page on OpenSea, much like ArtBlocks. It's relatively challenging to mint an NFT on BrainDrops, thanks to the popularity of AI NFTs as of late.
Those who own a Day One set have a pre-mint window of 30 minutes before a wider public sale. However, a full day one set costs nearly 30 Eth to buy on secondary. Rumors on Twitter indicate owning a full set or one of the other sets detailed below grants opportunities for future airdrops and unspecified rewards.
Top BrainDrops Collections
BrainDrops has comparatively few collections compared to other platforms like ArtBlocks, although they're not cheap! Collectors organize the collections by sets.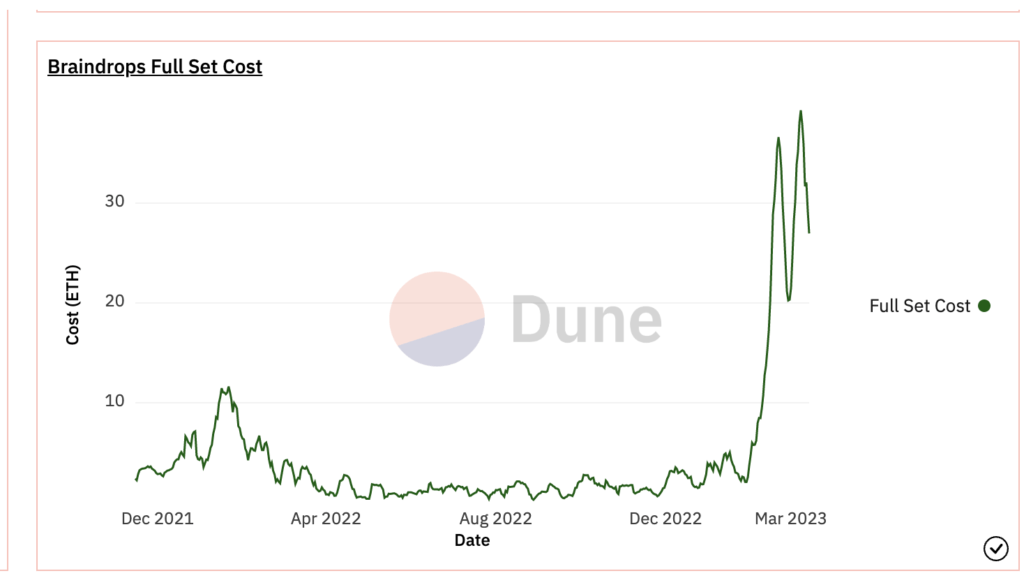 A day one set comprises an NFT from each of the three genesis collections.
A full set comprises an NFT from every project, excluding airdrops., and costs nearly 35 Eth.
An elite set comprises an NFT from every project and their corresponding airdrops. It costs nearly 35 Eth, i.e. it's for long-term holders.
At time of writing, 17 projects are listed, and new ones are added every few weeks rather than every few days. Here's a selection of BrainDrops projects to track.
podGANs by Pindar Van Arman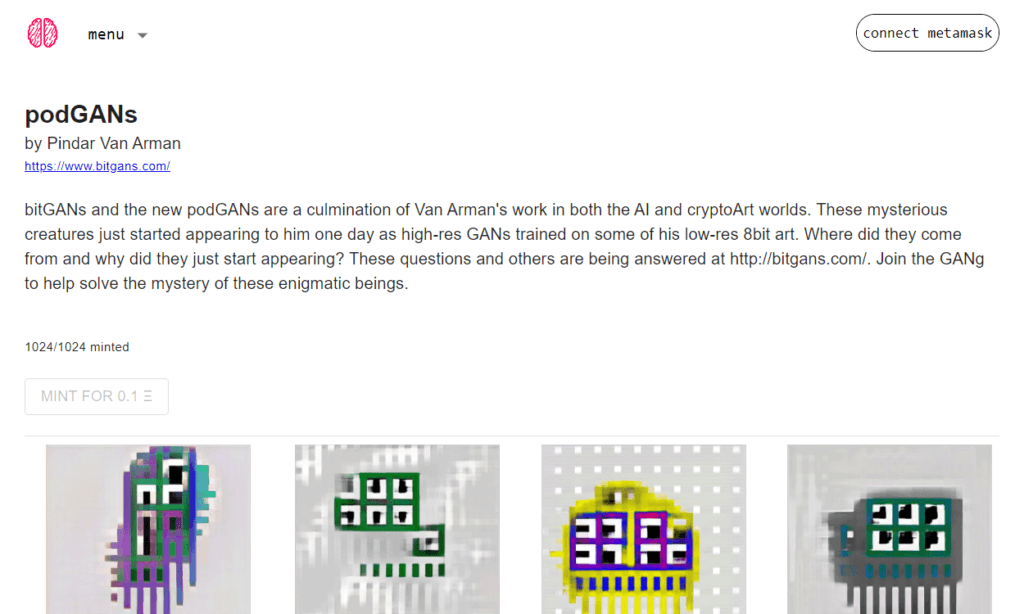 Pindar Van Arman is an American AI artist who discovered crypto art in 2018. His podGANs project comprises 1024 AI NFTs. Van Arman trained this AI model on low-res 8-bit art, and the NFTs depict translucent and colored creatures of different forms, types, colors, and backgrounds. At the time of writing, the floor price of this Genesis BrainDrops project is averaging 4.65 Eth.
The NFTs look similar to other low-resolution on-chain art projects, including Nouns. Van Arman also created a similar 64-piece project inspired by Nouns, called Noun Gan Study. To learn more, read our guide to Nouns Dao.
Genesis by Claire Silver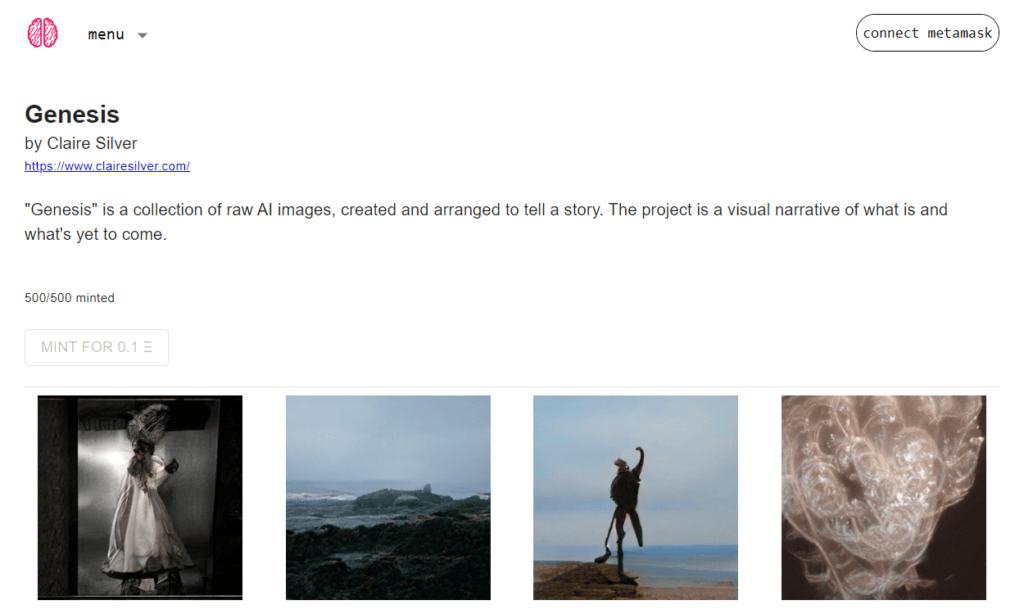 Claire Silver describes herself as a millennial AI artist who explores themes like disability, vulnerability, and social hierarchy in her collections. She discovered painting while seriously ill and subsequently moved into the world of crypto art.
Silver was also an early collector of CryptoPunks and has created multiple AI NFT projects. Genesis by Claire Silver comprises 500 NFTs arranged to tell a story, often playing on imagery and iconography related to the crypto space.
My favourite Socialite from Hell depicts a regal yet creepy, faceless figure dressed in white emerging from a smoky background. At the time of writing, the floor price for a Genesis NFT is 18.65 Eth.
Life In West America by Roope Rainisto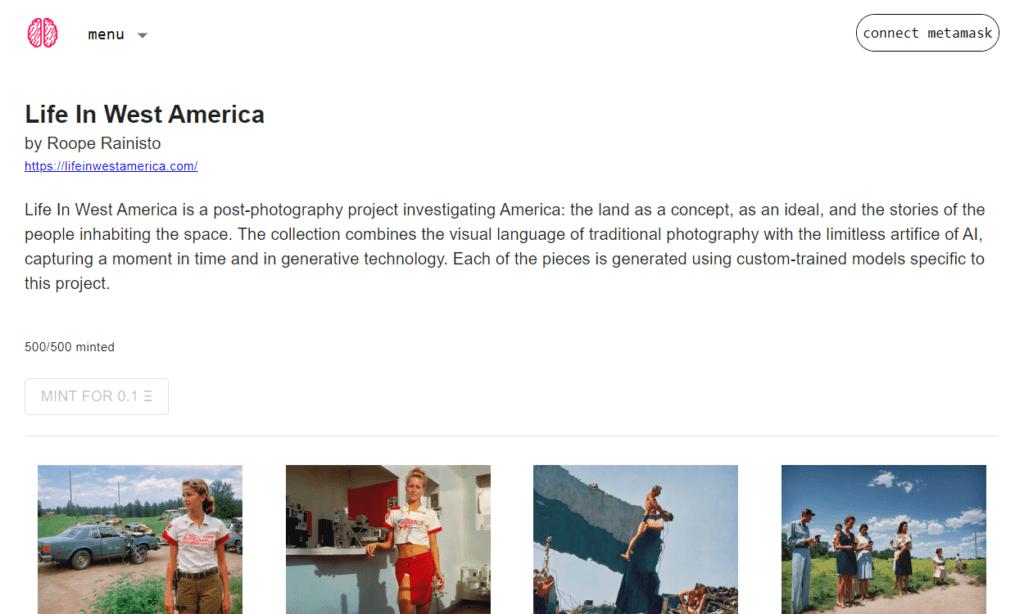 Life In West America by Finish photographer and screenwriter Roope Rainisto. The project takes inspiration from the early days and color photography. It depicts a version of the American landscape and individuals from the late 1960s and 1970s. Like many AI photographic images, the NFTs are rich in unusual artifacts or phantoms, including floating limbs and arms.
One of my favourite NFTS from this 500-piece collection depicts a frustrated writer hunched over a 1960s typewriter. On closer inspection, he's melting into the chair. The floor price for these NFTs shot up from 0.6 Eth post-mint in February 2023 to nearly 10 Eth at the time of writing.
Brain Loops by Gene Kogan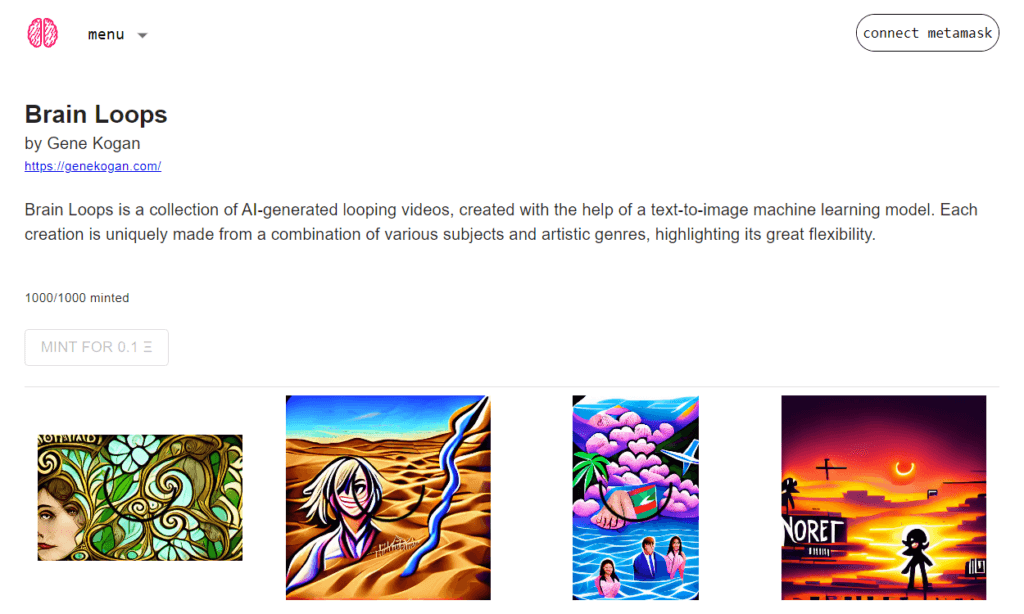 Gene Kogan is an American AI artist, lecturer, and coder. He's also one of the BrainDrops founders. Kogan's Brain Loops collection comprises 1,000 AI NFTs. The NFT depicts AI-generated looping videos created with the help of a text-to-image machine learning model. One of the BrainDrops Genesis projects, NFTS from this collection cost just 0.1 Eth to mint and currently trade for 1.8 Eth on marketplaces like Sansa.
He's spoken at and exhibited his collection around America and the United States. My favourite Cyberpunk Sunset looks like a combination of glitch art and a retro 1990s video game. Read our guide to glitch art to learn more.
All AI Art Looks the Same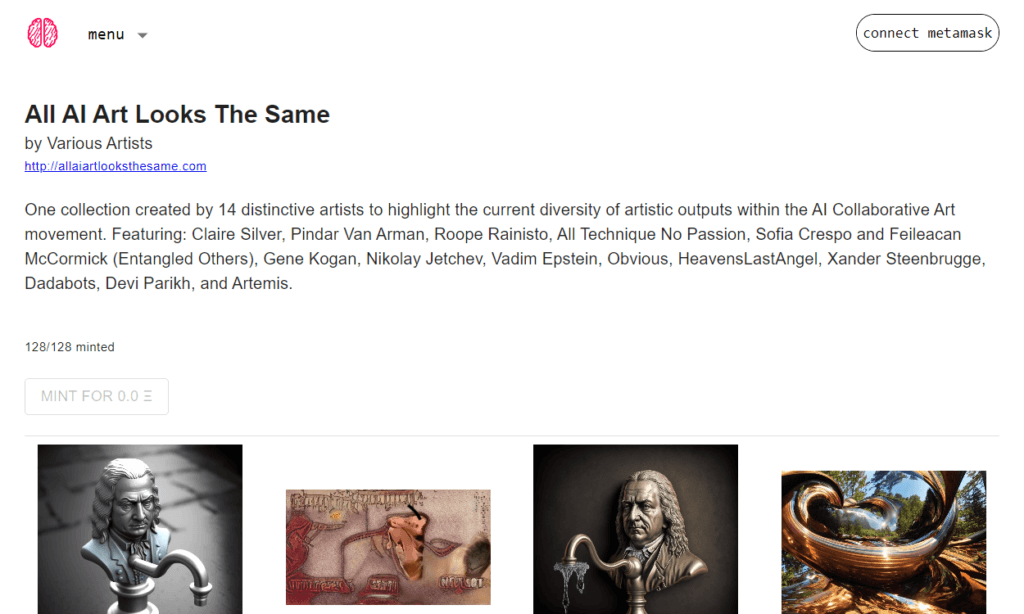 Fourteen artists worked on the All AI Art Looks The Same project. These include Claire Silver, Pindar Van Arman, Roope Rainisto, Sofia Crespo and Feileacan, Gene Kogan, Nikolay Jetchev, Vadim Epstein, Obvious, HeavensLastAngel, Xander Steenbrugge, Dadabots, Devi Parikh, and Artemis. My favourite by Roope Ranisto depicts a designer or creative falling asleep in front of her digital creations and merging into the screen. Phantom limbs are present! The floor price for NFTs from this collection starts at 5 Eth on marketplaces like Sansa.xyz.