Discover what the best Pepe the Frog NFT projects, who created them and what they represent
American cartoonist Matt Furie created Pepe the Frog in 2005. The image first appeared in Furie's comic series, Boy's Club, which was published on Myspace and later in print. The character, Pepe, is an anthropomorphic frog with distinctive features, such as a pair of bulging eyes and a wide, open-mouthed grin.
Pepe gained popularity as an internet meme. Reddit and Tumblr users depicted and remixed Pepe images with various emotions and quotes. As the Pepe meme gained traction, social media users created and shared altered versions of Pepe, such as "Sad Frog" or "Smug Frog," each reflecting a different emotion or situation.
These variations contributed to the character becoming well-known in internet culture.
In the early days, Pepe was associated with feeling relaxed and carefree. People used him to express emotions like happiness, contentment, or feeling good. This led to the creation of numerous Pepe variations and the phrase "Feels Good Man."
Over time, Pepe became associated with various themes and subcultures, including video gaming, anime, and politics. Much like NFT projects, artists created various subcategories of Pepe, distinguished by their appearance or context:
Rare Pepes – Unique, limited edition, or highly modified versions of the character
Feels Good Man / Sad Frog – Depicting Pepe as a universally relatable symbol of emotions, either positive or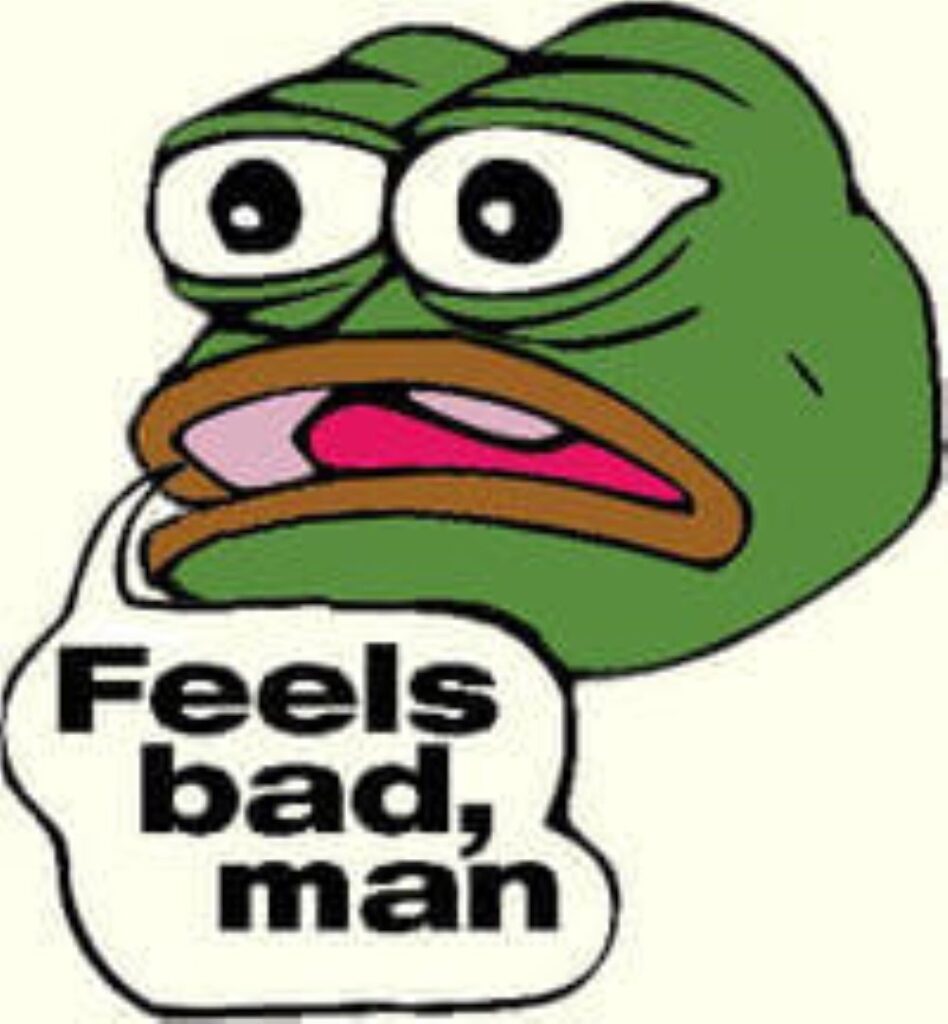 Smug Frog – Showcasing a self-satisfied or arrogant expression, typically responding to controversial topics or "trolling" behavior.
In the mid-2010s, several far-right and extremist groups appropriated Pepe to symbolize their ideologies. The Anti-Defamation League added Pepe to its Hate on Display database as a hate symbol. Despite the controversy, Pepe is as popular as ever online.
In response, Furie launched a "Save Pepe" campaign to reclaim the character.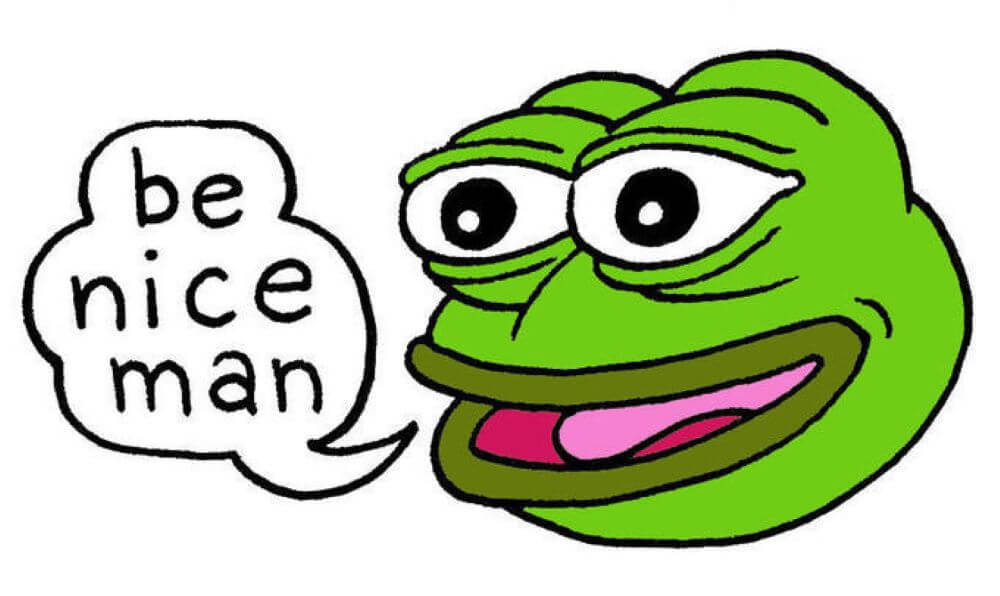 In 2016, Furie joined forces with the ADL in a social media campaign to #savepepe. He also produced a documentary called "Feels Good Man" in 2020, which depicted the character's rise and fall in internet culture.
Over the past few years, the NFT community has leaned heavily into the Pepe meme and is arguably helping to reclaim this NFT from the far right. In fact, Pepe the Frog NFTS existed before NFTs were a thing. Back then, owners called them collectibles.
Over the past few years, several Pepe projects have launched on the Ethereum blockchain. The Pepe aesthetic regularly makes its way into other projects too. Here are some Pepe NFT projects to check out.
1. RarePepes
In 2016, Pepe the Frog appeared as the NFT project RarePepes on Counterparty – an open-source protocol built on top of Bitcoin. A type of collectible card project, it predated the popularity of Ethereum NFTs.
Various artists collaborated to create the Pepe cards between 2016 and 2018, creating 1,774 NFTs comprising a series of 36. The first card pays homage to Satoshi Nakamoto, the creator or Bitcoin. Three hundred of these Nakamoto Cards exist.
Holding way grants the owner access to the 300 Club.
In 2021 one of these NFTS, PEPENOPOULOS, 2016, sold for $3.6 million at a a Sotheby's auction. Satoshi Nakamoto (a Pepe inspired by the Bitcoin creator) and a Pepeair (A Michael Jordan-inspired Pepe) sold for $240,000 and $520,000.
At a January 2018 auction held in New York City, a Homer Simpson Rare Pepe famously sold for $39,000. It was the first digital art auction ever. Many criticized the buyer, Peter Kell, for such an expensive purchase. However, Kell had the last laugh when he sold the Homer Pepe for $312,000 in 2021.
2. Pepe the Frog Genesis NFT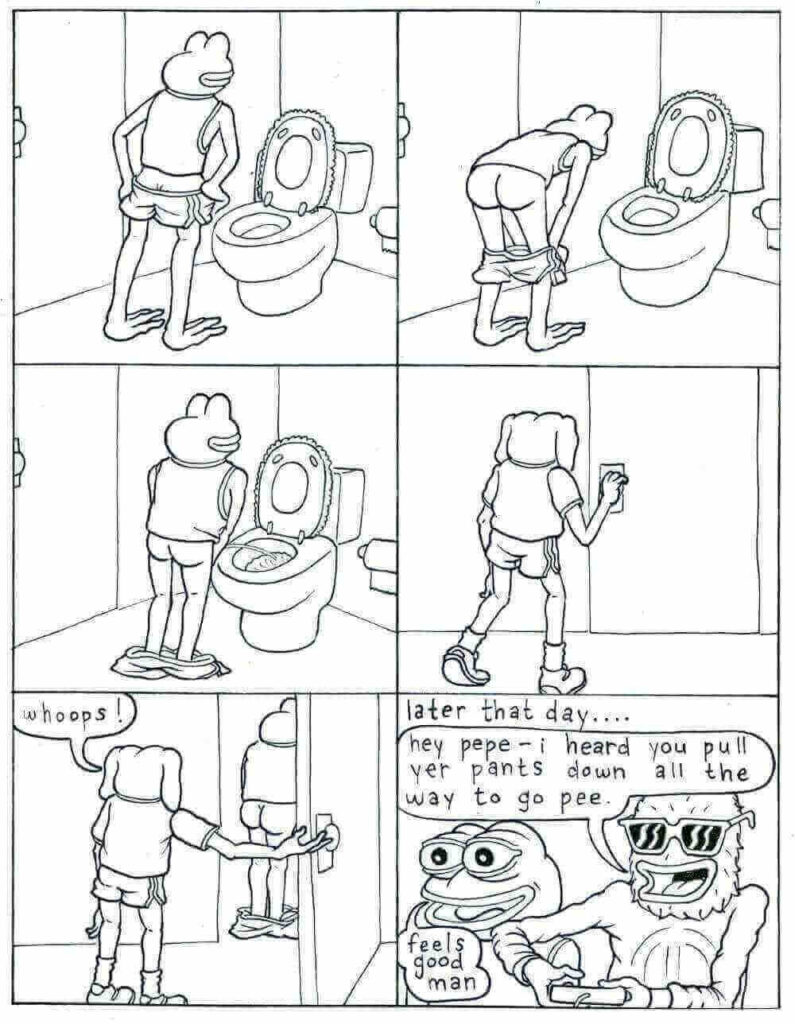 This NFT, or "1pantsdownpee.jpg", is a Nov 8, 2006, time-stamped full-page scan of the original "feels good man" artwork from Matt Furie's Boys Club comic series. The files were the original scans for print backed up on a CDR by Matt Furie. The infamous and now-defunct Singapore hedge fund Three Arrows Capital (3AC) collected this particular NFT for its gallery.
It remains to be seen what will happen once the contents of this gallery are auctioned off.
3. Pegz
In 2021, Furie created Pegz. This project comprises 100 hand-drawn illustrations by Furie. Every Peg character is a member of a family, one of 10 types, including Pepe.
Although not every image in the collection looks like Pepe, they have a similar aesthetic. Peg 100, aka Peper, is closet in appearance to the original Pepe, and she sold for 84.5 Eth.
4. The Works of Pepelangelo
Pepelangelo is an independent NFT artist with a single muse… Pepe the Frog. She paints Pepe the frog memes on oil canvas painting and turns the results into NFTS. One of her creations Piza Liza from 2017 is a remix of the Pepe memes and the Mona Lisa oil painting.
She's created 75 pieces to date, with a floor price of 2.9 Eth as of April 2023—several NFTS from her collection sold for five figures.
Pepe King Drinks! is inspired by a 1640 painting by Flemish painter Jacob Jordaens. It sold for 8.49 Eth in March 2023. The Great Red Dragon Pepe is inspired by William Blake's series of watercolours from 1805-1810, known as The Great Red Dragon.
Her NFT sold for 10Eth in March 2022.
5. Opepen Edition
In January 2023, Jack Butcher launched Open Edition. This project comprises 16000 NFTs and it cost a nominal amount of Eth to mint. Butcher didn't do much with this open edition NFT at first.
However, after the success of Checks, Butcher began experimenting with the Pepe NFT metadata, swapping out and remixing the Pepe artwork.
On Twitter, he explained holders of an Opepen Edition NFT could potentially burn it for a PFP project, much like with Checks, writing "if checks is what and why, this is who". Butcher's community has even created an Opepefy tool for users to upload an image and create an Opepen-type image.
6. The Memes by 6529
The Memes by 6529 is somewhat similar to the Rare Pepes NFT project. The Memes aims to create meme-based NFTs that raise the profile of NFTs and open decentralized web. It leans heavily into memes, clichés, and imagery from Web 3.0, including Pepe.
Its artists have used Pepe imagery for several drops and releases, including Greedy Morning, Chained in the Sky, and Cope. Several hundred of these Meme cards exist.
7. Notable Pepes
NFT collector Vincent Van Dough took inspiration from Jack Butcher's projects and launched a 200,000-plus open edition collection known as Notable Pepes on Manifold. The project has similar minting mechanics to Meme Cards by Punk 6529. Read our guide to the Meme Cards.
Although the project generated significant trading volume, its floor price has since tanked.