Discover the Rektguy NFT glitch art collection that caught the attention of the NFT art community after Snoop Dogg picked up one of the NFTs.
When it comes to glitch art in the NFT space, XCOPY is the most well-known artist, and as a result, the floor prices of his NFTs are well out of the reach of most people. Rektguy NFT, a collection of 8,814 images of a glitchy skeleton, offers an alternative to XCOPY at a lower price point.
The Rektguy collection became one of the most talked about glitch art projects when Snoop Dogg purchased one of the NFTs. The project has racked up over ETH 30K in trading volume, and the floor price has held up reasonably well during the bear market. 
This post will break down this unique glitch art project, look at the artist who created it, what makes it unique and highlight the most expensive Rektguy in the collections.
Rektguy Explained
The collection's name is a play on the word 'wrecked,' which in this case refers to the slang term for someone who is 'wrecked' from drinking too much. Every NFT in the 8,814 Ethereum-based collection depicts the 'Rektguy' knocking back a bottle with various backgrounds and textures.
As the project is purely an NFT art endeavor, there aren't too many moving parts, and there's certainly no metaverse or DeFI angle. The project's community is passionate about the art, and you can join the discussion on Discord or get updates about the project on Twitter.
Who Created Rektguy?
The Rektguy NFT project began when Ovie Faruq, known on Twitter as @osf_rekt and generally referred to as 'osf' doodled the first Rektguy character on a napkin while working as a Wall Street trader. According to his LinkedIn, OSF is also the co-founder of CanaryLabs, and DegenzNFT and has a degree in Mathematics and Economics from the London School of Economics.
OSF saw the potential of his doodle and decided to embark on building it into a digital NFT collection. To help launch the project of employed the help of Canary Labs
and reached out to Alien Queen @ALIENQUEENNFT, who is an official Rektguy co-founder
As the Rektguy website has no 'team' section, we don't know if anyone else is actively participating in running and developing the project.
When Did Rektguy Launch?
The Rektguy NFTproject hit the Ethereum blockchain as ERC-721 tokens in May 2022 for free, with users only paying the Ether gas fee. The mint began on May 21st and concluded on May 27th, with the maximum number of Rektguy NFTs limited to 11k. The mint closed before all the potential Rektguy NFTs were redeemed, resulting in a total supply of 8,814.
As of March 2023, the project's total trading volume is ETH 30k, the floor price is ETH 0.9 ($1.4k), 5% creator earnings, and the collection has a 41% unique ownership ratio.
What Makes the Rektguy NFTs Unique?
Rektguy NFTs have a maximum of ten traits and a minimum of five. Although every character in the collection has a similar overall design of a skeleton figure drinking a bottle of alcohol, they are all unique, and their value is generally derived from the rarity of their traits.
This glitch art ashetic became popular in the NFT space thanks primarily to XCOPY. Read our XCOPY profile. However, it doesn't look like he has anything to do with the Rektguy NFTs.
Rektguy #3566 is the rarest NFT in the collection due to the fact that it has a range of 1:1 features, such as the Tied Blue Tassels, Liquid Cosumi Juice, and Aliens Logo. Even though this Rektguy is the rarest in the collection, it hasn't been traded since it was first minted, so we don't know how much people are willing to pay for it.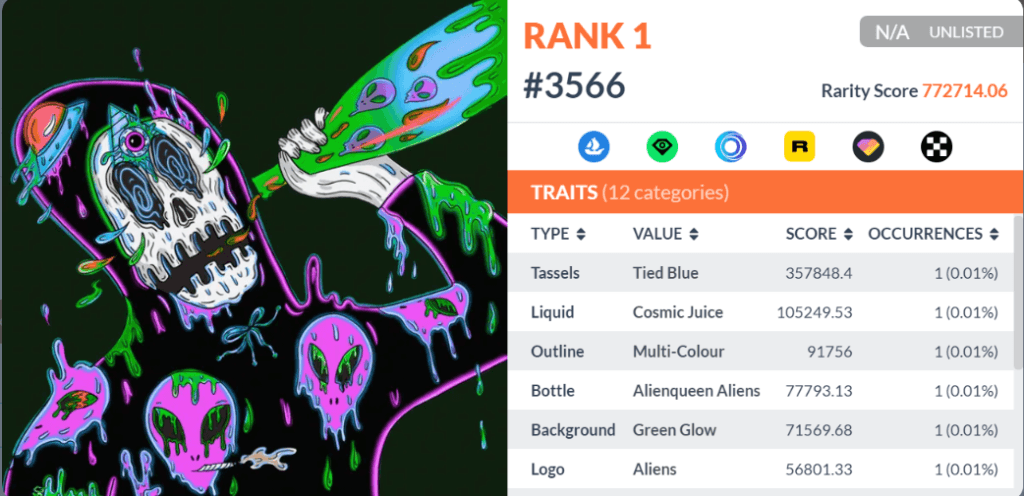 Rektguy #3566 is the rarest Rektguy with several 1:1 traits. Source: Rarity Sniper
Rektguy #2883 is one of the rarest NFTs in the collection due to its 420 Liquid (0.01%), Purple Hoody (0.02%), and Black Outline (0.08%). This Rektguy is the highest-selling character in the collection, as it traded for WETH 42.069 ($64k) in January 2023.

Rektguy #2883 is the highest-selling Rektguy at over $64k. Source: OpenSea
The cheapest Rektguy NFTs trade for around ETH 0.9 as of March 2023 and have the following features:
Clear Bottle (25%)
Black Tassels (40%)
White Tassels (40%)
Aquamarine Outline (11%)
Although the floor price Rektguy NFTs have common features, they still have eye-catching glitch art style features.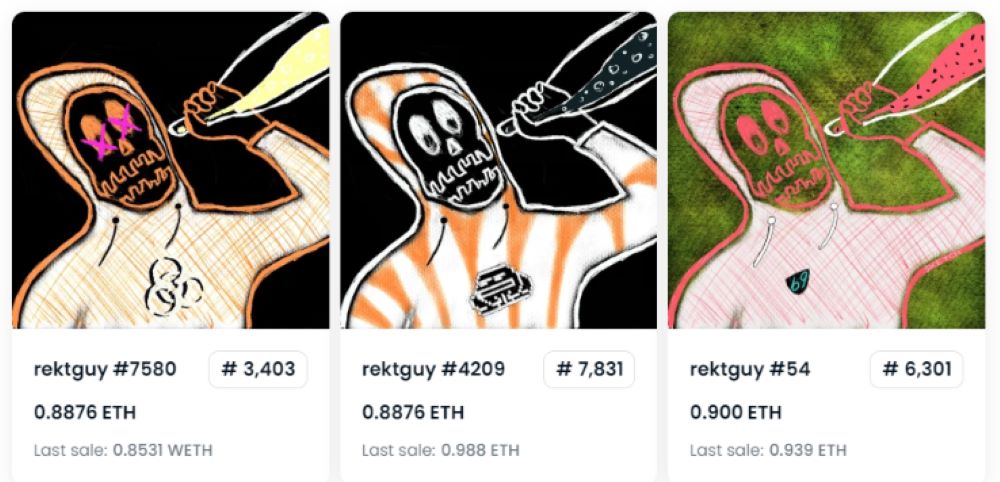 Floor price Rektguy NFTs with common features such as Black Tassels and Clear Bottles. Source: OpenSea
What Does Rektguy Do?
The Rektguy collection is purely a PFP digital art project. In terms of a road map, you won't find anything. Nonetheless, the project does have some use cases worth mentioning.
Artistic Value
As with any art project, the value of the project is derived from a collector's appreciation for the art itself and the artist's reputation. Ovie Faruq is a highly-respected name in the NFT community and digital art circles due to the success of his Degenz NFT collection and his personal 1:1 NFT art.
Osf's art regularly sells for thousands of dollars. For example, his Favela piece, which is a glitch art take on a Brazilian favela, was traded for ETH 39 ($50K) in October 2022.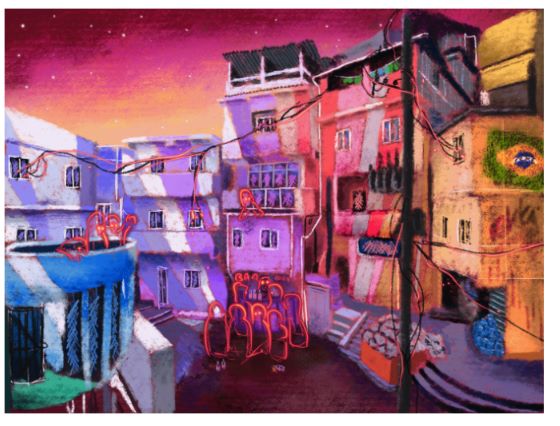 Osf's Favela glitch art was sold on SuperRare for $50k. Source: SuperRare
Celebrity Endorsements
A major bonus for anyone holding a Rektguy has been the support it has received from the legendary rapper and NFT enthusiasts Snoop Dogg. When the market found out that Snoop Dogg had purchased a Rektguy in May 2022, interest in the project spiked with OSF Tweeting, "Life is wild." in response.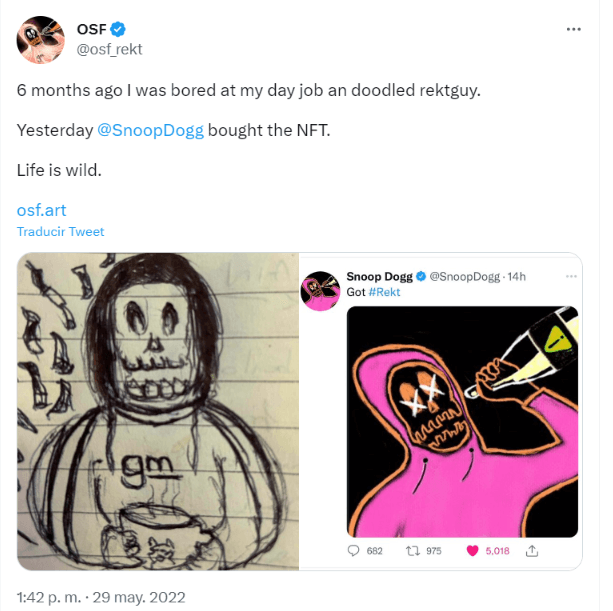 Osf shared Snoop Dogg's Tweet in May 2022, where he announced he had purchased a Rektguy NFT. Source: Twitter
Osf's Red Lite District
Another collection from Osf worth mentioning, even though it isn't directly connected to the Rektguy project, is Red Lite District. This collection is a 210-piece collection of glitch art depicting what looks like Amsterdam's red light district with a Pepe the Frog twist.
As of March 2023, the collection has a total trading volume of ETH 1,143, a floor price of ETH 12.69, creator earnings of 7.5%, and unique ownership of 86%.
On March 24th, OSF posted a Twitter thread that provided us with some details about the Red Lite District collection. He posted a link to the Sotheby's auction site where the NFTs are being traded and then explained that he started the project in February 2022 as an "anti-valentines day" concept which snowballed into a larger project.
According to OSF, he initially set out to make the collection a 1:1 but changed his mind and now plans to continue to air-drop new additions to the collection every month until he dies, which he believes won't happen for another 97 years.

Osf's Red Lite District is a 210-piece glitch art collection. Source: OpenSea
Osf Editions
Osf Editions was launched in March 2022 and compromises a collection of 3,219 fairly random glitch art NFTs that often feature the Rektguy character. As of March 2023, the collection has a total trading volume of ETH 1.2k, a floor price of ETH 0.14, creator earnings of 7.5%, and just 23% unique ownership.
Marketplace
The Rektguy NFTs, Red Lite District, and Osf Editions can be traded on the Rektguy NFT marketplace with no trading fees.

The Rektguy marketplace offers zero-fee trading for the community. Source: Rekt.Market
How To Buy A Rektguy NFT
The best way to purchase a Rektguy NFTs is on OpenSea. Follow these steps::
Get a Crypto Wallet: Get an ETH-compatible crypto wallet like MetaMask.
Connect to Marketplace: Visit the Rektguy OpenSea page and connect your wallet.
Explore: Browse the collection and use the filters to sort them by price.
Buy: Purchase a Rektguy by pressing the buy now button or submitting a bid.
Before purchasing a Rektguy NFT, make sure you do you're own research and follow Rektguy Twitter.
The Future of Rektguy NFT Project
The Rektguy project has no roadmap, so its future is unclear. As a successful digital art project with a loyal community interest is primarily driven by collectors and traders who like Osf and his style. The project's future will be dictated by Osf's profile in the NFT and digital art community.