Discover everything there is to know about who is XCOPY, an NFT artist who has sold his dystopian art for millions of dollars without revealing his identity.
Despite the anonymity of XCOPY, his work is now some of the most revered among high-net-worth NFT art collectors who shell out millions in crypto for XCOPY's unique 1:1 pieces. XCOPY has created over 70 different NFT editions and 150 unique one-of-one editions.
Even though XCOPY has sold NFTs for millions of dollars to celebrities like Snoop Dogg, little is known about the person behind this glitch art. In this post, we profile XCOPY, dive into his art style and provide you with a list of XCOPY's seven most successful projects. If you like it, you may also enjoy our guide to the best NFT artists to follow.
Is XCOPY Anonymous?
Little is known about XCOPY. Several reports claim the artist behind the project is a man born in London in the early 1980s. XCOPY started creating digital art in 2010, according to his Tumblr and began minting NFTs in 2018 when the field was still a little-known art niche that most of the world had never heard of, making this artist a true pioneer in the digital art space.
Despite being anonymous, you can follow XCOPY on Twitter at @XCOPYART, along with over 170,000 others, for updates about his work. In addition, he has a slick website with links directly to official XCOPY collections on major marketplaces such as SuperRare, where he was the second artist ever to mint an NFT.
Although we don't have any official information on XCOPY, we can make educated guesses on who he may be based on his artistic style and interviews.
His trademark work portrays disturbing images of dark humanoid characters displaying signs of torment and suffering that feel like comments on the monotony of the 9-5 rat race lifestyle, as seen in the 'A Coin for the Ferryman' that displays a pained figure in a shirt and tie.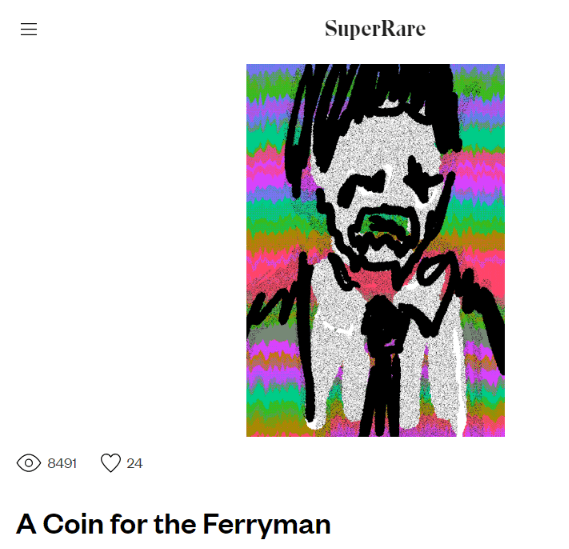 In a rare interview with Artsy.net, XCOPY said, "I like contrasting everyday problems with death, it takes away their power for a moment. Dystopia creeps in further every day, it's hard not to talk about it."
XCOPY went on in the interview to elaborate on the meaning of his piece titled 'In The Hole,' stating, "This is a reference to debt!"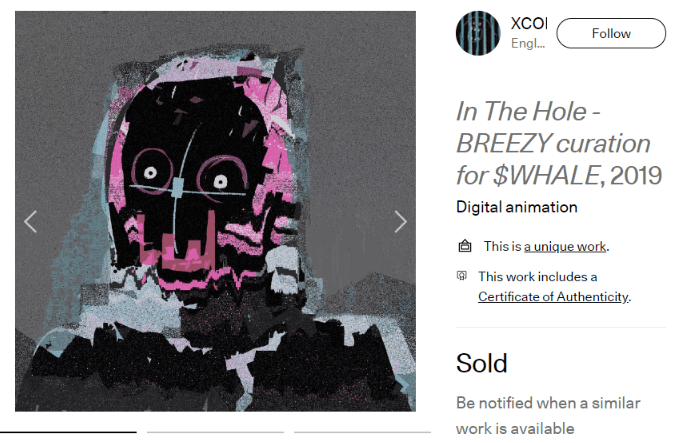 So, maybe XCOPY is a disgruntled office worker who got burnt out typing away in his office and decided to use NFT-art to express his disdain for the lifestyle that so much of the population has grown to accept.
Regardless of how jarring some people might find XCOPY's art, no one can dispute that it's eye-catching and thought-provoking; he achieves this through various techniques.
How Does XCOPY Make His Art?
Naturally, an artist as low-key as XCOPY isn't keen on revealing his specific methodology, but his work demonstrates numerous recurring patterns, colors, and themes.
XCOPY uses a combination of deep-dark colors with brilliant neon pinks and yellows to create a contrast between the often haunting facial expression and features of the subject.
'Truth or Power' is a classic example of XCOPY combing haunting imagery created through dark colors and jagged edges with dashes of pink. The menacing demon can be seen gripping what appears to be a banknote while pink worms crawl from its hollow head.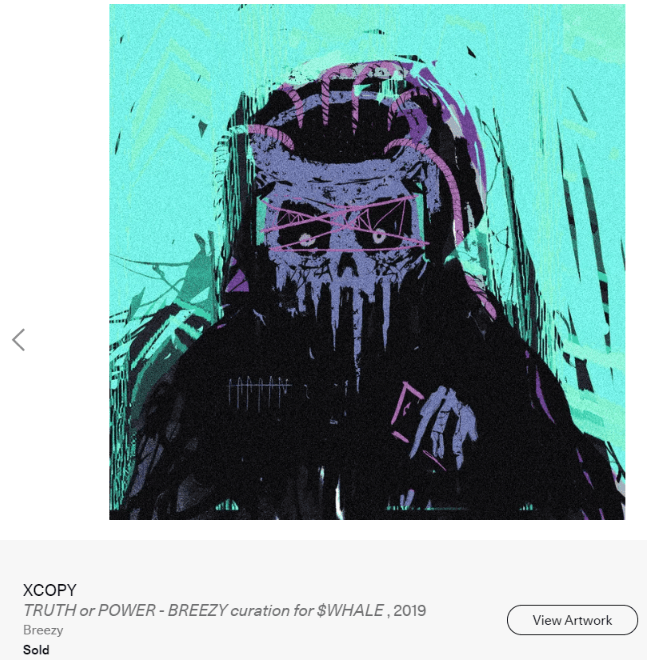 XCOPY's collections often comprise GIFs with flashing lights known as 'glitch art' that highlight chilling features such as fangs, claws, and terrifying faces. Take a look at XCOPY's collection on SuperRare to get an idea of how he incorporates his artistic style into GIFs.
In summary, XCOPY has consistently produced multi-million dollar NFT projects while maintaining his gruesome yet thought-provoking style, making his digital art and GIFs extremely popular with collectors.
Where To Find XCOPY NFTs?
If you've read our 'How To Spot Bad NFT Projects' guide, you already know that guaranteeing you're buying genuine digital art instead of counterfeits often requires a lot of time and effort. Luckily, for anyone interested in browsing and maybe even buying XCOPY's work, his official website has all the links you need to find his collections.
Visit XCOPY's official about page, where you can find direct links to his collections on the following marketplaces:
The website also links directly to XCOPY's most successful collections on OpenSea, some of which we will discuss in the next section.
7 Best XCOPY Projects
According to CryptoArt.io, XCOPY has sold just under 10,000 NFTs and made over $60 million. As a result, narrowing down his collection to just half a dozen projects is no easy feat. Although this list includes some of this artist's most valuable and important projects, it merely scratches the surface of his portfolio.
The Max Pain and Frens collection was launched in March this year and included 7,394 unique skulls with XCOPY's trademark combination of dark and bright colors on a black background.
The animated skulls had a mint price of 1 ETH and were snapped up within 24 hours of launch, making this one of XCOPY's most successful projects. It's a good entry point into XCOPY's work.
The angry-looking skulls were created with the help of a generative art algorithm that allows artists to create thousands of unique NFTs in seconds. To read more about this art technique, check out our generative art guide.
The project netted over $23 million, prompting XCOPY to respond with a Tweet that read, "Well, that was quite intense."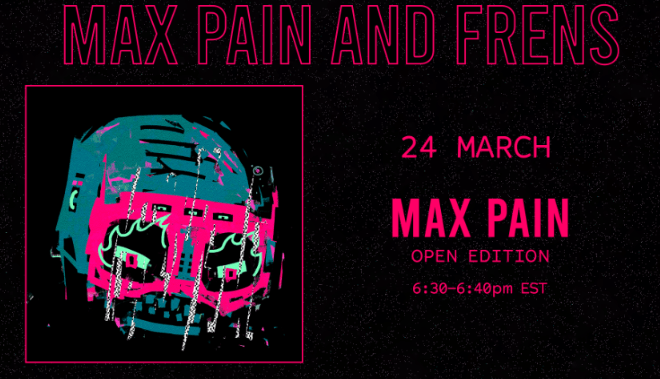 Right-Click and Save As Guy is an animated GIF that takes a stab at people who chose to save images of NFT art by literally 'clicking right' instead of paying the fair price.
The controversial piece that tapped into an issue that continues to haunt digital artists in the NFT space sold for just over $7 million in late 2021, making it one of the most expensive NFTs ever sold.
Despite moving away from the typical dystopian style, we have become accustomed to with XCOPY, it does stick to his core design principles, with a bold character marked with distinctive brightly colored features with a surrounding of frantically flashing greens and blues in the background.
Some A**hole is a 1:1 XCOPY piece that sticks to the artist's trademark style; deep flashing colors surround a menacing character wearing office attire with disturbing facial distortions.
The piece caught the eye of several high-value collectors, but in the end, it was none other than the legendary west-coast rapper Snoop Dogg – better known as Cozomo di Medici in the NFT world – who snapped up the NFT for just under $4 million.
According to SuperRare, Snoop Dogg hasn't parted way with this legendary NFT as it has remained associated with his account since the 2018 sale.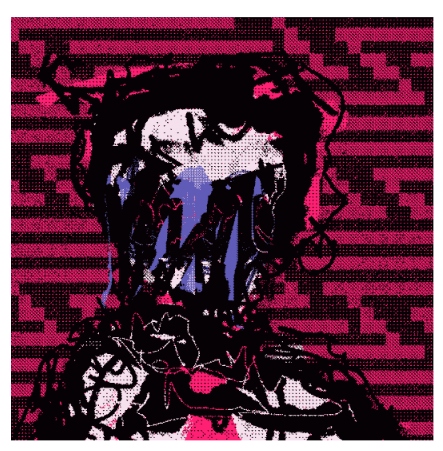 Thanks to the addition of high-resolution cameras to our phones, the selfie has become an integral part of modern society. Every moment, regardless of how mundane, is captured by a quick snap, and sometimes it feels like this has made us mere spectators of our reality.
XCOPY used his artistic talent to comment on 'Selfie Culture' with this grizzly illustration of the grim reaper posing with an office worker for their last selfie. At the same time, the background subtly flashes with a combination of blood red and grey pixels.
Ten editions of the Last Selfie were minted on KnownOrigin by XCOPY, and one of them sold for an estimated $700,000 in 2021.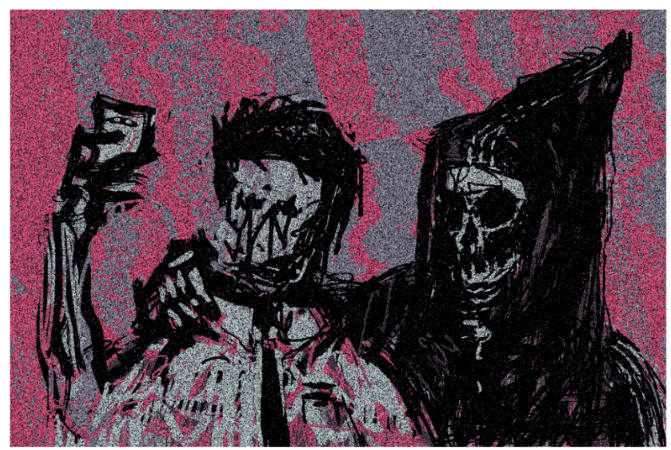 All Time High in the City depicts a typically dystopian scene as a character dressed for a day of work in the city faces death on a small boat drifting past a block of gloomy office buildings crisscrossed with black lines in a hellish landscape.
This piece was first purchased for around 10 ETH and then re-sold in 2018 for 1,000 ETH (roughly $3 million at the time).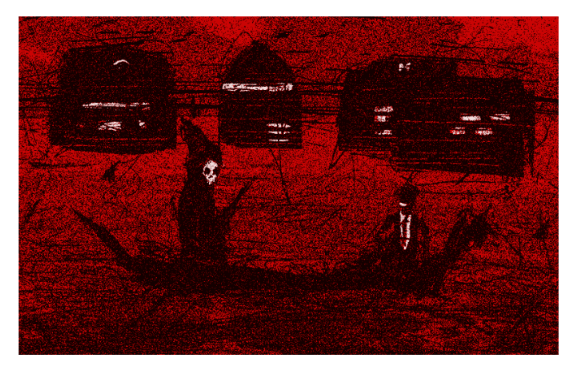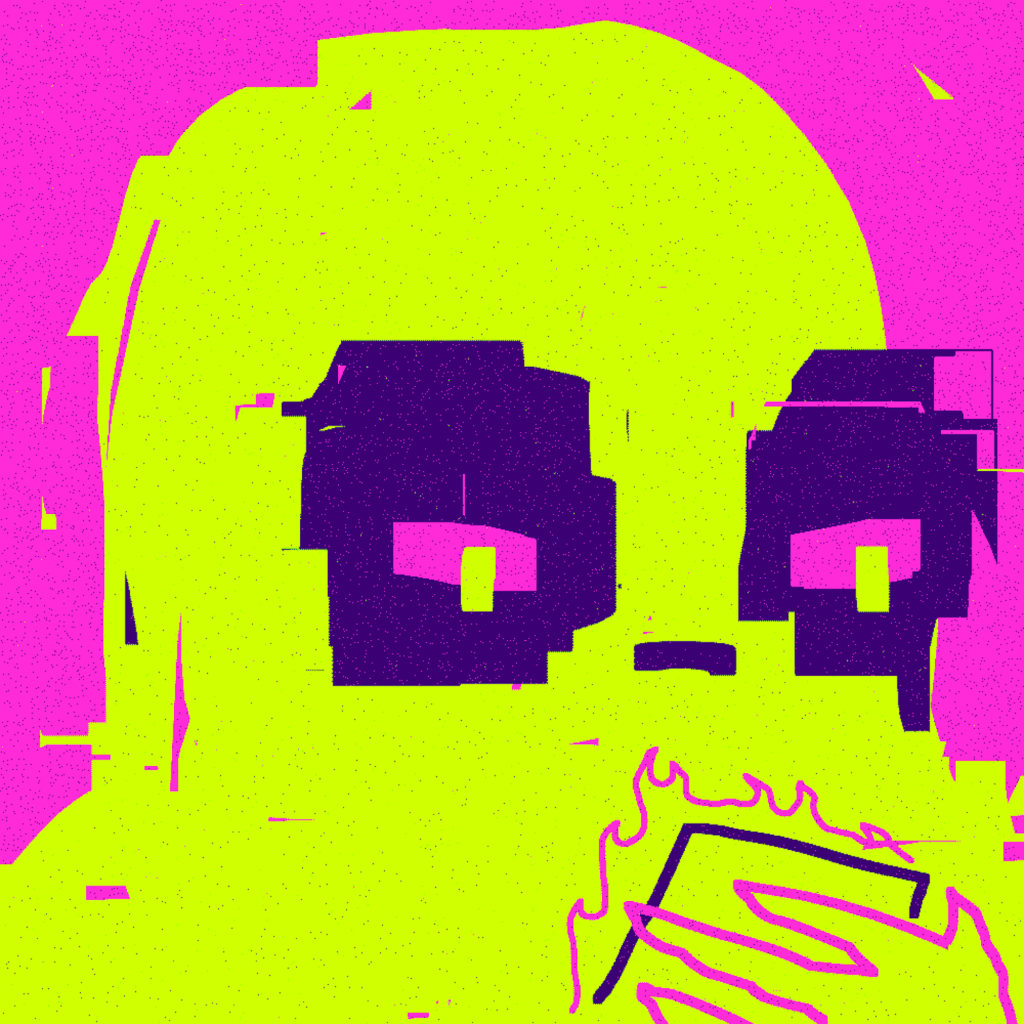 God is typing shows off Xcopy's glitch art abilities and moves away from the dark colors we've come to associate with his work. Even though the colors of this gif are brighter than XCOPY's typical work, the messaging has not strayed far from his general theme.
The brightly colored character is twitching and fidgets as it types away on its smartphone so quickly that it erupts into flames. Does XCOPY want to tell us that our phone is our God that we worship day and night as we type and tap our lives away?
Although we may never know what message the yellow figure is attempting to deliver to us, it's undoubtedly become a popular NFT, as it sold at auction on SuperRare for just under $500K.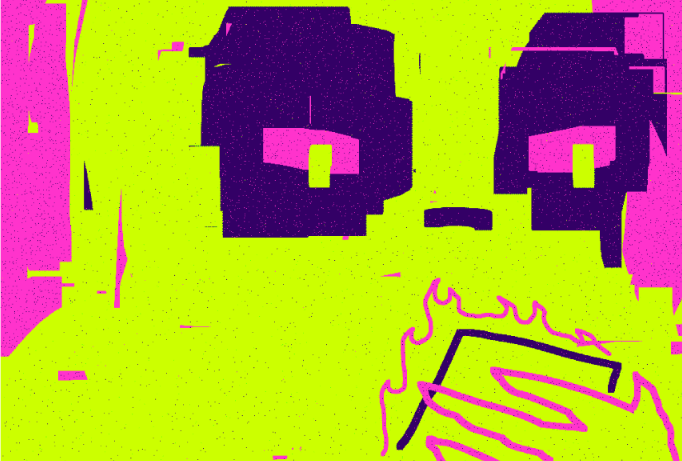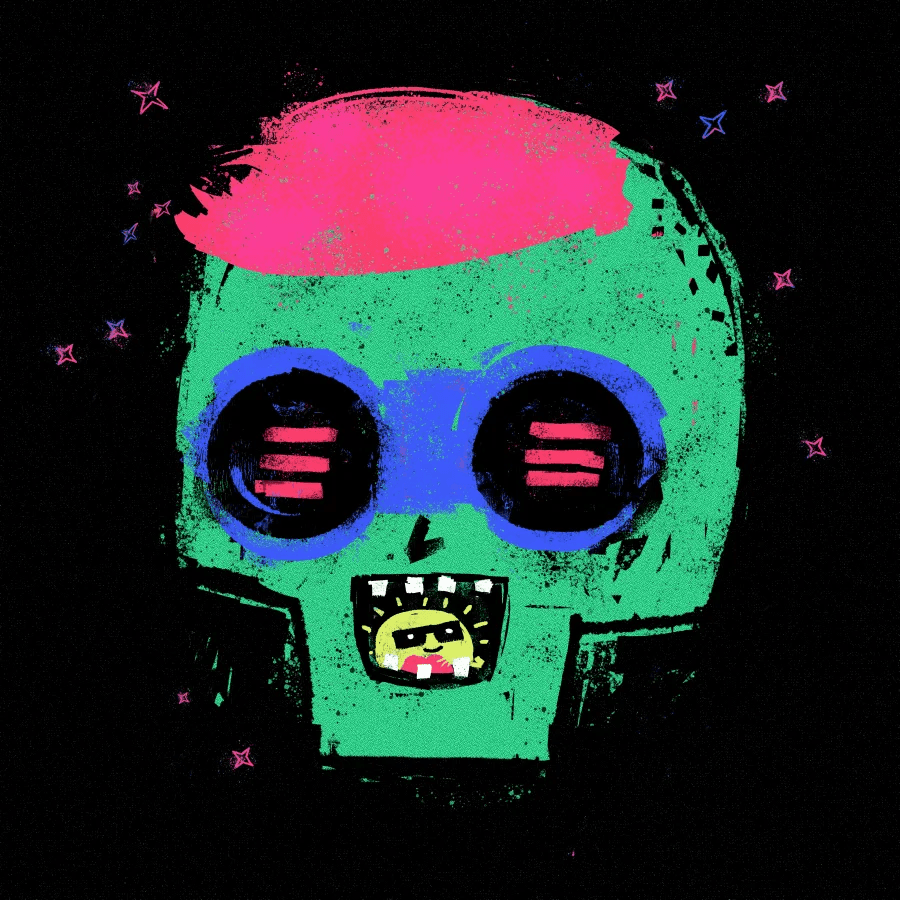 Grifters is a mid-tier XCOPY collection. 666 pieces in this collection exist, including three legendary editions. It minted for 0.25 Eth. Since then the floor price has trended above 10 Eth. Aside from XCOPY's seven-figure NFTs, this collection is one of his most popular and has a good distribution of owners. 
Final Thoughts On Who Is XCOPY?
XCOPY is undoubtedly one of the most influential NFT artists. XCOPY's glitch art style and profound messages delivered through macabre characters often leave us pondering our societal norms as it comments on pressing issues such as our 9-5 work culture and borderline obsession with technology. You can track XCOPY's projects and floor prices on this Dune Analytics dashboard.
Furthermore, the anonymity of the artist behind the multi-million dollar XCOPY projects only makes them more fascinating, as achieving this level of success without revealing your identity feels like it pays homage to the privacy-oriented nature of crypto.