Who are the best NFT artists to follow or even buy from (if you can afford it) today? Find out more in this article
It turns out many of the top NFT artists create more than simple JPEGs and memes.
They're also not concerned about creating non-fungible token derivates of the insanely popular Bored Ape Yacht Club NFT project. Here, I cover some of the most prominent artists from the NFT world today, in terms of NFT sales, creativity, and popularity.
1. Beeple aka Mike Winkelman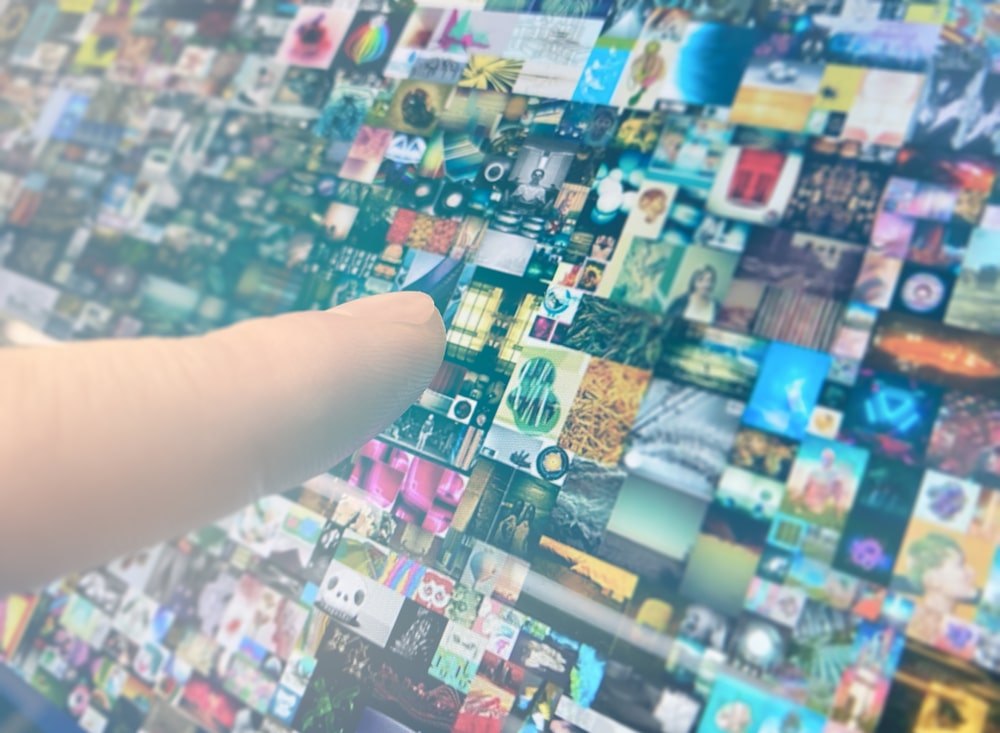 American digital artist Beeple, aka Mike Winkelmann, is the NFT space's most valuable artist to date. In 2021, he made headlines after selling Everydays: The First 5000 Days via Christie's Auction House for an eye-watering $69 million.
For that NFT artwork, he created one digital artwork every day for 5000 days and then combined the results into a digital collage. Other famous, and pricey, NFT creations by Beeple include Crossroads and Ocean Front.
You can follow him on Twitter and enjoy his work for free. He creates and publishes one digital artwork every day and shares it on social media for fans.
2. Matt Hall and John Watkinson of Larva Labs
LarvaLab's CryptoPunks are the most prominent example of a successful NFT project built on the Ethereum blockchain. Minted in 2017, only 10,000 exist! They change for multiple six-figure amounts.
LarvaLabs is the company behind Meebits and Autoglyphs. Meebits earned LarvaLabs over $80 million in a single day, on May 3rd 2021. CryptoPunks holders could have minted one for free.
In February 2022, the NFT community criticised Hall and Watkinson after they issued DMCA takedown requests against CryptoPunks V1, a fan-made derivative of CryptoPunks.
3. Mad Dog Jones
Michah Dowbak, aka Mad Dog Jones is a digital artist from Thunder Bay, Ontario, Canada. He deftly interweaves cyberpunk and dystopian motifs in his digital creations. He also explores themes of beauty, nature, and technology.
For The Replicator NFT project, Mad Dog Jones draws on the principle of artificial scarcity. His cyberpunk genesis NFT produces or replicates another NFT every month at a rate 1 per week. Each corresponding NFT also mints an NFT and the entire collection will produce approximately 220 NFTs. You can enjoy examples of Mad Dog Jones's artwork for free, via Instagram.
4. XCOPY
XCOPY is a pseudonym for one of the best-selling crypto artists of all time. He creates dystopian, animated NFTs that regularly sell for six and seven figures in Eth.
Collectors can mint his NFTs on platforms like SuperRare and Nifty Gateway or pick them on the secondary market, on OpenSea. According to Cryptoart, he's sold 1,918 NFTS with a combined value of $52,228,445.35 (16,923.934 ETH).
My favorite digital artwork by XCOPY is Right-click and Save As guy, an NFT that sticks a finger in the eye at the biggest critics of the NFT space. In December 2021, Snoop Dog bought it for approximately $7 million. The tagline?
"Why would I buy it when I can right click and save as?"
5. Gary Vee
Gary Vaynerchuk is becoming one of the most well-known NFT artists, collectors and thought leaders. He's built a thriving community around Vee Friends. Hodlers get free tickets to an NFT conference hosted by Gary in 2022.
Christies' Auction house auctioned original art pieces from the VeeFriends collection. Gary said about this news:
"My parents grew up loving auctions and auction houses. I'm sure I got my collecting DNA from them. To see my art in a Christie's auction, 98% of my energy is just thinking about my parents and what that might feel like for them, and that brings me incredible joy."

Gary Vaynerchuk
Gary regularly takes to mainstream media to defend and explain the use cases of NFTs to sceptics.
6. Dmitri Cherniak
Canadian artist Dmitri Cherniak started exploring NFTs in 2014 and minted his first NFT in 2019. His most famous artworks are the Ringers series and The Eternal Pump via ArtBlocks. Both of these are examples of generative artworks, i.e. they were created with code and each one in the collections is unique.
Cherniak created The Eternal Pump using JavaScript and OpenGL Shading Language (GLSL). Minted in February 2021, only 50 genesis pieces exist. You can buy one for a modest 1,500 ETH. He said about Ringers:
"There are an almost infinite number of ways to wrap a string around a set of pegs. On the surface, it may seem like a simple concept but prepare to be surprised and delighted at the variety of combinations the algorithm can produce. Each output from 'Ringers' is derived from a unique transaction hash and generated in JavaScript in the browser. Feature variations include peg count, sizing, layout, wrap orientation, and a few colorful flourishes for good measure."

Dmitri Cherniak
7. Justin David Bla Aka 3LAU
Justin David Blau is better known as the American electronic DJ 3LAU. His most popular works include the songs How You Love Me, Fire, and On My Mind as well as his album Ultraviolet. He marked the three-year anniversary of Ultraviolet by creating a tokenized version of the album for hardcore fans.
That NFT project raised approximately $11.6 million. Owners can redeem tokens for special edition vinyl, unreleased music, and bonus songs.
8. Deadmau5 aka Joel Zimmerman
In late 2021, the electronic act Deadamus aka Joel Zimmerman released a new track This Is Fine in collaboration with rock band Portugal The Man. Not all examples of NFT art are crazy expensive. Fans can pick this one up on Mintbase for a little under $3.
9. Eddie Gangland
Gangland Skulls is a series of animated skulls and designs by talented visual and NFT artist Eddie Gangland. His work was featured in Rolling Stone and VOGUE magazine. Gangland's most iconic work to date is his series of skulls, which will appear on the Coinbase NFT marketplace. Gangland is working 3d NFT models that will build on the success of Creature Skulls.
10. Danny Cole (Creature World)
Creature World is a digital art collection coming soon to the Coinbase NFT marketplace. Danny Cole got into the NFT space in September 2020.
After featuring his surrealist art around the streets of New York, he transformed his creations into The Creature World NFT collection. His NFT project is a good example of the digital art building on real-world art.
11. Jessica Yatrovsky
American artist and photographer Jessica Yatrovsky is the creator behind the photography blog I Heart Boy. She's also releasing her digital creations on the Coinbase NFT marketplace. She also creates blackout poetry.
12. Murat Pak
Murat Pak, more commonly known as PAK, is a pseudonym for an NFT creator and collector, or a group of creators and collectors. His most successful NFT creation to date is Mass Banner. 30,000 buyers bought NFTs from this collection, all of which combine to form a single image or NFT.
13. Hackatao
Hackato describes themselves as an OG decentralised cryptoartist. In short, they've been active in the NFT space for years. Hackato has a background in advertising and photography. Hackato has released creations on OpenSea and Nifty Gateway.
Typically, these digital artworks are animated or play on the intersection between pop culture, the art world, and Web 3.0 culture. Some of their creations even feature the Mona Lisa to Campbell's Soup.
14. Steve Aoki
American DJ Steve Aoki is a prolific NFT collector. He recently claimed he's made more money from NFTs than from ten years of music advances. He also collaborates with fellow NFT creator and collector 3Lau. He said about NFTs:
"But if I was to really break down, OK, in the 10 years I've been making music… six albums, and you combine all those advances, what I did in one drop last year in NFTs, I made more money. And also, I was way more unhinged with music."

Steve Aoki
15. Damien Hirst
Damien Hirst is a popular British contemporary artist, famous for NFT creations like Currency. He recently employed artificial scarcity for his Empress NFT project. Anyone could have minted the project if they'd $3500. Those who minted before the deadline determined the final supply for this project.
16. Coldie
Coldie creates 3D stereoscopic NFTs and digital artworks that play on pop culture figures like Warren Buffet. He's also a prolific NFT collector. One of his most famous NFT creations is Decentral Eye, a mash-up portrait of musician and fellow NFT enthusiast Snoop Dogg.
17. Trevor Jones
Trevor Jones is a digital artist from Scotland. After investing in Bitcoin in 2017, he says he discovered a "new creative direction." He started creating crypto-themed augmented reality paintings before stepping into the NFT art world. He sometimes collaborates with PAK. Watch him work on the Bitcoin bull creation below:
You can watch the video that accompanies this article below. And don't forget to subscribe to my YouTube Channel to get all the latest videos.