Discover what is Moonbirds in our dive into this bluechip NFT collection, learn about the creators behind it, how to buy it, and its future outlook.
Since its launch on April 16 2022, PROOF Collective's highly anticipated Moonbirds NFT collection has racked up approximately $500 million in sales, including more than $200 million in its first 48 hours on the market alone.
According to statistics, the promising project is the No. 2 bestselling NFT collection from April till June 2022.
Prominent American digital entrepreneur Kevin Rose founded it as part of his recently launched Proof Group – a members-only group of NFT collectors and artists. Before starting Moonbirds, Rose had already established himself as an internet star, investor, podcaster, and inventor of news aggregator Digg, among other endeavors.
Although the collection contains 10,000 NFTs, the entire supply was distributed in three parts. Before the general sale, 2,000 NFTs were set aside for Proof Collective members to mint.
The creators used a whitelist to distribute 7,875 NFTs to the general population. This list included the lucky winners of Proof's global raffle, which required participants to have 2.5 ETH (the value of one Moonbirds NFT) in their verified wallet. Besides the reserves and the raffle, the Proof Collective admins kept the remaining 125 Moonbirds NFTs for future collaborations, marketing, and other purposes.
If you like this article, check out our companion piece explaining which NFTs are bluechips?
What Is Moonbirds NFT?
Moonbirds is a collection of 10,000 Ethereum-based NFTs, each having a pixelated owl avatar with randomized characteristics and traits. While some elements can be seen in several photos, no two NFTs are alike.
Kevin Rose and Justin Mezzell, who are regarded thought-leaders in the NFT industry, created the PROOF initiative on which Moonbird was created. Rose made a YouTube video after the mint, indicating that the profits from the sale would be used to turn PROOF into a well-known and reputable media firm.
The project aims to be another blue-chip PFP initiative, but it also offers Moonbirds owners plenty of other benefits. Aside from its usability, each Moonbird is designed to grant access to a private club, with more perks accruing as time passes. This last part is referred to as nesting.
Holding a Moonbird, for example, grants access to an NFT-gated Discord server. Users can access private Moonbirds channels once inside, including info on upcoming drops, community projects, nesting, and so on.
The collection was released at 2.5 ETH per asset, with the creators receiving a 5% royalty on all secondary sales. Moonbird owners also have full intellectual property rights to their creations.
What Does Moonbirds NFT Look Like?
Moonbirds NFTs appear similar to other NFT collections in terms of looks. They've gained popularity due to the team, the execution of the roadmap to date and the NFT bull market prior to the crash of May 2022.
This NFT collection aims to become a blue-chip PFP NFT project. The rarity-based features seen in the utility-enabled PFP NFTs are quite diverse and different. Furthermore, the underlying concept of 'what is Moonbirds' goes beyond its status as a blue-chip PFP NFT project.
Other than using their NFTs as profile photos on social media, Moonbirds owners have access to various other features. Moonbirds' also enables membership in a private club, as well as other rewards for users who keep their assets for extended periods. Moonbirds NFT holders gain access to exclusive Moonbirds channels for information on community activities, future drops, and other improvements when they join the private club.
What Moonbirds NFT Does?
Moonbirds are among the most popular NFT projects, with over 100,000 ETH in trading volume in the first six days of their launch. Moonbirds currently has a trading volume that dwarfs any other NFT collection as at the time of writing in June 2022.
The NFTs offer several fascinating designs with the support of PROOF Collective's skilled team. Furthermore, the anticipation around the project before its launch aided in boosting the price of Moonbirds in a good direction. Aside from these, the Moonbirds NFT collection also offers the following value uses.
The NFT's owners own the intellectual property linked with the Moonbirds NFT.
The NFTs can enable entry to the next metaverse envisioned by PROOF Collective, according to the official Moonbirds XYZ website.
The carbon offsetting linked with Moonbirds NFT collection is the next significant benefit, making them environmentally friendly.
The Moonbirds NFT collection owners can use them as profile images, which is a clear benefit. Furthermore, the Moonbirds NFT collection enables NFT owners to gain from locking up their Moonbirds by nesting.
Also, Moonbirds officially announced on Twitter Spaces and in a follow-up Tweet that they now own @oddities_xyz on Twitter and will make an announcement shortly. However, little is known about the NFT collection at this time.
"And thus it begins," Moonbirds tweeted, announcing the official OpenSea link for its upcoming Moonbirds Oddities collection.
In an accompanying tweet on May 22nd, they noted that the "drop is in progress, but no mint yet."
How to Buy Moonbirds NFT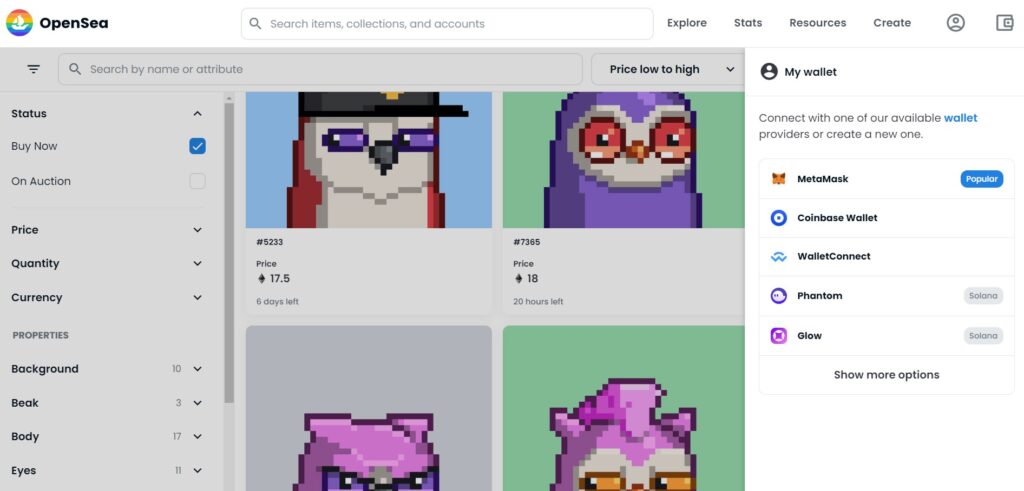 Moonbirds were first released on April 16 and are presently available on secondary NFT markets such as OpenSea and LooksRare. Demand has pushed the secondary price well north, to nearly 32 ETH ($90,000) as of April. They originally sold for 2.5 ETH (roughly $7,600) at launch.
The greatest Moonbirds sale as of April this year is NFT #2642, which went for 350 ETH ($1.03 million) to the developers of The Sandbox, an Ethereum metaverse game.
Generally, buying Moonbirds NFT is pretty straightforward. You can buy it on OpenSea.
Visit the official page on OpenSea
Connect a web3 wallet such as MetaMask or Coinbase
Once connected, you would need to get some WETH or ETH. Most web3 wallets, such as Coinbase, have an easy way. You can directly purchase ETH using the fiat-to-crypto feature.
Once done, navigate to any Moonbird NFT of your choice and click the button.
Research is key to making any viable NFT purchase. You should check out the Moonbird NFT project on Discord and Moonbirds Twitter. Also, visit their website to read more about them before investing.
The Future of Moonbirds NFT
Over the last month, data on some of the most popular nonfungible token projects shows that key metrics such as floor prices and market capitalization have plummeted.
Over the last 30 days, "blue-chip" NFT collections have seen their market capitalization and floor prices fall, with some of the most notable projects having their value halved for these key metrics.
DappRadar data shows the floor prices of established collections, including Moonbirds, Mutant Ape Yacht Club (MAYC), CryptoPunks, and Bored Ape Yacht Club (BAYC), have dropped by up to 55 percent since May 2022.
Moonbirds was the only collection to gain ground in May, rising 22 percent with a floor price of 19.6 ETH, or nearly $37,000 between June 1st to 4th.
While Moonbirds' floor price has increased, its market capitalization has decreased by 55 percent to $368 million. The MAYC, which has lost almost 71 percent of its value to under $610 million, has lost the most, while BAYC and CryptoPunks have lost 62 percent and 51 percent, respectively.
However, as Moonbirds NFT enjoys these increases, a recent development rocks the project's boat. Ryan Carson, Moonbirds' chief operations officer, revealed in April on Twitter that he was leaving the project to form his own NFT fund.
The announcement elicited an immediate and angry response from the NFT community. Many expressed displeasure that Carson had purchased hundreds of thousands of dollars worth of Moonbirds around the time of his departure.
The project's founder, Kevin Rose, on Twitter, said "I had an internal policy not to purchase any moonbirds until after rarity counts were out to the public. I can't control someone clicking a button to purchase, but I can put stronger controls in place for all future drops. e.g., no employee purchases for 7-days."
In other developments, owners of MoonBirds NFT, Crypto Punks NFT, and Board Ape NFT are among the first to register for the MetaGoblin NFT presale, which began in May 2022. The MetaGoblin is an NFT collection created by MetaBlaze and inspired by a character species of Goblins from MetaBlaze's future 3D play-to-earn game.