Learn what is Moonbirds NFT project in our guide.
Moonbirds is a pixel art NFT that exists on the Ethereum blockchain. Digg Founder Kevin Rose and Justin Mezell created it. Some of the artwork was designed by Mezell and also Gremplin. He's also the designer behind other popular pixel art NFT projects like Nouns and CryptoToadz. Moonbirds is part of the Proof ecosystem of NFTs.
The Proof ecosystem comprises four NFT collections, including Moonbirds. The Proof Collective Pass precedes Moonbirds, and 1000 of these NFTs exist. It's a pass to an exclusive NFT community for generative and crypto art fans. Holders often received free and whitelist opportunities for projects like Grails. At one point, these were worth six figures. At the time of writing, the floor price averages 33 Eth.
Moonbirds Oddities is the lowest entry point into the Proof ecosystem. Moonbirds holders received these as a free airdrop in June 2022. Oddities holders can burn these NFTS to receive a Mythics NFT, to be released in 2023. Moonbirds owners will also receive Mythics as an airdrop in 2023. Arguably, Moonbirds Oddities is to Moonbirds what Mutant Ape Yacht Club is to Bored Ape Yacht Club: a cheaper entry point in this project's ecosystem.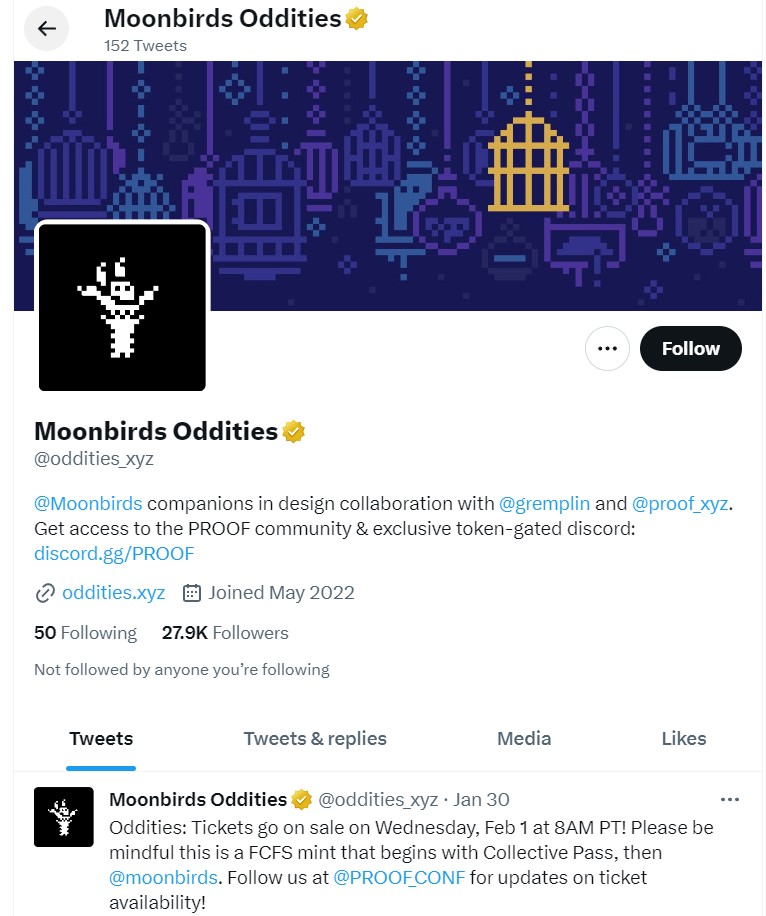 The Proof team also created Grails season passes. This enables holders to mint "grail" crypto art NFTs from creators in the space. The team recently released a Grails Season III mint pass. Holders can burn a Grails mint passes for a crypto art piece of their choice.
What Does Moonbirds Do?
Moonbirds is a picture-for-profile NFT for creating a Web 3.0 identity. It's also positioned as a utility-based NFT that grants private membership to a community of fellow holders or Decentralized Autonomous Organization. This DAO is a private Discord community closed to the wider public. Holders can access Moonbirds Parliament channels inside of this Discord, submit proposals for Moonbirds and vote on the direction of the ecosystem. It's similar to how Nouns operates.
Moonbirds holders can learn first about future Proof NFT projects, including Highrise and a Proof conference planned for May 2023. They can hear from Kevin Rose and Justin Mezell via weekly town halls.
Several weeks after minting, Moonbirds released a reward system for holders known as nesting. Owners can essentially stake their NFTS and receive rewards in the form of other NFTS and collaborations. Various nesting tiers exist. For example, on January 9th, the team airdropped a Grails Season 3 mint pass to 20 Moonbirds holders nesting their NFTs. That pass enables holders to mint crypto art by well-known creators in the space. The team has said on town halls that it plans on increasing the value of its time-based rewards for hodlers.
Who Created Moonbirds and Why?
Kevin Rose and Justin Mezell created Moonbirds. Rose is a web 2.0 veteran. He previously founded Digg in 2004, a much-hyped news and social sharing aggregator. Rose ultimately left Digg. Ryan Carson was initially CEO of Moonbirds. However, he left the project days after the initial mint to launch an NFT fund. These days, Rose leads Moonbirds, while Mezell is the chief product officer.
What Does It Look Like?
The Moonbird NFTs look like colorful, cartoonish pixel art owls. These look like a cross between CrypToadz and Angry Birds. The traits include:
Background
Beak
Body
Eyes
Eyewear
Feathers
Headware
Outerwear
Initially, the Moonbirds NFTS images were hosted via IPFS. In November 2022, the project moved fully on-chain, much like other pixel art NFT projects like CrypToadz. The Moonbirds team also recently collaborated with artist Xcopy to create customizable backgrounds for these NFTs. To learn more, read our Xcopy profile.
How Many Moonbirds Are There?
Like most PFP collections, 10,000 Moonbirds NFTs exist. 10,000 Moonbirds Oddities also exist. In comparison, 19,999 Mutant Apes exist versus 10,000 BAYC.
What Are the Rarest Moonbirds?
The rarest Moonbirds, like Moonbirds #668, usually have "legendary guardian" feather traits. They also tend to have single-color backgrounds or designs and employ elements of glitch art. The aesthetic is similar to Spirt Azuki NFTs, albeit pixel art.
What About Price and Royalties
During its mint, Moonbirds raised over $100 million. Since then, the project has generated over 177,438 Eth in volume at time-of-writing. That places Moonbirds in the top TK of PFP NFTs and above competing projects like World of Women.
Moonbirds Oddities has generated almost 20,000 Eth in volume, and the floor price ranges around the 1-1.5 Eth mark. Creator royalties is currently set at 5%. In comparison, BAYC royalties are 2.5% while World of Women is set at 4%.
BIG Moonbirds SALES
The Moonbirds mint was one of the biggest mints of 2023. After the mint, the floor price touched 31.52 Eth. That was right before the crypto NFT bear market. Since then, the price trended downwards. It currently ranges between 8-8.5.Eth.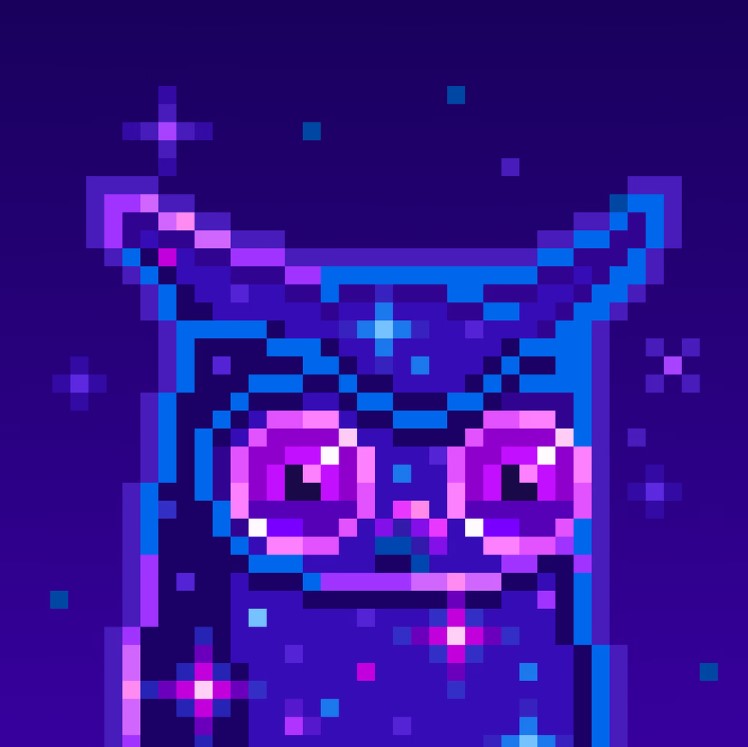 One of the biggest Moonbird sales was Moonbird #1729. It's one of the rarest NFTs from this collection, thanks to its Legendary Brave feather traits. It sold on April 16th, before the crypto crash, for a whopping 80 Eth or $244,822.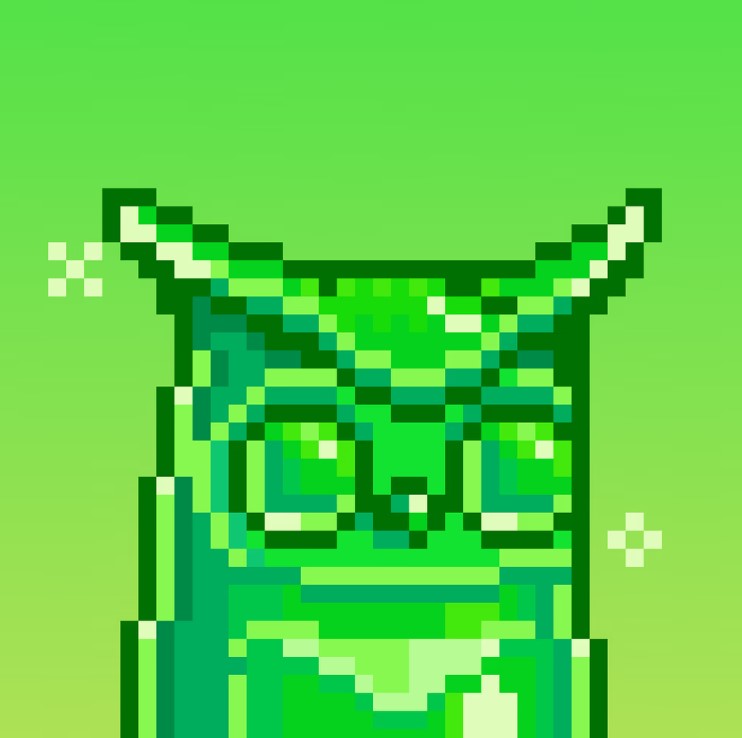 Moonbird #4089 was another big sale from August 2023. Again this NFT has Legendary Feather traits. It also has a single-color jade background. It sold for 48 Eth or just over $75,000.
Moonbirds and CCO
In August 2022, the Moonbirds team announced the project was moving to Creative Commons Zero or No Rights Reserved NFT (CC0). That means anyone can use these NFTs however they wish, even for commercial use. Other popular CC0 collections include CrypToadz and Goblin Town. Rose said on Twitter:
"The authenticity of Moonbirds will not come from lawyers enforcing trademarks but rather from the proven provenance and single source of truth of smart contracts."

Kevin Rose
The Moonbirds team believes CC0 will grow the Moonbirds brand organically. However, some holders were unhappy with the transition to CC0 and sold their NFTs. The floor price subsequently dipped below 10 Eth.
The Future Of Moonbirds
The Moonbirds team plans to build a recognizable Web 3.0 brand that appeals to more than NFT flippers, traders, and early hodlers. It also wants to compete with aspires to compete with the biggest PFP collection in the NFT space: Bored Ape Yacht Club.
In July 2022, Rose announced the team acquired the London-based Ethereum engineering team Divergence. This studio previously built smart contracts for Moonbirds. In January 2023, the Proof team signed a deal with United Talent Artists to build the company's profile outside of the NFT space. The deal with United Artists represents Moonbirds' first big attempt to grow the brand outside of NFT degens and flippers.
Rose said, "They are 1,400 people strong, with divisions in film, television, music, video games, sports, books, branding and licensing, speaking, marketing, fine arts, broadcast, and more. UTA has entered Web3 with force"
Moonbirds has raised over $60 million in venture capital to build the brand. That excludes money raised from the primary mint and creator royalties. The team has also committed to using S2.6 million to grow brand partnerships and develop products.
The team has hired a head of business development to foster future partnerships. The Proof team is also working on a new NFT community platform codenamed Highrise. Details are sparse. Holders can expect to receive Moonbirds Mythics sometime in Q1 2023 for free.
If you like this article, check out our companion piece explaining which NFTs are bluechips?