Discover what is voxel art, which voxel art creators to follow and what tools they use.
Voxel art is a cutting-edge computer animation technique used to generate 3D models for big names in the video game industry like Minecraft and avatars for NFT metaverse projects like Sandbox and digital art.
If you have an interest in video games, 3D art, or the NFT space, it's almost certain that you've interacted with voxel art, possibly without even realizing it. This article will explain how voxel art functions, how it's created, the best voxel art software, and look at the most significant projects in this space.
Voxels Vs. Pixels
Let's start with the basics; voxel art is built by combining 'voxels' which are units of visual information within a 3D space. Unlike 2D pixel art, voxels allow developers to create depth and detail in their work while gaining the retro look that made pixel art so famous.
In the NFT space, many projects release 3d Voxel images of NFTS of their creations designed for use in the Metaverse. These are often available as airdrops.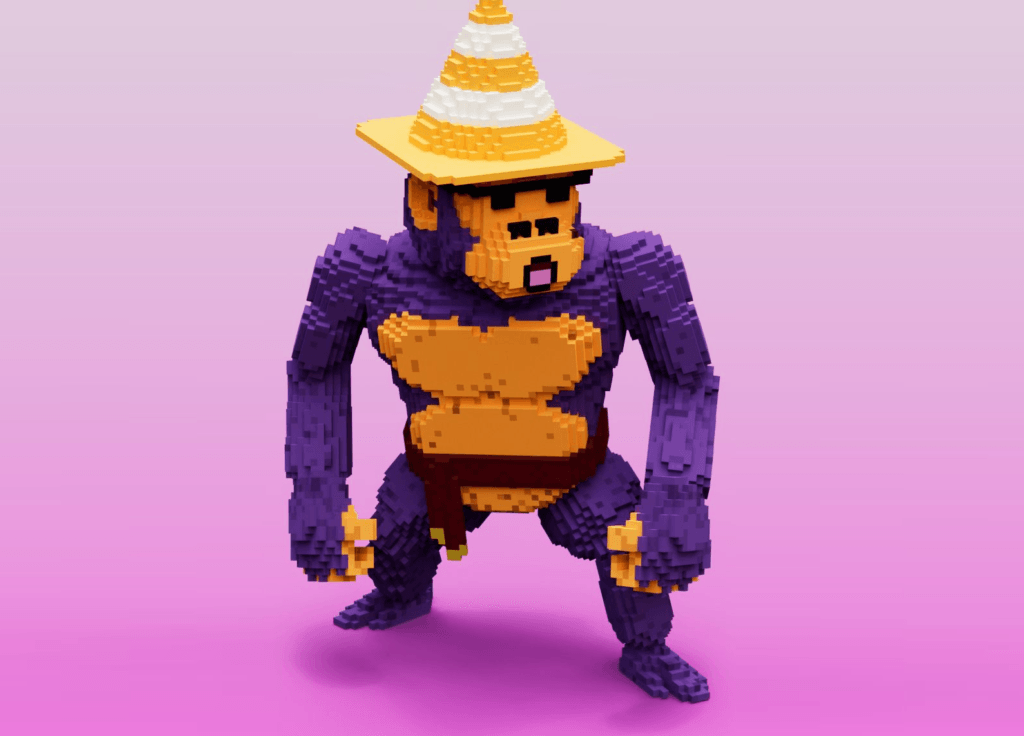 Voxel Construction
Voxels are created by artists using specialized software known as a voxel editor. Using the software, the small cube-shaped voxels can be used to create digital art in the same way we used to build lego models as children.
Depending on the file format, the completed 3D models can be used on social media platforms, minted into NFTs, and used in game development.
On the face of it, creating voxel art appears complicated and reserved for professional digital artists and video game developers, but that is far from the case.
Voxel art is an excellent place for beginners to get into digital art, and using the voxel editor software suggestions we've got for in this post, you'll get the hang of it in no time.
The Top Voxel Editor Software
There's no single winner in the race for the top voxel editing software as depending on your needs and experience, different tools will be more or less valuable.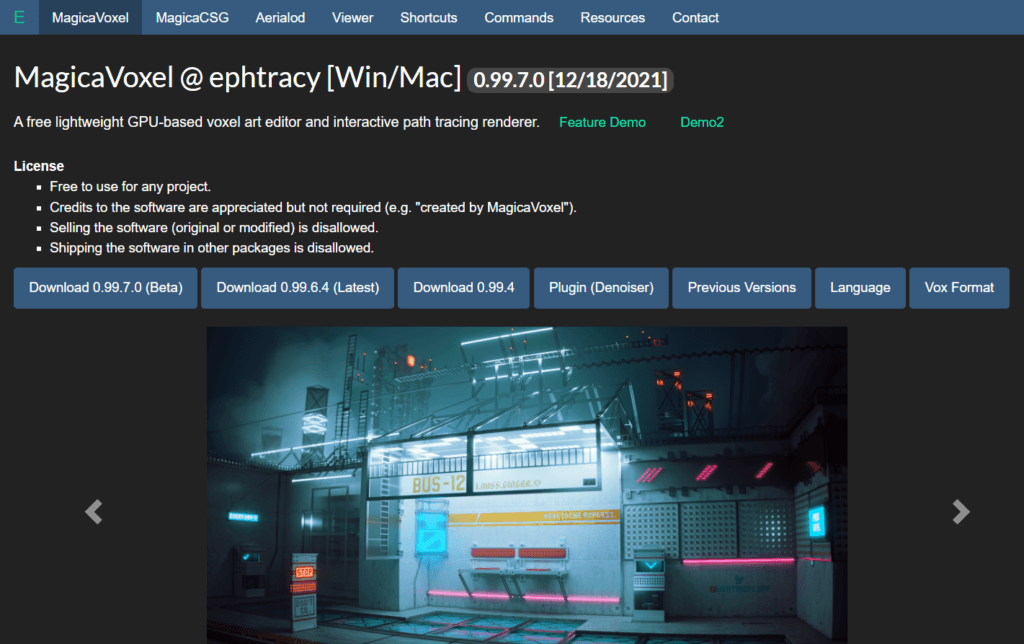 MagicaVoxel is probably the most well-known free voxel editor software on the market, and it's perfect for beginners looking to start building their own voxel models.
The software has been running for over five years now, and it's constantly being updated with new features to support novice artists and seasoned professionals.
The most impressive features offered by this software include:
The software's voxel editing kit comes with all the tools you need to start building models.
An in-house rendering engine allows voxel artists to bring their creations to life with texturing and shadowing.
It can export files in various formats, including PNG, OBJ, and VOX.
You can import your 3D pixel art from the program into various 3D applications such as Blender and Cinema 4D.
It's free to use and runs on Windows and macOS.
2. Qubicle (Windows/macOS)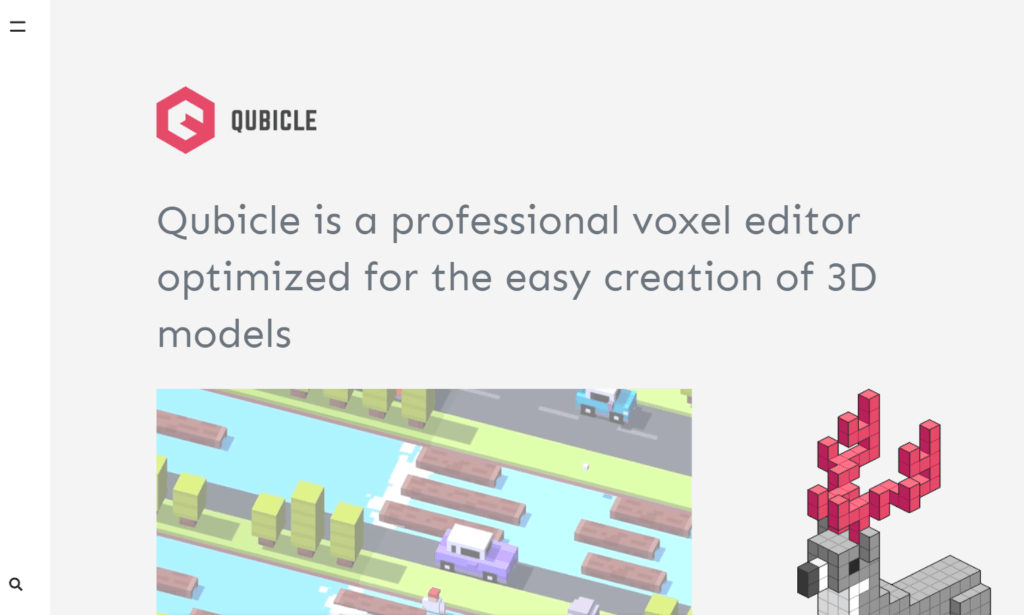 Qubicle is a voxel editor that emphasizes providing tools for voxel game developers. The software provides you with an unlimited model size which is great for building complex voxel worlds, and several editing shortcuts to speed up the building process.
Some of the most successful voxel games such as CrossyRoad and ShootySkies.
The stand out features of this voxel editing software include:
A comprehensive set of pre-set commands that make creating voxel art simpler.
It supports models much larger than MagicVoxel's limits which is why game developers often use it.
3. VoxEdit (Windows/macOS/Linux)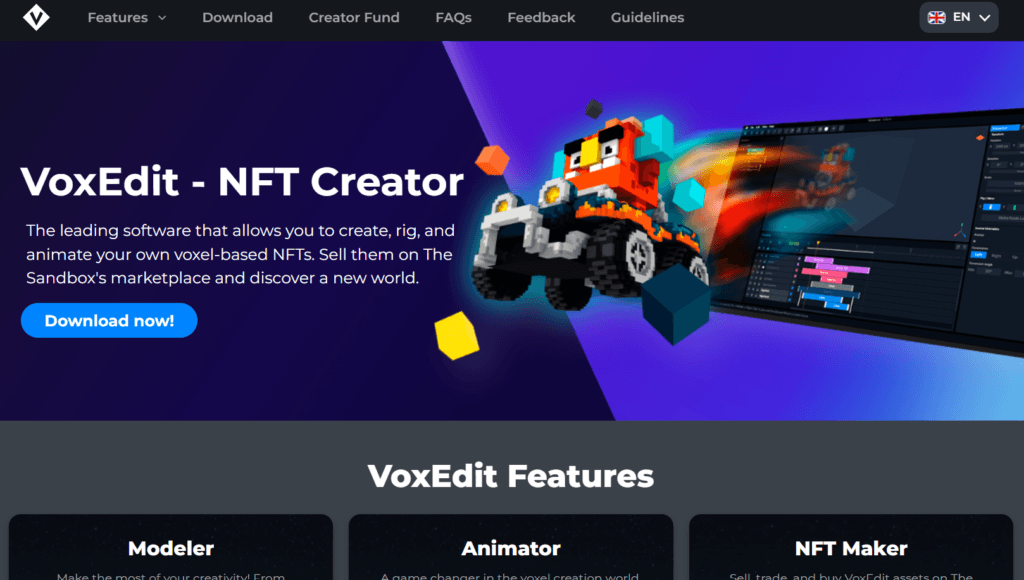 The VoxEdit open-source software was developed for use with the Sandbox NFT metaverse project, which you can read about in our dedicated guide.
The free-to-use editor comes with all the tools you need to start creating your own NFT voxel art even though the product is still only in beta, meaning there's much more to come.
Some of the software's most notable features are:
Voxedit works on Linux as well as Windows and macOS.
You can build large models on the platform.
It has an excellent built-in animation tool.
All the tools you need to get started creating voxel art and animations.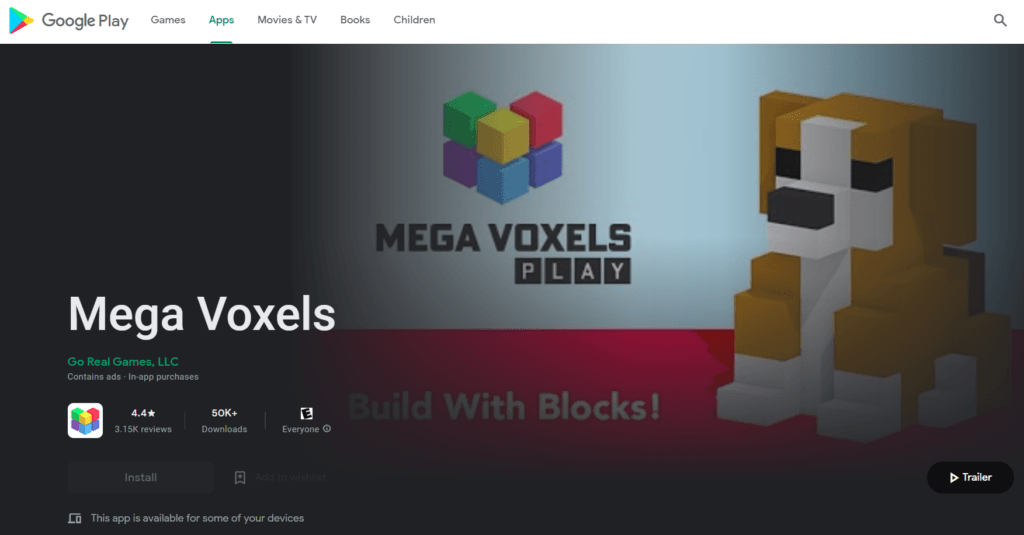 The Mega Voxels editor has been developed for the iOS and Android operating systems running on tablets and phones.
If you're looking to bring your art style to the voxel world on your mobile device, this fantastic service provides a complete editing toolset and an array of tutorials for beginners.
As a mobile platform, Mega Voxels' features are more limited than its PC competitors, but it nonetheless has some great tools such as:
With Mega Voxels Play, you can edit and paint voxel models on your mobile device.
The platform's powerful rendering software brings your art forms to life.
The service has an in-house store where you can find dozen of voxel art models.
5. Goxel (IOS/Android/Mac/Linux and Windows)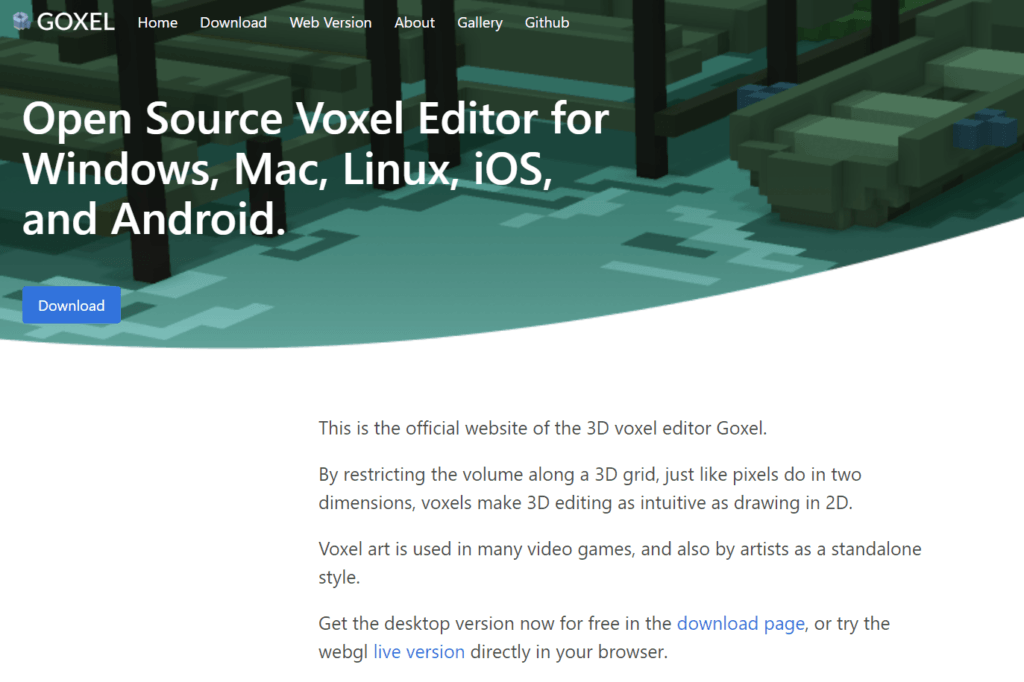 Goxel is an open-source voxel editor, and it's the only software on our list that runs on smartphones, tablets, and desktops.
The platform has taken the MagicaVoxel model and incorporated many of its features, providing a solid editing experience.
Beyond the common tools, Goxel has a variety of impressive additional features, including:
Goxel can help you speed up the design process using various shortcut tools.
The software has no size limits, making it an appealing option for game design and big art projects.
Features that you would expect from Photoshop, such as layers, are also present.
The software is entirely free to use for commercial and personal projects.
Now that you've got a solid list of choices for starting your own career as a voxel artist, we will take a look at some of the biggest names in the industry for inspiration.
The Top 5 Voxel Art Artists
The voxel art community is a mix of professional digital artists and beginners who are getting started using editing software. The voxel art ecosystem is extremely diverse and this list only scratches the surface of the impressive artists out there.
1. Exmachina (@thibaultsimar)
According to their Twitter handle, Exmachina is the head of art for the Sandbox game, and as a result, his portfolio is made of primarily video game-based designs.
Exmachina is exceptionally skilled at building the 3D cubes into realistic impressions of real-world mechanics, such as his 3D train gif or the Alpha Dragon designed for the Sandbox.
2. Antoine Lendrevie (@SirCarma)
Lendrevie is an Art Director at Brace Yourself Games and creates incredibly detailed voxel models based on cityscapes.
One of the most inspiring digital art projects created by this voxel enthusiast is the Carved Cities project which depicts a futuristic city from various angles filled with buildings in unusual shapes.
3. JK (@HuntingFluff)
JK is a digital artist who focuses on polygon and voxels and builds detailed life-like designs and avatars.
JK created a voxel vehicle based on a scene from the Aliens film that has a highly eery vibe about it combined with some eye-catching detail.
Another project that JK posted was a 3D game design of a rusting building on the side of a dingy-rainy street. The model was built using magicavoxel, and you can check it out here.
4. ハードン (@HardBone01)
HardBone01 is a Japanese voxel artist that produces some stunning pieces using Magicavoxel.
Hardbone'01's work is very diverse, ranging from a beautifully detailed mushroom kingdom to a TV shop in a voxel forest.
It's worth noting that according to Hardbone's Twitter, almost all of the work they create is built on Magicavoxel, which shows how powerful this software is in the right hands.
5. Mari (@MadMaraca)
Mari describes herself as Voxel Pusher and World Builder, and this is reflected in her work.
This artist uses voxels to create detailed buildings so detailed that it's like a whole world exists within their walls.
The 'Happy Place Under Construction' and '1001 Nights' are two awe-inspiring pieces of voxel art from Mari.
While voxel artists are at the center of this creative space, the most important branch of the field has to be video games because of their popularity and the amount of money involved in their production. So, let's explore the most well-known voxel-based games.
If you want to learn more about these types of creatives, check out our guide to the best generative artists.
Top 5 Voxel Art Video Games
The video game industry is worth billions of dollars. Even though artists can produce great projects on their own, the real power of voxel art is on full display when it gets the backing of a video game studio and their deep pockets.
Some games in the list are household names, while others have carved out a niche without going mainstream, but they all have voxel art at their core.
Minecraft is probably a game you've played, and it's certainly one you've heard of as, by many measures, it's the best-selling video game ever created.
Minecraft is played worldwide, and as the name suggests, players mine different resources in the game, which they then use to build their own world.
Voxels made Minecraft possible, the whole game is built on the 3D cubes, and players break them and re-build them in their own vision.
The game is like a giant sandbox that thrives on the creativity of its community, who often, almost even without noticing, create stunning voxel art projects.
While most video games eventually go out of fashion, Minecraft continues to attract new players, thanks to the freedom that voxels give players and designers.
The biggest projects are typically created by build teams that bring together experienced Minecraft builds, while some are created by passionate individuals.
Take a look at these incredible Minecraft builds to understand how creative players get with the game's voxel architecture.
The Great Ormond Street Hospital is a world-leading institution based in London, England.
The build team ShapeScape decided that they could help children settle in at the hospital by re-creating the building in Minecraft.
The team successfully recreated the hospital to a 1:1 scale, and it's now used to give children a virtual tour of the building before being admitted.
According to the project, children can explore the building through a medium that they are familiar with, which reduces their anxiety.
The Lunar Dream citadel was built by Everbloom Studios, who took a lot of inspiration for the project from astrology.
The citadel is incredibly detailed, and the golden buildings combined with the pink trees generate an inspiring piece of voxel art that Minecraft players can explore.
The Auroria New Heaven is a stunning Minecraft built with a vast palace floating on an island of trees and water features.
This project is even more impressive because it was built by just one person known as 'Aranos' who said he wanted the design to feel like a different world where time flows differently.
Built by BlockWorks, one of the most highly regarded build teams, Deep Sea was created to explore the similarities between our perception of Deep Space and the ocean's dark depths.
The built features an enormous underwater structure reminiscent of Atlantis combined with a sprawling world of flora and fauna.
Severed Steel earns itself a spot on this list because it stands out from the crowd; while most voxel games are based on building, Severed Steel is a fast-paced first-person shooter game.
The importance of voxels in this game comes in the form of destructible with walls, chairs, and just about everything around you can be blown into millions or 'voxels' amid gun fights.
The Touryst is a very relaxing way to explore an exotic island built with voxels. The action-adventure game is based around a tourist who gets more than he bargained for on his island getaway. The game takes you from stunning voxel beaches to dangerous underground worlds.
7 Days to Die is not entirely a voxel-based game as most zombie-infested worlds are not built with 3D cubes.
Players are dropped into a post-apocalyptic world where zombies prowl the streets and wilderness, looking for their next human meal. Players can only survive if they gather resources and build tools and weapons; this gather and craft system is heavily reliant on voxels. However, considering this is one of the most engaging elements of the game, it's worth mentioning in this list.
Dragon Quest is an immersive Role-Playing-Game (RPG) that allows players to express themselves and improve their characters through voxel-based crafting. In addition, Dragon Quest lets you explore and create in cooperation with your friends, which adds a Minecraft-like sense of community to the game.
Final Thoughts On What Is Voxel Art
Voxel art has taken the retro 2D pixel and upgraded it by adding a crucial extra dimension. As a result, the world of voxels is enormous; digital artists are using it to create amazing 3D worlds and digital art pieces, while video-game studios have used the versatile cubes to bring players into the creative process by allowing them to build their own virtual worlds with ease. Furthermore, voxel editing software makes this artistic space accessible to just about anyone with a smartphone or computer.
If you like this article, read our guide to generative art.