For Solana NFT projects, Magic Eden is the go-to destination for an easy-to-navigate platform. Discover the best NFT projects on Magic Eden.
Due to pricey gas fees on the Ethereum blockchain, NFT artists, creators, investors, and traders are moving towards an efficient and cost-effective platform for all things NFTs.
Although the Solana blockchain has issues with scalability and centralization, it's a lightning-fast blockchain platform with minimum environmental impact and lower transaction fees. Here, we profile the best Solana NFTS on Magic Eden.
We are not financial advisors and NFTS are incredibly risky. We published this content for informational purposes only. Always do your own research.
Solana Monkey Business (SMB)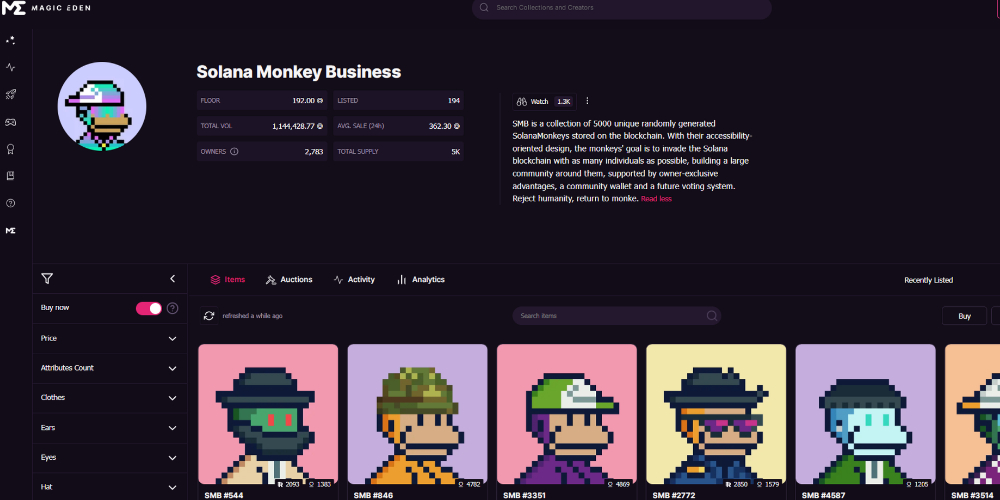 If you're looking for the next CryptoPunks or Bored Ape Yacht Club equivalent on the Solana blockchain, you can check out the Solana Monkey Business NFT. I've chosen it for several reasons like:
It has a lucrative royalty scheme that benefits the community, creator, and SMB Gen1 NFT holders.
NFT owners can also access the SMB member-only wallet with planned voting rights.
Exclusive access to the first-ever decentralized autonomous organization (DAO) on Solana, the Monkey DAO.
SMBs are 24×24 pixel-sized pixel art-based NFTs. The Individual Monkey NFTs were generated from 99 traits of 6 main specialties. The 6 specialties are type, mouth, hat, eyes, ears, and clothes. The total token count is 5,000.
1. Okay Bears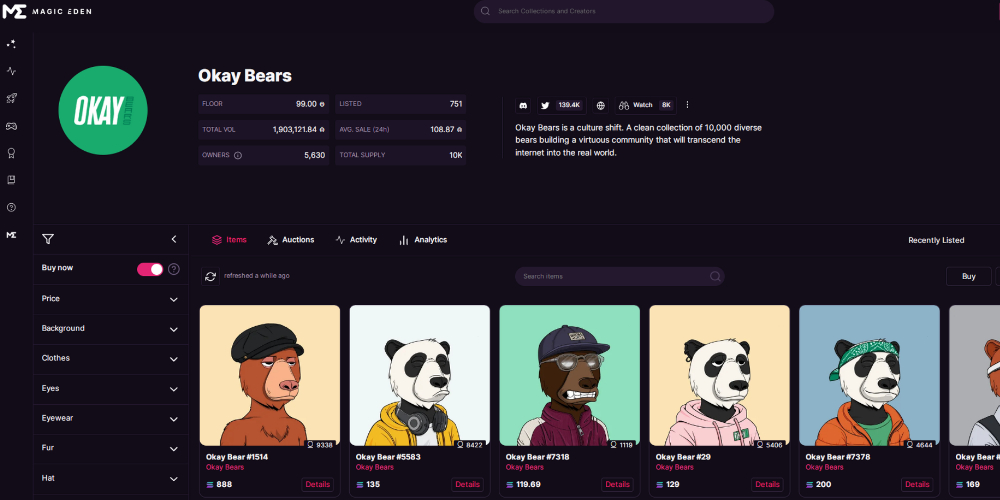 Okay Bears NFT project showcases 10,000 high-quality profile picture NFTs consisting of bears. According to the creators, "Okay Bears is a culture shift."
These immaculate bear NFTs consider that the world has polarized into two groups. These are villains and heroes, losers and winners, builders and artists, and so on.
The world culture, as we see it today, is truly binary and seems like there is no place for the middle ground-dwellers. It is where the Okay Bears Park comes in. Where everyone is "Okay."
According to the roadmap, the Okay Bears are already engaging with outdoor events, merch drops, and live events. Soon, the brand will collaborate with big brands and indie businesses to further grow the Okay Bears brand.
2. Mindfolk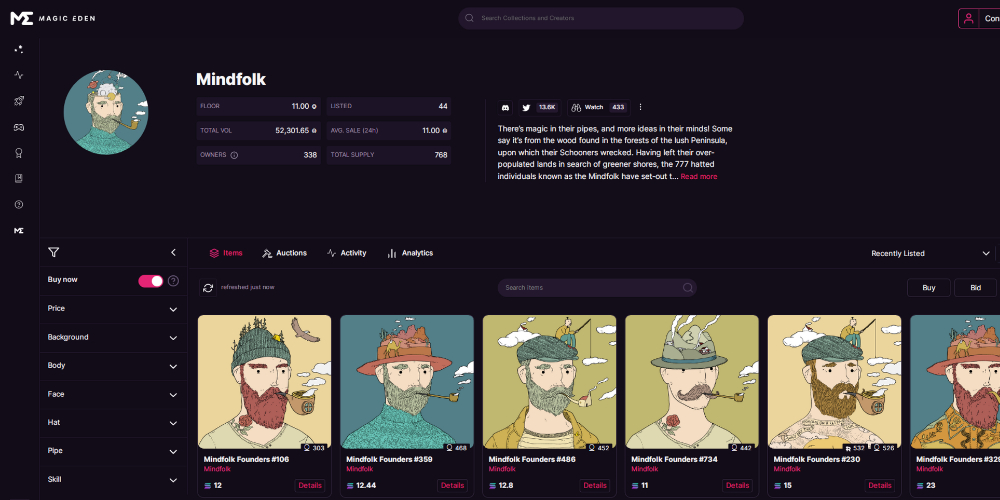 The Mindfolk NFT project tells the story of 777 (total NFT collection) Mindfolks. These lumberjacks and carpenters have left their homeland in search of greenery and the opportunity to craft extraordinary architectural structures.
The NFTs are a part of the greater Mindfolk universe: the Coppice Kingdom, a metaverse-like project where NFT holders can build cabins and ships for voyages.
You can add value or special skills to your Founder-level Mindfolk NFTs by collecting special NFTs from the following collections:
Mindfolk Cabins
Mindfolk – Dukes of Folktown
Mindfolk Boats
Mindfolk Mindings
Mindfolk Pirates
The project also has a utility token called $WOOD. You automatically earn $WOOD depending on what NFT you hold from a set of 4 characters: an untrained lumberjack, a carpenter, one of the seven legendary elders, and a trained lumberjack.
3. Aurory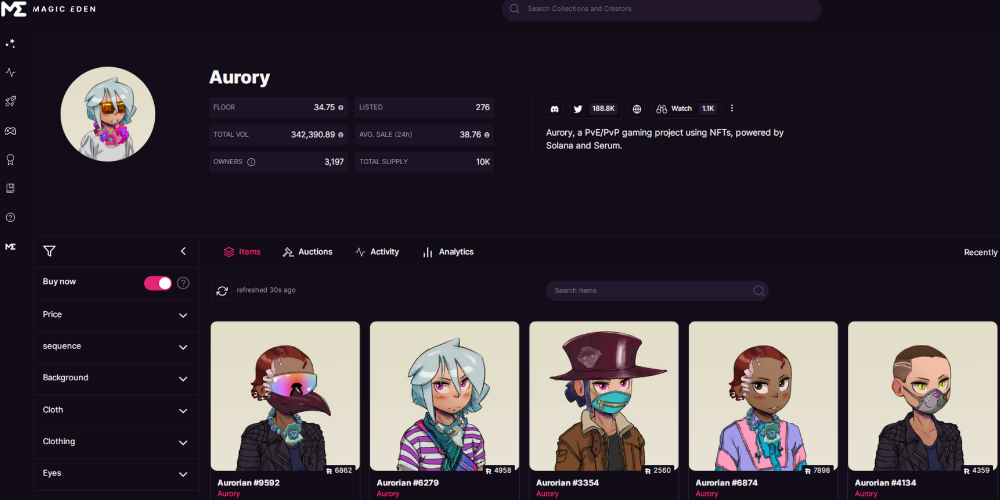 Aurory is a Solana blockchain gaming project of play-to-earn mode. And the Aurory NFTs on Magic Eden are in-game characters or Nefties. The total supply of tokens is 10,000, and the NFT assets are suitable as social media and metaverse avatars.
The main gaming project offers a desktop gaming app that lets you explore the worlds of Tokané and Antik with the help of your in-game character. While you explore this diverse and rich universe, you defeat enemies and discover lost relics. You can also participate in quests, player vs. enemy (PvE), and player vs. player (PvP) battles using your Nefties.
You can train, mint, or create in-game NFTs and then trade them on the secondary marketplace of Magic Eden.
4. Saint Degen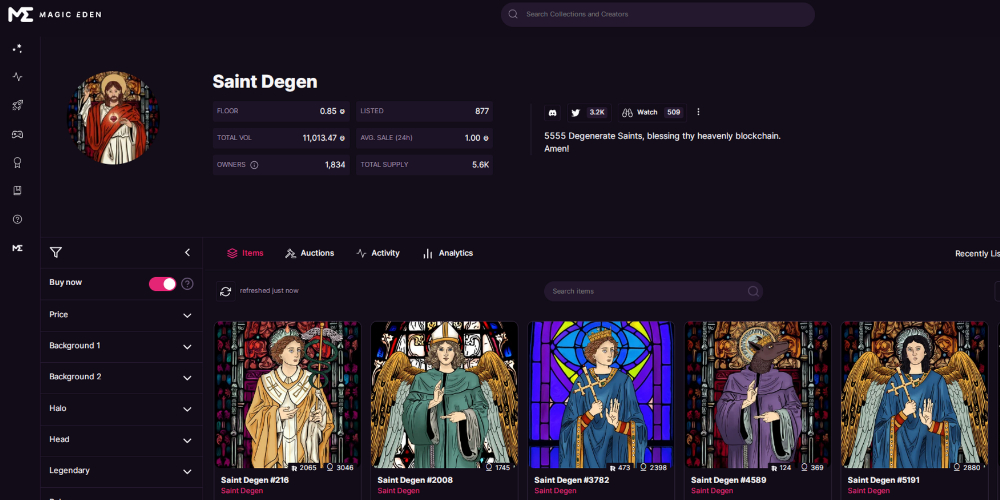 Saint Degen NFT project is a collection of 5,555 gorgeous NFT arts of saints and angels. These are degenerative artworks produced using an artificial intelligence (AI) program.
Out of 5.6K assets, only 879 are listed on the secondary marketplace of Magic Eden. Hence, you stand a chance to mint new Saint Degens at a lower floor price. For that, you need to follow its Twitter and Discord handles.
The rarity of the NFTs is linked to 6 features robes, legendary, head, halo, background 1, and background 2. Furthermore, the project's specialty is in its artwork of fine textures and multiple contrasting colors that create a harmonious look.
5. Portals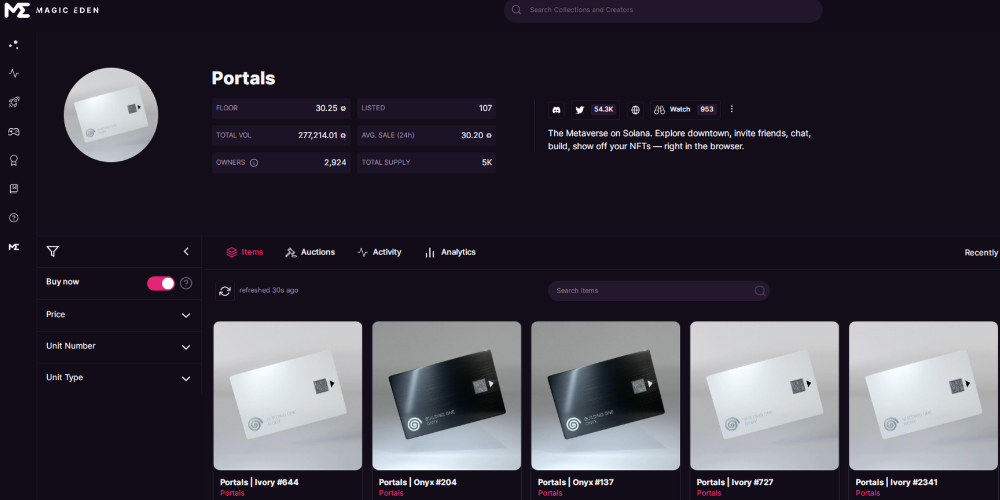 Portals is a grand metaverse based on the Solana blockchain, and its primary theme is city life. It should be a viable alternative to Decentraland when the metaverse is up and running.
Also, the virtual world will be browser-based. Hence, anyone with an average build computer can access the metaverse using web browser apps. Thus, the developers expect a rush of metaverse-dwellers as low specs requirement increases the web app's reach.
The planned Metaverse city will have a downtown and Pods situated away from downtown. You can go downtown to interact with virtual real-estates. Or, you can stay in your Pods and invite friends for funny engagements.
You can get dedicated Pods if you hold any of the three NFT collections: Portals, Portals of Genesis Citizens Cards, and Portals of Standard Citizens Cards.
6. SOLGods
The SOLGods NFT is simply a successful art story. If you are an art connoisseur and lover of fine arts, you may want to visit its portal on Magic Eden.
Fracture is the name of the brand that minted and listed the NFTs. All the NFT artworks related to metaphysical themes, and the creator's inspiration has also been Giorgio de Chirico, the famous metaphysical artist.
These surrealistic arts feature pastel colors and shades to create an illusion of the ghost-like existence of the GODs. The PFP NFTs showcase faceless figures to touch the outer limits of rational reality.
The developers are planning to launch two more collections "The Forgotten" and "The Bridged." Then, with SOLGods, all three collections will have access to The Fracture, a virtual world of fantasies.
7. DeGods
DeGods NFT is a collection of 10,000 punks, degenerates, and misfits. These degenerative arts or AI-generated characters are the Gods of the metaverse. Also, these are convertible NFTs.
For example, you can transform a DeGod into a DeadGod using the DUST, the fuel of the entire DeGods ecosystem. DeGods or DeadGods owners will have exclusive access to the Matrica platform, a collection of Web 3.0 tools for various metaverses.
8. Cets On Creck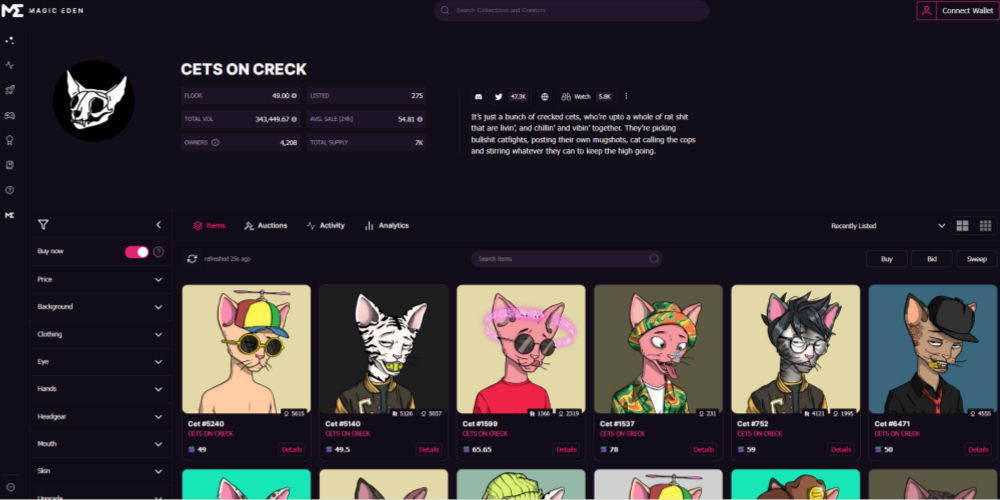 If you're looking for collectible cats with chilling mode, check out the Cets on Creck project. It's essentially a collection of 6,969 NFTs.
According to the developers of this project, these NFTs are dope digital collectibles and hint at an imaginary universe where dopes are legal. The project also has a future development plan of a Crack House, a Cat World with virtual dopes, and perks for NFT hodlers.
9. Cardboard Citizens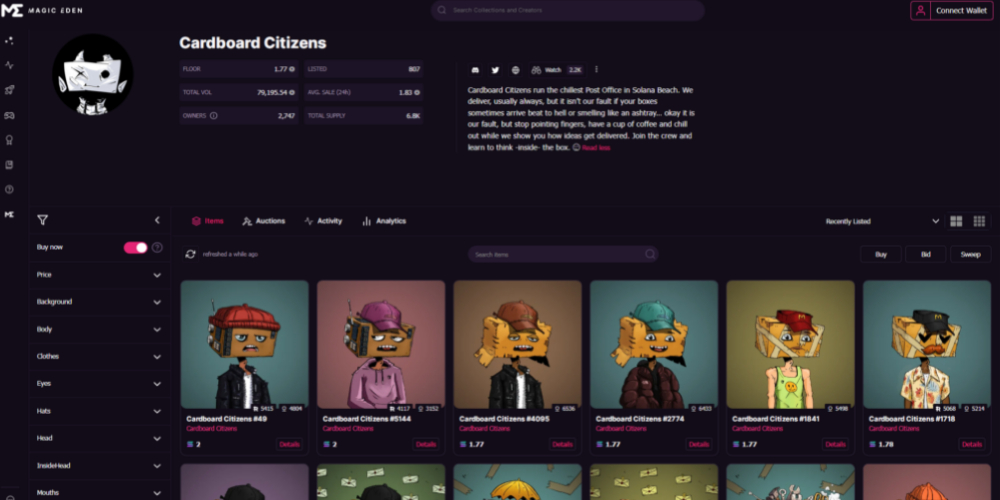 Cardboard Citizens is yet another cool NFT project that collectors and art-lovers can follow on Magic Eden. The NFT collection has 6.8K artworks of cool characters with a head, neck, and chest up to variable lengths.
The most vital artistic element is the replacement of the head with different kinds of shipping boxes, teleprinters, radios, shipping crates, toolboxes, and many more. The rarity value of each NFT varies with a random distribution of rare Background, Body, Clothes, Eyes, Hats, Head, InsideHead, and Mouths.
The roadmap of the project also seems valuable and commendable since it talks about scrap recycling, reforestation, biodiversity conservation, cleaning of water bodies, etc. And, the developers plan to utilize the Solana blockchain for these purposes.
Moreover, to help Web 3.0 citizens with NFT and crypto, the project also offers a Proof of Knowledge toolbox.
Best NFT Projects on Magic Eden: Final Words
While most people are going for Ethereum, it's for sure that soon this blockchain will face huge traffic jams, not to mention the burden of smart contract execution fees. Solana has come out as a potential alternative to Ethereum.
It's unarguably true that Solana will rapidly grow as the cost of the Ethereum-based project rises, and everyone will opt for Magic Eden for minting, investing, and trading NFTs on Solana.
Thus, you have the chance to become an early bird investor on this platform and hold on to your NFTs as the future of digital assets check out Magic Eden.
You may also be interested in the ultimate guide to fractal art.