NFT collectors, traders, or enthusiasts can only view the NFTs on digital screens like PCs, smartphones, and tablets. However, is NFT art AI generated or hand-drawn or something else?
Non-fungible tokens, or NFTs revolutionized the hand-drawn artwork sector thanks to sales of high-profile projects like Beeple's Everydays: The First 5,000 Days for $69 million in 2021.
Soon, various creative artworks like voxel arts, pixels, memes, profile pictures, stickmen, and so on came into the NFT sphere.
The evolution didn't stop here. Another new genre of digital artwork is produced by trained artificial intelligence (AI) machines and is known as AI-generated NFT Arts.
Hence, the answer to the question "Is NFT Art AI-generated" is yes and no. It is subject to the NFT project we're interested in.
Is NFT Art AI-Generated?
NFT art could be AI-generated or hand-drawn, depending on the artist and the NFT development project. Both manually-created and machine learning (ML) produced NFT assets performing well. The success of the NFT depends on content ingenuity and the project roadmap.
NFTs like Doodles, Bored Ape Yacht Club, CryptoPunks, mfers, etc., have been ruling the NFT industry for a few years. These are collections of hand-drawn artworks. However, hand-drawn doesn't mean the artists paint the content and scan them into a JPEG or PNG file.
Most NFT projects come in collections like 10,000 Azuki NFTs or 5,000 animated artwork NFTs of Invisible Friends. So, NFT artists take the help of online graphic designing and animation tools to produce the artwork assets in digital form. Nevertheless, the art themes, color choices, character drawings, etc., are creative inputs from the artist behind the project.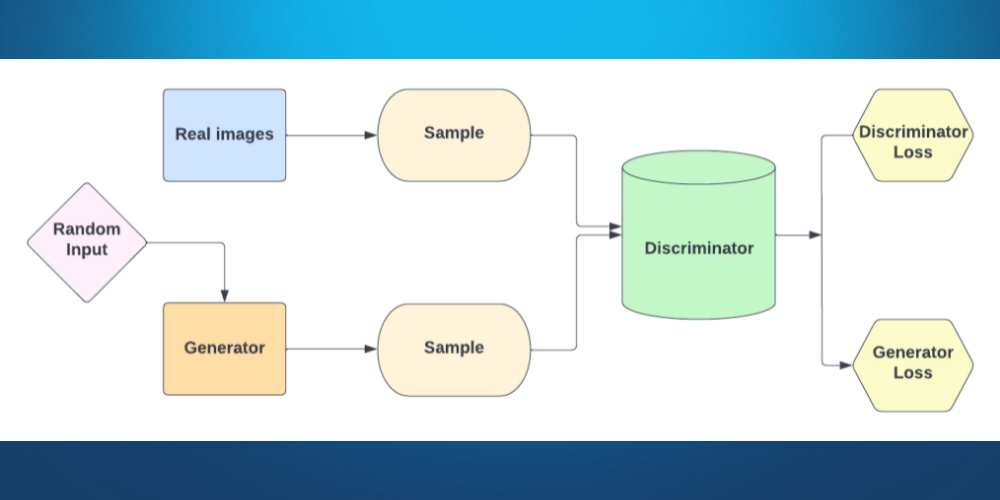 Conversely, various NFT artists are making the most of thriving technologies like AI and ML. They are utilizing the General Adversarial Networks or GAN algorithm to train cloud-based web apps to produce artworks that show the intelligence of these machines.
First off, the platform developers or artists train the AI engine with thousands of human-generated images and artworks. Trainers also feed several keywords into the system, along with the images, so that the AI engine can perceive the data meaningfully.
After years of training and bug fixing, the AI/ML-based software can produce original artworks by only taking sentences or keywords as inputs. These machines can produce thousands of images in an hour.
Thus, you don't need to invest years of manual effort to publish an NFT collection with GAN. Instead, you can command a machine and get high-quality digital artworks for NFT conversion.
AI-Based NFT Creator Apps: Definition and Examples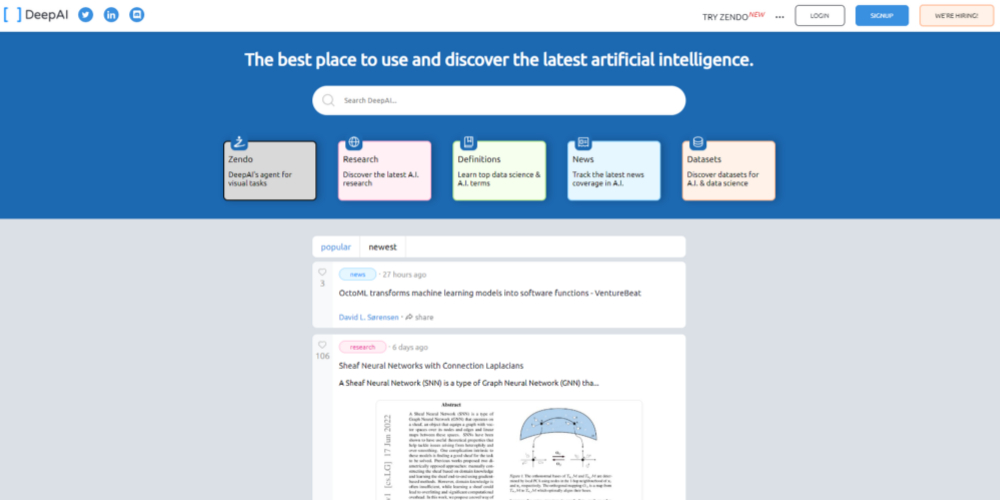 AI-generated NFT arts and NFT creations have attained a new milestone where artwork production and NFT generation are packaged into simple decentralized finance (DeFi) apps.
These apps now use a text-to-image system where the NFT creator just needs to enter an idea of the artwork. The AI art generator parses millions of images of different styles, genres, and reputable artists using the GAN engine.
The AI artwork app then draws thousands of abstract pieces of arts-based on your input criteria and visualizes them on the screen. Once you approve the assets, the DeFi app also lets you mint the NFTs directly on OpenSea.
OpenSea or other NFT marketplaces can quickly list your NFT collection since AI-generated images can never be similar to another NFT project. Thus, NFT creation becomes a faster process, and you can also expand your creativity by partnering with an intelligent machine.
Some trending AI-based artwork and NFT creators that make most of the buzzes are StarryAI, DeepAI, Fotor, Pons.ai, NightCafe Creator, and so on.
Hand-Drawn NFTs: Examples
Artists craft each artwork asset individually using online tools and graphic software for their NFT collection purposes. Look at some of the famous hand-drawn NFT collections below to know the difference between AI-generated artworks:
1. Beeple's Everydays: The First 5000 Days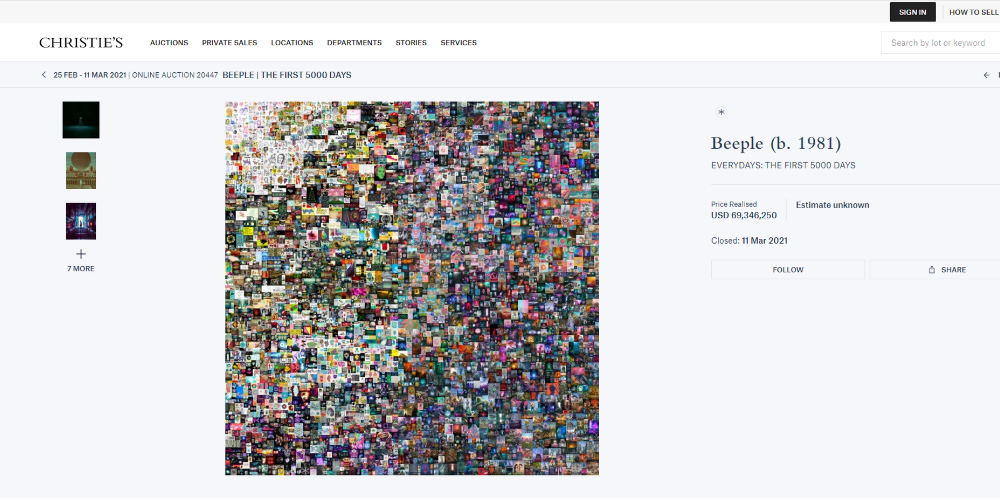 Since May 1, 2007, Mike Winkelmann, popularly known as the pseudonym Beeple, posted one hand-drawn digital image online every day for 13 years 6 months, or 5,000 days. Then, he brought all those individual images into a collage containing 5,000 digital artworks.
Beeple transformed this creative image into an NFT on the Ethereum blockchain and posted it on Christie's for an online auction that yielded the final price of $69.43 million. Vignesh Sundaresan, a Singapore-based programmer and founder of the Metapurse NFT project, bought this NFT.
Beeple retained the intellectual property right (IPR) of this digital art. However, the buyer received the global ownership of the asset written on the decentralized ledger of the Ethereum network. The owner can commercially display or organize exhibitions of the NFT in digital form.
Read our guide to the best generative artists
2. Doodles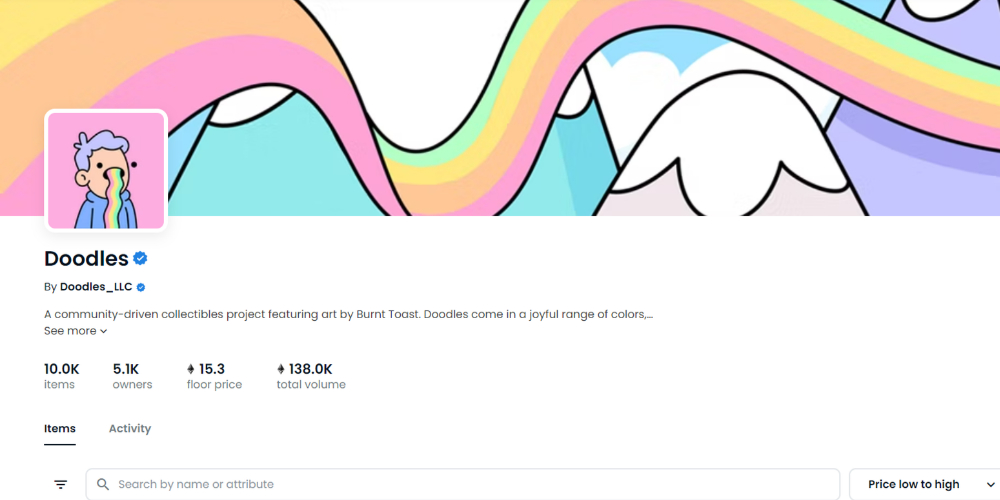 Scott Martin (AKA Burnt Toast), Evan Keast (AKA Tulip), and Jordan Castro (AKA Poopie) collectively launched the Doodles NFT collection of 10,000 unique profile-picture NFTs. The project consists of illustrations of characters in bright pastel colors. You'll find a wide range of characters from apes, aliens, skeletons, mascots, and many more.
Scott Martin is the chief NFT artist of the project who has drawn each artwork using digital tools. The NFT is available on the Ethereum blockchain, but the digital assets are stored on the Interplanetary File System (IPFS).
3. mfers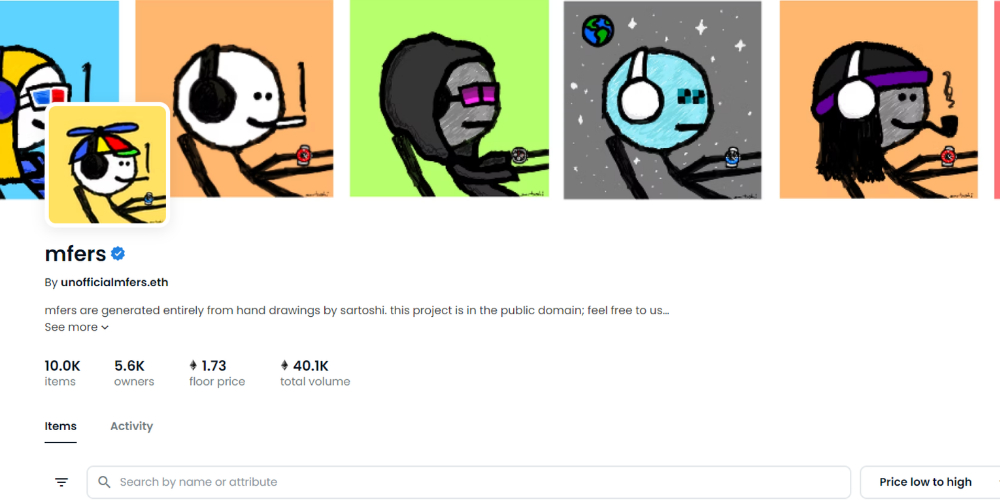 mfers is yet another successful NFT collection of 10,021 hand-drawn stick figure NFTs based on the popular meme culture.
The 10,000 general mfers are minimalistic artwork that utilizes a few dots, lines, curves, colorful backgrounds, hats, cigarettes, wrist watches, etc. On the contrary, the 21 special or 1-on-1 NFTs are memes based on the "are you winning son?" theme.
Read our guide answering What is mfers?
AI-Generated NFTs: Examples
While hand-drawn NFTs take a lot of manual work and investment of years of effort, AI-generated NFTs take less time and effort for listing. Here are some popular projects:
1. Chromie Squiggles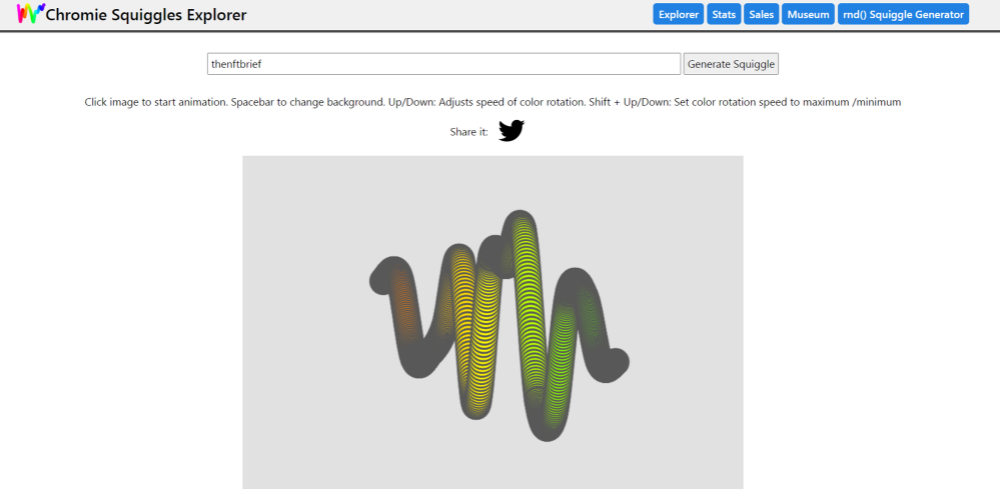 Erick Calderon (AKA Snowfro) created the Chromie Squiggles NFT project, which consists of 9,244 minted and 756 un-minted Squiggles as digital artworks.
It's an on-chain NFT project of complex smart contract script that takes hash strings as seed inputs to create a variety of short lines that curl and loop like a spectrum of Electrocardiogram (ECG).
The artist has created these artworks using the GAN algorithm of the ArtBlocks.io platform. Hence, these are truly unique AI-generated NFTs that you can keep creating for years but won't find any repetitive images.
The project also lets you craft a Squiggles using the free Random Chromie Squiggle Generator.
2. Metascapes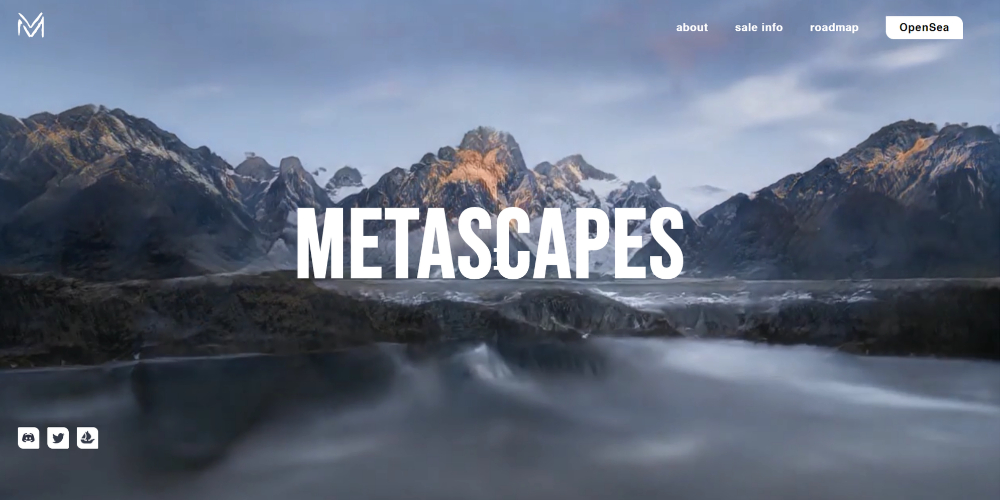 Ryan Newburn, Cath Simard, and Iurie Belegurschi are professional photographers passionate about bridging AI algorithms with human expressions of creative content.
Their brainchild is the Metascapes NFT project; 266 AI-produced videos and 2,289 AI-generated artworks based on landscape photographs. The total collection is 2,555 unique and rare imaginative visuals overlapping supernatural with natural.
Art Blocks: An AI-Generated NFT Arts Platform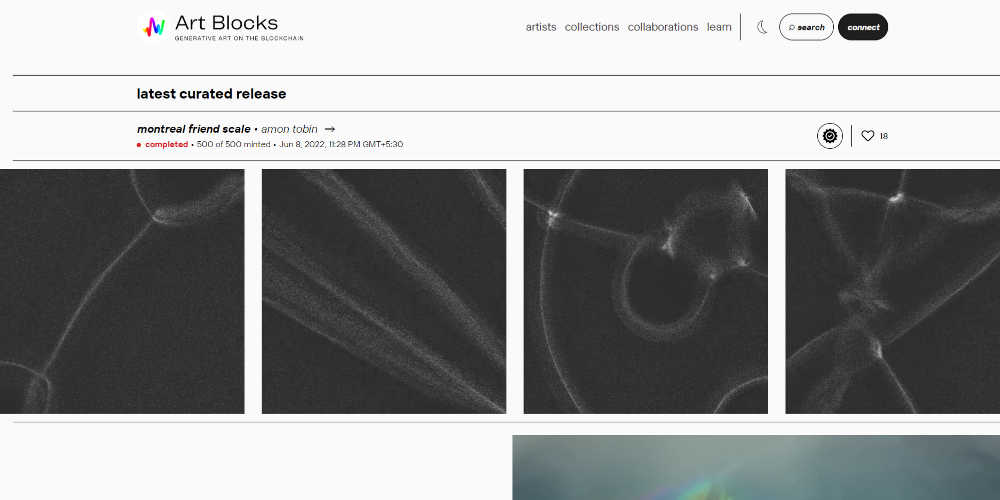 Art Blocks is the leading name in the field of generative art. It's a brand new idea for the NFT marketplace where creative digital artists can host their NFT projects built on the GAN algorithm.
It also has a thriving community of collectors who actively participate in the algorithm-based NFT projects and also appreciates an artist's vision for generative art.
Apart from the marketplace, it also has an AI artworks engine that can create on-demand generative art, convert that content into an NFT on the Ethereum network, and send the crypto asset to your NFT wallet.
The on-demand content generation platform is also programmable, and its content is immutable and can't be repeated using until you use the same seed and smart contract script. The output artwork comes with endless possibilities; It could be a 3D model, a static image, or interactive content.
Is NFT Art AI Generated? The Future
Since NFTs are the building blocks for the next iteration of the internet—Web 3.0, these artworks should be more adaptive and transformable for the sake of digital compatibility.
Nowadays, NFTs travel various metaverses where some users could use their PFP NFTs as 3D avatars. Others could showcase their collection in virtual art galleries.
With the growing popularity of AI-generated NFT Arts, AI/ML, virtual reality, and of course, NFTs, all will benefit through advanced development.