Our deep dive into the Mfers NFTs project explains where these stick-figured PFPs NFTS came from and why they're valuable. 
The NFT space brings in value and appreciation for the artists and creative people. A perfect example is the 30.3K ETH economy around the Mfers project. That's over 100 million USD when you factor in the ETH/USD conversion rate of Coinbase.
And we're not even talking about high-profile visual arts. Mfers are simple stickman or stick figure arts that the millennials or netizens draw as a part of the meme culture. Sartoshi, the creative mind behind this project, has drawn a collection of 10,021 stickman images for digitization on the Ethereum blockchain.
Continue reading to find out if you should own Mfers, what you'll gain out of the project, and what it holds for you in the future.
What Are Mfers?
Mfers are a collection of profile picture (PFP) NFTs that minted a collection of 10,021 NFTs during the mint event at 04:20 PM EST on November 30, 2021. The official Mfers website said that each unique NFT was worth 0.069 ETH at the time of minting.
Among these 10,021 NFTs, 21 are 1-on-1 NFTs or special NFTs. The artist has drawn these NFTs based on the "are you winning son?" meme template. Here's what Sartoshi said about his inspiration behind the 1-on-1 Mfers:
"after being immersed in nfts during jpg summer '21 i also wanted to do a tribute to what i considered many iconic nfts at that point — so i added the 21 1/1 drawings in a style similar to the "are you winning dad" meme… these always have a character yelling something like "stay away from nfts they're dangerooo—oh noooo!!!" and the kid has transformed into the nft — like a bored ape, coolcat, cryptodickbutt, squiggle, ringer, nakamoto card, or even beeple himself."
Simply put, the special 21 NFTs portray a stickman father trying to warn his son saying, "stay away from nfts they're dangerooo…" and seeing that his son has transformed into an NFT.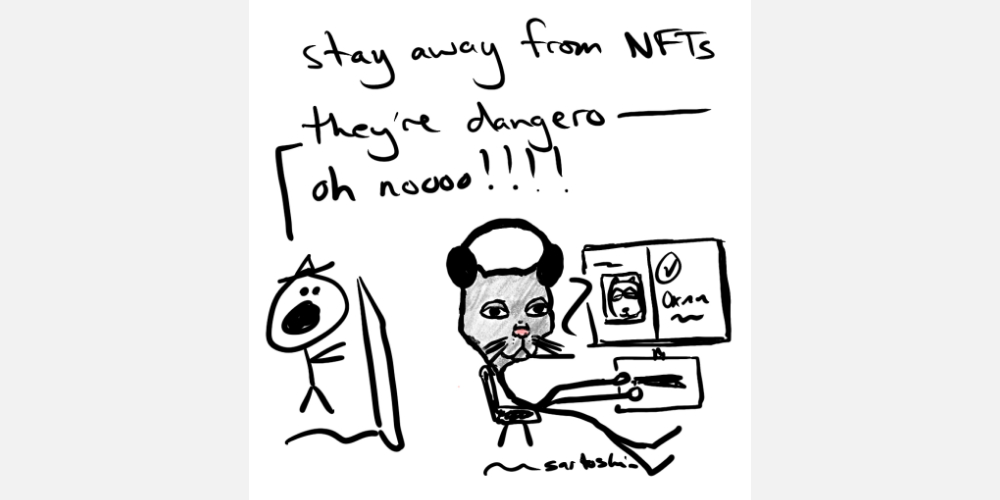 An interesting fact is the Mfers NFT project is Web3 ready. Hence, it stores all NFT assets and their metadata in the Interplanetary File System or IPFS. IPFS ensures long-term data storage without any fear of losing access due to server downtime.
You can broadly categorize the 10,000 general Mfers NFT artwork as stick figure drawing. A stick figure or stickman is the simplest art form that utilizes very few components like lines, dots, and curves. Mostly the memers and netizens use this art form to express their thoughts through quick visualizations.
All the digital assets of this project are available for public use. Hence, it doesn't matter whether you own a Mfer NFT or not. You can use them any way you see fit. This feature is a competitive advantage for Mfers since many successful NFTs don't release their copyright in the public domain.
Ivan Santana from WestcoastNFT has uploaded the entire Mfers collection on Google Drive with public access permissions. You can also access the Public folder – mfers art and metadata using your Google Drive account for free.
Like other PFP NFTs, Mfers NFT also creates rarity by injecting traits in the art and then randomizing and mixing these traits. All the Mfers NFTs come with the following traits: background, type, eyes, mouth, headphones, chain, 4:20 watch, smoke, etc.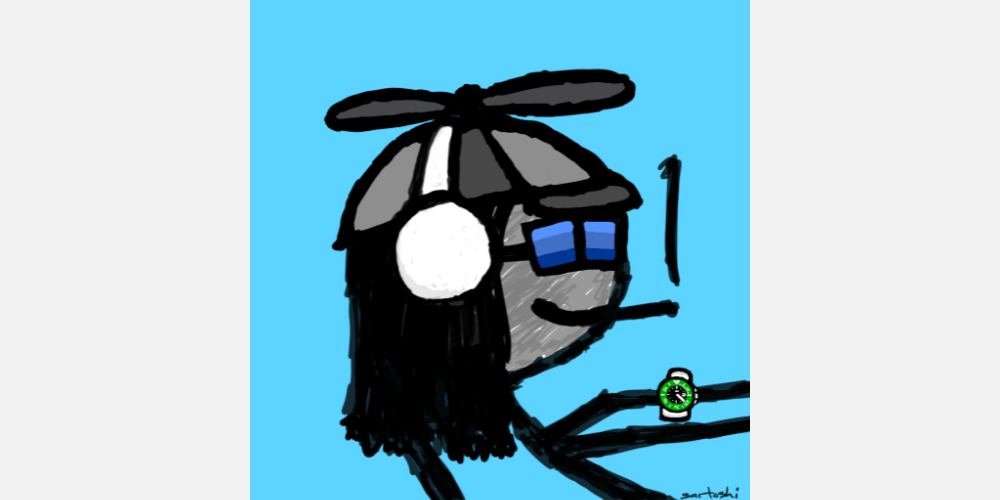 For example, the mfer #10012 has the following unique attributes:
The mfer is on a blue background
Typically it's a charcoal mfer
Nerd glasses cover its eyes
Its mouth is a smiley
It has black long hair
It wears white headphones
The mfer smokes a cig black
Its wrist has a 4:20 watch which is sub lantern (green)
It covers its head using a beanie monochrome as the hat under headphones
The 10,000 general Mfers NFTs (excluding the special 21) are all shoulder-length profile picture-ready NFTs with extended arms. Some of these NFTs possess a few traits or all the traits depending on the random minting process.
Who Created the Mfers NFT Project?
The Cryptoart artist Sartoshi has created 10,021 hand-drawn stick figure arts and tokenized them on the Ethereum blockchain with technical help from WestcoastNFT. His Twitter handle is @sartoshi_nft, and you can find some important links if you visit his Linktree account.
The WestcoastNFT is the NFT developer behind this project. According to Sartoshi, the actual Mfers NFT development team included Wei, Lim, Santana, and others.
Unlike other high-profile NFTs like Doodles, BAYC, Cryptopunks, and so on, there was no marketing or promotion behind the Mfers NFT project. Furthermore, Sartoshi didn't want any whitelist sales, honoraries, communities, or airdrops before the mint.
Moreover, he informed the public merely one day before the mint through his Twitter handle. Without any active campaign or paid promotions, the project sold out every NFT within minutes after the mint event.
Therefore, this project could work as inspiration for individual NFT artists who want to get value and appreciation for their creativity. NFT projects don't always need an exhaustive public relations campaign. However, if you plan a marketing campaign, it'll boost your project's reach. What's important is that your project has to have rarity, transparency, and a love for art.
What Does the Mfers Project Do?
Mfers are essentially rare profile picture NFTs aka PFP NFTs that you can own and then flaunt to the public through social media like Twitter. These are cool meme arts that help you give a message to your followers or community.
At the time of mint, there was no Mfers community. Sartoshi didn't want to confine the project within his own agenda or terms. Instead, he let the Mfers owner decide how the project should grow.
He also released the copyright of his artworks and let the public use the Mfers the way they want. Thus, you can take inspiration from the Mfer images and create your own NFTs. Alternatively, you can produce merchs and products for monetization purposes.
You could also visualize Mfers as incomplete artworks that you can extend with your own imagination and creativity. Mfers' arms are reaching out to something, but that doesn't mean it's only a computer. You could attach stick figure artworks of paintbrushes, car steering wheels, poker tables, beer cans, piano keys, spaceships, and so on for value addition.     
How to Buy the Mfers NFTs
Mfers NFT project is a popular one, and you'll find these NFTs in most of the secondary NFT marketplaces like OpenSea, Rarible, Mintable, LooksRare, etc.
Before you can bid or buy an NFT on the above marketplaces, you'll need to create a compatible cryptocurrency wallet. Then, you need to load your wallet with some ETH coins to pay for the NFT and NFT gas fees.
According to the latest NFT Price Floor data, Mfers floor price is 2.74 ETH as of April 02, 2022. The floor price is a highly volatile metric and changes over time. If you're interested to know the real-time floor price, visit NFT Price Floor or OpenSea.
The lowest floor price of Mfers NFT was 0.068 ETH on December 17, 2021, and the highest ever was 5.846 ETH on February 21, 2022. From its all-time high floor price, it came down to 1.824 ETH on March 10, 2022. And since then the floor price is staying between 2.1 ETH to 2.8 ETH levels.
There are various derivatives of the Mfers NFT projects like 3D mfers by mferverse, ap mfers, the mfer chicks, and invisible mfers. However, these derivatives are not as valuable as the original Mfers NFTs. So, whenever you go to the NFT marketplace to buy a Mfer, look for the original NFT.
The Future of the Mfers NFT Project
Though Sartoshi started the project without building any community, the NFT owners themselves formed one later. The owners of Mfers NFTs and enthusiasts are always meeting through the Mfers Discord server. It is the officially unofficial community of Mfers, and there are 15,211 members when writing this article.
There will be no more Mfers in the future, but the community is building on the existing ones. First off, the most promising development project around Mfers is the Mferverse, a place for all the Mfers.
According to its Twitter handle @mferverse, the project will roll out a 3D play-to-earn NFT game soon. You can join the Discord server or follow its tweets to know when the mferverse play-to-earn game is ready.
Some other developments around which the project's future is dependent:
Upcoming tokenomics around the existing Mfers
Mfers merchs like hoodies, bags, T-shirts, hats, and so on.
Mfer derivatives like cool skull mfers, front-facing mfers, mfers in paradise, and apemfers.
Since the project has made its NFT images public, there are a lot of potential development opportunities. The growth so far has been organic and based on community interests. Whether or not Mfers will become a blue chip crypto asset is to be seen.
Collecting rare NFTs involve monetary investments, and you should take appropriate caution before entering the market. In case you're wondering how to know which NFTs are good, this guide will help.