Discover what software does beeple use and if the secret behind his success with NFT and art, in general, are the tools and programs he uses. 
Mike Winkelmann, or popular Beeple, uses various types of software to create fantastic, realistic, and sometimes surprising art pieces. Most of the time, Beeple uses Maxon Cinema 4D and professional illustration software from the likes of Adobe, but there have been a few new tools in his collection recently.
So, if you are ready to dive into the realm of NFTs and discover what makes this artist stand out, keep on reading. We'll profile the software Beeple uses and how he manages to create daily art based on everyday events and pop culture.
Who Is Beeple?
Beeple is Mike Winkelmann, a graphic designer from Charleston, SC, USA. This charming artist has made a path for himself by learning graphic design through tutorials and adding sarcastic notes to his art to elevate the experience.
While he is active on many social media sites like Twitter and Facebook, people close to him claim that he spends most of the time drawing and creating new pieces. In recent years this includes famous NFTs and his collection of "Everydays: the First 5000 Days."
Tom Judd, who worked on an art piece daily, was inspired by this excellent art movement, but Beeple took it one step further and created over 5.453 compositions. They are all unique expressions and Mike's vision of the future or the present grim day.
Everydays: the First 5000 Days was purchased by Vignesh Sundaresan, also known as 'MetaKovan,' an NFT collector. This sale propelled Beeple to the mainstream art scene, and crypto enthusiasts worldwide wanted an art piece from him.
But what makes this artist any different than the others on the blockchain? Keep on reading as we discover the software he uses.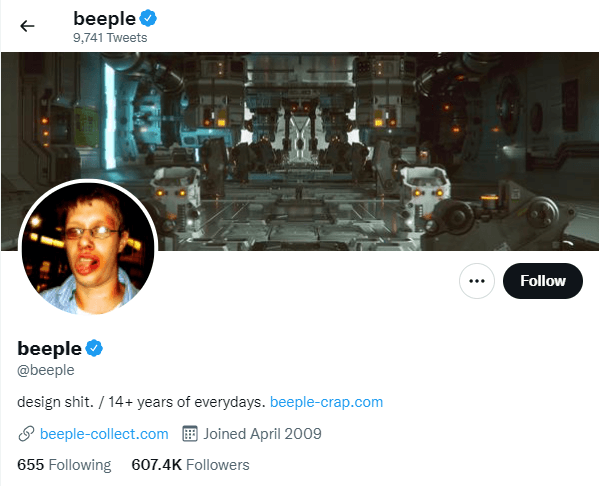 What Software Does Beeple Use?
Beeple prefers Maxon Cinema 4D and OTOY, along with some other tools. Keep in mind that Mike Winkelmann has been drawing for many years, and his original tools were pen and paper, but over time he learned to use computer software and perfected his graphic design skills.
This is a 3D computer animation, modeling, simulation, and rendering software Beeple uses the majority of the time. Considering he needs a tool that is fast, flexible, and efficient to make art daily, Cinema 4D was a perfect solution.
Cinema 4D can be used for design, motion graphics, AR/MR/VR, and VFX, all contributing to the uniqueness of Beeple's art.
Another favorite by Beeple is OTOY's OctaneRender. This tool allows users access to a spectrally correct GPU render engine, and it's fast and easy to use with great results that can be seen in every piece Beeple creates.
The key feature that makes this tool so good is the realistic effect like skin and other scattering materials, which Beeple often uses.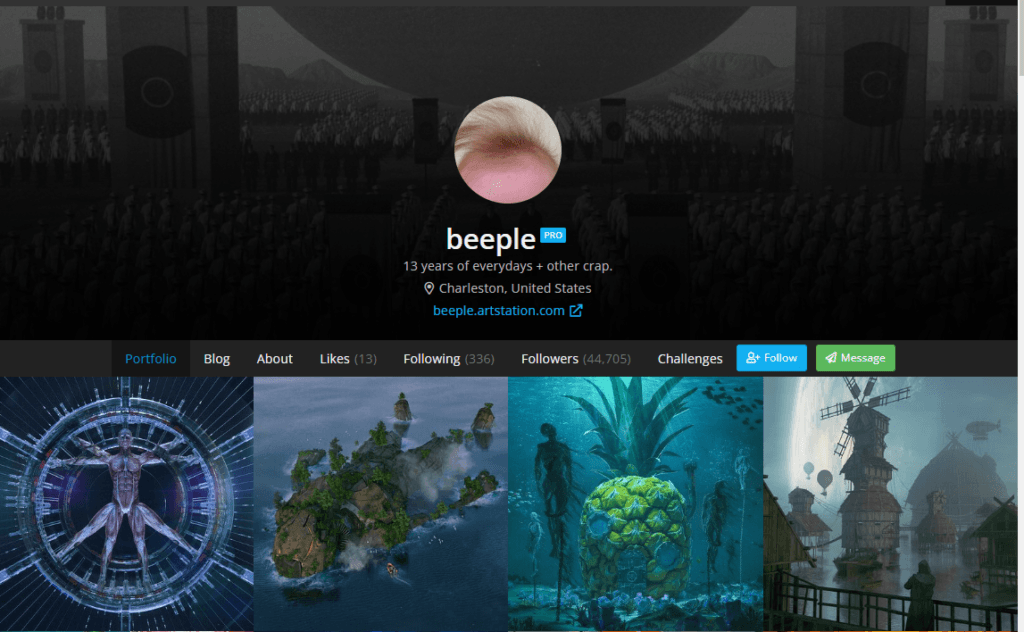 Touch-up software
In addition to Maxon Cinema 4D and OctaneRender, Beeple also uses a couple of software for final touches to his masterpieces.
Considering Mike's work is versatile, and he creates images as well as short, animated clips, he needs tools like Adobe Illustrator for vector art pieces.
Here are a few examples of touch-up software he uses the most:
What NFT platform Does Beeple use?
Beeple mints and distributes NFTs using the Ethereum blockchain, although more recently he's migrated to Polygon due to its much lower energy consumption. Beeple was an established artist even before he started using NFT platforms like Nifty Gateway.
He worked with MTV, Louis Vuitton, Apple, Samsung, Nike, Coca-Cola, and Adobe. After Mike perfected his VJ loops, he has worked on concert visuals for famous artists such as Imagine Dragons, Justin Beiber, One Direction, Eminem, Katy Perry, and others.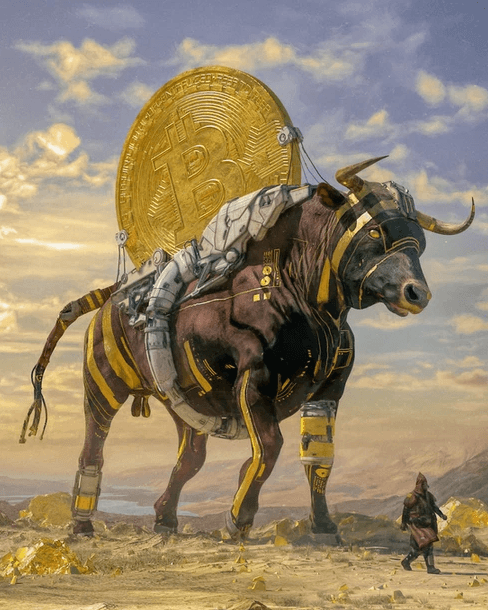 Beeple's NFT career began on the Nifty Gateway marketplace. He realized the potential of the NFT market on the one hand and the lack of physical art being sold on the other. This inspired him to create one-of-a-kind frames called "physicals."
Each frame would have a QR code on the front allowing the owner of the NFT and visitors to admire the piece as any other art in the home.
The creative process and software allowed Beeple to create a Genesis collection sold on OpenSea that changes according to state elections. The artist combined the anticipation for the results with the uncertainty of the NFT buyers.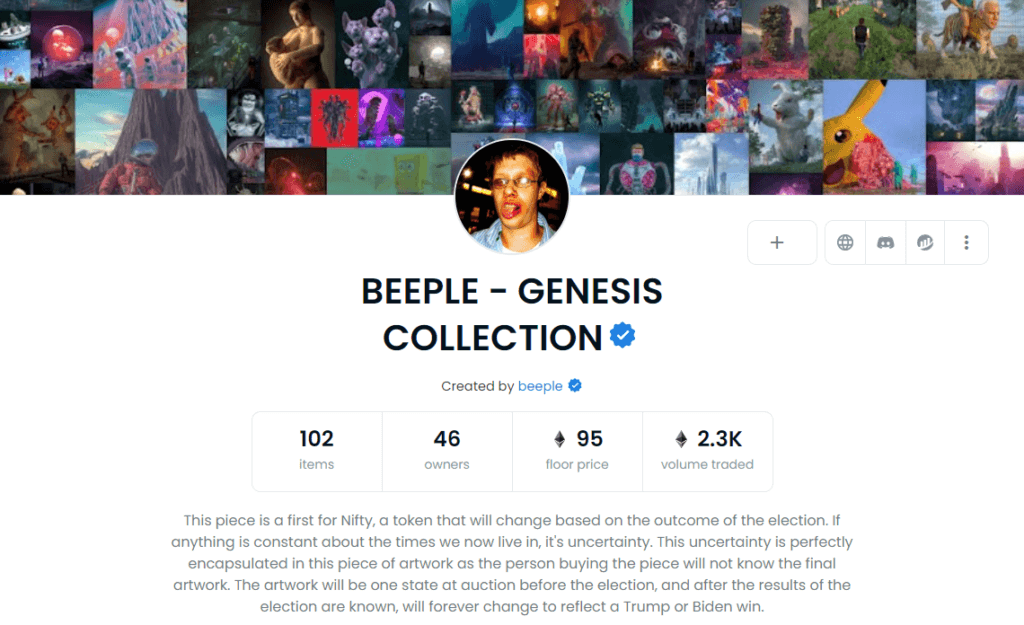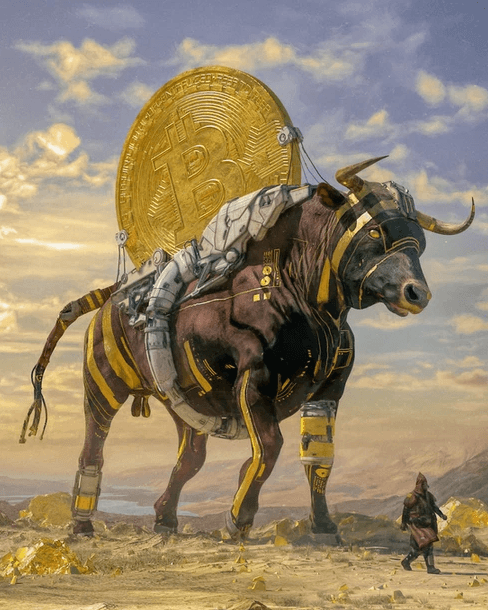 As the artist told The Verge:
"My goal is to make something that is so weird and so out-there that it makes you just think of questions instead of answers."

Beeple
This is one of the reasons why Beeple has become a success story in the NFT space, and chances are he is going to deliver so much more in the future. Of course, you can enjoy his work for free by following his Twitter feed.