Learn more about the what is Doodles NFT project and why it's a bluechip collection in our profile.
Scott Martin, AKA the Burnt Toast, and his team have created 10,000 unique pastel color-based profile picture illustrations of human faces, sharks, ducks, dinos, cats, etc. These are essentially hand-drawn cartoons that go well as avatars of your online portfolios.
In the non-fungible token (NF)T space, these rare and beautiful artworks are collectively known as Doodles. The Doodles NFT project has become highly popular in the leading NFT marketplaces since the onset of the first public sale.
Currently, Doodles NFT ranks in the top 10 NFTs' list and contributes highly to the total Ethereum sales. Since this NFT project is a lucrative option for collect-grade artworks, should you go ahead and collect one of these?
Continue reading to discover a great deal of information on the Doodles NFT project, their utilities, where and how to buy, and finally the prospects of this blue chip NFT project.
What Are Doodles?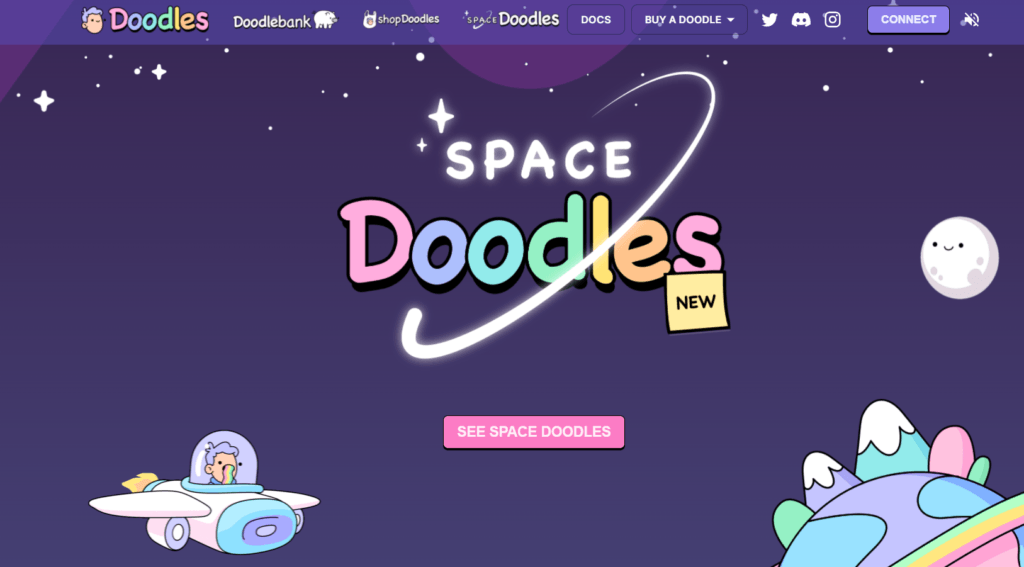 The Doodles project is a community-based NFT project consisting of 10,000 unique doodle arts and 5,000 space ships for those doodles (Space Doodles). The Doodles LLC launched Doodles NFTs on October 17, 2021. To strengthen the collector's spirit and grow the Doodles community, Doodle LLC, later on, launched the Space Doodles NFTs on February 28, 2022.
The Doodles NFT collection consists of bright and rainbow-colored cartoons of aliens, apes, mascots, skellys (skeletons), and so on. These are not usual AI-generated generative art NFTs, rather manually illustrated colorful artworks.
If we deep dive into the rarities of these NFTs, there are 265 traits available in this 10K NFT collection. The rarity of the Doodles NFTs depends on these artistic features: Body, Backgrounds, Face, Hair, Head, and Piercing.
Among these NFTs, you'll also find some special artworks like Special Faces (Puffer-up Doodles, Sharks, Dinos, etc.), Special Heads (Rainbows, Devils, Flowers, etc.), and Customs (62 hand-drawn artworks by Burnt Toast). The value of these NFTs goes up or down depending on their traits and rarity.
According to Rarity Sniper, Doodle #2912 is the number one rank holder among these 10K Doodles NFTs. It's a gold alien with a gold space background NFT and pfp-ready. Along with Doodle #2912, #7573 and #9659 also hold the same rank. All these top rank holders costs in between ETH 3K to 2.5K.
Doodles are off-chain NFTs. You can find its metadata in Interplanetary File System (IPFS). Thus, you do not need to worry about the original data hosting since IPFS offers immutable file storage for eternity. The mint price of these NFTs was 0.123 ETH, and NFT collectors bought these within the first hour of public sale.
Who Created the Doodles NFT Project?
Scott Martin is the creative personnel behind these awesome NFTs. He is a Canadian NFT artist, designer, animator, illustrator, and muralist. In the past, he offered premium illustrator and design services to top IT companies like Google, Snapchat, and WhatsApp.
Apart from Scott Martin, the other two Doodles founders are Evan Keast (AKA Tulip) and Jordan Castro (AKA Poopie). Evan is a veteran NFT consultant and product marketer from Canada. He worked in prominent NFT developing companies like Dapper Labs and Kabam Games.
Jordan is a blockchain expert and has been building blockchain since 2013. He was the lead blockchain developer for the CryptoKitties project at Dapper Labs.
What Do Doodles Do?
Doodles NFT collection is a community-based project. The utility of Doodles is in and around its community. The Doodles project will likely become an entertainment company with transformations for the Web3 and metaverse.
Unlike other non-community-based NFTs where investment and profit are the driving sentiments, Doodles are mostly rare collectibles and memorabilia NFTs. This project has a strong community that stays connected through Discord, Snapshot, and Twitter.
The community also has a community treasury (Doodles Bank) with a dedicated treasury wallet. The treasury got a seed fund of 420 ETH through NFT sales. Additionally, the Doddles Bank earns a royalty of 2.5% from each secondary sale of NFTs on OpenSea.
If you own an NFT from this collection, you get voting power within the community. Currently, the primary community consists of the authorizers and holders. Authorizers have a veto power to prevent project proposals that could violate the spirit of the project.
Big celebrities and NFT influencers are also a part of this community along with individual NFT holders and NFT enthusiasts. The community members participate in Discord discussions, live events, merchandise sales, and collaborate on proposals to make the future roadmap for Doodles.
What Do You Get From This Project?
When you buy a Doodle NFT, you get the followings:
Voting right within the Doodles community. Each NFT gives you 1 voting power.
A picture-for-profile NFT.
Kudos! You can show off this bluechip NFT online.
The ability to monetize your collectible through merchandise sales. If your Doodle holds a higher rank and lots of the NFT enthusiasts want to get a copy of it, you can sell physical merchs like T-shirts, mugs, caps, and so on. However, the total sale can't go beyond $100,000 from these merchs.
A special license for your NFT if you plan to monetize it through merch beyond $100,00 by contacting the Doodles LLC team.
The Doodles NFTs are solely for collection purposes. However, the Doodles community and Doodles LLC are working to increase the value of the project in many ways, like selling merchs, hosting live events, to name a few.
How to Buy a Doodles NFT
The Doodles NFTs are available in the three of the most prominent NFT marketplaces: OpenSea, Nifty Gateway, and LooksRare. The current floor price is ETH 13.98, which means you have to spend a minimum of ETH 13.98 to own one NFT from this collection.
To buy a Doodles NFT, you can go to any aforementioned NFT marketplaces. Be mindful to activate the wallet and load it with some ETH (at least ETH 14) to buy a Doodles PFP that you like.
For example, OpenSea supports wallets like MetaMask, Coinbase Wallet, WalletConnect, Fortmatic, Dapper, and so on. You can simply visit the Doodles Official portal in OpenSea to make a purchase.
You'll find some filtering and sorting option to find a perfect Doodle art for you in all 3 NFT marketplaces. For example, OpenSea lets you filter the NFTs based on Price, On Sale In, Status, Traits (Body, Face, etc.), and Chains.
Once you click the buy button, your browser will seek your permission to connect the crypto wallet with the OpenSea marketplace. OpenSea will get a confirmation from you and transfer your ETH to the seller and the Doodles NFT from the seller to your wallet.
The Future of the Doodles NFT Project
The Doodles community is in full swing to take the project to next level. The Doodles LLC and its production team are taking part in several live events to increase the brand value of the Doodles NFT project.
One of the most recent events was Doodles SXSW in Austin, Texas (March 12–14, 2022). The team decorated the event with interactive installations, Doodle coffee, Doodle display wall, Doodle popsicle bar, interactive Graffiti wall, and so on. The event aims to increase the reach of the project to NFT enthusiasts, investors, and collectors.
Since the Doodles NFT project is still in its infancy, the community consisting of promoters and collectors is trying to portray the project as a high-value brand.
They are also strengthening their partnerships with leading companies like Snapchat (Filers and AR mural production), merchandise retailers, Nifty Gateway Scavenger Hunt, and some non-disclosed partnerships.
On March 4, 2022, the community treasury discussed an upcoming team scaling proposal to hire new talents in positions like 3D modeler, 2D animator, animation director, product designer, sound designer, video engineer, and many more.
The team has also proposed to build a collector's economy platform. Here, Doodles NFT collectors can license its usage to the Doodles LLC team so that they can sell derivatives and share profit with the collectors.