Is Trust Wallet worth using for your NFTs, and if so, what should you know about it? Learn more in this in-depth Trust Wallet review
I usually purchase NFTs using Metamask. It works great on a desktop, but the MetaMask mobile wallet leaves a lot to be desired. It's slow and clunky compared to the desktop wallet. alternatives.
After using OpenSea, I became curious about different crypto and NFT web wallets. I discovered that Trust Wallet is a popular choice that connects to OpenSea and other NFT marketplaces via WalletConnect,
I also tried Trust Wallet because it supports the Layer Two network Optimism. This layer two blockchain sits on top of Ethereum. Their team may potentially release an airdrop for hodlers of Ethereum on Optimism.
So, once I bridged some Ethereum across to Optimism transferred to Trust Wallet and began experimenting with this crypto and NFT wallet.
Trust Wallet Video Review
In the below video review, I profile some of the key features inside of Trust Wallet using my iOS device. I also purchase some NFTs and explain how to manage functionality inside of this cryptocurrency wallet.
What Is Trust Wallet?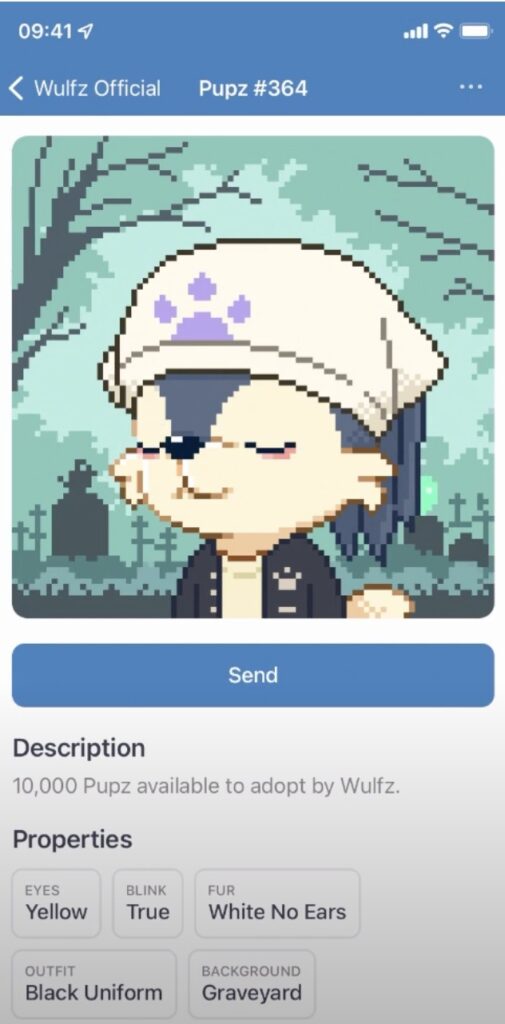 US-based Ukrainian software developer Viktor Radchenko created Trust Wallet. It is an open-source, decentralized, mobile crypto wallet. Binance acquired it from Radchenko in 2018. Today, this mobile wallet claims to support over 160K+ assets and 53 blockchains. It also allows traders to stake crypto and earn interest.
This free-to-use cryptocurrency wallet is available in the Apple, Android, and Google Play stores. It was originally designed to hold the ERC20 and ERC223 tokens only but now supports other leading cryptocurrencies like Bitcoin.
It's a type of non-custodial wallet in that users, rather than the team at Trust Wallet, main custody of their cryptocurrencies and digital assets.
Trust Wallet Dapp Browser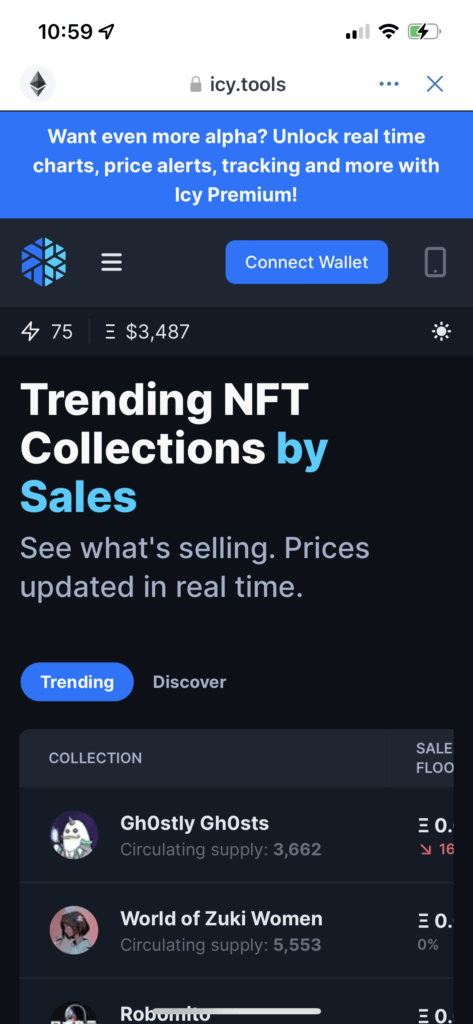 The Trust Wallet built-in web 3.0 browser is faster than MetaMask's and is optimized for mobile. This Dapp browser connects directly to web 3.0 sites and services if they support Wallet Connect.
It supports various Dapps (decentralized applications) including Uniswap, Aave, Pancake Swap, and Compound. It also recently rolled out support for the NFT marketplace LooksRare. Expect support for more Dapps to be added.
Ease of Use
I've tried a few crypto and NFT wallets and Trust Wallet is remarkably polished, fast, and easy to use. It's faster, snappier, and more reliable than the MetaMask mobile wallet. It took me about five minutes to set up my new wallet, secure my private keys and transfer an NFT and some Ethereum into my wallet.
Trust Wallet doesn't require users to complete know-your-customer verification as it's a decentralised wallet. Trust Wallet provides various self-help guides, articles, and dedicated customer support for those who get stuck.
Trust Wallet has dedicated communities on Telegram, Facebook, and Reddit, although be wary of scammers on these publicly accessible groups, i.e. never reveal your private keys to anyone, including those who profess to represent customer support.
Transferring Crypto Into Trust Wallet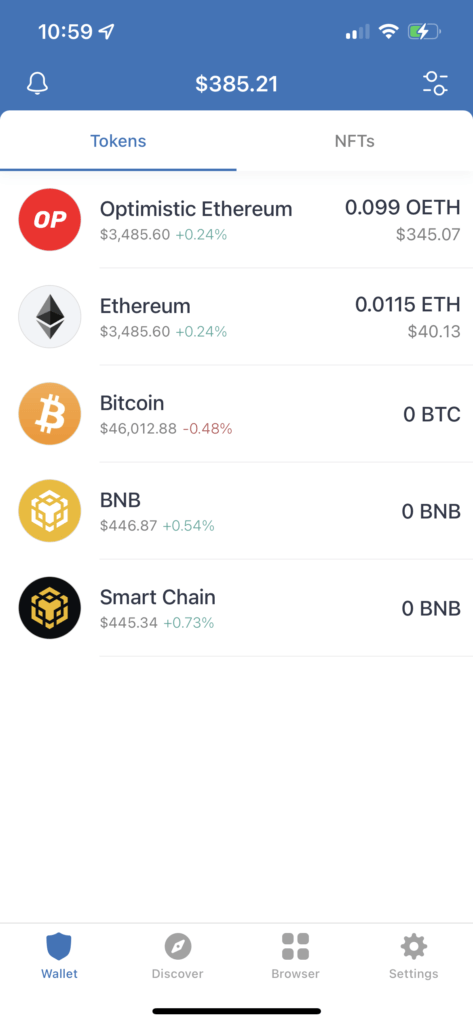 Trust wallet doesn't hold cryptocurrency or NFTs on behalf of users. Instead, it serves as a bridge for accessing crypto assets securely on various blockchains.
Trust Wallet enables users to send, receive, swap, and stake tokens directly within the wallet, using Kyber Exchange. Like any crypto wallet, it gives users and public address for sending and receiving crypto and NFTs. Alternatively, Trust Wallet enables purchasing crypto via a debit or credit card for a fee, via MoonPay and other providers. Users don't have to pay any fees for using Trust Wallet, apart from those card charges and Gas or Gwei.
I transferred Eth into my Trust Wallet address and was able to buy an NFT within a few minutes. It supports staking digital assets and DeFi tokens including:
Osmosis
Kava
Cosmos
PancakeSwap Token
Compound
Maker
OpenOcean
Check out the full list of Trust Wallet supported assets.
Users can view the values of their holdings inside of the app at any time and even set up mobile price alerts. Those buying crypto can also access charts and get basic information about tokens, like the project's website and marketcap, inside the app. It pulls much of this data from CoinMarketCap, which Binance also owns.
Trust Wallet doesn't support staking wrapped Bitcoin or Ethereum yet, so look elsewhere for that. You also can't borrow or lend crypto inside of the app, unlike CeFi rivals like Nexo and BlockFi.
NFT Support
If you want to buy NFTs with Trust Wallet, use Wallet Connect. It works like this:
Navigate to OpenSea and select Profile
Click on WalletConnect
OpenSea presents users with a QR code. Scan this with Trust Wallet.
Now you can purchase and manage your NFTs inside of Trust Wallet
NFT buyers send and receive NFTs using Trust Wallet, view their traits, and see what they look like.
Trust Wallet includes a web 3.0 browser. It's faster than the MetaMask browser and useful for logging into NFT marketplaces.
Although Wallet Connect is useful, if you need to interact with NFTs outside of OpenSea, for example, for staking or for a play-to-earn game, you still need to use MetaMask wallet.
Similarly, NFT buyers still need to use MetaMask to log into various web 3.0 tools like NFT Nerds and Icy.tools, as many don't support Wallet Connect.
If you own several NFTs, it's good practice to use multiple wallets. You could mint in MetaMask, transfer medium-term holds to Trust Wallet, and higher-value bluechips to cold storage. That way, if one wallet gets hacked, you've no single point of failure in a portfolio collection.
Trust Wallet Competitors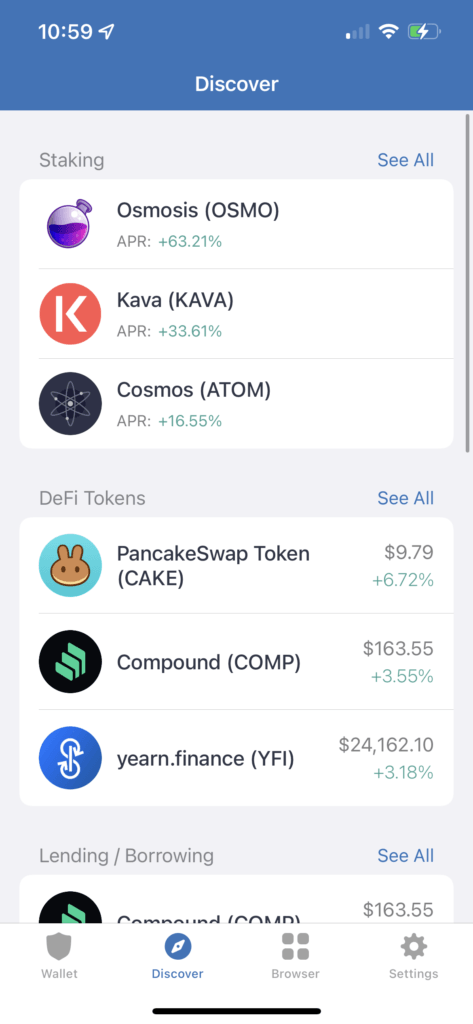 Trust Wallet is one of several web wallets that supports NFTs. Apart from MetaMask, other competitors include Coinbase and Argent.
Coinbase and Argent are comparable to Trust Wallet in terms of functionality, albeit with support for different crypto assets and staking. MetaMask is still a prerequisite for anyone interested in NFTs due to its broad support outside of NFT marketplaces.
Read our Argent wallet review.
Security Features
Trust Wallet is a type of software wallet so it's not as secure as a hardware wallet like Ledger or Trezor.
It is audited on a regular basis by the industry's leading security firm, Stateful. The app also employs other security measures like pin code scanning or fingerprint scanning to add an extra layer of security. Users can manually activate these by customizing the "Settings" function in the app.
Trust Wallet prompts users to secure their 12-word private keys phrase securely on their computer rather than in the app itself.
If a user tries to screenshot this seed phrase, Trust Wallet prompts them with a warning, because if their phone gets infected with malware, their wallet is at risk.
Review Criteria
I downloaded the Trust Wallet app to an iPhone 13 and tested it with iOS. I used to purchase some cryptocurrency and to receive some Ethereum, sent via the Optimism, a Layer 2 Ethereum blockchain. I also connected Trust Wallet to OpenSea and used it to buy an NFT. While reviewing Trust Wallet, I considered factors like ease of use, functionality, and security.
Trust Wallet Review: The Final Word
Trust Wallet is a polished, user-friendly cryptocurrency and NFT mobile app. Its support for over 160 different cryptocurrencies and NFTs is impressive. It also works nicely with OpenSea via WalletConnect.
The primary downside relates to security. If you have a significant amount of crypto or NFTs, it's safer to store these using a hardware wallet disconnected from online services. That said, it's a great choice for those managing cryptocurrencies on mobile devices.
However, with support from Binance, Trust Wallet should continue to gain market share as a regarded web wallet for crypto and NFT buyers.
NFT Wallet Reviews