Are you looking for a more convenient way to store your digital NFTs, Coinbase NFT wallet is a great option. Read this coinbase NFT wallet review to learn more.
I've used Coinbase as my primary cryptocurrency exchange for the last year or so. I've enjoyed the simplicity of their process and the fact that they are more beginner-friendly than other exchanges like Binance and Kucoin. I have also welcomed their addition of non-fungible tokens (NFTs) to the platform, which allows me to explore a whole world of collectibles that have been popping up in recent months.
I have been testing the Coinbase NFT Wallet (ERC-721) as an additional wallet to store my crypto collectibles on top of Enjin. I have a few friends who are trading and collecting some cool items on OpenSea.io, and I could see the potential of having to manage multiple wallets for storage and transferring purposes.
With this review, I hope to share with you whether or not it is a good choice to use the platform.
What is Coinbase NFT Wallet
Coinbase NFT Wallet is a secure, easy-to-use wallet that allows you to store and transact with non-fungible tokens (NFTs), or "crypto collectibles." It was launched on April 20 2022 by Coinbase and is available on iOS and Android.
Coinbase NFT Wallet is designed to provide blockchain users with a way to safely store and exchange their digital assets. It offers an easy-to-use interface that lets you manage your crypto assets from your mobile device. It also provides users with an easy way to buy and sell NFTs in the marketplace, which means you can use it as a marketplace for crypto collectibles.
Coinbase NFT Wallet promises some juices to the world of NFT. The following section highlights some of the most alluring features of the wallet.
Huge Collection of Hottest NFTs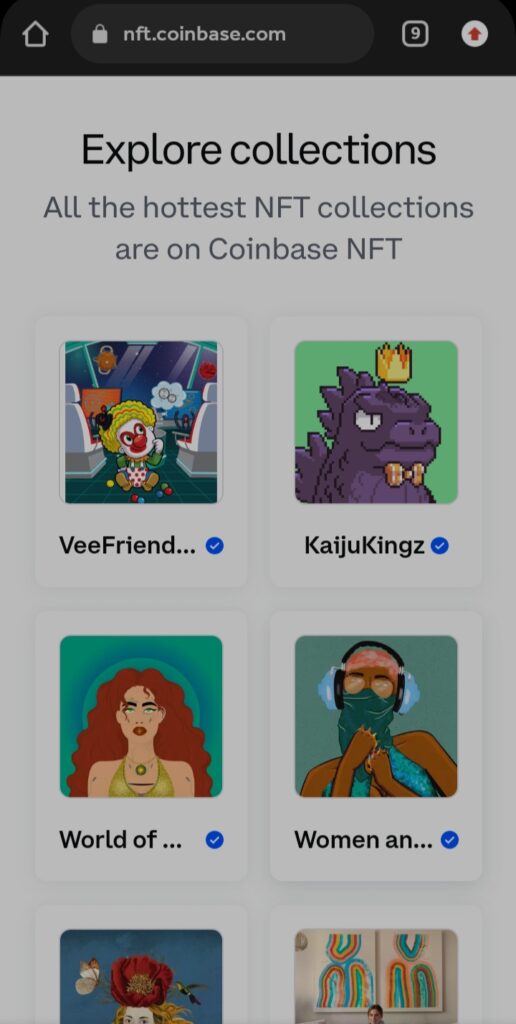 On Coinbase NFT Wallet, you can get all the hottest NFT collections. The verified accounts with blue ticks allow users to purchase from the original owners, avoiding fakes and scammers.
Build Your Community Feature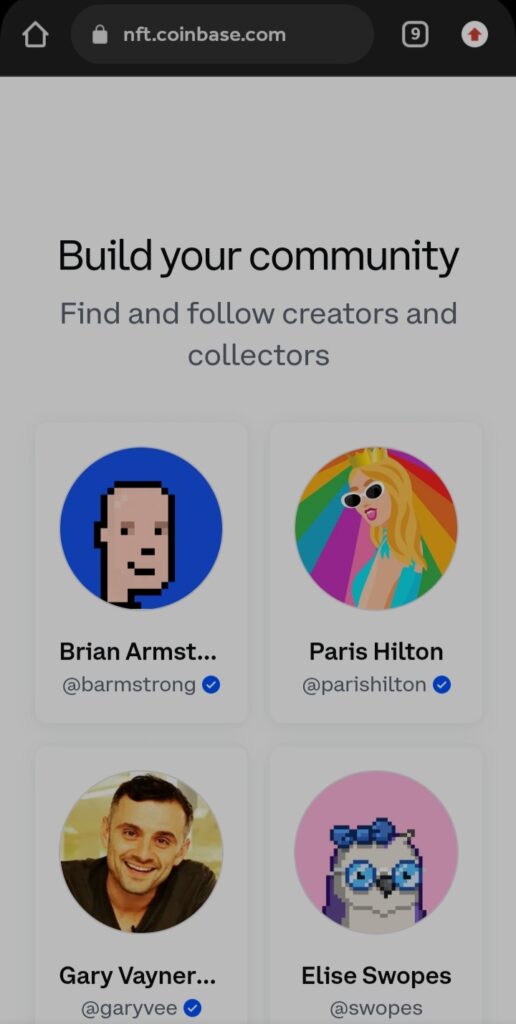 The wallet supports a community of buyers and sellers. Collectors and creators can build healthy communication and mutual interaction with the "Follow" and "Comment" features. This makes it easy to search for your favourite creators without having to scroll through thousands and probably millions of creators.
Also, there seem to be more promising use cases of this feature as additional functions can be added.
Ease of Use And Multi-Wallet Support
The Coinbase NFT Wallet promises to make users have a smooth ride in and out. You won't need a username or password, rather you'd be able to use a self-custody crypto wallet as your digital passport to log in.
The wallet can also be used to pay for and store NFTs. Plus, it is integrated with other wallets like Metamask. Users can port their Metamask wallet to their Coinbase NFT Wallet.
Purchase NFTs and Pay with MasterCard
Purchasing an NFT, like many other areas of the crypto industry, is not that simple. To begin, you'll need an external crypto wallet with the required amount of digital currency. The most popular network for purchasing NFTs is Ethereum (ETH), although other networks such as Solana (SOL) are also gaining popularity.
Coinbase intends to make things as simple as possible. It has collaborated with Mastercard to make it possible to purchase NFTs with a Mastercard credit or debit card. Users will also need a crypto wallet to save their assets, but this partnership eliminates one of the major pain points.
Is Coinbase NFT Wallet Safe?
Coinbase NFT Wallet promises to offer safe storage for all the NFTs in your wallet. Being the second most used cryptocurrency exchange in the world, Coinbase has a reputation for offering safe and secure digital financial transactions to its users. There is little doubt that they would come short of this record anytime soon.
Coinbase NFT Wallet Competitors
MetaMask and Coinbase Wallet are two of the most popular options for both beginners and advanced users. While it is technically possible to use numerous wallets, most collectors are best off sticking to just one.
MetaMask launched as a Chrome Extension since 2016. In 2020, they finally released mobile apps for iOS and Android. It is the most popular wallet on the market, particularly among newcomers to the NFT world.
You may not even have an option in many circumstances. Apps that employ Web3 technologies, such as Spatial.io, only support MetaMask because it has the greatest user base. Even though apps with a bigger user base, such as Decentraland and OpenSea, accept numerous wallets, MetaMask is still the first and most notable option when users sign up or log in.
MetaMask is one of the few NFT wallets you can use for both online and mobile purchases, via NFT marketplaces like OpenSea, making it even more competitive. Other wallets only operate on the web or mobile, therefore MetaMask is a no-brainer to use across all platforms.
Simply put, MetaMask is the preferred solution for everyone to use as their primary and initial wallet, but it's facing competition from Trust Wallet, Rainbow, and even layer 2 solutions like Argent.
So, where does this leave Coinbase NFT Wallet?
Coinbase NFT Wallet, while newer and less well-featured than MetaMask, is another option for your digital wallet. Coinbase, creators of Coinbase NFT Wallet is a publicly-traded American firm that operates the world's second-largest bitcoin exchange platform. In reality, many MetaMask users utilize Coinbase to trade cryptocurrencies before sending funds to their wallets.
So, while MetaMask only supports Ethereum Virtual Machine (EVM) Networks, which are hard forks of the Ethereum blockchain, Coinbase NFT Wallet supports Bitcoin, Dogecoin, Litecoin, and other popular networks. Wider network support could be a real gamechanger for some users, depending on their needs.
Coinbase NFT Wallet Review: The Final Word
We used the Coinbase NFT Wallet to purchase a CryptoKitty, and we were able to do so in just a few minutes. The process was smooth and intuitive, and we didn't have any trouble completing our transaction.
The wallet interface is clean, well-organized, and easy to navigate. The app itself is secure and has several security features built-in. Coinbase has an excellent reputation for customer service, which means you can contact them if you ever run into issues with their product or service.
Overall, we recommend using Coinbase NFT Wallet if you want an easy way to buy NFTs without having to go through an exchange. If you like this review check out our:
NFT Wallet Reviews