In this article, we explore what NFT fundraising is and how it's changing the world for good. If you're looking for a new way to raise money for your favorite charity, look no further!
As you probably know by now if you're checking out this article for information and ideas about NFT fundraising, non-fungible tokens (NFTs) are unleashing the power of blockchain in amazing and useful ways. NFT fundraising is issuing these tokens to donors in exchange for contributions. In some cases, charities are even being gifted rare and valuable art tokens to resell for proceeds.
An NFT is real ownership of the contents of any digital folder or file that lives online. The tokens are validated, verified, secured, uncensorable, undeletable, and kept forever on a blockchain— with the password (a cryptographic private key) in your hands or the hands of a trusted custodian. Unsurprisingly, NFT fundraisers have already raised millions of dollars for charities and projects since 2021.
The NFT boom that started in 2021 has drawn massive publicity for the eye-popping figures some investors and celebrities have made by cashing in on the craze. But meanwhile, another quiet revolution is happening because of this technology and the platforms built on it.
Artists, start-up ventures, charities, and even governments are turning to NFTs to fundraise. Some of them are finding massive success fundraising with NFTs, and they're developing donor rolls with massive inflows from the blockchain community while bringing in more users to adopt blockchain.
NFT Fundraising Opens Up the Properties of Blockchain to Charity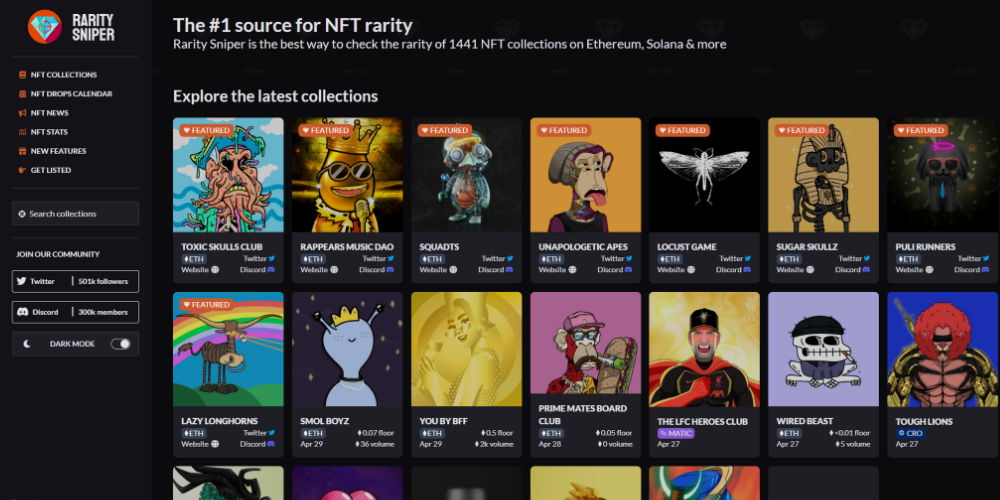 When an organization, business, or individual uses NFT fundraising to get the donations or capital they need, either they or their donors (or both) get more than traditional finance offers. They get the security and immutability benefits of blockchain, plus the unique capabilities of non-fungible tokens to make their fundraiser special, interesting, personal, and fun.
For instance, fundraisers can offer special blockchain gifts that their contributors can keep forever as a souvenir of their support. Or the other way around— some fundraisers are getting rare NFTs with high market value donated to their org to resell on liquid markets for cash funds.
Here are some specific examples of charities and fundraising projects using NFTs to get the boost they need from supporters to make their plans a reality.
Parkinson's News Today reported in May that Alpha Motors Corporation "will donate 100% of net proceeds of sales from its NFT fundraiser to the Michael J. Fox Foundation for Parkinson's Research."
The Irvine, California electric vehicle maker is supporting the MJFF's work advancing research to treat Parkinson's disease with an autonomous vehicle NFT relay race for charity.
A 20-car fleet of driverless cars will run a race and pass a baton to the next racer. And get this— the baton is a non-fungible token with a "market cap" of $2,000. This NFT fundraiser will be powered by Rarible.
In April, an information science student and fashion designer at Cornell turned this year's Cornell Fashion Collective Spring Runway Show into an NFT fundraiser. Lior Cole (Class of '23) makes her own clothing apparel from reclaimed or "upcycled" materials.
She also auctioned a fashion NFT at Cornell's spring runway show this year. Half of the charity went to Women in Computing at Cornell (WICC), and half went to fund an AI project Cole is currently working on.
Cole told the Cornell Chronicle:
"I see technology's role in everything I do, it's always at the forefront of my mind. So when I saw that there were two models (for second-year designers), immediately I thought, 'One of them has to be digital.'"
Meanwhile, Iconic Moments, a blockchain firm dedicated to using NFTs to raise funds for the support and preservation of culturally significant artifacts, has already raised $2 million in charity to that end. Deadline Hollywood reported this month:
"The Universal Hip-Hop Museum, the Museum of Broadcast Communications, the Norman Rockwell Museum, the Asbury Park African American Music Project, and the Women's Basketball Hall of Fame are leveraging their collections through a company called Iconic Moments."
NFT fundraising is even opening the doors to charitable contributions to support and expand popular science. In May, the Dark Skies Coalition of Flagstaff, Arizona will raise funds from donors who will each get a photograph of the starry night at 7,000 feet above sea level over Flagstaff's Buffalo Park.
Charitable gifts are set at $700 for each 70 unique photographs that will be minted into non-fungible tokens. The NFT donations go to research conducted by Arizona Eyes on Night Skies.
Making History with NFT Fundraisers for Ukraine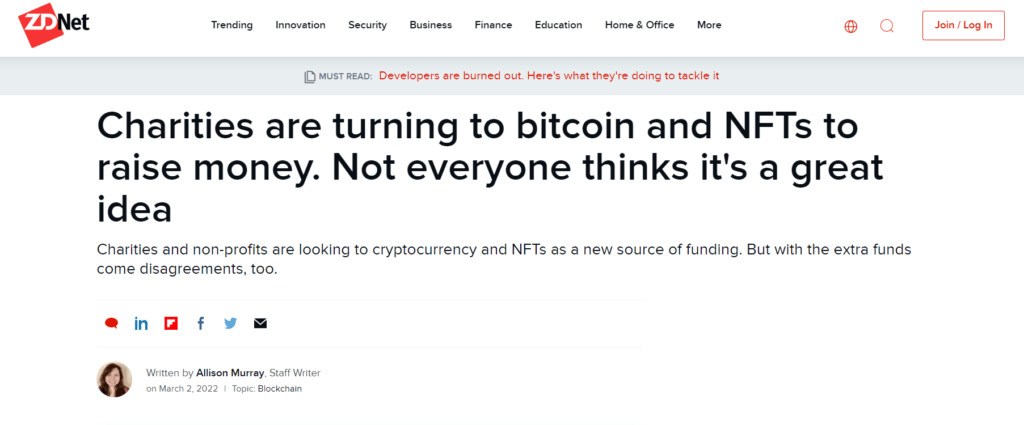 In early March, The Giving Block, an organization that connects charities and donors through cryptocurrency, reported that the year 2021 saw some $12.3 million in charitable donations from NFT projects.
This year, before we've even made it to the end of Q2, that total has grown by orders of magnitude with tens of millions of dollars in NFT fundraising cleared for charity to support Ukraine amid its devastating war with Russia.
When the Russian Federation invaded Ukraine in late February, many in the cryptocurrency industry sympathized with the people of Ukraine as victims of violent aggression in violation of post-WWII international law.
That's because the blockchain industry's vision since Bitcoin first launched in 2009 has been more about spreading opportunity and peace to all the world's people than about Lambos or making overnight riches. By late March, Findbold reported:
"Ukraine continues to receive a substantial influx of cryptocurrency contributions, with the value now reaching over $100 million, as more well-wishers show solidarity in the face of the escalating Russian invasion."
By April, Pymnts reported a figure closer to $135 million in charity to support Ukrainians. Most of that fundraising was facilitated by NFTs. Hardly a week after the Russian invasion, the Ukrainian government announced and then canceled an airdrop of fungible tokens to raise money for their army's defenses. They then issued NFTs to fundraise for the cause.
Pymnts reported the Ukrainian government raised some $50 million through this NFT fundraiser, and that UkraineDAO put together $6 million for Ukrainians through NFT fundraising.
Charitable giving through NFT fundraising is also making history and changing the world in the USA. That's by efforts to auction digital art to raise charity for civil rights groups seeking justice for George Floyd and Breonna Taylor, victims of excessive police violence.
Because of their many innovative features and benefits, NFTs can and do connect the serious and fun. They make history personal and help individuals to make an impact on history. The industry and its diverse community of users are finding new ways to empower participants in the modern, digital gift economy. That's great news for the arts, sciences, health research, and even world-historical politics.
For more information about how NFTs can benefit you, your project, or your business, check out this additional list of 9 surprising NFT use cases you must know about.