Learn everything about the anime-inspired RENGA NFT collection that's taking story-telling NFTs to the next level.
The story-telling anime-inspired NFT collection RENGA has been on-fire lately, attracting vast amounts of attention on social media as its floor price pumped while other projects struggle. Artistically the project is captivating, and the mystery behind its constantly unfolding story that leverages unusual mint mechanics has captured the NFT community's imagination.
Is the RENGA pump just a product of social media FOMO, or is this a promising long-term NFT collection? This post will give you all the necessary information to find the answer about this mid-cap NFT.
RENGA Explained
The collection compromises 10,000 hand-drawn NFT characters created by respected digital artist Dirty Robot in a Japanese manga style. 'Renga' is a form of Japanese collaborative poetry where multiple poets work together to create a single poem.
If you are considering picking up a new PFP NFT, then RENGA could be a good option. Learn more about PFPs NFTs.
The Renga NFT collection has taken inspiration from Japanese poets and created an NFT-based story told by multiple writers, developers, and the community. You can meet the community on Discord and Twitter, where you'll get a feel for the anticipation this story-telling project has generated. And don't forget to watch our video below.
Who Created RENGA?
Daniel Isles, better known as DirtyRobot, is the artist behind RENGA. From the United Kingsdom, he has over two decades of experience in creating comic book art and is based in Japan. DirtyRobot has created dozens of fine art prints, all of which have a Japanese twist, often selling for five figures. His primary focus is RENGA, which his first PFP collection.
DirtyRobot's Twitter, @DirtyRobotWorks, is active as he re-shares posts from new members of the RENGA community daily and occasionally puts out posts showing his artistic process. Other notable team members include:
Cameron Mclean: Cameron is the co-founder of RENGA, known by the community as @probablytails on Twitter.
Myke Forte: Myke is an audio-visual designer who dabbles in illustration and photography. He is an active member of the RENGA community on Twitter.
Steven Bryant: Steven is a graphic designer and illustrator who has illustrated major children's books and worked with BBC news and radio stations.
Garin Wood: Garin is a photographer and designer with an extensive portfolio within and beyond the NFT space.
You can find a full list of all the RENGA team members on the official website.
When Did RENGA Launch?
The first milestone in the project was The Art of Seasons NFT mint which saw a collection of DirtyRobot's art minted on the Ethereum blockchain for 0.08 ETH in March 2022 with the promise that they would act as 'passports' to future drops.
On June 22nd, 2022, the RENGA Black Boxes were airdropped to The Art of Seasons holders. The mysterious black boxes were delivered with the pledge that they would reveal the past, present, and future of RENGA.
The Black Box collection remained idle, fuelling speculation online, until early September when an official RENGA Tweet instructed the community to 'burn' their boxes on the RENGA website.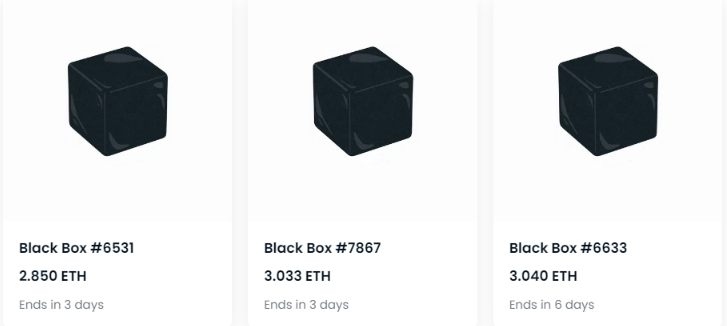 A unique RENGA character is revealed every time a Black Box is burnt. The burn-to-mint mechanism generated interest from the wider NFT market. As of February 2023, 8,523 out of the 10,000 RENGA characters have been revealed. 10% of the Renga NFTs are listed, while 5% of the Black Box NFTs are listed.The floor price for the RENGA Black Boxes has performed well, holding steady between 2-3 ETH. Unique ownership hovers around 37% for the Renga NFTs and 51% for the Black Boxes.
Interestingly the RENGA characters have maintained a floor price averaging 1.5 ETH, considerably below the Black Boxes. Nonetheless, considering there is no fee for opening a Black Box beyond the gas fee, the floor price has pleased the community.
As a result of the disparity between the Black Box and RENGA floor price, a Black Box holder can sell the NFT instead of burning it and then potentially buy low-rarity RENGA characters with the proceeds.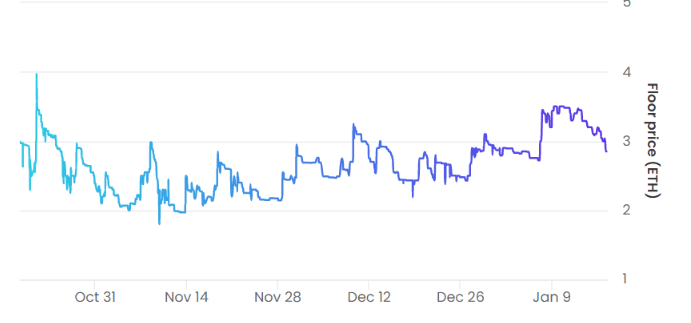 What Makes RENGA Unique?
The RENGA collection is unique due to its pioneering success in the NFT story-telling space and DirtyRobots art. Beyond its success in story-telling, the collections of characters are all made unique by their features and archetypes. The RENGA characters divide into ten archetypes, plus a 1/1 NFT from each archetype.
Motor Corp (16%)
Delinquent (14%) – the most common archetype
Agent (13%)
Robot (11%)
Alchemist (10%)
Samurai (8%) – the rarest archetype
Golem (8%)
Ninja (8%)
8-Bit (6%)
Cube (6%)
Every archetype has a different level of rarity and will play a different role in the RENGA storyline. The percentages above indicate the current rarity of each archetype according to NFT Stats, but it's worth remembering that around 1,500 still need to be minted, so the percentages could change.
RENGA #5 has the highest rarity score in the collection, with 4274 points, according to NFT Stats. The Golem archetype has a Rose Gold Rising background found in less than 1% of the collection, and Sad Gold eyes are reserved for 0.12% of characters. RENGA #5's rarity has not gone unnoticed, as it last traded well above the floor price for 10 WETH ($13K).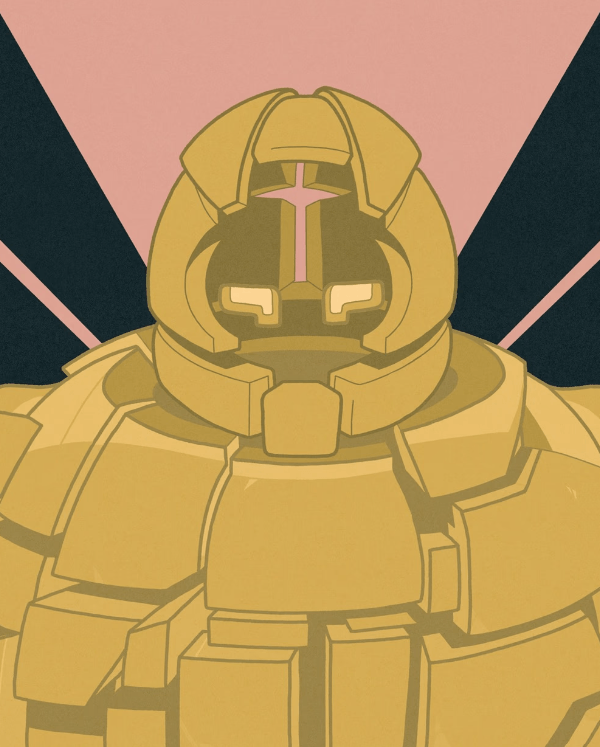 RENGA #2223 is one of the rarest Agent archetypes according to NFT Stats and boasts some impressive features, such as the Propeller Green headwear (0.04%) and the Alien nose (0.4%). #2223's highest sale was 5 WETH ($6.5K), and its best offer on OpenSea is around $2.5k as of writing.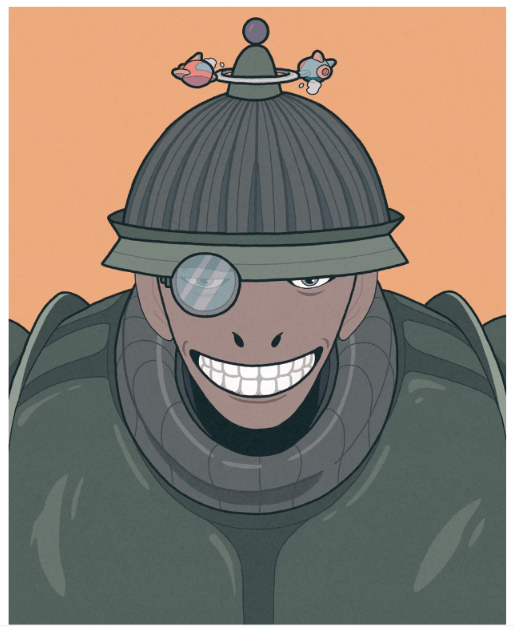 What Does RENGA Do?
At its core, RENGA is a story based on stunning handcrafted art curated by a highly-respect artist. If you're looking for a multi-utility ecosystem, you won't find it here. This project's use case is its art and the opportunity for the community to participate in its slowly unraveling storyline. Owners can also download high-resolution versions of their NFTS and associated art work from an offiical gallery.
The team has indirect relationships with other NFT projects. Renga's smart contract deployment was also powered by WENEW, a company created by Beepel and subsequently acquired by YugaLabs., leading to much speculation about future collaborations between the project and YugaLabs. In January 2023, Punk629 released a Meme Card designed by Dirty Robot holders.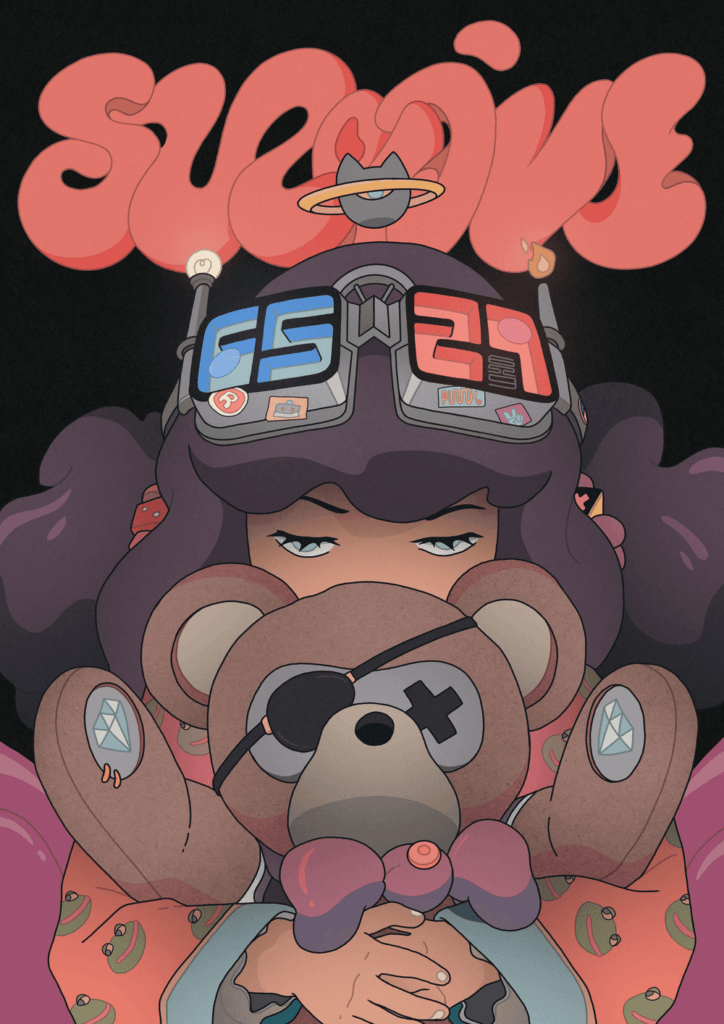 Story-Telling
Every character has their own identity within the RENGA storyline, and they're the third generation of NFTs in a collection that began with the Art of Seasons collection. So far, interest in the project has been kept alive through the use of airdrops, the art itself, and DirtyRobot's reputation. DirtyRobot did give up some information about how the archetypes fit into the storyline.
Delinquents are a group of female characters that allegedly have deep connections to a network of gangs.
MotorCorp are world-class drivers that often use their driving skills in the world of organized crime.
Agents are James Bond-style operatives working on a top-secret mission.
Golems are the protectors of an ancient city but are now used by Alchemists for all sorts of tasks.
Alchemists are one of the most powerful archetypes that use their powers over nature for good and bad.
Ninjas need no introduction, as we're all familiar with their stealthy powers and secretive nature.
Samurais are often at war with each other as their power clans attempt to achieve supremacy.
CUBEs are conduits of the Black Box NFTs, and their physical appearances are as varied as their temperament.
Robot Army are machines built to win the so-called Great War but have since been abandoned.
8-Bit characters are a product of a computer virus that infected consoles across the RENGA universe.
1:1 characters will likely be references to important pop culture figures.
Beyond the information about the archetypes, our knowledge of how the story will unfold from here is limited. We may have to wait for all 10,000 RENGA characters to be minted before moving forward. The team is also slow to release information on its Twitter profile.
Although other story-telling NFT projects, such as CyberBrokers, have somewhat fizzled out (at least in terms for floor price) due to the market moving on. But RENGA has managed to keep the community invested and survived the 2022 bear market without a big dip in floor price.
High-Quality PFPs
Beyond the storyline and airdrops, the project has value purely from an artistic perspective. Every RENGA is created by a highly-respect artist who invested dozens of hours into creating them. The top-quality art is a use case for collectors and a cool PFP for anyone active in the NFT and digital art community.
Royalties
According to the project's OpenSea page, the creator receives a 5% fee from every sale of a RENGA NFT, The Art of Seasons, and RENGA Black Boxes. The official RENGA website makes no mention of royalties.
How To Buy RENGA?
The best way to purchase RENGA is on OpenSea. In this example, we will focus on the main RENGA NFT collection, but the process is the same for the Black Boxes and The Art of Seasons. Follow these steps to purchase a RENGA:
Get a Crypto Wallet: Get an ETH-compatible crypto wallet like MetaMask.
Connect to Marketplace: Visit the RENGA OpenSea page and connect your wallet.
Explore: Browse the collection and use the filters to sort them by price and rarity.
Buy: Purchase a RENGA by pressing the buy now button.
Before purchasing a RENGA NFT, make sure you do you're own research and join the RENGA Twitter and Discord.
The Future of RENGA NFT
RENGA is a mid-cap NFT that has captured the NFT community's imagination with its art and mysterious story-telling process. It will be interesting to see how the project unfolds once more Black Box NFTs are burned, and more of 10K RENGA collection is revealed. However, it's unlikely all NFTs will be burned as some NFT holders believe unrevealed pieces hold more value.
The project has tested the next iteration of its roadmap, a concept known as Flying Circuit. It could be a metaverse play the team has set this as its location on Twitter. However, details are unclear. Renga's biggest weakness may be the sporadic updates from the team about what's happening. Unique ownership is currently at 37%, which is quite low for a sustainable mid-cap, too.