Discover what is DigiDaigaku NFT, a web 3.0 gaming collection that's bringing an entirely new approach to blockchain gaming.
DigiDaigaku is a web 3.0 NFT project founded and created by two heavyweights from the traditional gaming world. The anime-style NFT characters on the Ethereum blockchain have floor prices ranging between ETH 1 – ETH 10 and overall trading volumes that exceed millions of dollars.
The project's aim is to change the way we game entirely. Instead of building a play-to-earn ecosystem, the model is based on the idea of play-to-own, where free mints and airdrops drive adoption and participation.
Although the project is a thriving ecosystem with several use cases, it became known for the wrong reasons after a controversial 2023 Super Bowl advert.
This post will tell you everything about DigiDaigaku, including what it does, the team behind the project, and its Super Bowl controversy.
DigiDaigaku Explained
The DigiDaigaku ecosystem compromises about half a dozen different NFT collections. The original Genesis DigiDaigaku is a collection of 2.02k animated manga-style female characters that marked Limit Break's first step into the metaverse.
Before launch, the project's founder, Gabriel Leydon, made some big promises stating that DigiDaigaku would take the first significant step in changing the traditional free-to-play gaming model by replacing it with a free-to-own system. 
The Genesis collection mint was followed by several other DigiDaigaku NFTs, including Heroes, Villains, and Super Villians. You can learn more about DigiDaigaku by joining the official Discord and following the official Twitter.
Who Created DigiDaigaku?
The team behind the project is arguably one of its biggest strengths. DigiDaigaku is being developed by Limit Break studio, which Gabriel Leydon, a titan of the traditional gaming industry, founded.
Leydon was the CEO of Machine Zone, a California-based game studio that developed some of the most popular mobile games, including Final Fantasy, Games of War: Fire Age, and Mobile Strike.
Leydon left Machine Zone in 2018 to get more involved in the blockchain space with a specific focus on its implications for gaming. A few years after leaving, he teamed up with his old colleague and Machine Zone cofounder Halbert Nakagawa, and they started working on a gaming model now known as 'free to own.'
To build their gaming vision, Nakagawa and Leydon co-founded Limit Break in 2021 and secured $200 million of funding in 2022. "We have the perfect partners, perfect investors, and perfect team in place to bring the gaming industry into a new era.", said Laydon following the successful fundraising.
Generally, the relationship between traditional gamers and blockchain gaming is icy at best, so seeing two established names from the gaming space leave a prestigious studio like Machine Zone in favor of NFTs and crypto is a massive boost for the space.
When Did DigiDaigaku Launch?
The DigiDaigaku Genesis collection was launched as a free mint in August 2022, with participants only paying the Ethereum gas fee. There was considerable hype surrounding the project, primarily because of the reputation of its two founders.
The project's floor price surged after the free mint as trading volume surged. As of writing in February 2023, the floor price is hovering around ETH 9.4 ($15.7k), the total trading volume is over ETH 20k, and 42% unique owners.
Although the Gemsis collection is the project's flagship mint, three other PFP character collections have been added to the DigiDaigaku ecosystem. We'll look at the secondary collections in more detail later in this post.
What Makes DigiDaigaku Unique?
Genesis DigiDaigakus have many features with over a dozen potential characteristics. Every character is created through a combination of backgrounds, physical traits, accessories, and props that dictate their rarity.
The rarest DigiDaigaku, according to Rarity Sniper, is Katana wielding #812 with a score of 1520017. #812 is one of only three Daigaku's with 12 traits and one of just two with the Steampunk accessory. Interestingly #812 hasn't been traded on OpenSea, suggesting whoever picked it up during the free mint expects its value to keep increasing.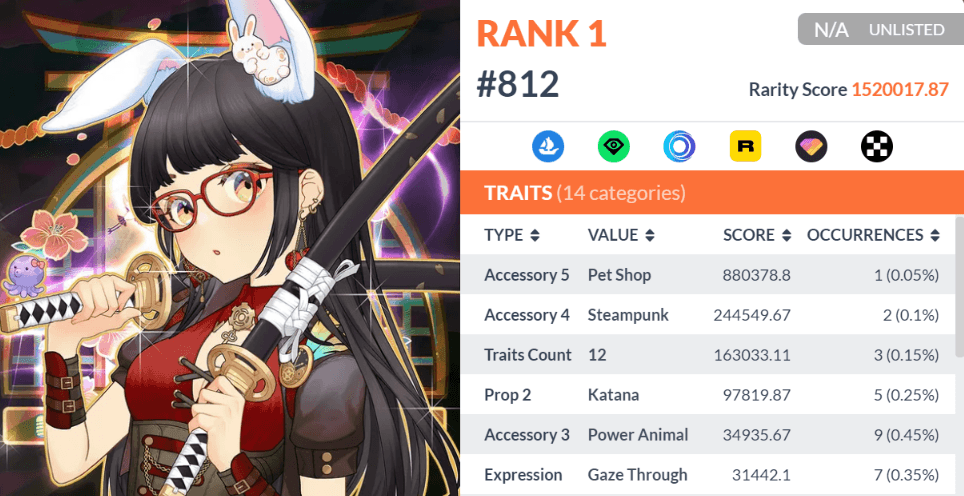 The two most expensive DigiDaigaku sales were recorded by #379 and #1632, which both rank in the top #5 for rarity on Rarity Sniper.
The black and white #379 is the only NFT in the collection with the Lines & Dots Mythic and one of five that has no Outfit or Background. At the end of August 2022, it sold for ETH 59 ($99k).
The 1:1 Moth & Flames Mythic traits make #1632 an incredibly sought-after DigiDaigaku, and in October 2022, it traded for a massive ETH 200 ($333k).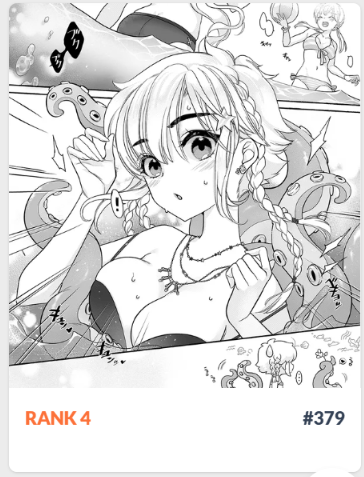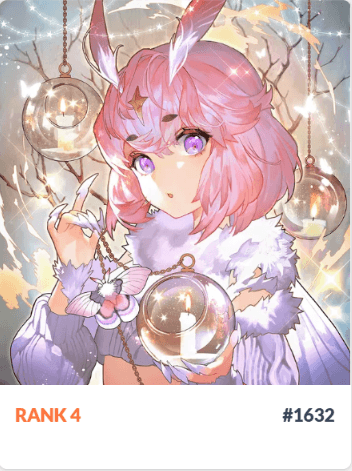 What Does DigiDaigaku Do?
The DigiDaigaku collection has several use cases contributing to the game's overall model.
Play-To-Own and Free-To-Mint
To understand why this project has generated hype and experienced massive surges in trading volume, we need to dig into what Laydon means by the play-to-own model. He expanded on the idea in an interview with GamesBeat.
Laydon stated that the first step in taking blockchain gaming to the next level is by starting with a free-to-mint collection, as this reduces the ability of scammers to sell NFTs and never actually deliver on creating the game. Furthermore, the play-to-own game will continuously reward users with free mints and new mechanisms which will encourage new members to join.
It's worth noting that it's been less than a year since the project kicked off, and for now, specific details about what the finished 'free-to-own' product will look like aren't available. But Leydon was able to convince investors to drop $200 million into Limit Break with his plan.
Secondary Collections
Since the Genesis mint, three new 'Core' secondary collections that can be burned or combined with Genesis Digis to unlock new characters and rewards have been airdropped.
Heroes
The Heroes collection was launched in September 2022 and comprised similar manga-style characters we saw in the Genesis collection, but this time they're male instead of female.
Genesis holders are able to mint a Hero by burning the Spirit NFTs that they were airdropped or by combining them with a Digi. Spirits are divided into three classes rogue, warrior, and royal, which impact the type of Heroe that's minted.
The floor price of the Spirit collection is ETH 4.7 as of February 2023, and its trading volume is ETH 1.7k. While the Heroes floor price is above ETH 2, and the rarest characters have sold for over $40k.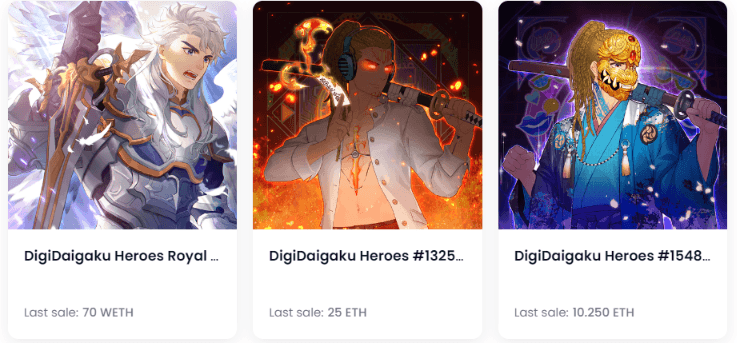 Villains and Super Villains 
The Super-Villains and Villains hit the blockchain in Feburary 2023, and both contain unique characters in a similar style to the previous two collections, but this time they bare a sinister tone. According to the official website, the role that these characters will play in the DigiDaigaku will be revealed shortly.
Quests
Currently, there are three different quests available for Digi NFT holders. Quest #1 is for combining Super Villian or normal Villain Potions and Masked Villians to 'Unmask' a new villain character. Quest #2 is used for crafting Super Villian Potions and Villian Potions. Quest #3 is for combining Spirit NFTs with Digis to create Heroes.
Collaboration
As part of Leydon's vision for a web 3.0 ecosystem that encourages collaboration between 'play-to-own,' DigiDaigaku has formed several partnerships in the blockchain space.
Branch Castaway Sandbox
DigiDaigaku announced on Twitter in September that the project was partnering with the Branch's Castaways sandbox game to create an Adventure quest mode for Digis. Using an NFT Genesis Adventure Key, Genesis Digi holders can unlock a version of their Digi on Castaway island.
"While we are making [our] own games, our aim is to make the Digi Universe interoperable with as many worlds as possible." Leydon said after the partnership was confirmed.
YGG
In September, an official Yield Guild Games (YGG) Medium post announced that the Web 3.0 gaming guild had invested in DigiDaigaku by purchasing 22 Digis worth just over $50k. They said that the NFTs would be used to bring members of the fold into the Digi gaming universe.
"We at YGG have full faith in Gabriel's ability and expertise when it comes to delivering games that have mass appeal," said Gabby Dizon, co-founder of YGG.
Super Bowl Controversy
Limit Break spent an estimated $6.5 million dollars on an advertisement slot during the 2023 Super Bowl on Feburary 13th. The idea, on the face of it, was brilliant. A QR code appeared on the screen during the advert, and viewers were encouraged to scan the code.
Leydon explained in a Tweet just before the big game that by scanning the QR code, viewers would be in with a chance of minting one of the 10k Dragon NFTs that were being added to the Digi ecosystem.
Unfortunately, Leydon appeared to Tweet the link to the mint page just before the advert actually aired. In addition, he forgot to mention that you would need an Ethereum wallet to mint an NFT, and as a result, many viewers were left in the dark.
The live mint was a debacle. Most people were not able to mint and voiced their anger on Twitter, while those who did ended up dumping the eggs for a quick profit. The collections floor price has plummeted and, as of writing, trades at ETH 0.2 ($300).
The team and Leydon appear to be trying to salvage the situation with a second mint. According to his Twitter, they reserved 5,000 of the eggs, and to get on the mint list, you must follow the Tweet link and connect your Ethereum wallet. Registration has been open for over a week as of writing, 21st Feburary, and it's unclear when the winners will be announced. 
No Roadmap
It's worth bearing in mind that the project doesn't have an official road map. While it's clear that, at the moment, the team is building new features regularly, it's still frustrating not to have a clear outline of their goals.
Royalties
Although the official website does not mention royalties, the project's OpenSea pages have 10% fees.
How To Buy DigiDaigaku?
The best way to purchase DigiDaigaku NFT is on OpenSea by following these simple steps:
Get a Crypto Wallet: Get an ETH-compatible crypto wallet like MetaMask.
Connect to Marketplace: Visit the DigiDaigaku OpenSea page and connect your wallet.
Explore: Browse the collection and use the filters to sort them by price.
Buy: Purchase a Digi by pressing the buy now button or bidding.
Before purchasing a DigiDaigaku NFT, make sure you do you're own research and follow the project on Twitter.
The Future Of DigiDaigaku NFT
DigiDaigaku is an exciting project. Leydon and his team are approaching blockchain gaming from a new angle, bringing a lot of experience and funding to the project. The Super Bowl ad has thrown a spanner in the works, but things should be back on track if the second Dragon egg mint goes off without a hitch.