Discover Wolf Game NFT, which is an on-chain P2E metaverse game where players earn rewards in $WOOL through various farming and stealing mechanics.
The world of blockchain gaming still feels like the wild west, with some projects becoming multi-million dollar hits while others end up letting down the community through poor gameplay and even worse mechanics. The Wolf Game NFT is an Ethereum-based, fully on-chain NFT game that has created a simple yet fun ecosystem based on NFTs and the $WOOL token.
The pixelated Sheep, Wolf, Farmers, and Land NFTs have generated over ETH 31K in trading volume as of March 2023, reflecting the success of Wolf Game, so if you're looking to dive into a new blockchain game, this could be an exciting project.
In this post, we'll cover everything you need to know to decide whether you want to spend some ETH and play Wolf Game, including the game's history, the gameplay, the team, and recent developments.
Wolf Game Explained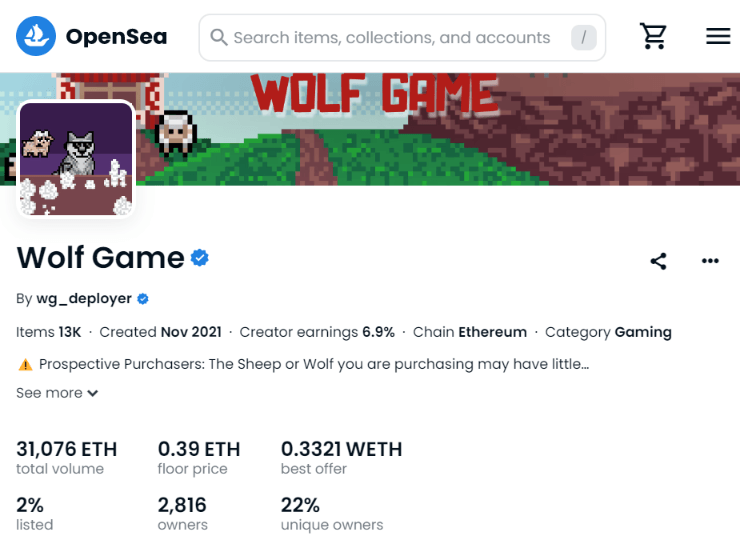 Wolf Game is a play-to-earn (P2E) metaverse game where players earn an ERC-20 token called $WOOL using Sheep and Wolf NFTs that inhabit virtual land plots that are traded as NFTs. While Sheep earn players $WOOL through a staking and breeding mechanism, Wolves earn $WOOL by hunting the Sheep.
Furthermore, players can purchase NFT Farmers, which improve breeding and reduce the probability of Sheep being hunted by Wolves. And every plot of land in the game is also an NFT with unique traits. You can learn more about the game and the various NFT collection on Discord or by following the team on Twitter.
Who Created Wolf Game?
The creators behind Wolf Game are not doxxed. Moreover, there's basically no information online about the team currently developing the project. The project's official Twitter is run by an anonymous person or persons with the pseudonym 'The Sheperd.' After every Tweet, they sign off with the pseudonym without leaving clues about who they are.
Despite the lack of a doxxed team Twitter is active, with The Shepherd constantly sending out updates and sharing thoughts about the game. On February 7th, they Tweeted that playing Wolf Game is easy but extremely difficult to master.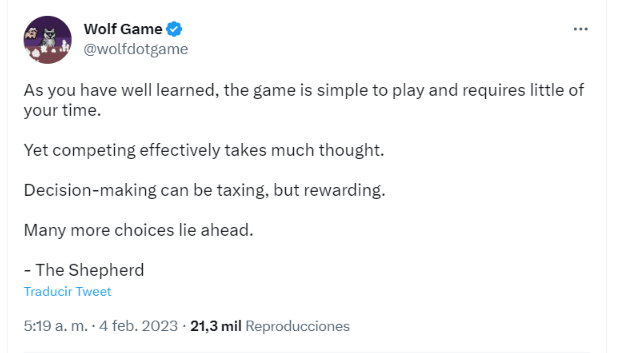 When Did Wolf Game Launch?
The Wolf Game ecosystem compromises several NFT drops that interact with each other via various on-chain game mechanics launched at different times.
Wolf Game – Genesis 0&1
The Wolf Game Genesis collection of 10k Wolves and Sheep launched on the Ethereum blockchain on November 18th, 2021, with a mint price of ETH 0.06942. The collection was divided into a 90:10 ratio in favor of the Sheep, which makes the Wolves considerably more valuable.
The collection sold out within hours, and the floor price skyrocketed. During the mint, The Shepherd was very active and posted a lengthy Twitter thread explaining the game's mechanics. 
Following the Genesis 0 launch, users were able to mint 3,809 Genesis 1 NFTs using $WOOL. As a result, the genesis collection compromises just under 14k Sheep and Wolves.
As of March 2022, the Wolf Game Genesis collection has a total trading volume of 31k ETH, a floor price of ETH 0.39, and a unique ownership ratio of just 22% which suggests a few whales hold a considerable chunk of the NFTs.
Wolf Game – Genesis Land
In November 2021, 20k plots of Genesis LAND were launched, all with varying traits and capabilities that alter the $WOOL productivity of the Sheep and Wolves that inhabit the plot. 10k plots of land were free to claim by Gen 0 holders, and the remaining 10k were sold via a dutch auction that started at ETH 0.69420. 
As of March 2023, LAND has a total trading volume of ETH 15k, a floor price of ETH 0.15, and unique ownership of only 18%.
Wolf Game – Farmers
The 11.7k Wolf Game Farmers collection was launched in November 2021, allowing holders to improve their $WOOL yield and protect their flock from the Wolves. As of March 2023, the collection has a total trading volume of ETH 9.4k, a floor price of ETH 0.29, and a unique ownership ratio of 21%.
Wolf Game – Generation 2
A breeding mechanism was introduced in January 2023, which allowed Genesis holders to breed Gen 2 Sheep and Wolves. According to the Whitepaper, Gen 0 and Gen 1, NFTs can be bred using $WOOL, with Farmers increasing the processing speed and offering protection from Wolves. Two of the three Gen 2 traits come from their parents, and one is assigned randomly. 
As of March 2023, the community has bred 399 Gen 2 Sheep and Wolves, and according to OpenSea, the collection has a trading volume of ETH 24, a floor price of ETH 0.25, and unique ownership of 59%. 
Wolf Game – WOOL Pouch
In December 2021, the Wool Pouch NFTs were airdropped to Gen 0 and Gen 1 Sheep and Wolf holders. The pouches release $WOOL to the holder over time using lock-up periods. For example, WOOL pouch #14417 has $WOOL 127 locked, which will be unlocked in 1379 days.
Although some players chose to hold onto their pouches, many of the NFTs ended up being traded on OpenSea, where as of March 2023, the collection has a total trading volume of ETH 9.2k, a floor price of ETH 0.019 and a unique ownership of 23%.
Every collection has a 6.9% creator earnings fee, according to their respective OpenSea pages.
What Makes Wolf Game Unique?
The Wolves, Sheep, Farmers, and Land Plots are all unique, with a variety of random features that dictate their rarity, value, and utility within the game.
Wolf Game Genesis Collection Rarity
As only 10% of the Genesis Collection is compromised of Wolves, they account for the rarest NFTs. Wolf #13030 is the rarest Wolf due to its Skeleton fur and Closed eyes, which are both found in less than 1% of the collection. Interestingly, this Wolf hasn't been traded since it was minted in November 2021.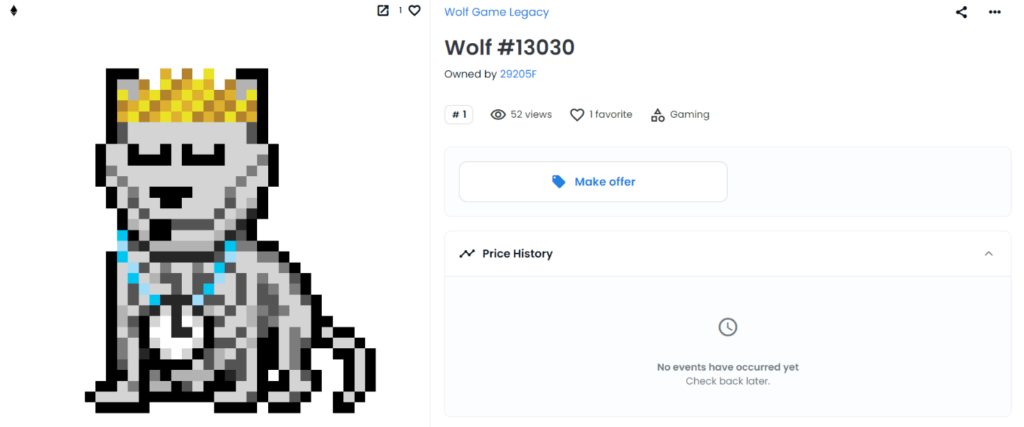 The most valuable NFTs in the collection are Wolves that have high rarity scores. For example, Wolf #2772 clocked the highest sale in the collection at ETH 20.5 ($33k) in November 2022, closely followed by Wolf #13181, #5047, and #761, which all sold for ETH 20.

Although the Wolves dominate the rarity rankings, Sheep #9667 is so rare that it's surrounded by Wolves on the rarity and highest sale chart. This Sheep has a Rainbow Fro found on only 1% of the collection and sold for ETH 9.6 ($15k) in November 2021.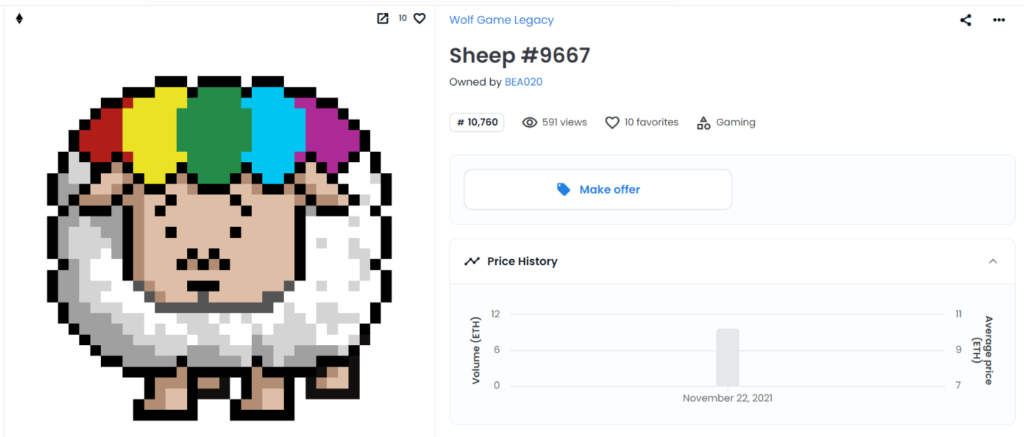 The project's floor price is dominated by Sheep, as they are the most common characters in the collection. Features to look out for when hunting for the cheapest sheep include White Fur (56%) and No Ears (64%).

Wolf Game Farmers Collection Rarity
The Farmers collection has racked up nearly ETH 10k in trading volume as of March 2023, with several individual Farmers having traded for over ETH 10.
According to Rarity Sniper, the rarest farmer in the collection is Farmer #4113, thanks to its 1:1 Blue Scarf, Gold Square Glasses (0.16%), and Big Mama Type (1.7%). Despite its rarity, this Farmer has only been traded twice, and both times it sold for less than ETH 1 as of writing in March 2023. Its highest offer on OpenSea is just WETH 1.3 ($2k).
Farmer #9385 was sold for WETH 14.5 ($20k) in July 2022, making it the highest-selling farmer, followed closely by #4905 and #820. All three of these farmers have features found on less than 5% of the collection, and #9385's Brick Classic Body type is found on less than 1%.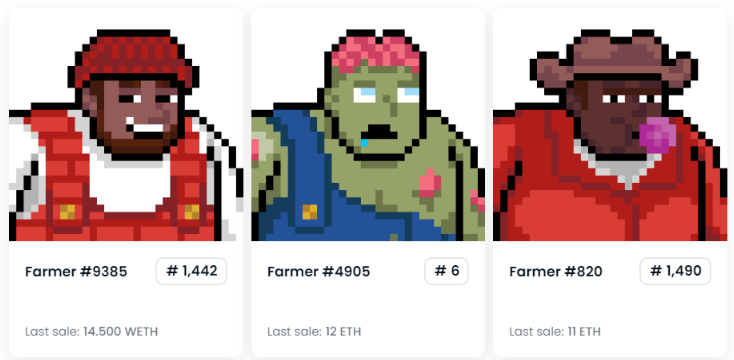 Wolf Game – Genesis Land Rarity
The 20k collection of Land is divided into 101 communities, with the first 100 communities reserved for Sheep, and the final community known as the 'Peak' is where Wolves breed and recharge. The value of plots of land is decided by their community, structures, and their capacity to produce Grass, Stone, Water, and Wood.
Genesis Land #15799 is one of the rarest plots in the game, and it's located on The Slope (0.5%) and at Peak Level 2 (0.5%). The plot was traded for ETH 42 ($65k) in January 2023. Other high-selling rare plots located on the peak include #13025, which also sold for ETH 42, and #2066, which sold for ETH 31. Plots that trade around the floor price are located in Sheep communities and have no structures.

Wolf Game – Generation 2 Rarity
The rarity and value of the second generation of Sheep and Wolves are dictated by the same nine traits found in the genesis collection and their energy score. As you'd expect, the rarest NFTs are Wolves, as they make up a small percentage of the collection.
Wolf #13928 has some extremely rare traits, such as the Grey Nose Smirk (1%), Purple Fur (4%), and Gold Neck (0.98%). Due to its rarity, this Wolf also holds the title for the highest-ever sale as of March 2023 at ETH 5 ($7.7K) in January 2023.
What Does Wolf Game Do?
The Wolf Game ecosystem is complex despite the pixelated 2D animations. Multiple secondary collections have been added to the game since its launch, and the mechanics have also gone through several upgrades. At the core of the game is the simple objective of earning $WOOL.
If you want to understand every detail about its mechanics, we strongly suggest you read the WoolPaper.
$WOOL
$WOOL is the project's native utility token. It's an ERC-20 token on the Ethereum blockchain and acts both as a way of paying rewards and for governance. The tokens supply is limited to 5 billion, with 2.7 billion already minted, according to CoinGecko as of March 2023. The token can be traded on PancakeSwap, where as of writing, $WOOL 1 is worth $0.00000791.
Staking Sheep
The first choice a player will have to make is what to do with their Sheep. Every Sheep can be staked by housing it in a 'Barn' where they will generate $WOOL. In addition, depending on the community where the Barn is located, the Sheep will also gather WOOD, WATER, STONE, and GRASS. Every time you use a Sheep, you'll use Energy.
Looting Wolves
Wolves are used for hunting. In exchange for energy, Wolves can be sent to attack Sheep and attempt to loot the resources they've gathered and sometimes even steal an entire Sheep NFT. Like the Sheep, a Wolf will consume energy when hunting.
Communities and Taxes
Landowners in the community vote on the tax rate, which dictates how much $WOOL every user has to give up in exchange for using the land and for protection from the Wolves. Some communities have lower taxes meaning you'll take home more $WOOL and resources but may offer a worse defense. Communities use $WOOL as a governance token, with landowners voting on the tax rate.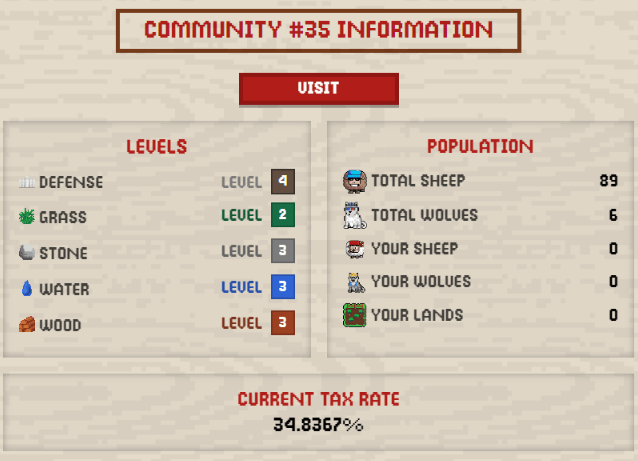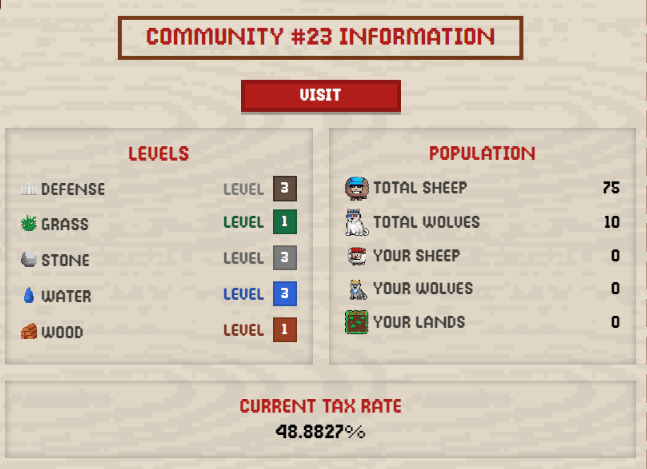 Structures
The Communities and their plots of land are home to structures that can be used for various purposes. In addition, communities can spend resources to build new structures and thus improve the value of the land and add additional utility. There are three types of structures:
Barns: This is where a pair of sheep breed. Barns can be built on Farms, and higher-level barns reduce breeding time and increase the resources Wolves need to spend to steal.
Bathhouses: This is where Sheep and Wolves recharge their energy. Sheep use Bathouses on Farms, and Wolves use those on The Peak.
Dens: This is where a pair of Wolves can breed. They are always located on The Peak.
Breeding Sheep
You can breed a Gen 0 and Gen 1 Sheep to create a Gen 2. Breeding is carried out in Barns on The Farm in exchange for $WOOL, GRASS, and Energy. The Breeding process is altered by the level of structures and the presence of farmers. You can learn about the multipliers and specific details of Breeding in the WoolPaper.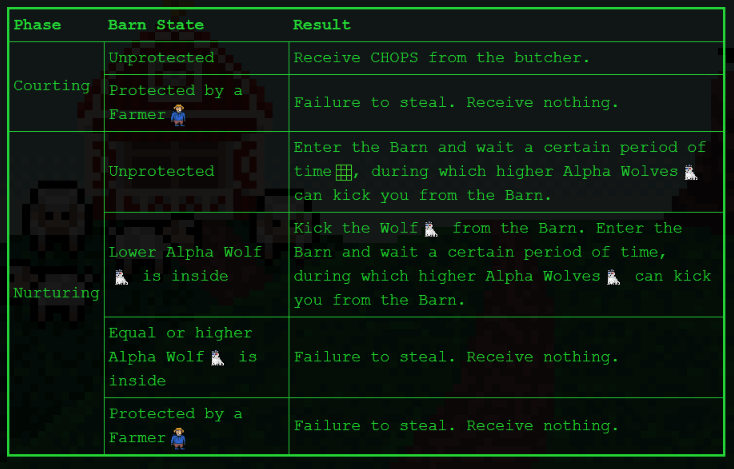 Breeding Wolves
Gen 0 and Gen 1 Wolves breed in Dens located on The Peak. To breed a Wolf, players spend Energy, $WOOL, and CHOPS. CHOPS are obtained by burning Sheep. To complete the process, users must leave their Wolves in the Den for a pre-determined amount of time. If players don't leave their Wolves in the Den long enough, they receive nothing.
How To Buy Wolf Game NFTs?
The best way to purchase any Wolf Game NFT is on OpenSea. In this example, we will focus on the Genesis collection, but the process is the same for every sub-collection. Follow these steps to purchase a Wolf Game NFT:  
Get a Crypto Wallet: Get an ETH-compatible crypto wallet like MetaMask.
Connect to Marketplace: Visit the Wolf Game NFT OpenSea page and connect your wallet.
Explore: Browse the collection and use the filters to sort them by price.
Buy: Purchase a Wolf Game NFT by pressing the buy now button or submitting a bid.
Before purchasing any Wolf Game NFT, or any NFT for that matter, always do your own research first.
The Future of Wolf Game NFT
When I started researching Wolf Game, I thought I was looking at a pretty basic project with pixelated Sheep and Wolves competing for $WOOL. However, once you delve deeper into the game, you find this is a complex ecosystem where becoming a good player requires quick thinking, innovative strategy, and patience.
Since its launch, the game has continued to grow with new drops and game modes, and if this continues, the community is likely to grow. However, as with any P2E game, the main concern is sustainability which in the long term is only possible if the developers keep bringing in new ideas and onboarding new players.
Wolf Game is one of the most popular P2E blockchain games with several NFT collections and its own native token that are all fully on-chain and operate within an Ethereum-based metaverse.
The primary aim of Wolf Game players is to earn $WOOL by using NFT Sheep to gather resources and NFT Wolves to steal resources. Earning potential is dictated by the NFT characters and the virtual plots of land where they are staked.
All the collections in the game have generated over ETH 50k ($75 million) in trading volume, and the most expensive NFTs have traded for over $30k. The project is being led by a mysterious undoxxed founder known as The Sheppard, who regularly updates the community via the official Twitter @wolfdotgame.
Although the game appears straightforward at first, it's actually a very complex ecosystem where the best players are those who develop clever strategies to maximize the amount of $WOOL and resources they earn.