Find out some eye-catching and buzzing code-based generative arts that you can collect from the best art blocks projects.
Art Blocks is the home of a new generation of art powered by AI algorithms. Art Blocks projects come from some of the best coders and digital artists.
Such NFT projects create a fusion of blockchain technology and coding to produce a new model of ownership and artwork. If you're into generative art NFTs, check out this ultimate list of Art Blocks NFT projects. Remember to check out our guide: What is Art Blocks?
Curated Projects
The following are the Art Blocks team vetted projects that reflect the artistic vision of the platform and bring in value. 
Chromie Squiggle is one of the first Curated Art Blocks projects. The platform creator, Snowfro, published this NFT collection on November 27, 2020. According to the creator, these colorful squiggles are Snowfro's signature as a developer, tinkerer, and artist.
You'll always find at least one NFT from this collection as the top 3 volume trade NFT on Art Blocks. With 51.0K Eth total volume traded so far, the Chromie Squiggle project emerged as one of the first bluechip generative art projects.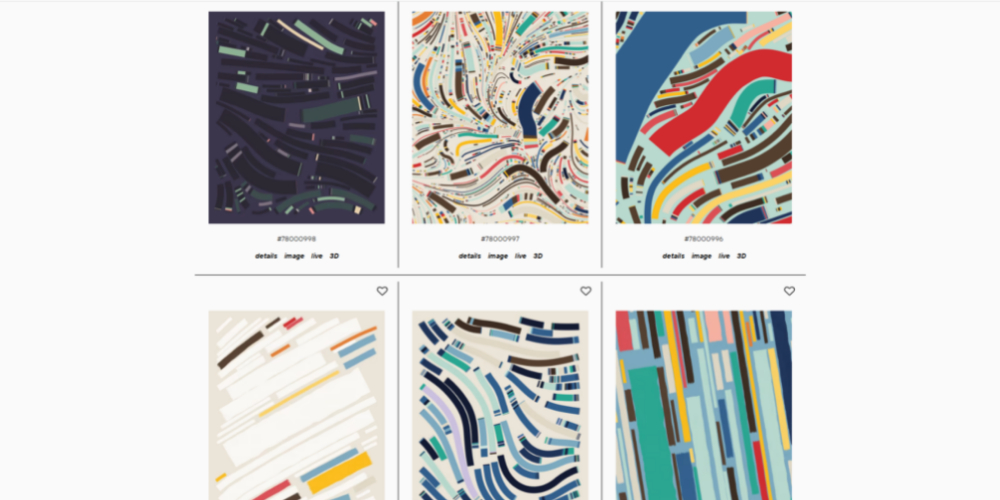 Fidenza is a beautiful combination of machine processing and artistic values. The renowned NFT artist Tyler Hobbs used multiple algorithms to create a balance between quality and unpredictability.
The programming code that produces Fidenza NFTs utilizes the flow field algorithm to draw unpredictable organic curves. The program also replaces thin organic lines with curved rectangles. These random rectangles never overlap or collide.
Other features of this NFT artwork are probabilistic color palettes, the scale of the organic shapes, turbulence, and more. It's noteworthy that it's one of the highly grossing Art Blocks projects.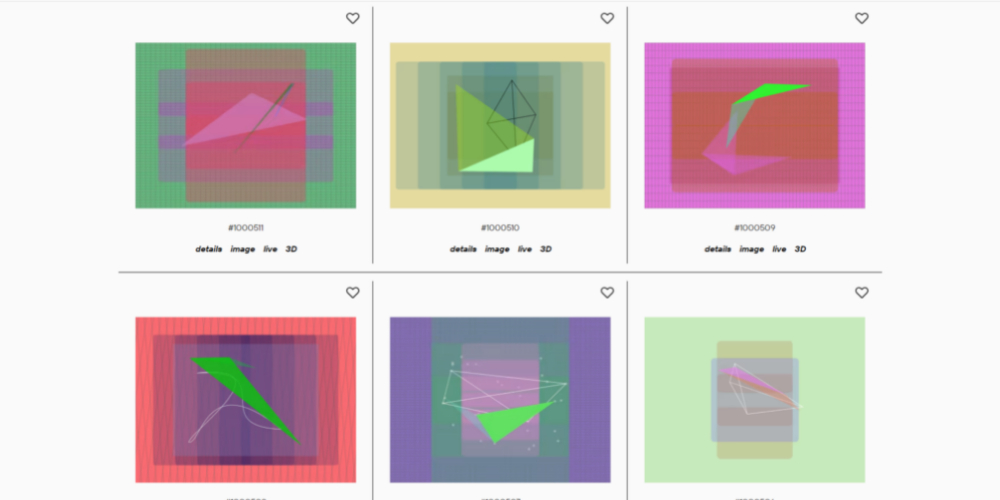 The generative art script Genesis is the brainchild of the creative coder, sculptor, and digital fabricator Daniel Calderon. The NFT project is a generative system where an algorithm interprets a block's hash string into visual composition or art.
Various art components like colors, lines, shapes, gradients, and grids appear harmoniously in the final artwork.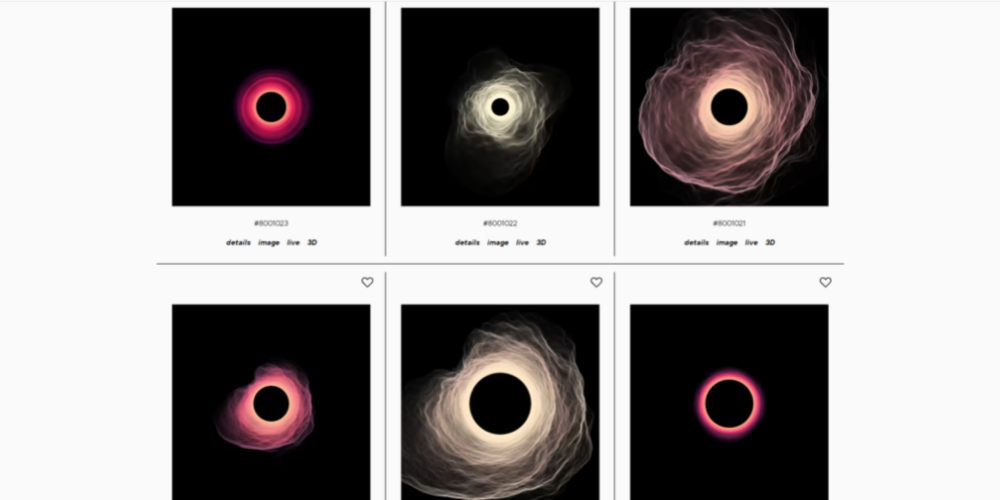 Singularity is a form of generative art where color waves disperse outwards from a central core. The central core is always a black hole around which the color waves vary according to the rarity features of the NFT artwork.
This NFT project has eight rarity features. These are Color Set, Mass, Chaos, Force, Chance, Symmetry, Saturation, and Turbulence. The features occur in various metrics like percentage, any number between 1 to 355, low, high, average, etc.
Cryptoblots are the algorithmic illustrations of Rorschach test inkblots. These extraordinary NFT artworks let you indulge your craving for finding something meaningful in a random visual pattern, popularly known as pareidolia.
The Cryptoblots let you externalize your inner imagination onto visual components like rudimentary curves, elegant patterns, etc. All the Cryptoblots are one-of-a-kind and are good collectibles. If you find something meaningful in any one of these, you may want to hold on to it by owning the NFT.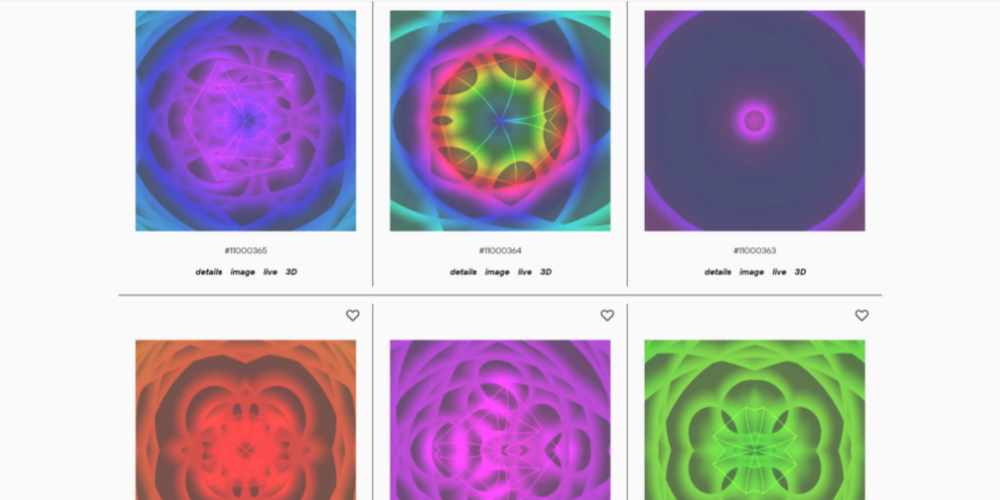 HyperHash is a collection of 369 unique animated generative art NFTs created by Beervangeer. The project experiments with the possibility of visualizing abstract data on Ethereum. For visualization purposes, the artwork uses geometric shapes and intuitive color.
Each NFT asset has 8 rarity features in different combinations, percentages, and values. These rarity features are Speed, ColorMode, ColorHue, ColorBase, FlipMode, Layers, Dimensions, and DimensionsRatio.
The programmer and generative artist Kjetil Golid is the creator behind the Archetype NFT collection on Art Blocks. It's yet another valuable Art Blocks project available on this generative art platform and has so far grossed 12.1K ETH in total volume.
The artist has used random structures in repetition to create a balancing effect. The blocks that you see in the artwork may look chaotic as a single component. But when they're algorithmically combined on a single frame, you may find a satisfying expression that could be complex to perceive.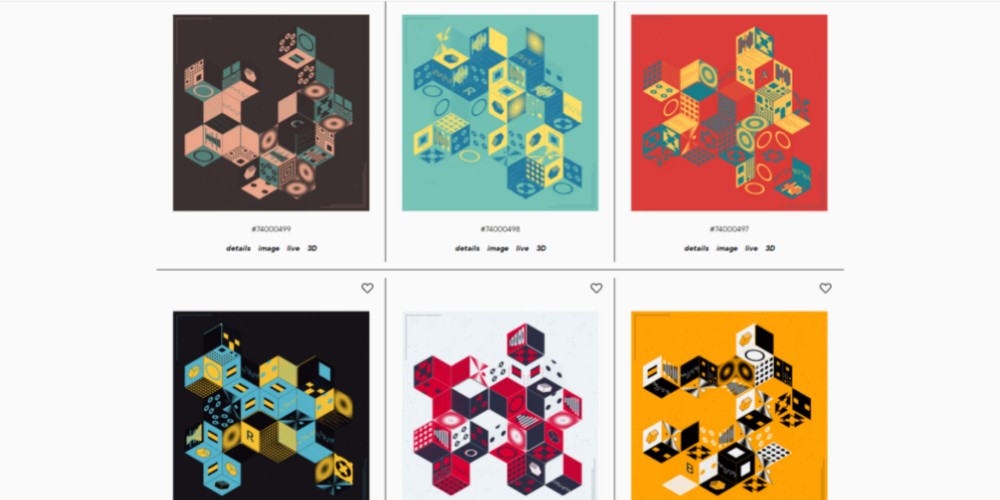 The generative artist Shvembldr has dedicated The Blocks of Art project to the Art Blocks platform. Each artwork of The Blocks of Art NFT project visualizes multiple generative arts in small blocks.
These small blocks, in turn, organize randomly to compose the entire NFT art. Each NFT art of this 500-item collection contains a letter from the name Art Blocks. If you can collect all the 9 letters, you become a member of the TBOA Club.
Playground Projects
Playground allows the artists from the Curated project to drop subsequent NFT collections. Art Blocks encourages the artists to experiment with style, creativity, and presentation while following quality standards.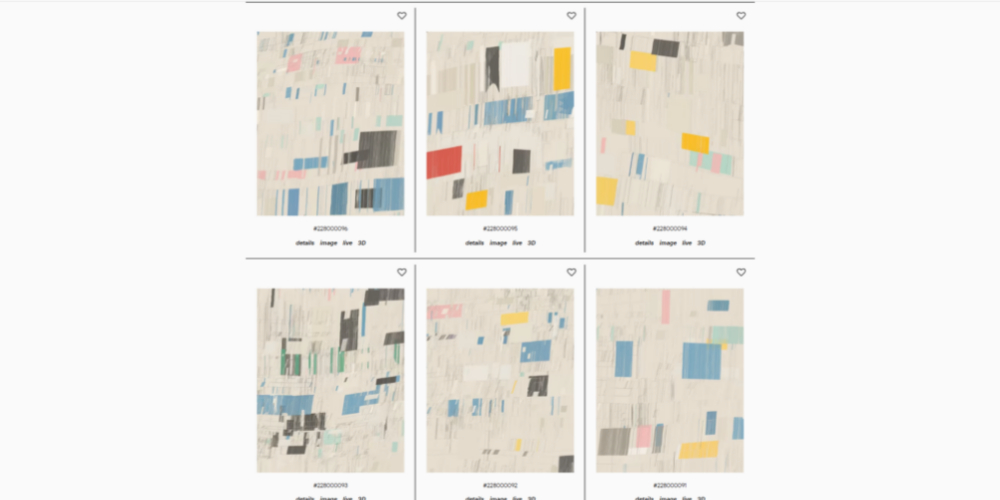 Incomplete Control seems like experimentation on the Curated project Fidenza by the artist and coder Tyler Hobbs.
The artworks of this NFT collection promote imperfection, room for error, and letting go of control. These Art Blocks NFTs don't have any rarity feature since these are one of one digital asset.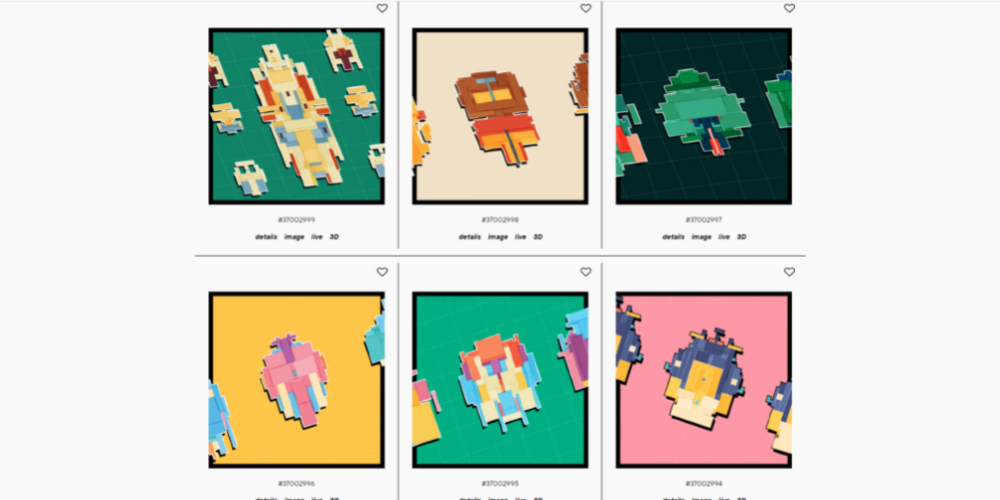 Paper Armada is a collection of 3,000 NFT arts that look like spacecraft created by Kjetil Golid. However, these spacecraft illustrations exist in a static 2D image.
During the mint event, random hash codes interacted with the generative algorithm to produce a complete fleet, a lone spacecraft, or a small armada, and the process was fully random.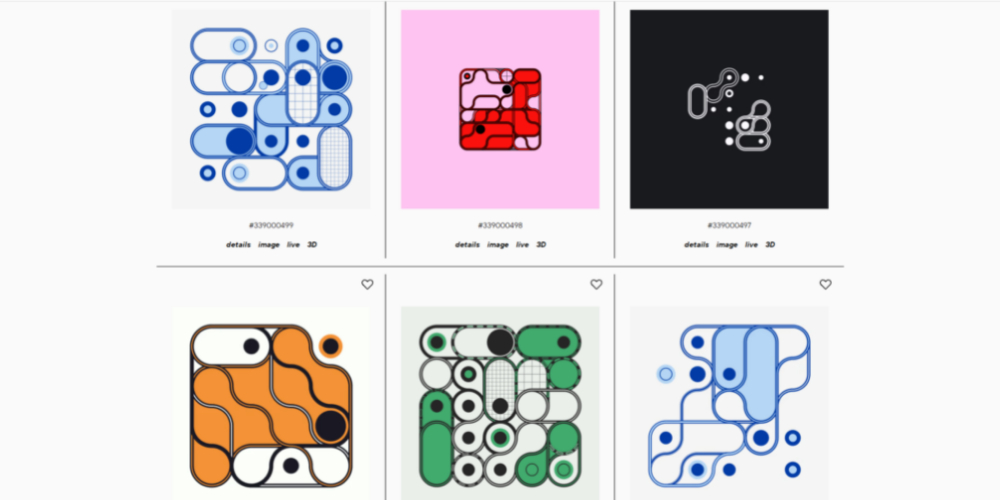 Ieva NFT project is the product of 500 NFT artworks generated by the Ieva algorithm. The code starts creating shapes from a random point on the grid in specific sequences. All such shapes have smooth corners that increase visual aesthetics.
Some shapes overlap each other while others remain isolated. Similarly, there are shapes with solid colors, while others have grid boxes.
View Card is the creative work of Jeff Davis, a generative artist and the CCO of Art Blocks. These spectacular NFTs are abstract artwork that represents high-rises and skyscrapers. However, from the visual perspective, these artworks look like windows of city buildings.
To make each NFT unique, the algorithm uses any one of the 4 different atmospheric conditions, nine different window patterns, and four different reflections.
Factory Projects
Super enthusiastic generative artists and coders can drop their projects in the Factory segment of Art Blocks projects. The Art Blocks curators don't vet these projects. However, the Factory NFT collections reflect artistic beauty, innovation, and creativity.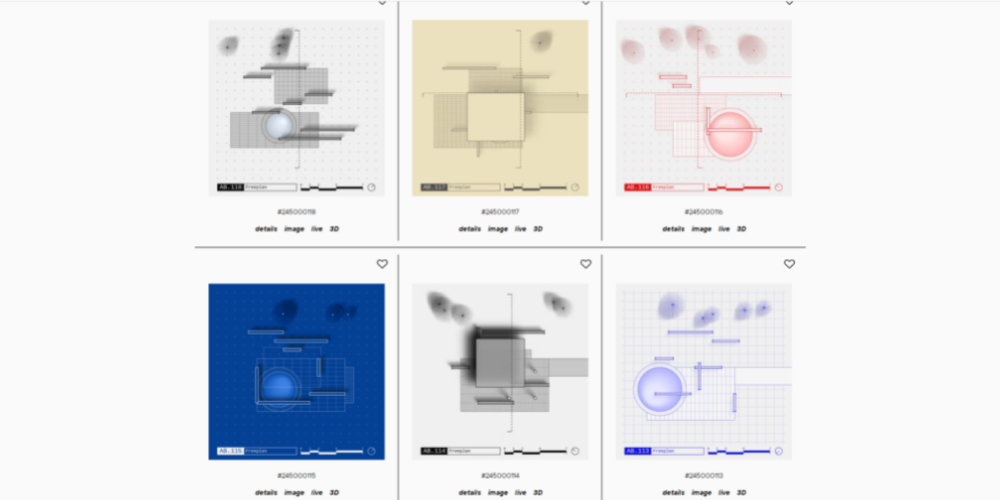 Freeplan is a generative art architectural project or blueprint. It focuses on modern architecture where designers use box-less designs to generate a feeling of spaciousness. Hence, in these NFT arts, you'll find freely placed structures, floors, and partitions.
The rarity of each art depends on the presence of rarity features like Context, WallExtend, WallCount, Pool, Tree, 3D-view, etc.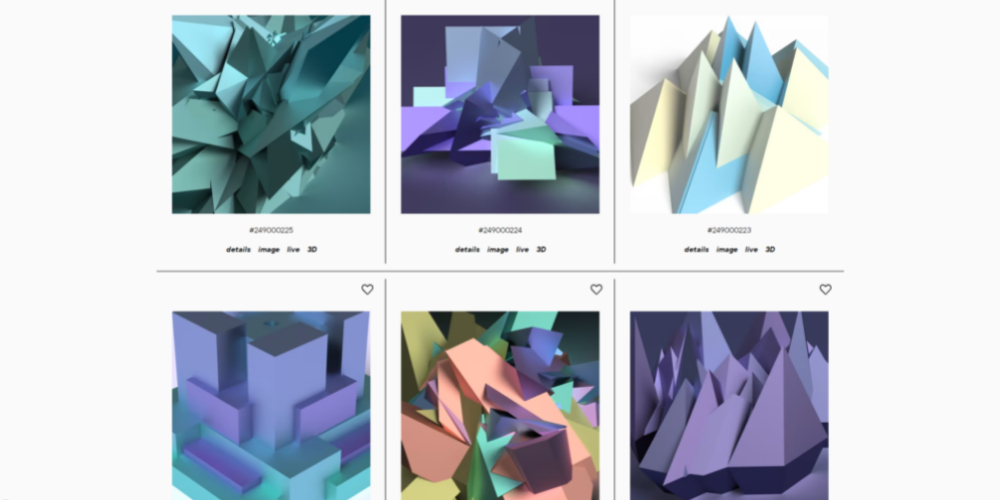 Facets explore how light intersections and polyhedra intersections interact with each other in a 3D space. All the NFT arts in this collection are live artworks.
You can interact with the content in easy by animating them, rotating the shapes, zooming in and out, panning images, etc. The animated view of these NFTs requires higher GPU processing power for high-quality display.
Stations by Fernando Jerez is yet another animated and live NFT artwork project. You can interact with the space station-like objects directly on the browser.
The generative art coder has used official architectural plans to build 900 space stations on an algorithm. Depending on the hash code of your mint transaction, you could get a space station of variable Class, Faction, and Activity.
Best Art Blocks Projects: The Final Word
Now that you've gone through some of the popular Art Blocks projects, it should now become easier for you to navigate the platform. Whenever investing in NFTs like generative art, voxel arts, PFPs, etc., collect the one that you like from its creative and design aesthetics angle.