Read our profile of the Friendship Bracelets NFTs project from Art Blocks.
Art Blocks is the pinnacle platform for releasing generative art NFTS. Unfortunately, bots often buy out many of its mints before collectors get a chance. And many Art Blocks projects are expensive to acquire on the secondary market.
Enter The Friendship Bracelets NFT project, the latest release from Erik Caldron (AKA Snowfro). But what exactly is it?
What Is The Friendship Bracelets NFT Collection?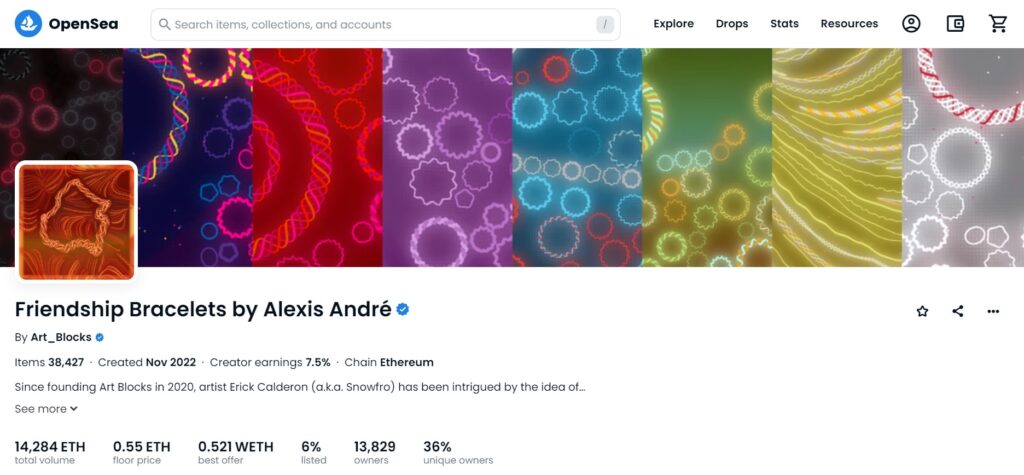 The Friendship Bracelets NFT project is the latest creation from Art Blocks founder Erik Caldron and his collaborator artist Alexis André. They describe it as a "token of our appreciation to the creators, makers, builders, and collectors". Friendship Bracelets is to Chromie Squiggle what Mutant Ape Yacht Club is to Bored Ape Yacht Club
It was a free type of generative art mint for Art Blocks collectors and exists on the Ethereum blockchain. Those eligible could mint two of these NFTS in late 2022 and early 2023.
What Does It Look Like?
The Friendship Bracelets look like decorative bracelets that one friend gives to one another. If you click on one of these colorful NFTs, it provides color codes for sourcing a real-world bracelet and animated instructions for making a real-world bracelet. The bracelets comprise a mixture of 78 colors. Thirty-nine different Friendship Bracelet color palettes exist. These include:
Grayscale
Una Passeggiata Toscana
Spoons
B&W
The Bend and Snap
spin 1986
It's Electric
Yam Tomato
Neon Lit Diner
Studio Visit
before everything changed
Comlementary Yours
Twinkle in Pink
Inclusion
melte
Ronin
vib(e)rant
It's Another Time for Blood
In the Mountains
Marta Sunset
Panyo
MOAR CIRCLES
der Geheimnisträger
stross approved
Cactus Garden
Targaryeb
Protea
Sugaree
this looks like my office
Sydnet
e m e r g e n c e
(artbot, artbot)
○
PURP
MUIRCA
Who Created It And When and Why?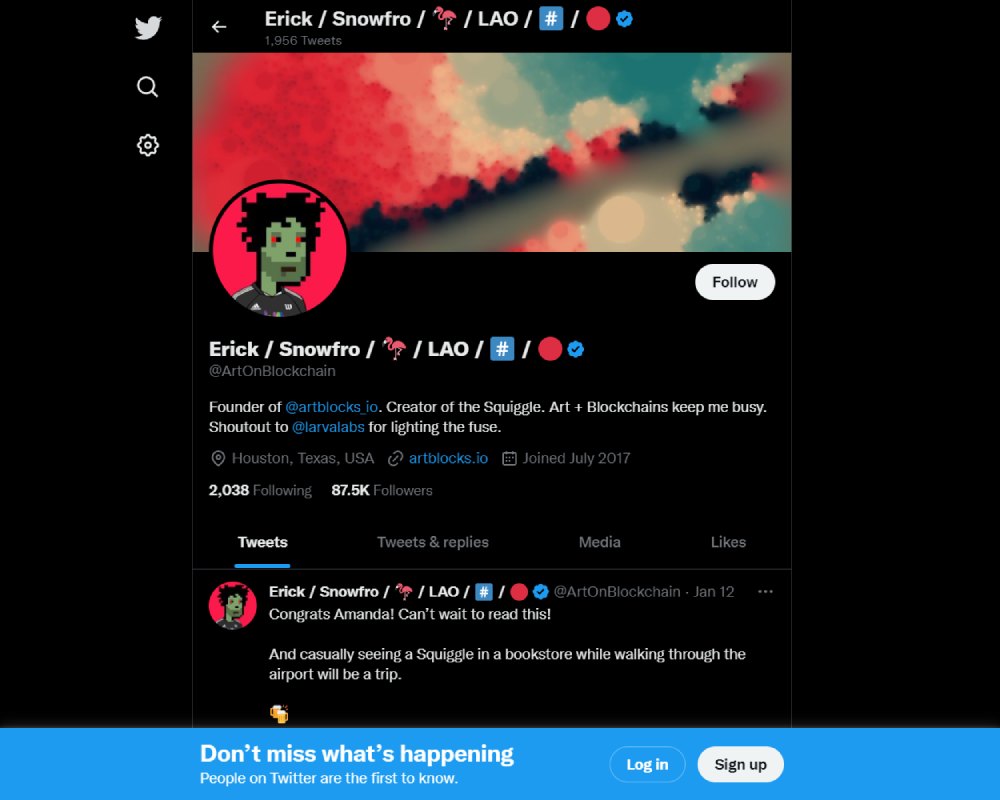 ArtBlocks founder Erik Caldron, AKA Snowfro, and Alexis André created The Friendship NFT project. The project began minting at the Artblocks event in Marfa, Texas, in 2022.
Caldron and André expressed hope that minters would gift the second one to a friend for free, much like a traditional friendship bracelet.
How Many Friendship Bracelets Are There?
The minting window ran from October 26th to January 10th, 2023. A significant amount of these NFTS minted during the final days as Art Blocks NFT collectors realized their eligibility and the rising value of this NFT project. According to Snowfro, less than 60 percent of eligible addresses minted two free NFTs. 38,565 NFTS exist.
The Friendship Bracelets were free to mint. Art Blocks took a snapshot of all addresses that owned an NFT from the project on October 26, 2022. Holders were then able to mint two bracelets for free up until the claim period expired on January 10th, 2023.
What Are the Rarest Friendship Bracelets?
Palettes are the key differentiator for Friendship Bracelets. Several whale collectors have acquired a full set, that is one from every palette. Although considering the rapidly rising floor price and all 39 palettes, that's not a cheap proposition.
Big Sales
The Friendship Bracelets project generated over 7,676 Eth in trading volume between its mint date and January 2023. For context, the trading volume for the project is on par with the Chrome Squiggle NFT project, which has a much higher floor price at approximately 17Eth and has been around for over a year.
Big whales have snapped up full sets of Friendship Bracelets within that period too. I found one wallet with hundreds in his vault.
What Does It Do?
The Friendship Bracelets project is arguably a means of raising the profile of ART Blocks and generative art NFTs. It's also a project that aims to entice new people into the space rather than make existing collectors more Eth.
That's because the team wants minters to give a friend one of these free NFTS. It's unclear how many people have gifted these NFTs for free as some hodlers could have transferred their bracelets to another address or a vault instead.
What About Price and Royalties?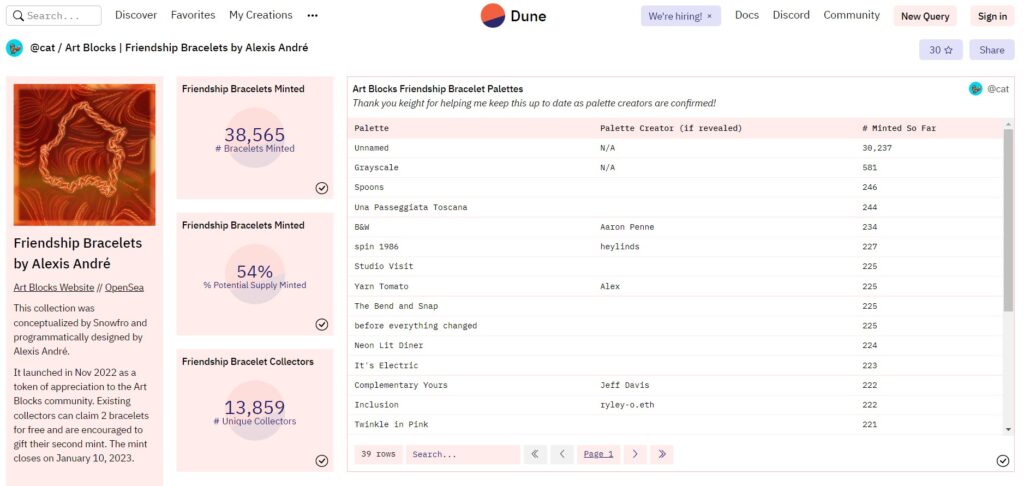 Creator royalties are currently set at 7.5% for the project. That's on par with royalties for other Art Blocks projects like Chromie Squiggle. The bracelets were free to mint and gradually trended towards 0.7Eth before the minting window closed.
Some rarer palettes which sell for higher amounts include grayscale and ○. An NFT with a former color pallete sold for 9.5 Eth, over 20 times the floor price. One with the latter pallete sold for 2.5 Eth, over five times the floor price.
The easiest way to keep track of the Friendship Bracelets project is via a Dune.com dashboard, which provides real-time stats about who owns what, price trends, and also who owns a full set.
The Future of Friendship Bracelets
Art Blocks has hinted at plans for the Friendship Bracelets project. They said they could release future iterations on a L2 scaling solution which would substantially increase the supply. These mechanics are similar to how Chromie Squiggle. For more, read our Chromie Squiggle guide.
Snowfro also announced the team held back approximately 500 NFTs from the collection, which they may mint at some future point to drive up the adoption of the project. Friendship Bracelets should find a natural floor in the weeks after the minting window closes.