Crypto projects or event owners reward unique POAP NFTs to the attendees to value their participation and engagement. For you, it becomes digital memorabilia written on the Ethereum blockchain for life.    
Did you ever save a ticket from a concert to make the life event memorable? What about saving badges and degrees from prestigious conferences or university convocations to relive the memory in the future? These examples are a physical way of safekeeping important life events that we can't reproduce.
Similarly, in the cryptosphere, POAP NFTs let you save a piece of memorabilia of an important life event in digital form. POAP or Proof of Attendance Protocol proves that you were present in a crypto event physically or virtually, and earned a commemorative NFT for your participation.
These NFTs are now booming since they promote community engagement and support for a crypto project. Read on to find out everything you need to know about POAP NFTs.
POAP In Crypto Explained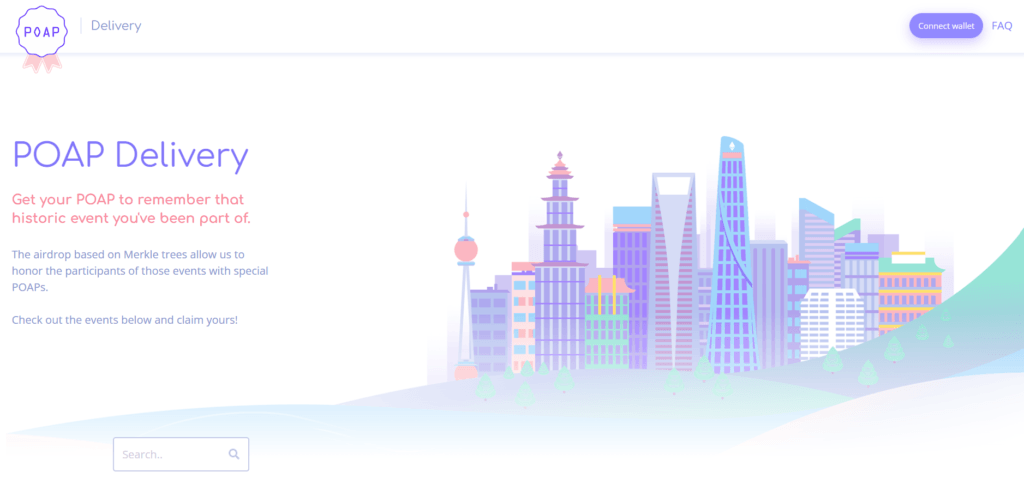 POAP, aka Proof of Attendance Protocol, is a blockchain-based tool to create and store memories for the future. The ERC-721 smart contract from the Ethereum blockchain validates the immutability of such digital records, and hence, they're also known as POAP NFTs.
Usually, event organizers and NFT project promoters give away POAP tokens to a specific group of people who attend a special event or take part in early NFT minting. If you're collecting POAP badges, then you're a POAP collector. On the contrary, the event organizers or NFT developers are known as POAP issuers.
POAP issuers come up with a collection of NFTs reserved for the target audience through email or Ethereum wallet addresses. Thus, there is no rush to mint the NFT during whitelist or mint events. In fact, there are no such events for POAP tokens.
If you've participated in a crypto event and the organizer issued you a POAP NFT, you can go to POAP.delivery to claim your NFT. Issuers give away POAP badges for free. But, you may need to pay a small fee to collect the NFT in your Ethereum wallet.
POAP NFTs are normally stored on the Ethereum sidechain xDai for fast processing and low fees. However, you can also transfer it to the Ethereum mainnet by paying gas fees.
POAP NFTs are the best way for attendance tracking or event check-in without disclosing your personal information like name and date of birth. Since the organizers can easily verify your NFT data from the Ethereum blockchain, you can freely access metaverse or physical events without being stopped by the security system.
What Are POAPs Used For?
POAPs are non-material yet priceless gifts from issuers to acknowledge and appreciate your support for their project or event. These digitally verifiable badges carry social value and reputation. Sometimes, POAP tokens also come with additional privileges, such as free merchandise, discounted merchandise, NFT whitelist seat, and honorary NFT coins.
Organizations or individuals can issue POAP badges to attest to certain activities, like:
Tracking In Real Life (IRL) events or town hall attendance.
Giving access to high-staked conferences.
Allowing governance token holders to participate in voting events.
Auditing the progress of a DeFi or NFT project.
Allowing secure participation in ongoing NFT projects.
Since the issuers don't need to collect and process any personal information from the collectors, the popularity of POAP NFTs is growing exponentially. Some popular use cases are:
1. Recognizing Someone's Effort
Educational institutions and training academies can issue POAP tokens to successful students. Sports academies and agencies can also use POAPs to recognize sports performers.
2. Rewarding Community Members
Artists can reward their fans and followers with POAP badges during live events. Later on, collectors may use these NFTs to prove their participation and claim exclusive merch or content. 
3. Using as Memorabilia or Collectible
POAP NFTs could become great mementos. Couples can give away POAP badges to wedding guests as memorabilia. After all, such digital assets have priceless emotional value for both the issuer and collectors.
4. Allowing Access to Content
Businesses can issue POAP NFTs to training program attendees. Organizations could also develop a digital showcase on their intranets to let employees flaunt their POAP tokens as proof of achievements within the entity.
Are POAP Tokens Worth Anything?
Crypto event organizers and projects use POAP badges as the means to identify genuine community members or fans. Thus, the POAP issuers can offer premium benefits to verifiable persons instead of random individuals who may not make any contribution.
Therefore, a POAP token definitely has some value for its collector. A POAP collector can benefit from holding it in the following ways:
Buy or collect exclusive merch meant only for the concert attendees.
Buy collector's edition merch before they become available to the public.
Exclusive right to participate in governance meets, votings, outreach surveys, and community polls. 
Premium access to community-only events of NFT projects that issue POAP tokens.
Get free snacks, drinks, and meals in premium members-only events.
Stay in contact with the project developers or event organizers directly through Discord servers. 
Get discounted tickets in the future when they own a POAP token from the past event of the same band, artist, or organizer.
In most cases, the worth of a POAP token will be intangible. Its core value or worth is in the feeling that you're a VIP member or participant of one or many crypto communities, events, and projects.
Can I Sell My POAP?
Since POAPs attest to personal life experiences, organizations or issuers may not encourage the trading of such digital assets.
Let's say that you've got a concert ticket for the Beatles' first-ever US performance at the Washington Coliseum on Feb. 11, 1964. You may have personally appeared in the concert or inherited the collectible from your forefathers.
There's no argument that this is a priceless collectible, and antique collectors could purchase it for millions of dollars. But, the truth is, the collector could never feel the way you do around this piece of paper. It's all about the emotional attachment to an event.
However, there are collectors who also buy POAP NFTs. You can easily transfer your POAP token to the mainnet Ethereum by paying a gas fee and list it on OpenSea for secondary market bidding. You can also list your asset on Epor.io if you want to sell it from the xDai sidechain.
Examples POAP Collections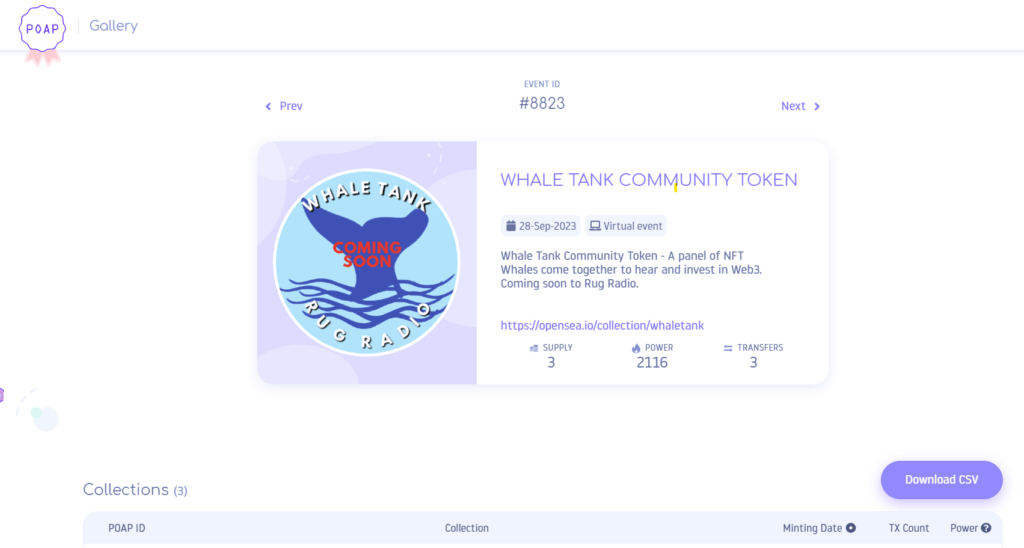 The followings are some popular POAPs to date:
1. Guild of Guardians Founder Badge: Guild of Guardians developer rewarded its pioneering members of the Guardians community with this POAP token. It has a total token supply of 27905.
2. Whale Tank Community Token: This POAP token is meant for a virtual event to be held on 28 September 2023 on Rug Radio. A panel of big players in the NFT marketplace, aka the NFT Whales, will meet and discuss Web3 investments.
3. IATA Madrid 2021: The International Air Transport Association (IATA) will be organizing an event on 26 October 2023 in Madrid. The organizer will reward the attendees of the IATA Digital, Data and Retailing Symposium with POAP NFTs.
4. ETHGlobal Hack Money 2021: ETHGlobal organized a virtual event on the DeFi hackathon on 18 June 2021. The participants got POAP badges as proof of attendance.
What Does the Future Hold for POAP?
POAP NFT technology is still in the early stages of development. POAP badges have the potential to become dependable media to prove event participation in Web3 and metaverse. Many crypto projects are already giving away POAP tokens to value the engagement of their community members.
Big NFT industry events like NFT.NYC launched POAP NFTs in partnership with POAP.xyz in 2021. It'll also offer a new POAP collection to attendees and community members in the upcoming NFT.NYC event in June 2022.
Additionally, there are speculations that big brands and businesses could also enter the POAP NFT space to give away free POAPs to customers, investors, and employees during big in-house events.
Speaking of monetization, the current market doesn't show much liquidity around such NFTs since these are mostly intended for personal HODLing. You can keep looking for free opportunities to collect more POAP NFTs and hold them for the future. In the meantime, learn more about PFP NFTs.