New to Cardanao NFTs? Discover how to buy a Cardano NFT from top marketplaces in our guide.
The artists and creators of NFT collections are moving to the Cardano Blockchain since it offers less transaction time and cost.
Not to mention, the artworks available on various Cardano NFT projects are quite potential and unique when compared with projects developed on the Ethereum blockchain where NFTs are so expensive.
With these two reasons in mind, I decided to buy a few Cardano NFTs from top secondary NFT marketplaces like CNFT.IO.
However, the buying process is a little bit different than Ethereum NFT marketplaces. Below, I'll share my experiences that'll also help you buy a Cardano NFT from the above two marketplaces if you're doing it for the first time.
Materials Needed
You'll need the following handy to buy a Cardano NFT on CNFT.IO:
Some ADA coins in your crypto wallet.
A Cardano NFT or ADA-compatible hardware/software wallet.
The crypto wallet should also support CNFT.IO or JPG.store, two popular Cardano marketplaces.
Wallet app installed and set up on your Google Chrome or Mozilla Firefox web browser.
Access to CNFT.IO or JPG.store.
Step 1: Get A CNFT.IO Compatible ADA Wallet
Most hardware and software wallets support ADA coins since it's one of the top-level cryptocurrencies. However, the popular Cardano NFT marketplaces only support a few wallets.
For example, CNFT.IO currently supports Nami, Eternl, Flint, Gero Wallet, and Typhon. Another top-line Cardano NFT marketplace is JPG Store which supports all the above wallets plus Nufi.
Below, I'll show you how to set up Gero Wallet on Google Chrome Browser to buy Cardano NFTs:

Click the Download button, and the page will redirect you to the Chrome Web Store of the Gero Wallet app.

Click on Add to Chrome.
Chrome will show a warning message. Click on Add extension.

Gero Wallet will show up as an Extension on the top right corner of Google Chrome.

Now, click on the extension and go to the Gero Wallet app.
Select Create a Gero Wallet.

Here, create a password for the Gero wallet app.
Upon clicking Next, you'll enter the Secret Backup Phrase screen.
Write down the Secret Backup Phrase list on a piece of paper and store it in a locker that you can only access.
Now, click Continue and solve the Secret Backup Phrase puzzle.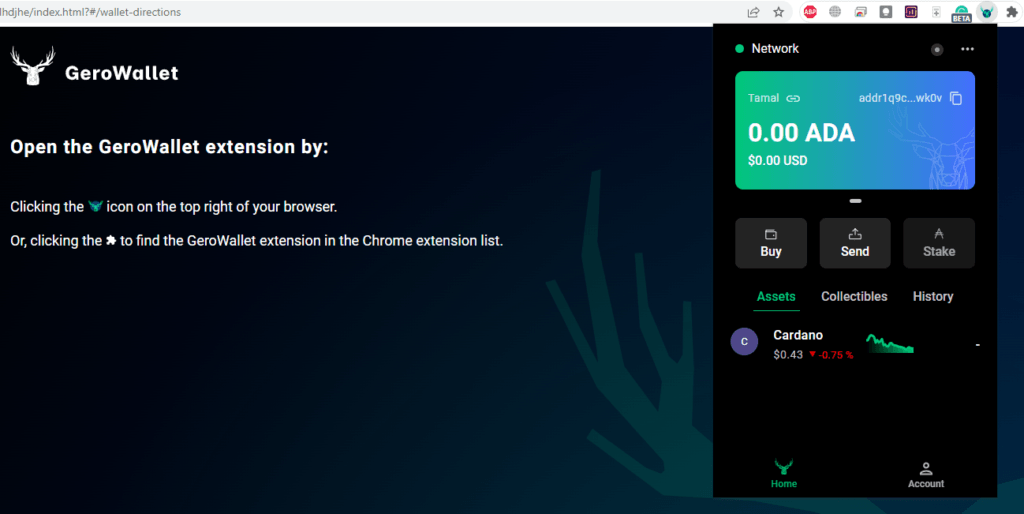 Next, you just need to name the wallet, choose a theme, and all done!
The process is similar for other popular Cardano wallets that support NFTs including Typhon and Nami. Alway remember to keep your seedphrase safe and use a hardware wallet.
Step 2: Buy ADA Coins From Any Popular Crypto Exchange
Cardano (ADA) is among some of the high-quality and high-volume traded crypto coins. You can buy ADA with Bitcoin, credit cards, or debit cards. The best exchanges you can use to buy ADA are MoonPay, Binance, CoinBase, WazirX, Kraken, etc. Here's how you can get ADA from MoonPay: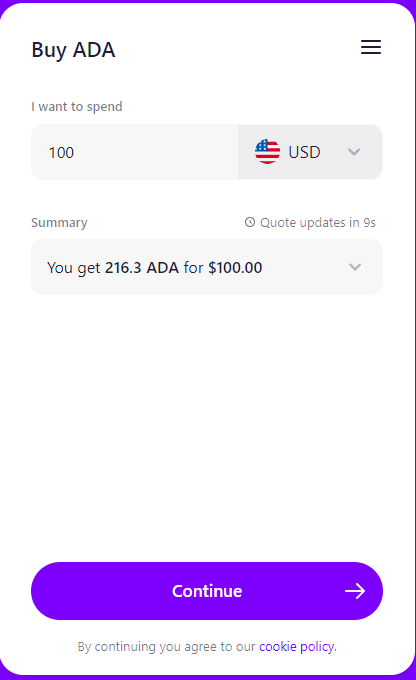 Choose an amount above 30 for the I want to spend field and select a currency like USD.
Click Continue and verify your email.
You need to enter basic details on the next screen.
Now, enter your billing address.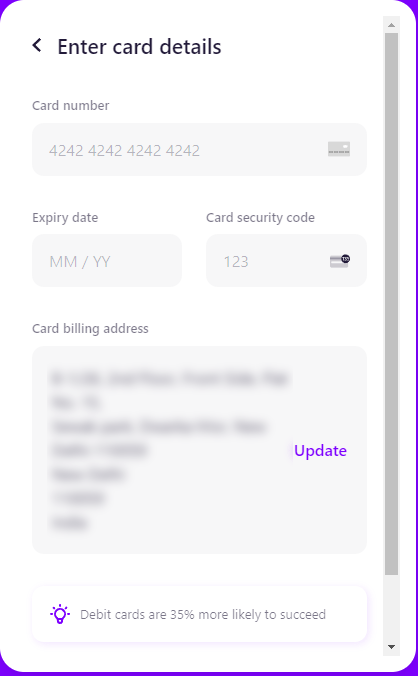 Finally, you need to enter your card details to confirm the purchase.
Alternatively, you can use a traditional cryptocurrency exchange like Kraken or Coinbase to buy ADA with FIAT.
Step 3: Transfer ADA From Crypto Exchange to ADA Wallet
If you use Gero Wallet, you can purchase ADA directly from MoonPay and get the coins in your wallet app. However, if you use any other wallet, you may need to manually transfer the funds. Here's how:
On most exchanges, you'll see a Send/Recieve option on the top of the portal.
Click on that, set the amount, and paste your wallet address in the Recipient field.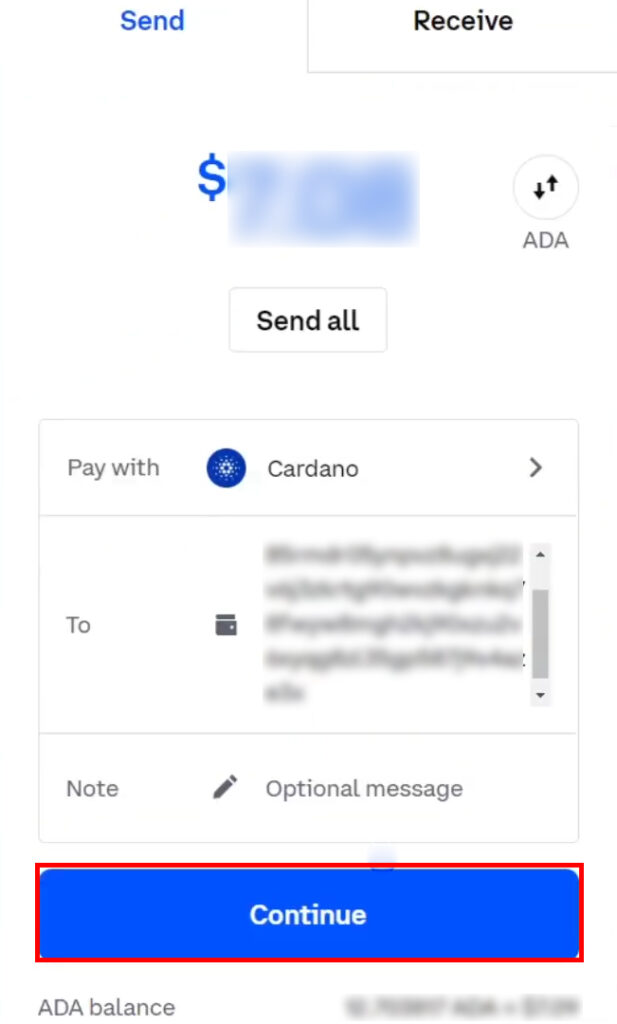 That's all! Click Continue, and you're good to go.
This step is similar for other Cardano wallets. Basically, look your address inside of the walet and verify it's correct before sending funds to it.
Step 4: Connect Your ADA Wallet With CNFT.IO

Click on the Link Wallet button at the top right corner.
Choose Gero Wallet.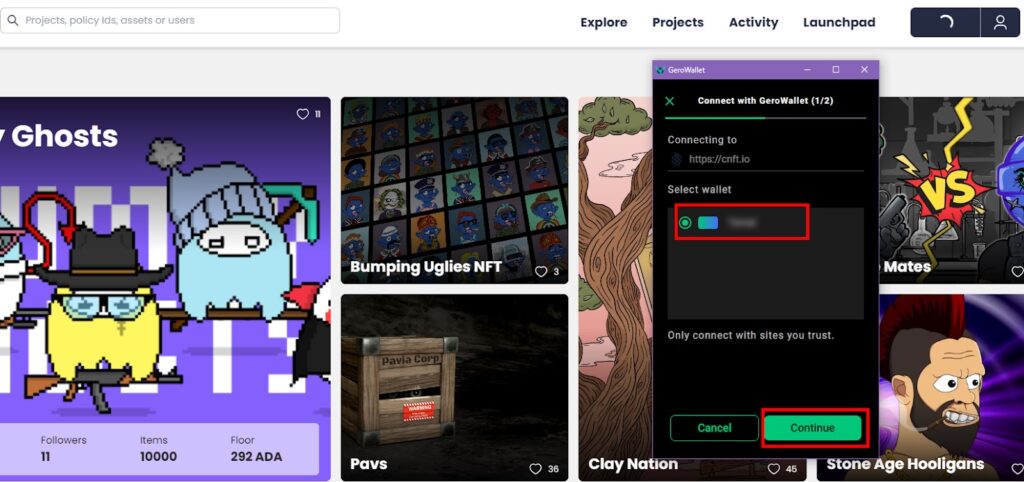 Select your wallet name and click Continue on the Gero Wallet interface.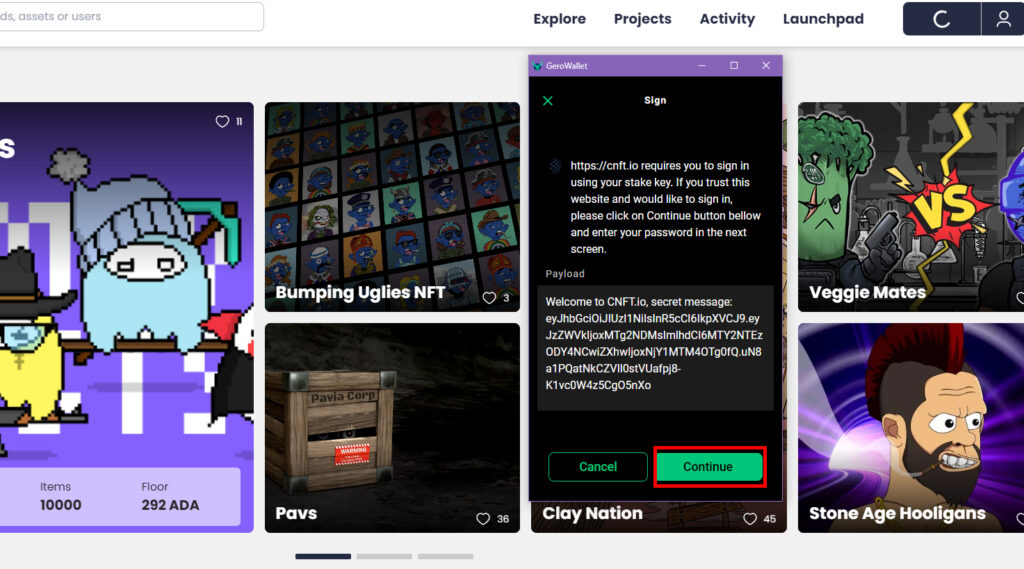 You'll also need to perform a digital sign authentication by clicking Continue.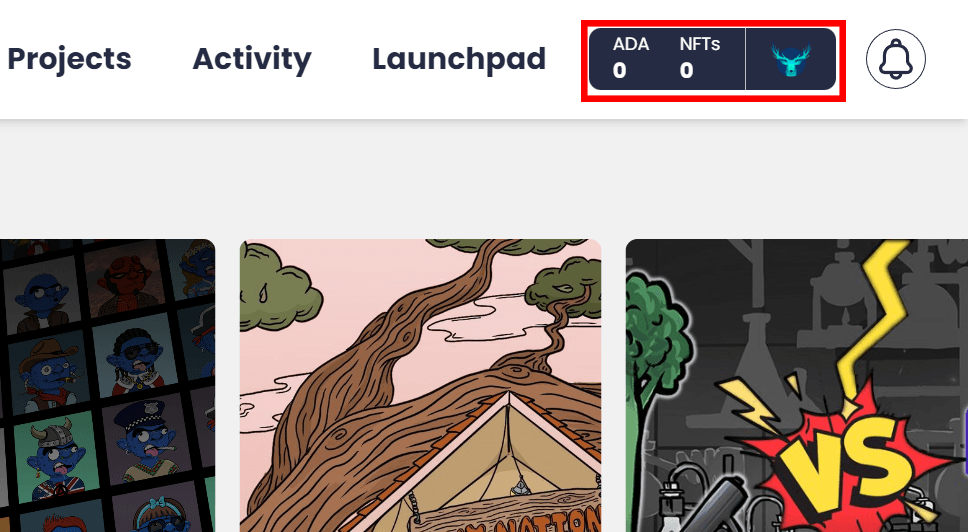 If the linking is successful, you'll see your ADA and NFT balance in the top right corner of CNFT.IO.
You can follow a similar process for connecting a wallet to JPG.store. Simply click the button on the top right and pick your wallet.
Step 5: Buy A Cardano NFT on CNFT.IO
You can buy a Cardano NFT from JPG.store or from CNFT.IO using your newly set up Gero Wallet. Before you proceed with the purchase, you need to choose a Cardano NFT collection from the CNFT.IO secondary NFT marketplace.
Perform your own due diligence on an NFT collection, before buying a digital asset from the project. For example, look for the development team, the strength of the community, roadmap, decentralization status, digital asset copyright, artwork IP rights, and so on.
Once you've chosen a project, it's time to find the popular asset from the collection using various filters available on CNFT.IO. You can make use of the Filter and Sort buttons.
Here's how you can complete the buy order, using an example project (not a recommendation!):
Head over to the ViralNFT SuperViruses portal on CNFT.IO. Choose the NFT project you like when you perform these steps.
Click Filter and choose View All.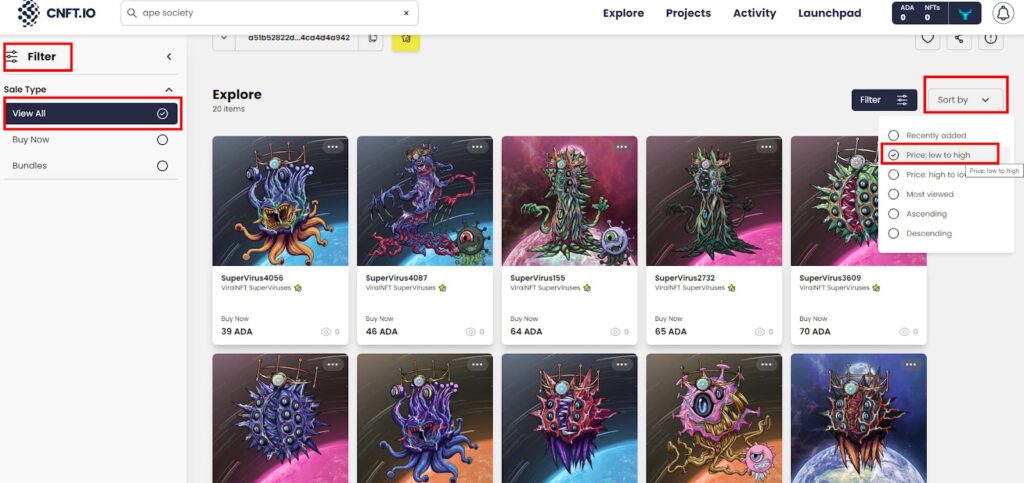 Now, select Sort by and choose Most Viewed, Price: low to high, etc.
Click on the Gero Wallet app on Chrome and go to the Account section.
Select Collateral and deposit a minimum of 5 ADA to enable your wallet for purchases.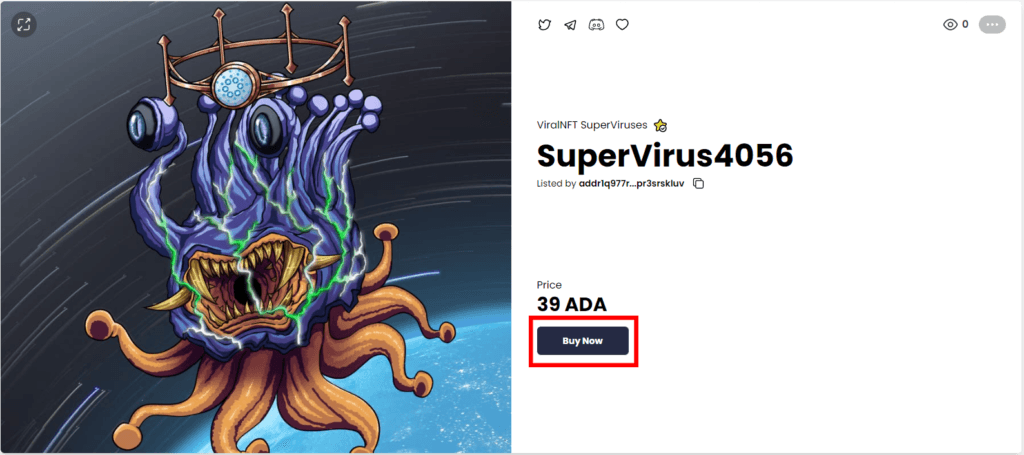 Now, choose an NFT you like and click on the Buy Now button.
The Gero Wallet app will open with the transaction summary.
Look at the ADA you're transferring as NFT asset value and portal fee.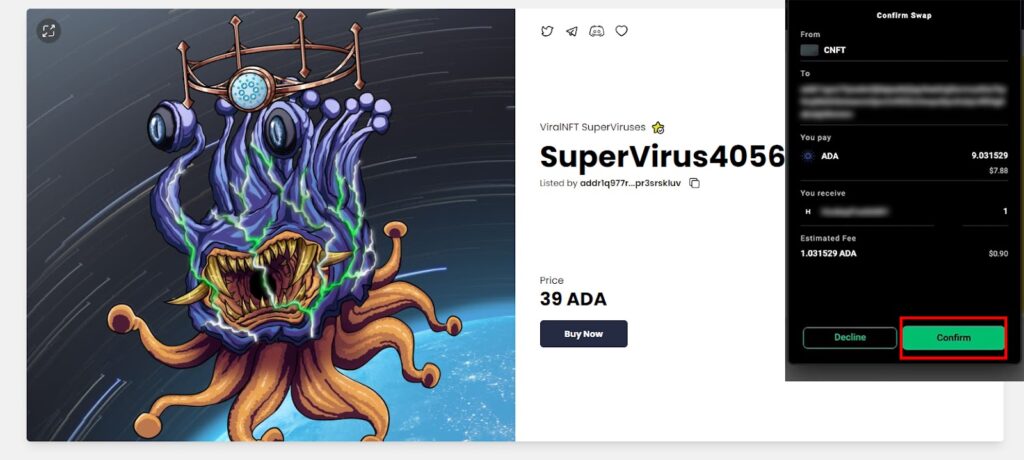 If all looks good, click Confirm to get your beloved NFT on CNFT.IO.
How to Buy a Cardano NFT: The Final Word
Now you can buy, sell, and trade Cardano NFTs on CNFT.IO without facing any issues or transaction errors, even if you're doing it for the first time. Simply reproduce the steps on your PC using your crypto wallet, a cryptocurrency exchange, and the CNFT.IO website to complete buying your favorite Cardano NFT.