If you're wondering what is the Boss Beauties NFT project, here's all the crucial information you need to know.
The Boss Beauties NFT collection comes from the Boss Beauties – a company driven by a woman-led initiative to leverage scholarships and mentorships programs to create opportunities for women nationwide.
The Boss Beauties Foundation makes a difference by providing internships, mentorship programs, and funding scholarships for women. Boss Beauties NFT is the extension of the foundation's original mission. Its collection comprises 10,000 picture-for-profile NFTs, aimed at inspiring the next generation of women and girls to be anything they want.
The Boss Beauties NFT's role is not just to inspire women to take big steps and pursue what they want. These NFTs will also be used to gain access to exclusive virtual events. The NFT collection was inspired by 25 female models, including Amelia Earhart, Cleopatra, Frida Khalo, Grace Hopper, and others.
The first Boss Beauties NFT collection of 10,000 pieces came out in July 2021, while the latest one was released in 2022 to honor International Women's Day, conveniently named the Role Models Collection.
The entire collection sold out within the hours following minting. In fact, the collection became so popular that it became the first NFT collection the New York Stock Exchange ever listed. It also attracted the interest of celebrities such as Allyson Felix, Eva Longoria, and Reese Witherspoon.
After mint, Boss Beauties NFT collection average price was 0.25 Ethereum. In early 2022, NFTs in this project broke three Eth.
Behind the Boss Beauties NFTs, we have Boss Beauties; a women-led company focused on leveling the field for girls and women from marginalized groups. Lisa Mayer, the founder & CEO of the company, started it in 2021. She is devoted to creating mentorship and internship programs to help high school and college women.
So far, Mayer and her team have helped thousands of women across 15 countries pursue their dreams. The portion of the proceeds raised through Boss Beauties NFT auctions goes to fund these programs and scholarships for women.
I made a video to accompany this post which you can watch below, or read on!
Boss Beauties NFT Explained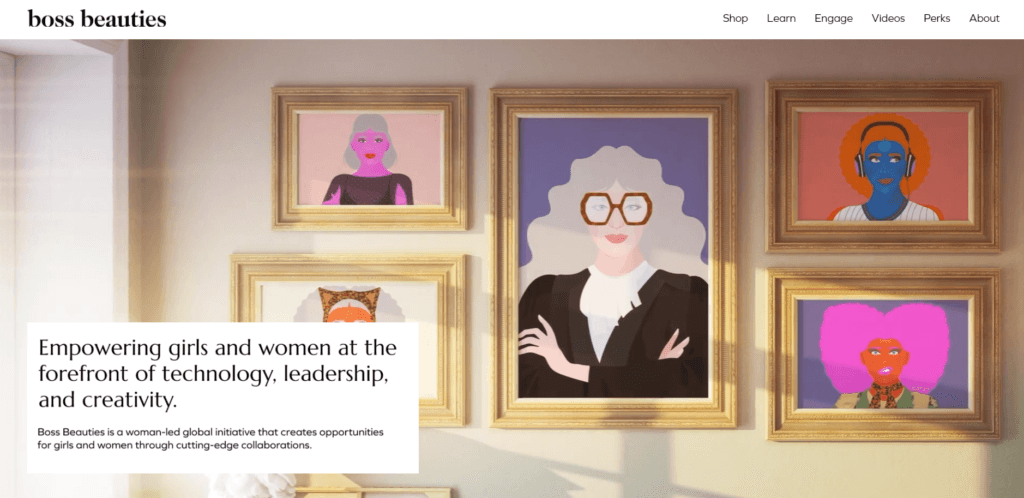 The smart contract behind the Boss Beauties NFT project is powered by the Ethereum blockchain, although the images are distributed using IPFS. The Boss Beauties NFT images are a type of digital pop art that holders collect or use for their social media profiles.
Although as old as 70 years, pop art is still fashionable. Compared to contemporary styles, pop art is attention-grabbing and aimed at youth. Boss Beauties NFTs represent portraits of successful women, and the pop-art soul enables them to communicate with young women and men across the nation.
This NFT project uses an algorithm that combines different elements to create unique portrait gestalts. In this specific case, the algorithm is limited to the available elements. For instance, the algorithm creates a portrait by randomly choosing the portrait background, clothes, skin tone, hair, eyes, etc.
The algorithm goes through items in all these categories to create a Boss Beauties NFT, ensuring that every portrait in this NFT collection looks unique. Here are all the elements and a number of their unique variations available for an NFT creation in this collection:
Background – 21
Clothes – 38
Eye color – 4
Eye shadow – 13
Eyebrows – 8
Eyes – 9
Face shape – 6
Flair – 40
Freckles – 2
Glasses – 13
Hair color – 7
Lip color – 9
Mouth – 11
Necklace – 15
Noise – 5
Skin tone – 11
What Do Boss Beauties NFTs Do?
Let's start with funding mentorship, internships, and scholarships which is the primary goal of Boss Beauties. The proceedings from Boss Beauties auctions often go to fund these programs.
The perfect example is Boss Beauties' social impact collaboration with Hugo Boss. The goal was to provide professional mentorship opportunities to young women from underrepresented and marginalized groups. The collaboration produced eight college scholarships worth $10,000, awarded to eight young women from marginalized groups.
Cryptocurrency investors are often interested in the potential profits an NFT can help them generate. Boss Beauties NFTs can be traded and auctioned, making them valuable assets for traders. The NFT Brief even suggests that it may become a future bluechip, although do your own research.
As an owner of a Boss Beauties NFT, you can also access special online events or get a free NFT drop from a new collection. Bear in mind that it's completely random – there's a chance to get an NFT drop rather than having it as a 100% reward.
If you invest in Boss Beauties NFT, you will have shared commercial rights to the NFT image. Every time the image is downloaded from merchandise sales, you will cash in 10% of those sales.
Boss Beauties has a history of signing partnerships with big brands like Marvel and Rolling Stone. Holders can claim NFTs related to these collaborations, with more details for hodlers to be announced.
Boss Beauties NFT holders also have a chance to win opportunities with project patterns, get gifts, and become members of the Boss Beauties Book Club.
How to Buy Boss Beauties NFTs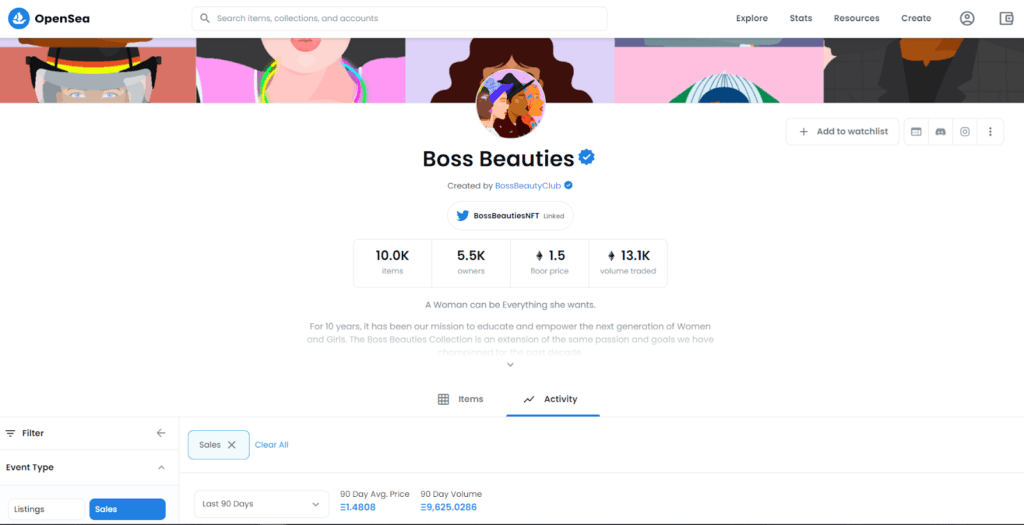 Potential buyers of Boss Beauties NFT should first head to the NFT's official Discord server. It's a great place to get more informed about the NFT and get answers to your questions. The team of Boss Beauties NFT is really helpful, and they always watch the Discord server for new questions and concerns.
Prospective NFT buyers should check the official OpenSea Boss Beauties NFT listings. There, you can sort Boss Beauties NFTs by their status. For instance, you can list only NFTs that you can buy immediately or list the ones auctioning at the moment.
Alternatively, you can apply additional filters such as clothes, background, eye color, and more to find an NFT with a specific appeal.
The Future of Boss Beauties NFTs
Founder Lisa Mayer continues to work hard on promoting the NFTs. Boss Beauties was deposited into the Arctic World Archive and is now safe from catastrophic events, including global CPU failure. Boss Beauties NFT has also partnered with Barbie and went on display at the Adidas London store.
Meanwhile, the NFT is still under development, so we can safely assume that new perks will arrive in the foreseeable future. Given all things in motion, the future of Boss Beauties NFTs looks bright.