This article will introduce you to the best NFT wallets for both collectors and creators.
If you want to dive into the world of NFTs, the first thing you'll need is a wallet. This will be your portal to access NFT marketplaces, where you'll put the funds you'll use to buy NFTs, and ultimately where you'll store your art and collectibles. The software wallets mentioned in this article can help you navigate the NFT ecosystems. That said, remember to secure any valuable assets with a hardware device.
1. Metamask
Pricing: FREE
Use for: everything Ethereum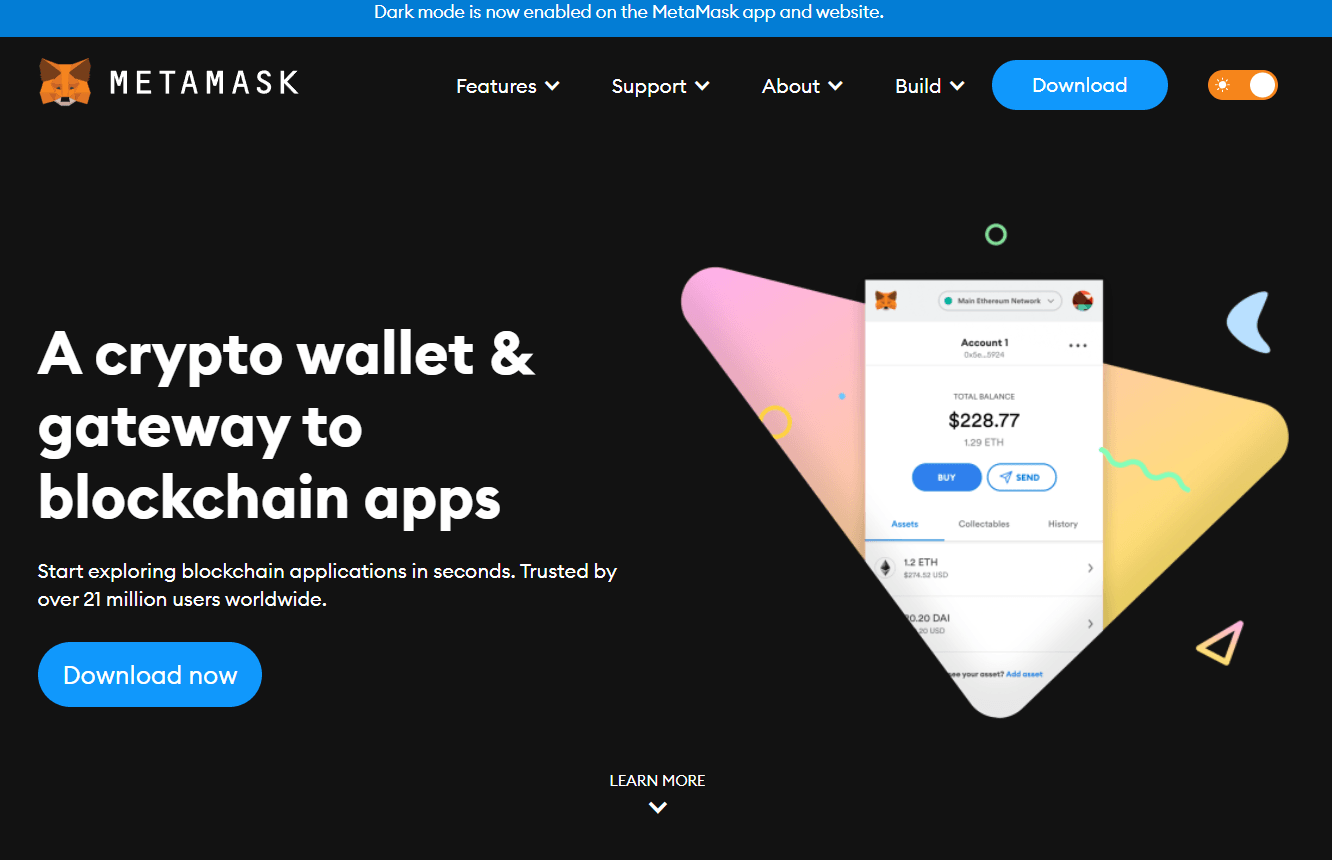 This wallet is the go-to for the Big Daddy of the NFT world, Ethereum, where 90% of NFT activity takes place. It's the most popular and widely used NFT wallet by far, and it's easy to see why. It's extremely easy to set up, and the interface is very easy to navigate. The wallet comes as both a desktop browser extension and a mobile app, so you can sync across devices.
With Metamask, you can also bridge across to Polygon (MATIC) to collect or create NFTs with much lower gas fees, and also to the Binance Smart Chain (BSC). Another cool feature is the ability to swap cryptocurrencies in-app, which makes it easy to move money around for NFT trades.
2. Solflare
Pricing: FREE
Use for: everything Solana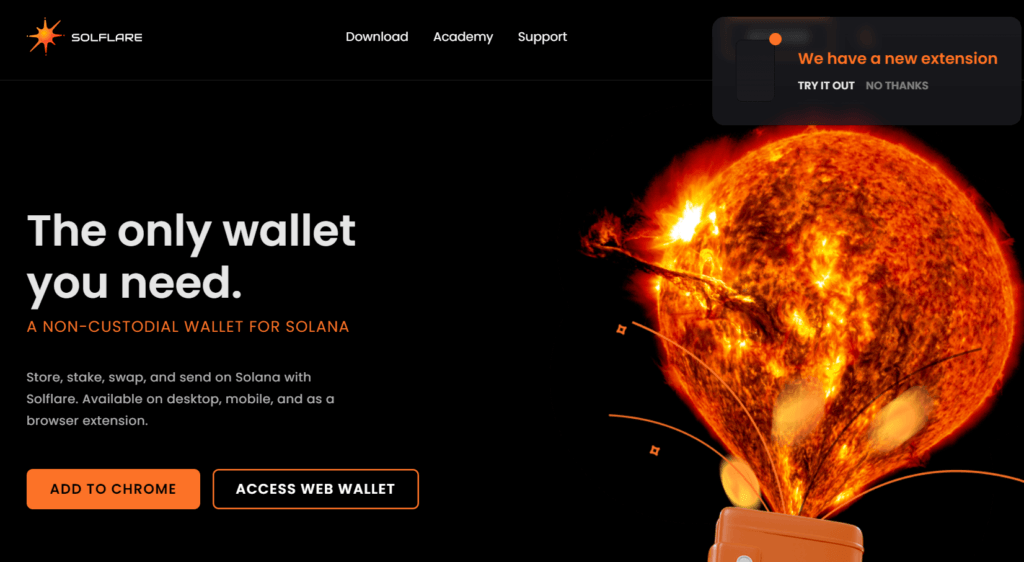 This wallet is a relative newcomer to the SOL scene. The most popular and long-standing wallet for this ecosystem is Phantom, which is a great wallet too, but…if you're a creator of NFTs you need to be able to burn NFTs, and that's not possible with Phantom.
Using Solflare is an intuitive experience. The app is easy to get started with, and once inside the layout is very easy on the eye, and a breeze to use. There's a separate section where you can store your NFTs, somewhere to swap currencies, and there's also the possibility to easily stake any SOL you're not using for the moment and earn interest on it. Staked SOL can also be instantly unstaked and spent if you see an NFT you want RIGHT NOW.
3. Kukai
Pricing: FREE
Use for: everything Tezos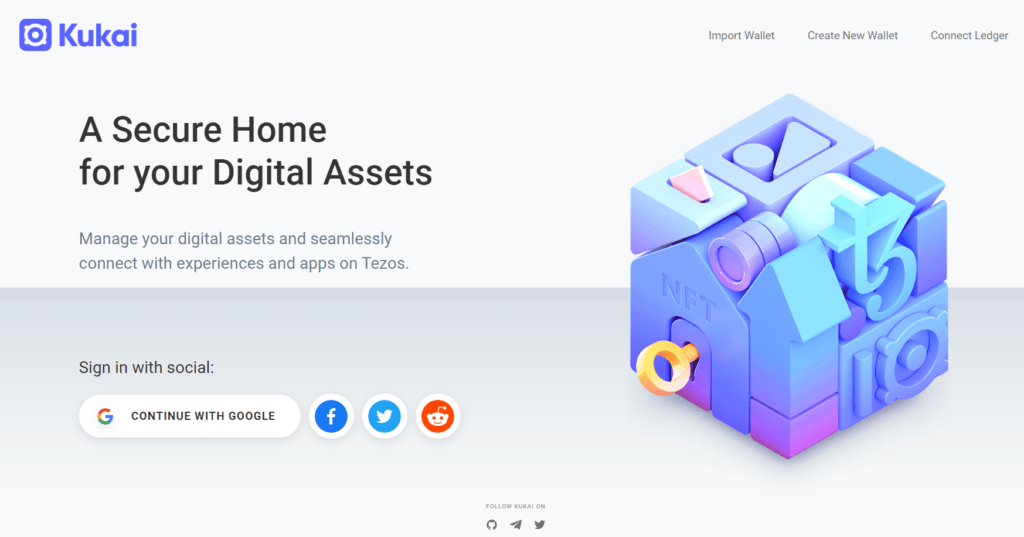 Kukai is the closest you'll get to an 'official' Tezos wallet. Having passed an external security audit, it's also an officially fully secure place to store your NFTs. It's the perfect portal to use to connect to the multiple and vibrant Tezos art markets.
This wallet has a few great features. The interface's 'Discover' tab gives users an instant introduction and access to Tezos marketplaces and highlights popular collections. In-app staking allows you to easily choose validators to stake with and earn interest on your XTZ (beware though, there's both a staking and unstaking period). And, you can log in to Kukai using Google, Twitter, Facebook, and Reddit, which means you can send and receive XTZ tokens from these platforms – no longer any need to mess about with ridiculously long addresses.
4. MathWallet
Pricing: FREE
Use for: NFT activity across 100+ blockchains
MathWallet is a great option for people who want a single wallet for all of their NFT activities cross-chain. It supports most of the chains with established NFT ecosystems (e.g. Ethereum, Solana, Polygon), and many of the up-and-coming ones (e.g. Terra, Flow).
The wallet also contains its own large and developing ecosystem with a native token, MATH, which gives you access to DeFi and staking opportunities. It's multi-device, so can be used on the computer or on the go, and there's also a browser in-app, which allows users to view different NFT marketplaces directly from the wallet.
5. Trust Wallet
Pricing: FREE
Use for: NFT, DeFi, and crypto investments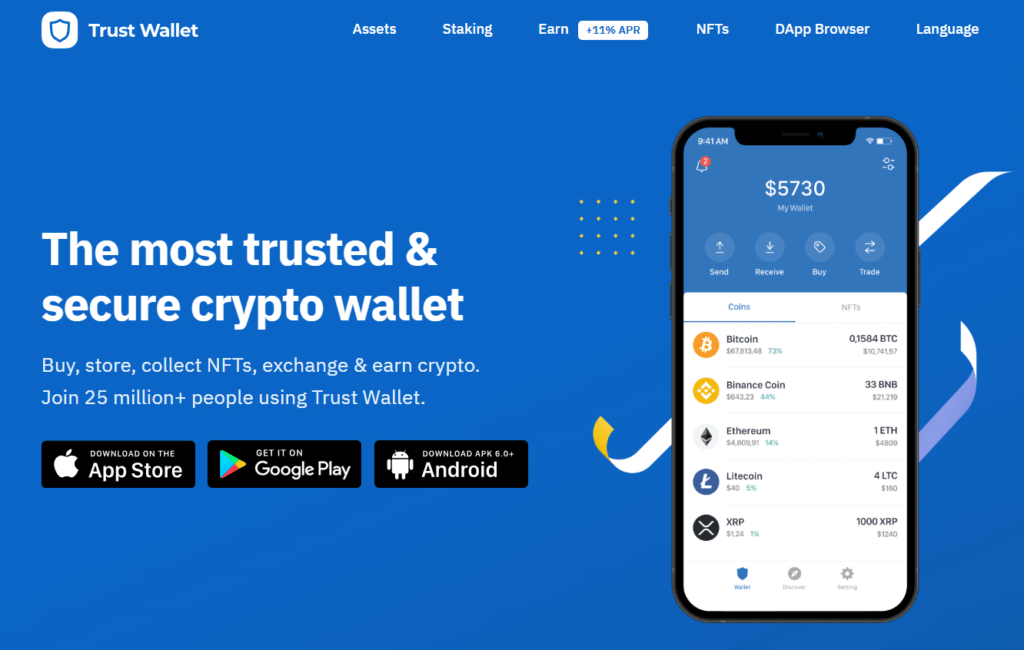 Owned by Binance, Trust Wallet is a reliable option for people buyers and collectors who want to manage their crypto and NFT portfolio on the go. It connects to OpenSea via Wallet Connect. You can then buy and store NFTs inside your wallet and even stake some crypto. It's relatively easy to use and owners maintain control over their keys. Bear in mind, that it's a software wallet and is realistically best suited for less valuable NFTS and short-term holds.
Read our Trust Wallet review.
6. Argent Wallet
Pricing: FREE
Use for: NFTs, DeFi, and Layer 2 investments
Argent Wallet is an Ethereum and ZkSync wallet, that also supports NFTs. Basically, you can connect Argent to OpenSea and other NFT marketplaces using WalletConnect. Unlike other software wallets, Argent Wallet has some additional security features, like guardians, which are ideal for NFT buyers. You can also connect it to your hardware device.
Argent wallet users also bridge Eth over from Layer 1 to Layer 2 and stake it. ZkSync is a faster and cheaper blockchain solution than Ethereum. However, it's not possible to buy NFTs on Layer 2.
Read our Argent Wallet review.
Selection Criteria
To choose the best NFT wallets, I decided on four main criteria:
The first is that a wallet should be suitable not only for collecting NFTs but also for creating them. And, as most NFTs are created on a laptop or desktop, the second is that the wallet should be available as a desktop application. Some people prefer to do everything on their phones – buying, selling, minting, viewing, and even creating NFTs – whereas others don't. Like me. I don't want any of my crypto activity taking place on something I carry around with me all day.
I have a separate laptop I use for that, which I only turn on and connect to the Internet when I need to. This leads me to the third point: Security. I don't need 2FA, although it would be a good option to have for the future, but a wallet needs to be secure – well-encrypted and created by a tried and trusted source. The final criterium is that it has to be user-friendly. It doesn't have to be good-looking, but it needs to be intuitive and easy to navigate. It's still relatively early days in the NFT world so there's plenty of time for wallets to become beautiful – the main thing is that they work and don't complicate the user's NFT experience.
Why You Can Trust Me
I've been into NFTs since September 2021, both collecting and creating across a variety of chains. Although that doesn't sound like a long time, in an environment that evolves as quickly as the NFT space that's the equivalent of a few years! The fact that I create NFTs is also key. I see both sides of the market and need my wallets to have the maximum capabilities possible. It also means security is doubly important to me as I need not only to keep my collection safe but my creations.