Discover some of the best AI Art NFT projects and artwork trending on marketplaces today.
AI-generated NFTs are non-fungible tokens created using AI software. The artist creates a series of prompts using text, imagery, and sometimes code. The program then creates an image or series of images, which the artist may remix or compile. BrainDrops is the best-known AI NFT platform to date, although several other high-profile projects exist.
For text and prompts, AI NFT artists use tools like Chat GPT-3 and Sudowrite for prompts and text. For imagery these artists use tools like DALL-E, Midjourney, and Artbreeder for imagery.
Here Are The Best AI Art NFT Projects
1. Botto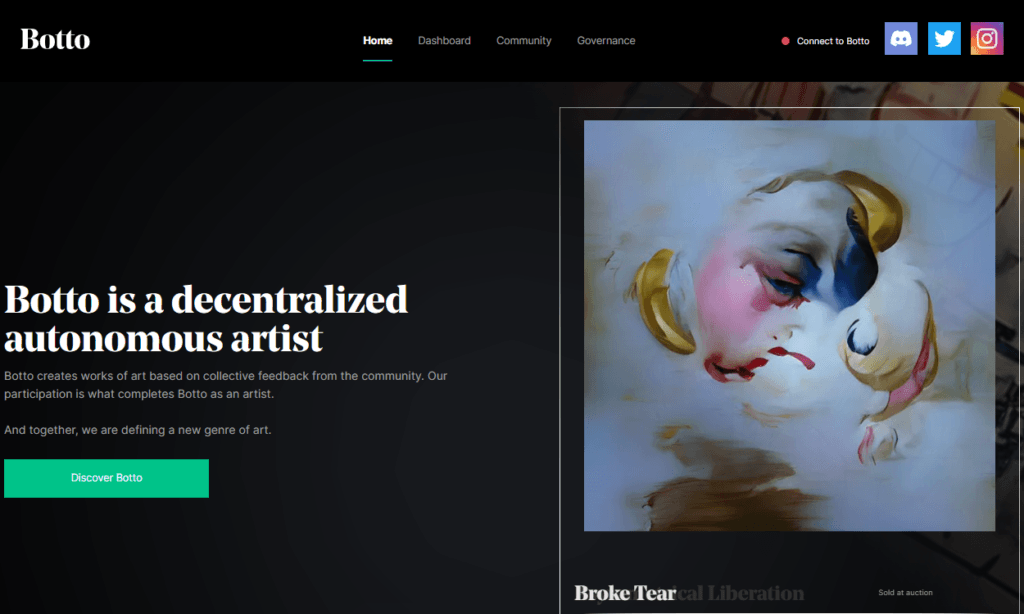 In 2021, an AI algorithm named Botto debuted its first collection of six NFTs on SuperRare, selling for $1.3 million. The creators of this decentralised AI artist took inspiration from Monet and Van Gogh.
The AI algorithm starts by generating random words and phrases fed into a VQGAN – Vector Quantised Generative Adversarial Network. VQGAN employs these words to produce images based on a database of previous artworks.
Each week, Botto presents 350 promising pieces for consideration by the DAO. These are not yet considered final artworks, they are "fragments" as they are still unproven. The community tells Botto what it considers art. To date, Botto has created thousands of images. Perhaps its best-known creation is Asymmetrical Liberation. This AI NFT sold 79 Eth in October 2021.
2. Materia Mania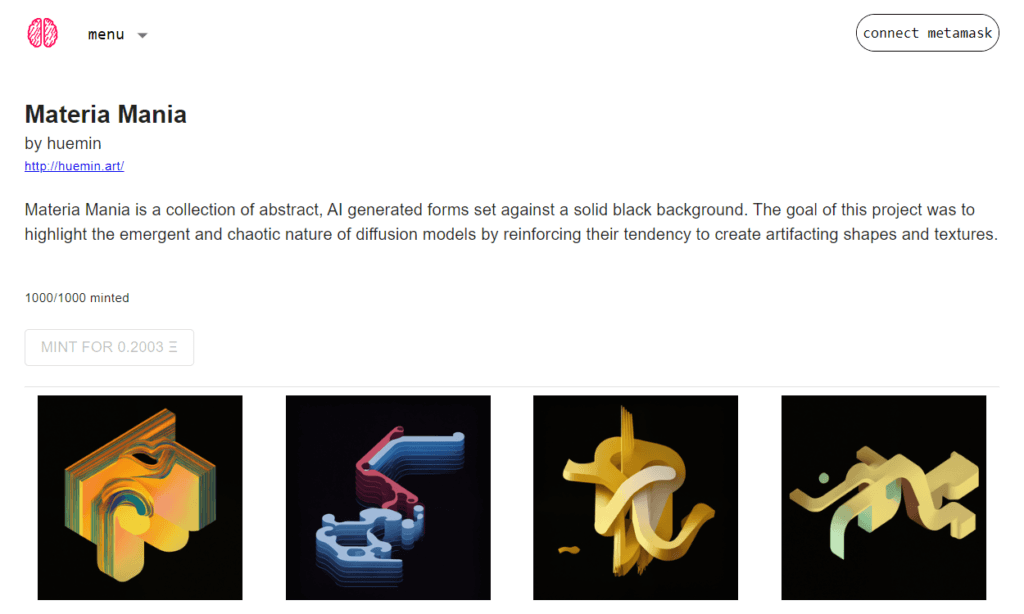 Materia Mania is the creation of digital AI artist Huemin. This BrainDrops project or collection depicts abstract, AI-generated forms set against a solid black background. The creators want to highlight the chaotic nature of diffusion models via artifacts, shapes, and textures.
Humein generated the 1000 NFTs using 5000 base images, upscaled to 4096×4096. It uses a combination of generating coding techniques and AI. The results look somewhat similar to an ArtBlocks generative art project. Materia Mania minted out almost instantly between for 0.2 Eth and has a floor price of 0.6 Eth as of March 2023. It's a more affordable entry point into the BrainDrops creations.
3. podGANs by Pindar Van Arman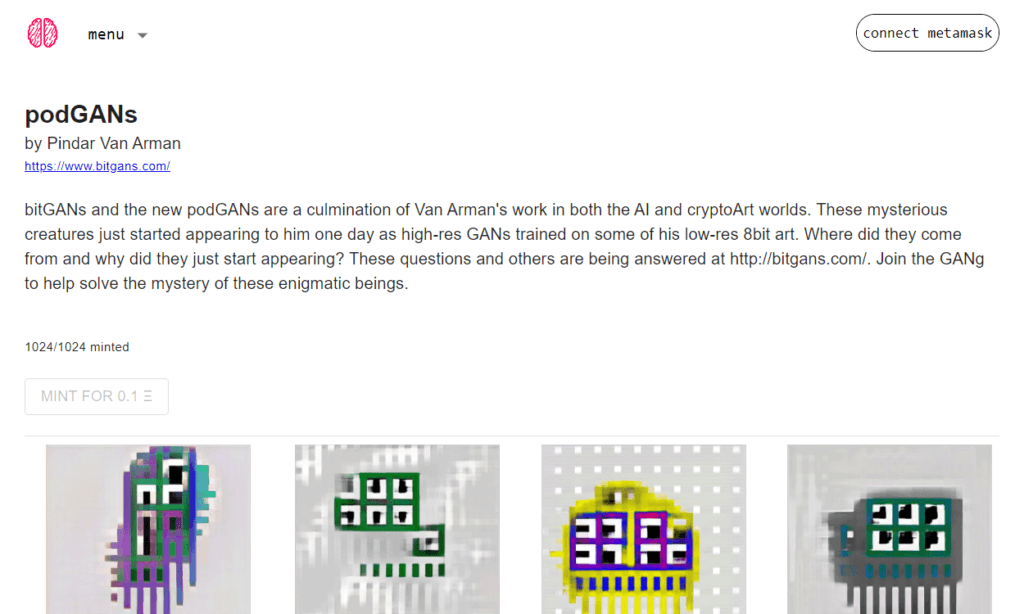 Pindar Van Arman, an American AI artist, delved into crypto art in 2018. This BrainDrops project features 1024 AI NFTs. By training the AI model on low-resolution 8-bit art, Van Arman's NFTs display various translucent, colorful creatures with diverse forms, types, and backgrounds. At the time of writing, the floor price for this Genesis BrainDrops project averages 4.65 Eth.
These NFTs resemble other low-resolution on-chain art projects like Nouns. Additionally, Van Arman developed a related 64-piece project, Noun Gan Study, inspired by Nouns. For more information, explore our guide to Nouns Dao.
He also created miniPODs and NFT depicting multiple podGANS in motion, much like cells forming part of an organism.
4. Life In West America by Roope Rainisto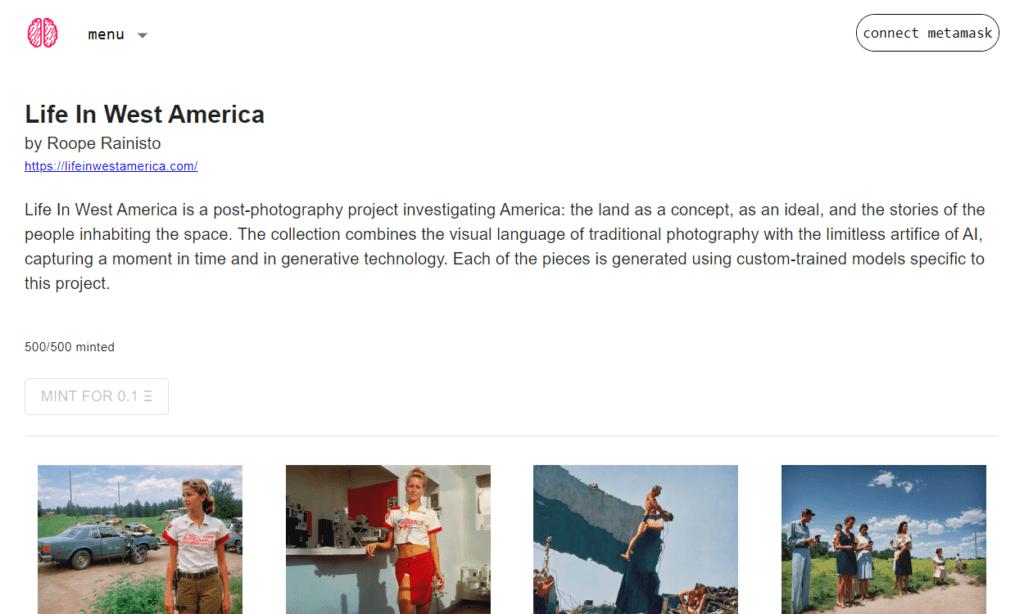 Life In West America is a BrainDrops project by Finnish photographer and screenwriter Roope Rainisto that draws inspiration from the early days of color photography. The collection portrays a version of the American landscape and its people during the late 1960s and 1970s. As with many AI-generated photographic images, the NFTs contain unique artifacts or phantoms, such as floating limbs and arms.
A favorite NFT from this 500-piece collection features a frustrated writer hunched over a 1960s typewriter, seemingly melting into the chair upon closer examination. The floor price for these NFTs experienced a significant increase, rising from 0.6 Eth post-mint in February 2023 to nearly 10 Eth as of March 2023.
5. Genesis by Claire Silver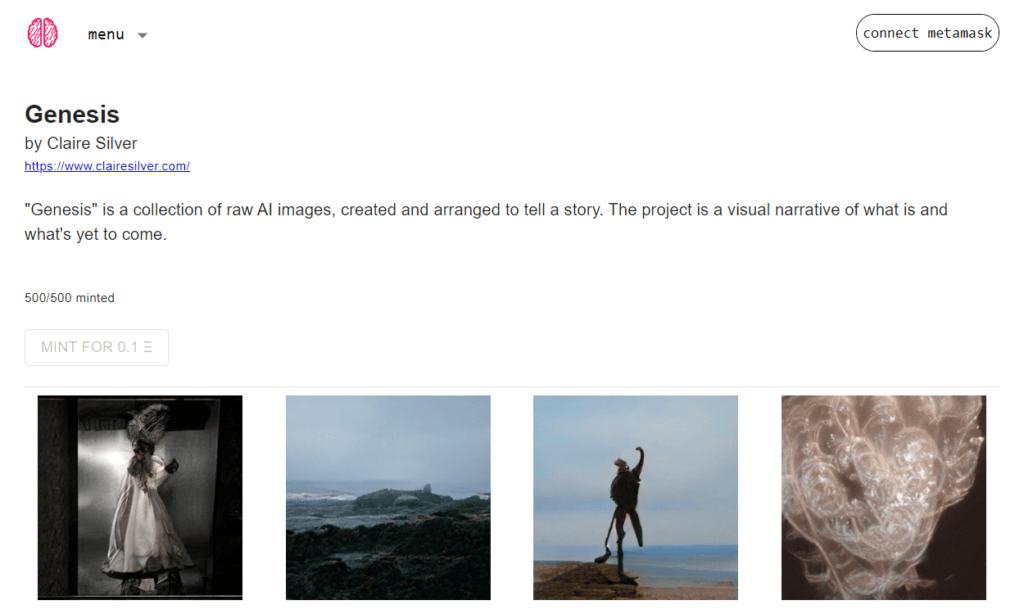 Claire Silver identifies herself as a millennial AI artist, delving into themes such as disability, vulnerability, and social hierarchy in her artwork. During a severe illness, she discovered her passion for painting and later transitioned into the realm of crypto art.
An early collector of CryptoPunks, Silver has developed multiple AI NFT projects. Genesis by Claire Silver includes 500 NFTs that narrate a story, often incorporating imagery and icons related to the crypto world.
A personal favorite of this BrainDrops project is Socialite from Hell, portrays an eerie, faceless, and regal figure clothed in white, emerging from a hazy backdrop. As of this writing, the floor price for a Genesis NFT is 18.65 Eth.
6. Brain Loops by Gene Kogan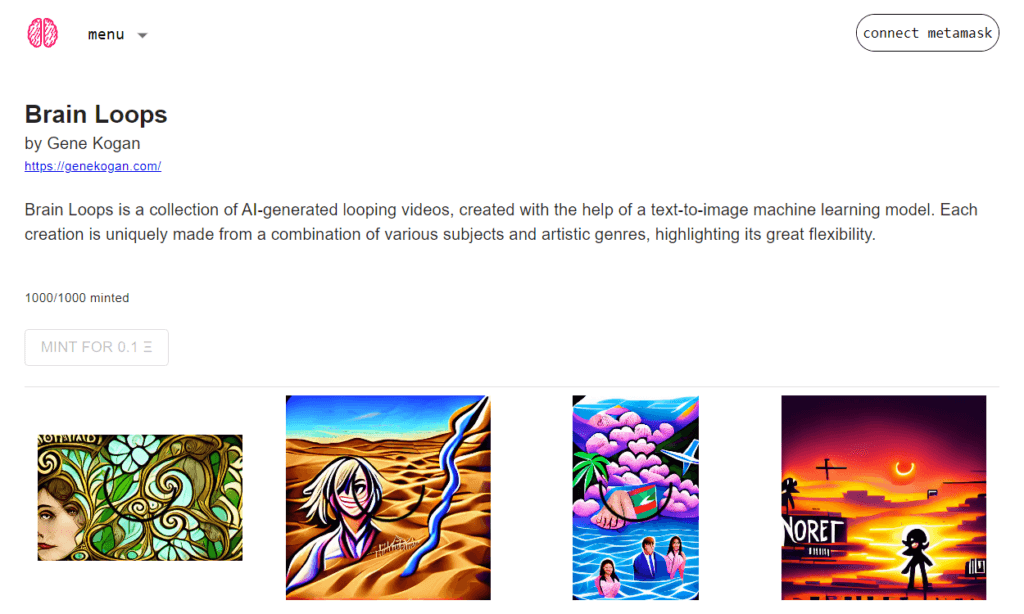 Gene Kogan, an American AI artist, lecturer, and programmer, is also a co-founder of BrainDrops. His Brain Loops collection consists of 1,000 AI NFTs, which feature AI-generated looping videos produced using a text-to-image machine learning model. As part of the BrainDrops Genesis projects, NFTs from this collection were initially minted for 0.1 Eth and are now trading at 1.8 Eth on platforms like Sansa.
Kogan has both presented and showcased his collection across America and the United States. A personal favorite, Cyberpunk Sunset, resembles a fusion of glitch art and a nostalgic 1990s video game. To learn more, check out our guide on glitch art.
7. All AI Art Looks the Same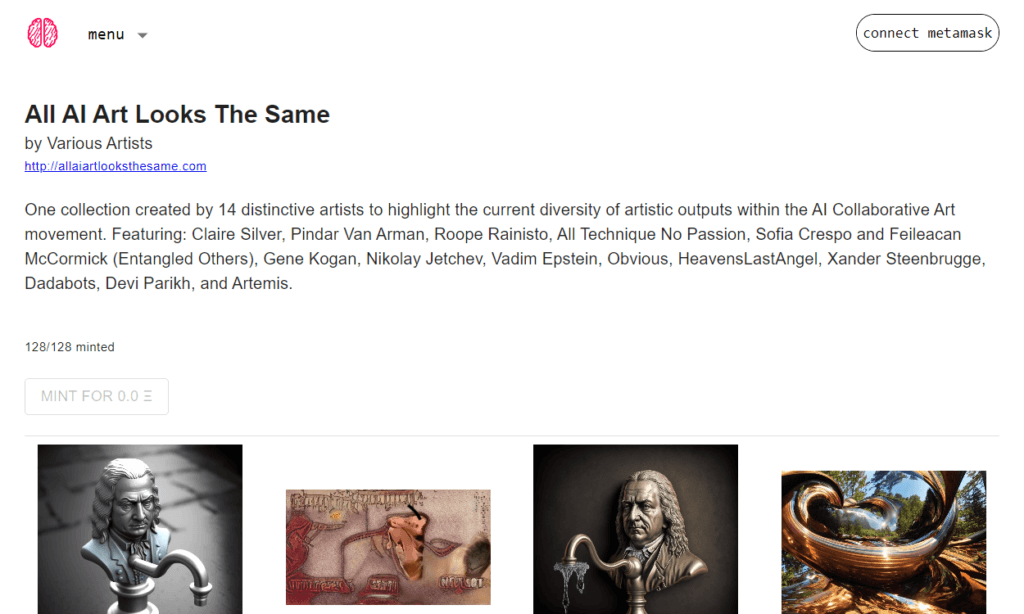 The All AI Art Looks The Same BrainDrops project involved the collaborative efforts of 14 artists, namely Claire Silver, Pindar Van Arman, Roope Rainisto, Sofia Crespo and Feileacan, Gene Kogan, Nikolay Jetchev, Vadim Epstein, Obvious, HeavensLastAngel, Xander Steenbrugge, Dadabots, Devi Parikh, and Artemis.
One remarkable piece by Roope Ranisto features a designer or creative individual dozing off in front of their digital work and blending into the screen, with phantom limbs making an appearance. The minimum price for NFTs in this collection begins at 5 Ether on platforms like Sansa.xyz, as of March 2023.
8. Chimerical Stories by Entangled Others (Sofia Crespo & Feileacan McCormick)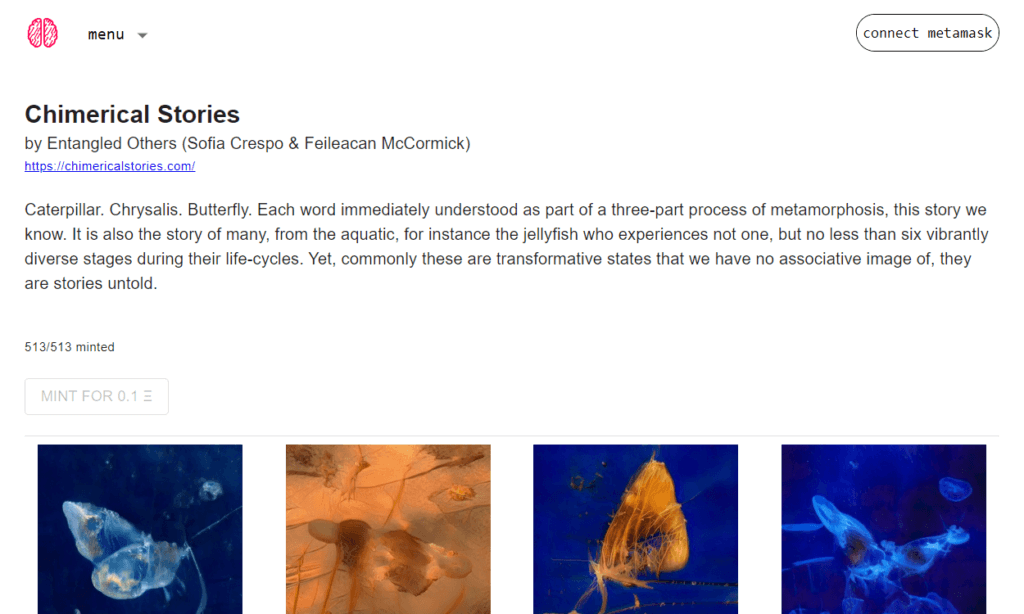 Chimerical Stories depicts the three stages of metamorphosis: a caterpillar to chrysalis to a butterfly. It also depicts these stages in aquatic lifeforms. This BrainDrops project comprises 513 NFTs, which minted out for 0.1 Eth. As of March 2023, the floor price is approximately 2 Eth. Lisbon-based generative artists Sofia Crespo and Feileacan McCormick created the project as part of their Entangled Others studio. A highlight is Emergent Finale 00419, which depicts what looks like a blue jellyfish deep beneath the ocean.
9. The VERSEverse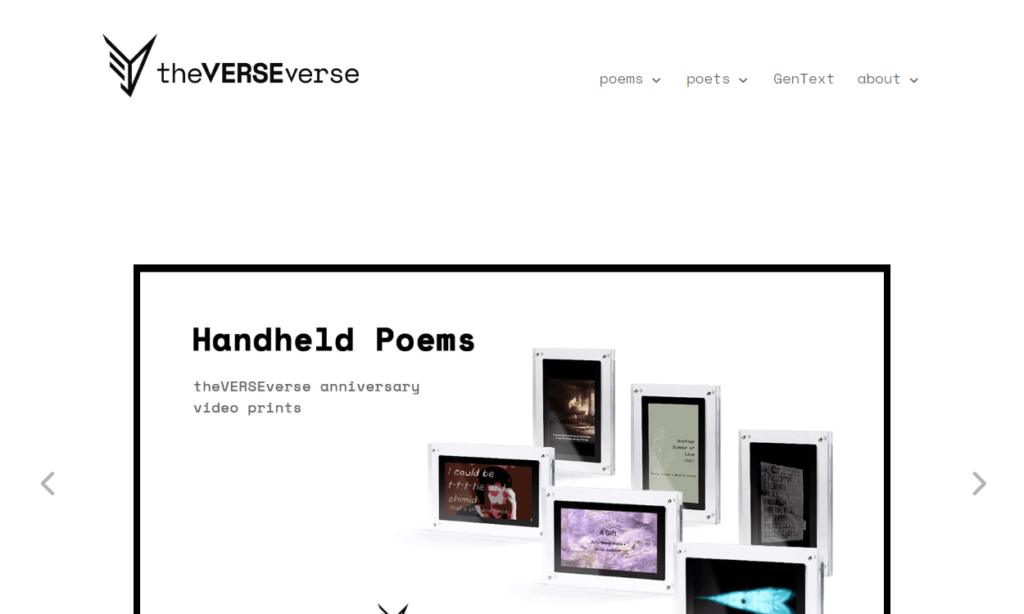 Sasha Styles, Ana Maria Caballero, Keith Grossman and Matt Nedved are founders of this poetry NFT project, which leans on AI and imagery. Each limited edition issue is a collaboration between a poet, a visual artist, and Sudowrite, an AI-powered writing tool.
Fifty Days At Iliam is an example of an AI generative text NFT from the VERSEverse. For this drop, Christian Bök prompted Sudowrite to compose ten lines of poetry, each line derived from the title of a painting in the series, 'Fifty Days at Iliam' by Cy Twombly. Sarah Ridgley used her AI algorithm to repeat each of these outputs in the form of handwritten NFTs.
Fifty Days At Iliam are available on OBJKT, a marketplace for Tezos NFTs. Read our guide to the best Tezos marketplaces to learn more.
AI researcher Sasha Stiles coded BINA48, a humanoid AI robot, to create and appreciate poetry. Her groundbreaking work highlights the potential for AI and NFTs to intersect in exciting ways, opening new avenues for literary artists to explore.