If you want to know what is the World of Women NFT and how to become a part of this fantastic project, we have all the details you're going to need.
In the world of male-dominated NFTs, Cryptopunks, and NBA Top Shots, there is a new and diverse project powered by creative women called the World of Women NFT or WoW for short.
World of Women NFT features 10K unique artworks designed and created by the famous Yam Karkai. This collection of art pieces was made to empower women and give everyone equal opportunities in the new NFT system.
The project launched not long ago on the 27th of July 2021 with the mint price of .07 ETH and became a sensation overnight with thousands of followers and celebrity support. Today, it's one of the most successful NFT projects sold on OpenSea and authenticated on the Ethereum blockchain.
I made a video to accompany this post which you can watch below, or read on!
What Is the World of Women NFT?
Yam Karkai had an idea to introduce the world of NFTs to women and use her art to support various movements all across the globe. She created 10,000 different illustrations depicting powerful women using her Procreate and Adobe Illustrator.
Yam created each art piece with care and precision and ensured no ethnicity, cultural appropriation, religious or political details were included. That way, everyone can feel comfortable buying, owning, and promoting the WoW NFT and show diversity and women empowerment.
The creator Yam and all team members are very active on all social media, so newcomers are urged to Twitter and Discord for more information. There is even a designated educational hub for people who want to know more about NFTs.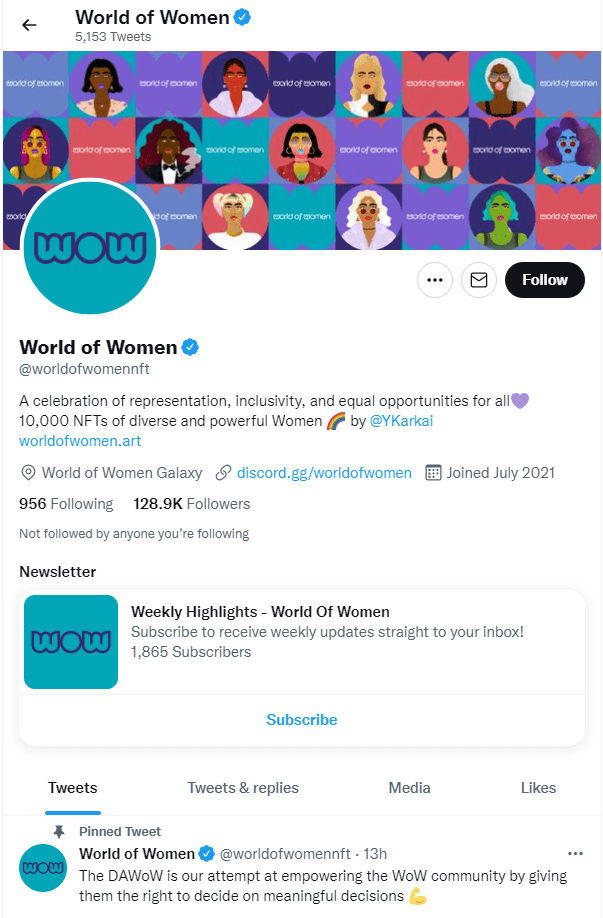 What the World of Women NFT Does?
Once the project was launched in July 2021, many female celebrities like Reese Witherspoon, Eva Longoria, Shonda Rhimes, and influencer Huda Kattan to name a few, became interested. Promoting women's rights and associating the project with charities that help women across the globe made the entire NFT even more popular.
Illustrations of powerful women sold overnight, and people started using the art as their avatars on social media, creating an even more significant buzz.
The WoW project is primarily sold on OpenSea, where the trading volume reached $2.12 million in March 2022. A top-selling WoW NFT in the previous 30 days sold $175k depicting a Woman #7905.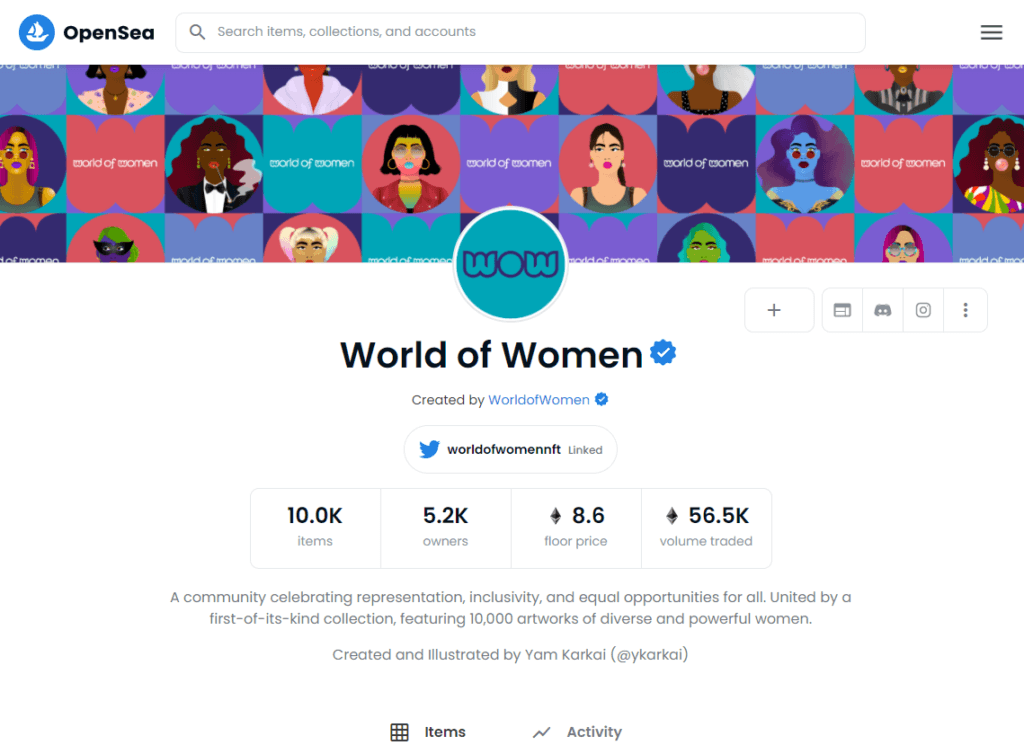 The profits from the initial collection were split, with 15% returned to the fund to be invested in crypto art.
The remaining income was divided between two charity organizations named "She's First" and "Too Young to Wed", but the project also supported Strange Cintia, who has a severe case of myalgic encephalomyelitis/chronic fatigue syndrome.
Owners of the World of Women NFT have the intellectual property of the artwork and are free to use it as they wish. Each NTF bought comes in a high-resolution 4000×4000 version you can print or use for derivative projects if you own the original NFT.
Considering the movement and the project aimed to empower women, they are now launching a new concept where token holders can make decisions and vote on important questions regarding the World of Women. The DAO (Decentralized Autonomous Organizations) or DAWoW shows that this NFT is different and here to stay.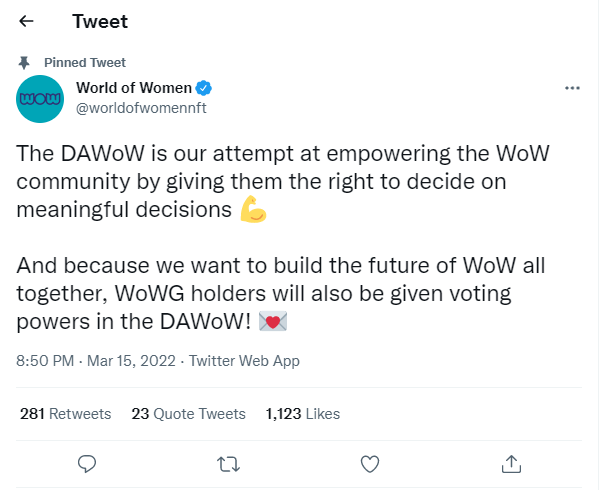 How to Buy the World of Women NFT?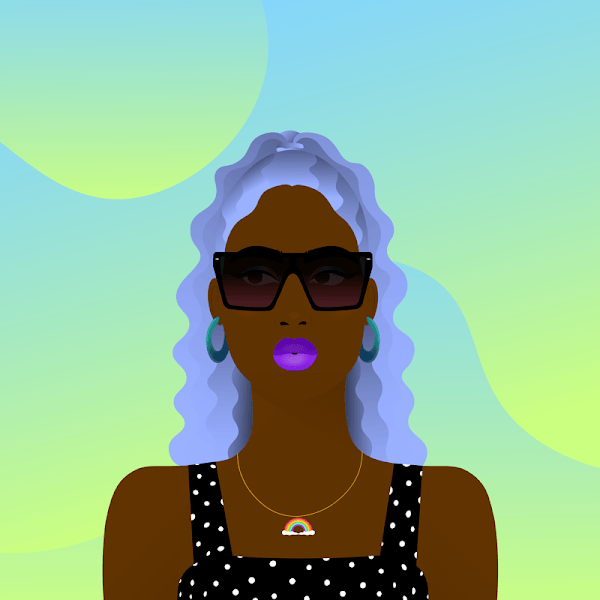 The first collection of 10k randomly generated digital collectibles of various rarity living on the Ethereum blockchain as ERC-721 tokens and distributed via IPFS sold out. The most valuable WoW NFTs, priced initially at 0.07 ETH, or around $225, are now selling for hundreds of thousands of dollars on the secondary market.
The initial sale was highly successful, so the creators are now planning a new launch called World of Women Galaxy. This second collection launched in March 2022 and the floor price immediately exceeded 1 Eth. WOW holders received one for free. Also:
Every supporter of the first collection, aka owner of the original NFT, can claim an NFT from the new collection for free;
A certain amount of tokens will be reserved for the DAWoW;
World of Women will donate a considerable part of the revenue from primary sales and royalties to charitable organizations.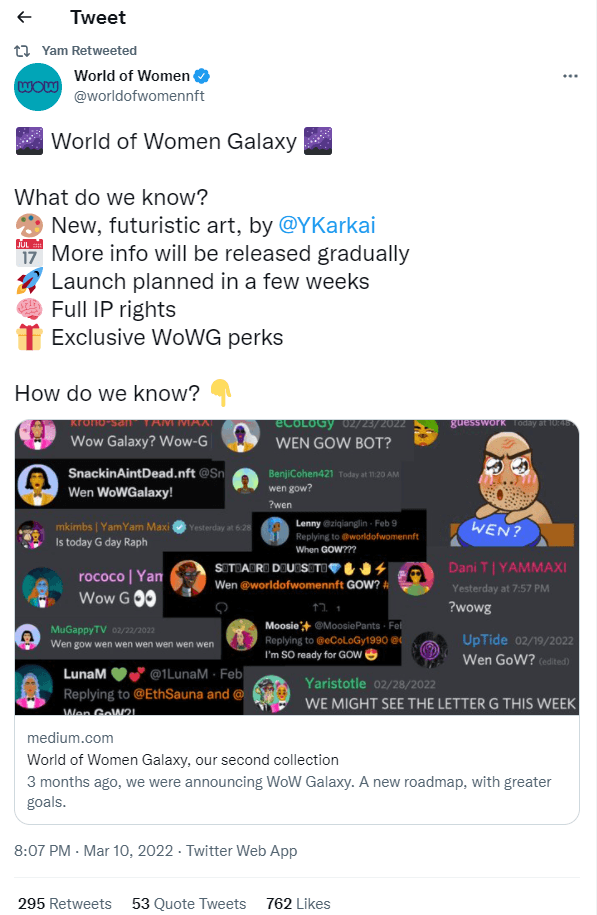 The Future of the World of Women NFT
To say that the future looks bright for World of Women NFT would be an understatement considering the massive success the project has already achieved.
One of the first celebrities and powerful women interested in the project, Reese Witherspoon, is now planning a collaboration between WoW and her Hello Sunshine media and production company. That will potentially put WoW into feature films, TV series, and more. There is even a clothing brand developed to expand the WoW influence further.
In addition, the WoW platform hosts monthly "ArtDrops", gifting unique pieces from lesser-known crypto artists from all over the world into virtual wallets of members. ArtDrops is one more way the project promotes and supports women in the art and the crypto world.
To further expand the impact on charity organizations, WoW hired Inna Modja, one of the leaders in climate rights activism and Code Green. In addition, they also signed a deal with Universal Music Group and uprising artist Kendra Jae and partnered with Coinbase on their upcoming NFT platform.
With a new talent manager by their side, Guy Oseary, who had clients like Madonna, U2, BAYC, Beeple, and The Red Hot Chili Peppers, it's inevitable that this NFT will achieve all the goals.
The next big event expected is the WoW gala this summer.