Learn about the NFT wearables trend taking the metaverses by storm.
Wearable NFTs? The idea of wearing something that only exists on the blockchain might sound strange at first, but the NFT wearable market and its future function in the Metaverse is expected to become the next big trend in the NFT space.
In the real world, most people flaunt their money by wearing top brands such as Dolce & Gabbana, Burberry, and Louis Vuitton. However, the Metaverse has opened the door to a virtual world of opportunities. Imagine your digital avatar exploring the Metaverse interacting with your friends while wearing a pair of NFT Nike Air Max.
We've already seen how quickly the NFT and crypto market can grow; although wearables were nearly unheard of last year, they are already picking up momentum, so we'd be fools not to get familiar with them.
Let's get started by getting our heads around what NFT wearables are, and then we'll look at some of the leading projects.
What are NFT Wearables?
A wearable NFT is a type of virtual clothing or jewellery a digital avatar wears in play-to-earn games or the wider Metaverse. Examples include virtual hats, trainers, sunglasses and jackets.
To get to grips with wearable non-fungible-tokens, we need to understand the Metaverse.
The Metaverse is a virtual world that users interact with through digital avatars; in these worlds, they can purchase land, socialize, and – like in the real-life. – go shopping.
The two most notable open-world metaverse projects are Decentraland and Cryptovoxels, both of which were built on the Ethereum blockchain.
Like in real life, people in the Metaverse want to express themselves through their appearance; this is where the NFT market and wearable come into play. Using cryptocurrencies, people purchase NFT wearables with crypto on NFT markets like Opensea or Binance and add them to their digital avatar's wardrobe.
For example, your might be disappointed with the basic look of your digital avatar in Decentraland, so you decide to purchase some Decentraland wearables. Maybe the first NFT wearable you buy your avatar will be a pair of sunglasses or a new hat?
Regardless of your taste in digital fashion, you'll want to make sure your digital avatar is wearing virtual clothes from the hottest fashion NFT collections, so let's take a look at the top wearable NFT projects.
Burberry's Blankos Block Party NFTs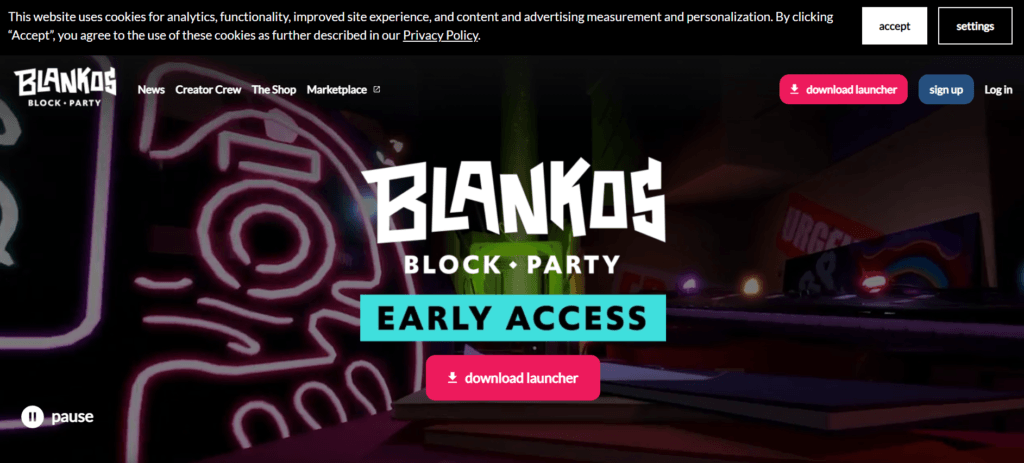 Blankos Block Party is a multiplayer NFT game developed by Mythical Games where players explore, play, race, and kit out their avatars that live on the blockchain with wearable NFTs.
Burberry, a heavy hitter in the fashion industry, saw Blankos Block Party as the perfect opportunity to enter the wearable NFT market.
Burberry launched its own line of fashion NFTs for Blankos Block Party players on the game's NFT market, giving users the option of dressing their digital avatar in one of the world's most renowned brands.
Louis Vuitton's Metaverse NFT Game
Louis Vuitton, one of the world's most valuable fashion brands, hopes to attract customers to its brand through its metaverse game titled 'Louis: The Game,' where users collect digital art NFTs.
The Louis Vuitton game uses blockchain technology to track the NFTs collected by the players. Out of the 30 NFTs up for grabs in the game, ten were designed by the legendary digital artist Beeple.
Read our guide to admirable NFT artists
Nike and RTFKT Bring Footwear To The Metaverse
Suppose you're a fan of Nikes like myself. In that case, you should get ready to top up your crypto wallet with some Bitcoin and choose a fresh pair of virtual kicks for your digital avatar as the legendary sportswear company is expanding into the Metaverse.
Nike purchased RTFKT, a next-generation digital fashion startup that uses Blockchain technology to create unique fashion NFTs for the Metaverse.
Nike aims to use RTFKT's NFT know-how to bring its iconic trainers into the Metaverse and start making sales in Bitcoin and ETH to add to its fiat revenue in the real world.
Dolce & Gabbana's NFT Collection Sells Out
The luxury fashion brand Dolce & Gabbana sold its first NFT collection for just under $6 million on the UNXD NFT market.
The most valuable item within the collection of nine NFTs titled the 'Collezione Genesi' was the Doge coin inspired 'Dodge Crown,' which sold for an eye-watering 423.5 ETH (around $1.3 million).
Winners in the auction not only received the NFT wearable but were also given a real-life version of the NFTs.
The Italian fashion giant's first experience in the NFT space proved highly profitable, and it's sure to get other companies interested in the Metaverse and digital fashion.
Adidas Launches Into the Metaverse
Towards the end of 2021, Adidas released this NFT project in partnership with Bored Ape Yacht Club, PUNKS Comic and other blue-chip projects and collectors. It's basically a type of pass whereby holders get access to an exclusive community. They can also buy collaborative Addidas clothing and merch. 30,000 of these NFTS exist.
The Final Word on Wearable NFTs?
The Metaverse is growing but still in its early stages; identifying the next big trend could be very profitable. If we accept that we'll express ourselves the same way in the Metaverse as in the real world, fashion will likely form a cornerstone of this growing virtual economy. Wearable NFTS may describe clothing and other items virtual avatars use, but big brands are also using this new web 3.0 concept to sell exclusive items to their biggest customers.