Who is Coldie? He is a pioneering stereoscopic 3D NFT artist who highlights the disruptive nature of blockchain technology through his art.
Coldie is a leading stereoscopic 3D artist who's won multiple awards for his work and impacted the physical art world and the NFT space.
The American artist wholeheartedly embraces the disruptive nature of cryptocurrencies and NFTs and reflects this through the work that he mints on the Ethereum blockchain.
His work is somewhat reminiscent of XCOPY's glitch-art style. Still, while XCOPY taps into the frustration of the average member of society, Coldie focuses on well-known but controversial public figures such as Edward Snowden, Vitalik Buterin, and Richard Nixon.
In this post, we profile Coldie, dive into his art style, and provide you with a list of his most successful projects. If you like this article, check out our profile of the best NFT artists.
Coldie and Stereoscopic 3D Art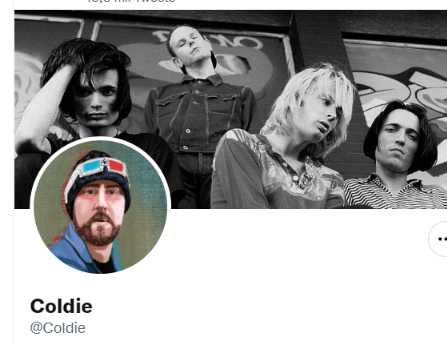 To understand Coldie's style and contribution to the NFT and digital art space, we must dive into his use of stereoscopic 3D design.
Stereoscopic art is the process of combining two offset images difference between the photos creates a sense of depth, resulting in a 3D effect.
In 2018 Coldie is believed to be the first digital artist to tokenize stereoscopic art when he minted his first token on SuperRare. Since his debut, Coldie has become one of the most well-known NFT artists, and he has pushed stereoscopic art to new frontiers.
Coldie combined over ten images and added animations that generate a GIF-like effect that moves the user through the layered images.
A great example of Coldie's stereoscopic GIF style is 'Warren Buffet – Decentral Eyes – Variant 02', which shows famous investor and Bitcoin naysayer Warren Buffet with his facial features layered over one other with the caption 'Bitcoin is a gambling device.'
Some of Coldie's GIF-style art is similar in some ways to XCOPY's technique, although somewhat less brutal. if you want to learn more about XCOPY, take a look at our XCOPY Profile piece.
Coldie's 3D stereoscopic art has earned him a reputation in the NFT community and in the real world, where his work has been displayed in major exhibitions in the United States and Europe.
Coldie has embraced the NFT without putting the physical world behind him. As a result, you can buy his work on the blockchain and as a physical canvas which is why you can find his work on multiple platforms. Like many NFT artists, he also conceals his identity although you can listen to an interview with him on Proof.
Where To Find Coldie NFTs?
As you might have read in our 'How To Spot Bad NFT Projects' guide, guaranteeing that you're purchasing authentic NFTs is challenging. To help keep you safe, we've compiled a list of sites where you can buy Coldie's physical and blockchain art with peace of mind that it's the real deal.
Coldie's official website provides you with direct links to his collections, his physical work can be found here, and it's worth noting that you'll receive a pair of 3D glasses with the canvass to guarantee you experience the true depth of the piece.
If you're looking for Coldie's blockchain-based work, you'll find it on the following marketplaces:
As you can see, Coldie has minted dozens of NFTs, and they've all racked up impressive trade volumes across multiple platforms. His success can make it hard to pinpoint which are his top collections. Fortunately, we've collated the best of his work in the following section.
Top Coldie NFT Collections
The success of Coldie and his digital art is the product of combining stereoscopics with often thought-provoking messages that bear particular relevance to the blockchain industry and its proponents. These are some of his most impressive projects:
Coldie designed the Decentral Eyes project to generate discussions around the idea of blockchain as a disruptive industry through the lens of disruptive and controversial public figures.
Decentral Eyes NFTs features layered images of the subject with glitchy background effects and short thought-provoking sentences or strings of code.
The project has so far seen Coldie create 3D images depicting Edward Snowden, Warren Buffet, Julian Assange, and most recently, the Hip-Hop artist and NFT enthusiast Snoop Dogg. You can find a full list of Decentral Eyes figures on Coldie's website.
Although every Decentral Eye NFT has provided us with a thought-provoking piece of digital art, there are two pieces in particular that have caught the NFT community's attention.
Originally minted on Nifty Gateway, this collection features 3D renderings of the legendary investor Warren Buffet, who has few friends in the crypto community due to his often vocal criticism of Bitcoin.
The stereoscopic images of Buffet are bizarre; the normally softly spoken 92-year-old is portrayed with a punk-rock style flare combined with sharp colors against a dark background.
The collection includes ten unique renderings that follow a similar theme and include indirect quotes from the Oracle of Omaha.
Buffet once said he has no interest in buying Bitcoin and that digital currency is nothing more than a tool for gambling with little intrinsic value.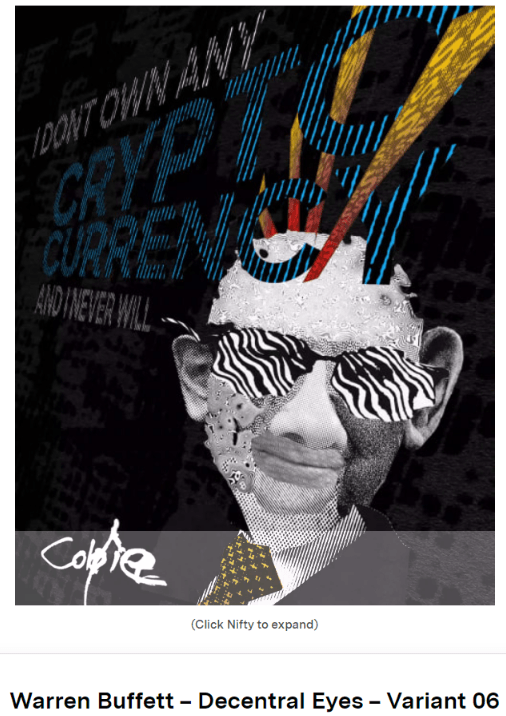 Snoop Dogg is the opposite of Warren Buffet in many ways, and one of them is the fact that the hip-hop star is a huge advocate of NFTs and crypto, so his place in Coldie's collection is less controversial but arguably more relevant.
The Decentral Eyes Dogg is a portrait of Snoop built on ten different images using different color schemes to create the 3D model.
In the background, you'll notice the use of the color purple, which is allegedly a nod of respect towards Snoop as hip-hop royalty. The NFT animation reveals the album cover of Doggystyle, which kickstarted the west-coast rappers' career.
Snoop's stereoscopic portrait was minted in 2021 and sold for over half-a-million dollars on SuperRare.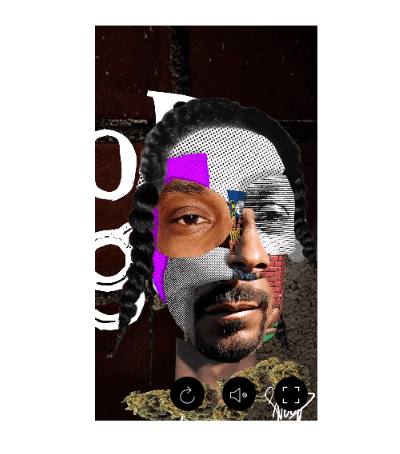 Coldie describes 'Choose Your Own Adventure' as his greatest art experiment to date. The piece is built on various layers that all hold a different message linked to a series of words that appear in a grizzly grey font in the background, such as 'Anxiety,' 'Panic;' and 'Complacency.' The animated stereoscopic piece was sold on asyncmarket for an estimated $15,000.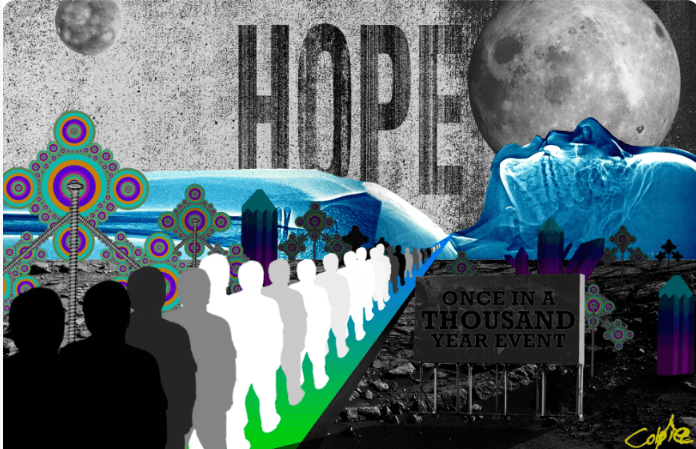 Coldie took inspiration from the renowned 20th-century Russian artist Wassily Kandinsky to create a generative art mash-up collection.
Coldie commented on the project, "Kandinsky is one of my favorite artists of all time and it is an honor to work with his art in a new way using technology not available during his era.
"The whole time I was creating this art, I made decisions that I believed Wassily would agree with as if he was sitting with me the whole time collaborating."
GANdinsky 3D – Green and Red 1/1 is the ideal piece to examine if you want to understand how Coldie used his stereoscopic skills to break Kandinsky's work done layer-by-layer.
Coldie succeeded in adding a modern digital twist to Kandinsky's using the Playform GAN AI to create a generative style. You can learn more about how generative art is created in our guide.
Proof of Work was minted as an ERC-20 token as a genesis token that would evolve. The piece was built on a primary layer that depicts a gold miner in the 1850s sifting through silt on a California river bank during the gold rush.
Coldie added the dollar sign on the miner's gas mask, chemical trails to the sky, and moved a layer of dollar bills into the river where the miner had been hoping to find a few gold nuggets.
The gold nuggets have been replaced with Bitcoin, that's often referred to as digital gold; several variants have since been added to the collection, all based on the same primary layer but with different color schemes.
It's hard to tell whether Proof of Work is commenting on Bitcoin and the gold rush that has driven its price from a few cents to an all-time high of nearly $70K or a jab at the greed that has led to euphoric short-term speculation.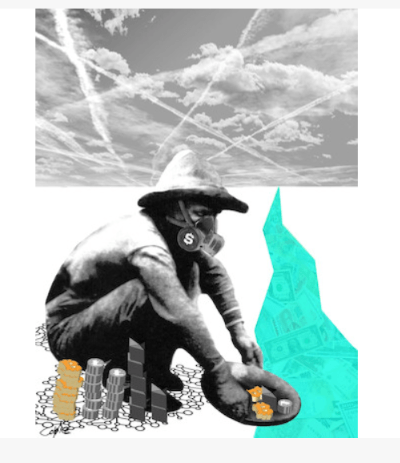 The half-doomed stereoscopic animation combines nature and modern society with an elephant grazing on a savannah under the shadow of glass skyscrapers and drones.
Coldie created this piece as a way to comment on the impact that humans have had on the natural world.
In the NFT's description, Coldie added that even when we are absorbed in nature on a long hike, little bits of the modern world distract us, such as a plane flying overhead or a powerline scaring the otherwise pristine landscape.
Half Doomed was sold originally as a bundle that also included:
A physical print.
A copy of the Ultra-rare StereoMan 3D magazine.
Signed Coldie/Hackatao 3D Glasses
The layers are built on photographs that Coldie took in various places such as the Yosemite national park, San Francisco, and Los Angeles.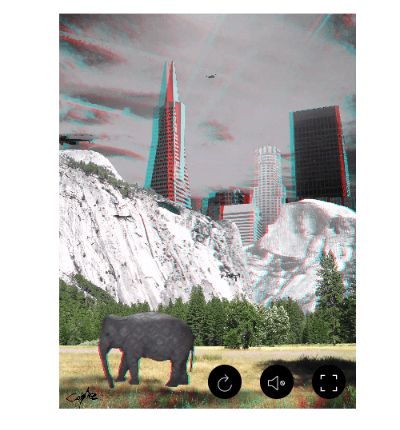 Final Thoughts On Who Is Coldie?
Coldie took it upon himself to bring a whole new field of art into the NFT space and, in the process, found a way to add a new level of depth to NFT art. His work is often thought-provoking. Decentral Eyes highlighted the impact certain people have had on disrupting the status quo. At the same time, his work with Kandinsky showed how applying new techniques to old ideas can give us a whole new perspective on centuries-old art.