Learn more about what is Zapper in this article.
Zapper is the next-generation Web3 app that lets crypto-asset owners manage their crypto, NFTs, and DeFi assets from one interface. It reduces the time and cost of managing scattered crypto assets and reveals the best return on investment opportunities.
I am in the cryptosphere for some time and holding various crypto assets in different blockchain networks. Though all-purpose cryptocurrency wallets allow me to bring all the holdings under one roof, however, a portfolio management app is highly necessary.
Because researching different assets on crypto exchanges every day is a challenging task. I was searching throughout the web, and magically the Zapper app appeared.
What Is the Zapper App?
Zapper is a cloud-based Web3 app that lets you manage all of your crypto and NFT coins (>3000 assets) from one secure and easy-to-use interface. It's similar to stock trading apps that provide real-time stock prices, portfolio analysis, market news, and so on. It enables decentralized finance (DeFi) app builders to attract more investors easily and benefits both crypto investors and DeFi developers.
Is It a Crypto Wallet?
Zapper app isn't a cryptocurrency wallet. It's simply a cryptocurrency, NFT, and DeFi protocol asset aggregator and works via a non-custodial wallet. It means you need to first create a non-custodial wallet on any of the available platforms like Ledger, Metamask, WalletConnect, Coinbase Wallet, etc.
Once you've got a crypto wallet, you can link it to the Zapper app to watch your assets grow from a simple dashboard. If you've got many wallets, you can link them all, provided that Zapper supports those wallets.
Though Zapper isn't a crypto wallet, it lets you perform some transactions on its platform via your non-custodial crypto wallets. For example, Zapper is the ideal tool for transactions like bridging, token exchanges, yield farming, entering liquidity pools, and earning interests from your assets.
Zapper Tutorial
In this video, we show you how to use the various featuers and tools inside of Zapper for DeFi and NFTs.
The Utility of Zapper
Both DeFi investors and app developers can use Zapper for their respective activities. As a cryptocurrency or NFT collector, you can visualize pricing and transactional movements of your assets from several blockchains like Ethereum, Arbitrum, Avalanche, Binance Smart Chain (BSC), Bitcoin, Celo, Fantom, Gnosis Chain, Harmony One, Moonriver, Optimism, and Polygon.
On the contrary, DeFi products and services developers can use the Zapper APIs like Data Endpoints and Transaction Endpoints. These APIs help them to get liquidity data, DeFi data, complex DeFi protocol balances, and pricing on different Automated Market Makers (AMMs).
In a nutshell, Zapper is an advanced DeFi development tool that helps DeFi developers to offer smooth experiences to the entire customer base: experienced and novice in crypto assets. For convenience and better experience, the user-side Zapper app comes with a clean and simple dashboard with the following visual features:
Deposits
Wallet
Yield Farming
Liquidity pools
Debts
Investments
DeFi platforms
You get an enhanced understanding of crypto assets, NFTs, and DeFi protocols by accessing the app frequently. You'll see asset pricing trends on one focused screen and gradually develop smart investment instincts.
Another useful utility of this app is unveiling crypto-asset investments of friends, peers, celebrities, and other important individuals. You can simply insert a valid ENS domain, Bitcoin address, or Ethereum address to preview the crypto assets within that wallet. Though, you can't make transactions by simply viewing a wallet address.
Zapper App Features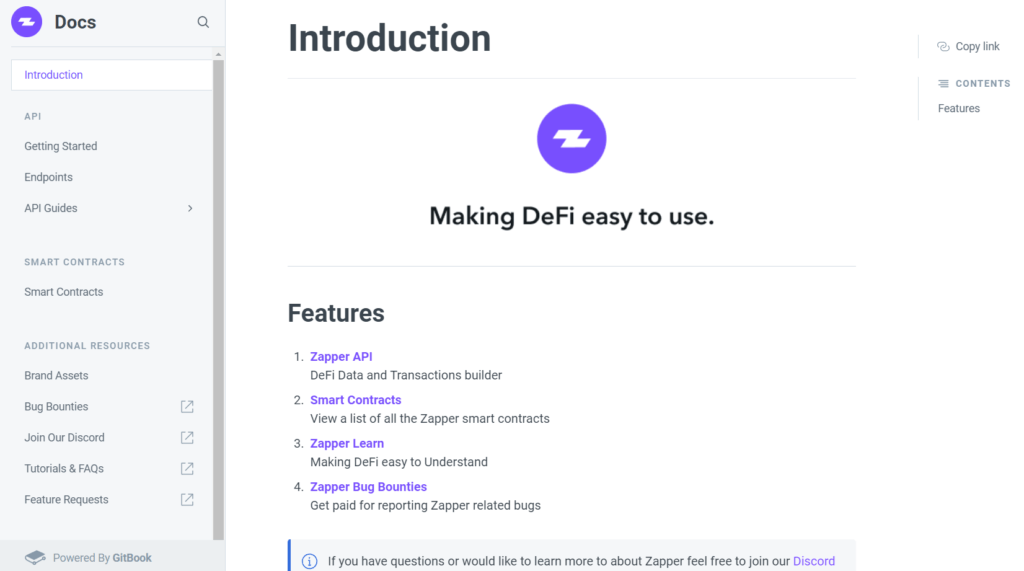 Zapper app seems like the ultimate tool you must add to your crypto technology stack for convenient and smart investment. Speaking of asset visualizations, it offers you three different display features: Portfolio View, NFT View, and History View.
First off, the Portfolio View gives you an overall picture of all the investments. The app classifies all the assets depending on the DeFi protocol and investment positions, like Claimable, Deposits, Debt, Wallet, Networks, and Protocols.
Secondly, the NFT view shows you a complete NFT collection. By selecting a specific NFT, you can go into its details. Finally, the History View shows all the transactions: credits and debits in chronological order and only for the supported blockchain networks.
The app also has some cool transactions features as mentioned below:
Exchange ETH for BTC or any other pair of crypto tokens conveniently from the dashboard. Zapper will automatically set the parameters like blockchain fees, exchange rate, and route.
The bridging features let you move funds from one blockchain to another without complications. Also, it supports most of the popular blockchains that the DeFi exchanges use.
Its social connectivity feature lets you follow other wallets of your interest. You can easily track the Web 3.0 investment trends and investment strategies that successful crypto-asset owners follow.
Fees of Zapper
First off, Zapper doesn't charge you for using most of its features. For example, when you use its dashboard to track crypto-assets and their ups and downs, you don't need to pay any fees or brokerages. Furthermore, when you exchange tokens on the Zapper dashboard or bridge between different blockchain networks, those are completely free.
Zapper only charges you for Zaps: Zap-in and Zap-out, and the Save feature. Zaps combine multiple exchanges and transactions in one smart contract to provide liquidity across different DeFi protocols. When you take a position into a DeiFi protocol, that transaction is known as Zip-in and when you exit the position, it's Zap-out.
Zaps help you to cut down on NFT gas fees, save time, and avoid the headache of tendering multiple transactions in different DeFi apps. In return, Zapper charges you 0.4% of the transaction amount. Also, the same flat fee is applicable when you deposit or withdraw crypto-asset through the Zapper Save feature, which helps you earn interest by staking crypto.
How to Use Zapper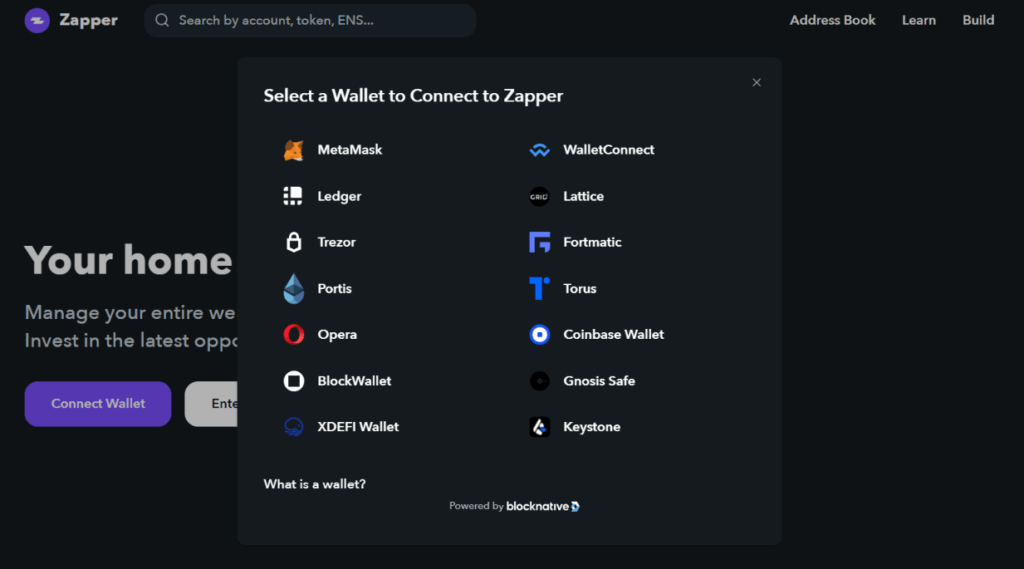 Are you interested in using the app? Here are the steps that you can try out:
Ensure that you own a non-custodial cryptocurrency wallet account in any popular wallet apps like Coinbase Wallet, Metamask, WalletConnect, etc.
Now, visit the Zapper website and click on Connect Wallet.
If you want not to link any wallet but only check out its dashboard, you can click on Enter Address.
Enter Address lets you visualize the assets of any valid wallet address. It's helpful when you wish to spend some time learning the industry before investing money.
Coming back to wallet linking, Zapper will show you a list of supported wallets. Pick one to enter your wallet credentials and log in.
Once the wallets are connected, you can visualize all the assets in the Zapper dashboard.
Go to Invest and select the pool you prefer, and click Add Liquidity. Only do this when you want to add liquidity to the pool.
Now, you'll see the user interface where you can set the Ethereum gas fees and slippage tolerance.
Note: Slippage tolerance is nothing but the difference between the actual transaction value and the price at the time of confirmation when swapping on an automated market maker exchange.
You may now set the quantity you want to swap. You only need some ETH as a balance in your wallet, and no need to convert a portion of the ETH to another coin for pairing. Zapper backend will automatically do that according to the DeFi liquidity protocol you select.
Hit Confirm to finalize your liquidity pool transaction.
NFT Collections Page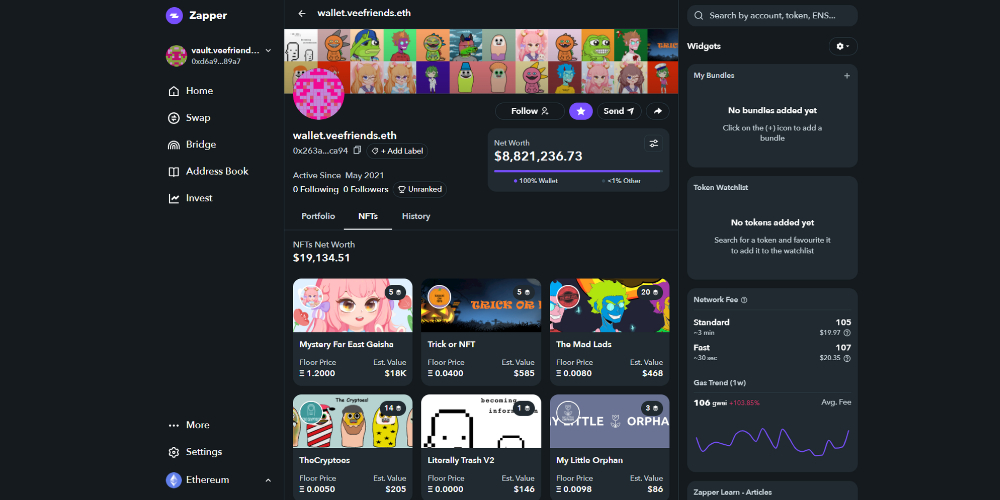 Zapper has recently upgraded its systems to enhance the NFT tracking features of its dashboard. You'll find a Collection Page in the updated Zapper app. This section gives you a detailed insight into all your NFTs. Also, it shows the parent collections of those NFTs.
When you view an NFT collection on the Collections Page, you get most of the NFT data that you can get from CoinMarketCap or OpenSea. For example, you can get a detailed understanding of the total NFT owners, current floor price, 24h trading volume, NFT summary, number of pieces you own, net worth, etc.
Zapper and Crypto: The Final Word
Now that you've gathered an in-depth understanding of the Zapper app, it should be easier for you to enter the DeFi and crypto ecosystem should you choose to utilize yield farming, liquidity pools, and crypto staking. You can easily diversify your crypto holdings to maximize your gains without the fear of tracking individual assets in different DeFi platforms.

Web3 apps for crypto assets are booming because the sector is attracting more investors. Another must-have Web3 app is WalletConnect which every NFT buyer should become familiar with.